Overview: Thursday, July 19, 2007 (next release 2:00 p.m. on July 26, 2007)
Since Wednesday, July 11, natural gas spot prices decreased at virtually all markets in the Lower 48 States. Prices at the Henry Hub declined 41 cents per MMBtu, or 6 percent, since Wednesday, July 11, to $6.24 per MMBtu. At the NYMEX, the futures contract for August delivery at the Henry Hub settled yesterday (July 18) at $6.528 per MMBtu, falling 7 cents per MMBtu, or 1 percent since last Wednesday, July 11.Natural gas in storage was 2,692 Bcf as of July 13, which is 15.7 percent above the 5-year average (2002-2006). The spot price for West Texas Intermediate (WTI) crude oil gained $2.45 per barrel on the week (Wednesday-Wednesday) to $75.03 per barrel or $12.94 per MMBtu.
<![if !vml]>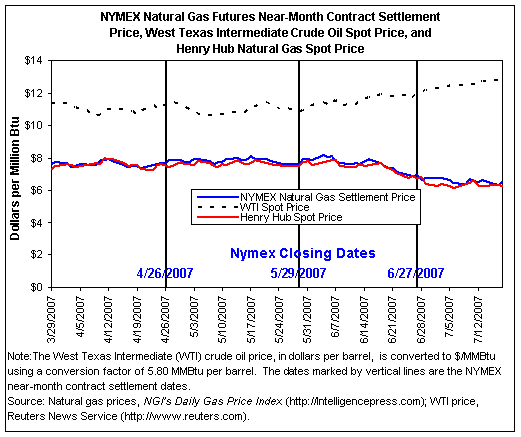 <![endif]>
Natural gas prices fell at virtually all market locations since last Wednesday, July 11, with declines of 25 to 50 cents per MMBtu or about 4 to 12 percent.Moderating temperatures in most areas of the Lower 48 States likely accounted for the widespread declines, as cooler temperatures mitigated cooling demand for natural gas.On a regional basis, price declines averaged between 18 and 58 cents per MMBtu, or 3 and 13 percent, since last Wednesday, July 11. The largest price decreases since last Wednesday, July 11, occurred principally in the Rocky Mountain region, where prices fell by more than 57 cents per MMBtu, or 13 percent on average. By far, the smallest decreases occurred in the Arizona/Nevada and Florida regions, where prices fell by 18 and 24 cents per MMBtu on average, respectively, with the Florida citygate posting the highest price in the Lower 48 States at $8.00 per MMBtu. Elsewhere, average price decreases by region ranged between 30 and 43 cents per MMBtu. Despite these declines and lower electric generation demand relative to last year, prices generally exceeded levels reported last year at this time, with prices at the Henry Hub $0.22 per MMBtu or 4 percent above last year's level. The principal exception to the year-over-year price increases occurred in the Rocky Mountain region, where prices at selected markets were between $1.87 and $2.28 per MMBtu or about 35 and 43 percent below last year's level.
<![if !vml]>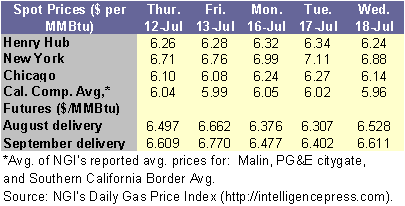 <![endif]>
At the NYMEX, prices for the futures contracts for delivery in the next 12 months were mixed, with the 12-month futures strip (August 2007 through July 2008) climbing about 5 cents per MMBtu, or about less than 1 percent, since last Wednesday, July 11. The prices of the NYMEX futures contract for delivery at the Henry Hub during the remaining months in the 2007 refill season (August through October 2007) fell about 9 cents per MMBtu, or 1 percent, since last Wednesday, July 11, while the other months in the 12-month futures strip generally increased between 7 and 15 cents per MMBtu, or about 1 to 2 percent.Overall, the 12-month futures strip (August 2007 through July 2008) traded at a premium of about $1.60 per MMBtu relative to the Henry Hub spot price, averaging $7.84 per MMBtu as of Wednesday, July 18. These relative pricing patterns reflected ample incentives for suppliers to inject natural gas into storage.
Recent Natural Gas Market Data
<![if !vml]>

<![endif]>
Working gas in storage totaled 2,692 Bcf as of Friday, July 13, which is 16 percent above the 5-year average inventory level for the report week, according to EIA's Weekly Natural Gas Storage Report (see Storage Figure). As of July 13, stocks were 63 Bcf below the 2,755 Bcf in storage at this time last year, yet still exceeded the 5-year average by 365 Bcf. This marks the 12th consecutive week that storage levels increased relative to last year's level. On the week, net injections into working gas storage totaled 65 Bcf compared with the 5-year average injection of 74 Bcf and last year's net injection of 64 Bcf for the same report week. Warmer-than-normal temperatures throughout the Lower 48 States likely contributed to the below-normal injections (see Temperature Maps). Cooling degree-days were 14 percent above normal levels on average in the Lower 48 States, exceeding normal levels by more than 24 percent in the New England, Middle Atlantic, East North Central, Mountain, and Pacific Census Divisions.
<![if !vml]>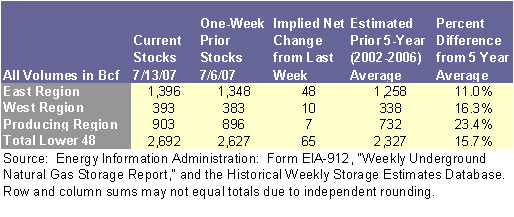 <![endif]>
Other Market Trends:
GAO Releases Report on Energy Derivatives Trading and CFTC Oversight: According to the July 12, 2007, Government Accountability Office (GAO) report, inflation-adjusted energy prices in both futures and physical markets increased significantly for crude oil, unleaded gasoline, heating oil, and natural gas between 2002 and 2006, with the crude oil, unleaded gasoline, and heating oil prices more than tripling during this period. In its report, GAO analyzed trends and patterns in the futures and physical energy markets and the effect of these trends on energy prices. Rising energy prices have been attributed to a variety of factors, and recent trends in the futures and physical markets highlight the changes that have occurred in both markets between 2002 and 2006. Volatility in energy futures prices generally remained above historic averages for most of the period but declined during 2006 to levels near or at historical averages. The number of non-commercial traders, including hedge funds, in the futures markets has increased. Consequently, the volume of energy futures contracts traded and the volume of energy derivatives traded outside traditional futures exchanges has grown. While the changes in the futures markets for energy commodities were occurring, tight supply and rising demand in the physical markets placed upward pressure on prices. The report also discusses the Commodity Futures Trading Commission's (CFTC) regulatory and enforcement authority over derivatives markets. CFTC's primary focus is on the operations of traditional futures exchanges. With the rise of futures trading on non-traditional exchanges, which are exempt from CFTC oversight, such as over-the-counter (OTC) markets, questions have been raised as to the CFTC authority to protect investors from fraudulent, manipulative, and abusive practices. According to the report, CFTC generally believes that it has sufficient authority over OTC derivatives and exempt energy markets.
NPC Releases Study on Global Crude Oil and Natural Gas: Responding to Secretary Bodman's October 2005 request, the National Petroleum Council (NPC) released a study on July 18, 2007, on global crude oil and natural gas resources. According to the study, traditional oil and gas resources will likely be insufficient to meet the projected 50 to 60 percent growth in global demand over the next 25 years. Specifically in the United States, which once was the largest oil producer in the world, and is now ranked behind Russia and Saudi Arabia, domestic oil production has been decreasing over the past 35 years, while natural gas production has been more stable. Still, with the demand for both resources increasing, the United States has been relying on imports to bridge the gap. Given the inability to meet the growing demand because of the lack of access to domestic reserves, imported liquefied natural gas (LNG) is projected to grow from 2.5 percent of U.S. gas supply to between 6 and 18 percent by 2030. The NPC further states that North American gas production is expected to decline and then plateau as unconventional resources, such as coalbed methane, supplement conventional sources. Future limits on carbon emissions could necessitate carbon-constraint policies within an overall energy strategy. The NPC made several recommendations based on its findings, including expansion and diversification of production from clean coal, nuclear, biomass, and other renewable sources, while moderating the decline of conventional gas and oil production by creating better access to reserves. Furthermore, the NPC recommended that energy policy be integrated into trade, economic, environmental, and foreign policies and that science and engineering capabilities be enhanced to create long-term opportunities for energy-related research and development. The NPC is a federally-chartered and privately-funded advisory committee. Its purpose is to represent the views of the oil and natural gas industries in advising, informing, and making recommendations to the Secretary of Energy.
Natural Gas Transportation Update:
Northwest Pipeline Corporation declared a deficiency period between July 16 and 20, 2007, at the Washougal Compressor Station near Portland, Oregon. The pipeline is currently (July 16-20) performing a hydro-test between the Washougal and Willard compressor stations.All 540,000 decatherms per day (Dth/d) of capacity are unavailable at the Washougal Compressor Station.
On July 15, Questar Pipeline Company (QPC) announced that they are performing preventative maintenance on one of their Clay Basin Storage Facility compressors on July 17-18 in Northeast Utah. In order to facilitate the work, the injection capacity has been reduced to 285,000 Dth/d plus 25,000 Dth/d of park and loan daily injections for a total of 310,000 Dth/d in all cycles for these 2 days. The company reported that capacity will return to 340,000 Dth/d current daily injection plus 25,000 Dth/d park and loan daily injection for a total daily injection of 365,000 Dth/d beginning gas day July 19, 2007.In addition, on July 16, Overthrust Pipeline Company notified QPC that it will be performing modifications on July 30-August 2, 2007.
Southern California Gas Company has lost 160 million cubic feet per day (MMcf/d) of injection capacity at the Aliso Canyon Storage Facility on July 14 because of repairs needed at the K-26 turbine. In addition, 15 MMcf/d of capacity was lost at the Goleta Storage Facility on July 15 during the replacement of piston rings.The completion date for both repairs has not yet been determined.
Effective July 18, ANR Pipeline Company will reduce the total receipt capacity at the Viking-Marshfield Compressor Station in Wisconsin by 60 MMcf/d leaving 261 MMcf/d available, because of unplanned engine repair. Based on current nominations at Viking-Marshfield, it is possible that the reductions may result in the curtailment of interruptible service and firm secondary nominations between July 18 and 30. ANR will post information as it becomes available.
Kern River Gas Transmission Company announced on July 16 that the pipeline undertook repairs as a result of mechanical failure on one of the three units at the Goodsprings Compressor Station in Nevada. As of July 18 and until further notice, operational capacity at the station will be 1,466,000 Dth/d. Furthermore, the Veyo Compressor Station capacity in Utah is set at 1,988,000 Dth/d. The company has asked primary firm customers to confirm nominations and scheduling in the timely manner to avoid displacement by secondary firm nominations.
On July 17, because of unscheduled maintenance, Colorado Interstate Gas Company reduced scheduled nominations through the Greasewood Compressor Station to 140 MMcf for gas day July 17 and returned to full capacity by July 18.