Overview:  Friday, July 6, 2007 (next release 2:00 p.m. on July 12, 2007)
Natural gas spot prices decreased sharply this week (Wednesday-Thursday, June 27-July 5), although crude oil prices continued to trade at near-record high levels. For the week, the price at the Henry Hub decreased $0.45 per MMBtu, or about 7 percent, to $6.29. At the New York Mercantile Exchange (NYMEX), the price of the futures contract for August delivery at the Henry Hub moved 47 cents per MMBtu lower to settle yesterday (Thursday, July 5) at $6.618. Natural gas in storage was 2,521 Bcf as of Friday, June 29, which is 16.9 percent higher than the 5-year average. Crude oil prices continued to rise this week. The spot price for West Texas Intermediate (WTI) crude oil increased $2.83 per barrel or about 4 percent since last Wednesday (June 27) to trade yesterday at $71.81 per barrel or $12.38 per MMBtu.
<![if !vml]>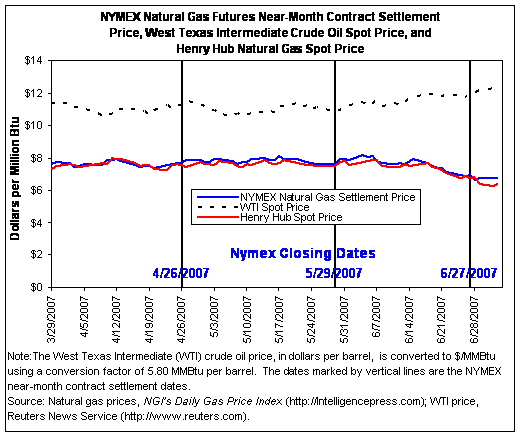 <![endif]> 
Spot prices decreased this week in nearly all trading regions in the Lower 48 States. The exceptions to the widespread price decreases occurred in the California and Rocky Mountain regions, where 80-degree and higher temperatures lingered for much of the report week, driving an increase in space-cooling load. In the Rockies, prices responded to the hot temperatures by increasing $0.43 per MMBtu on average for the region, resulting in an average regional price of $5.02 per MMBtu yesterday. Prices in California also moved up on the week, albeit slightly less so than in the Rockies, increasing by an average of 9.5 cents. In the remaining regions of the Lower 48 States, moderate temperatures and holiday-induced lower industrial load resulted in spot price decreases that ranged between 6 cents and $1.29 per MMBtu. The Henry Hub spot price decreased 45 cents or 6.7 percent, yesterday averaging $6.29 per MMBtu, which was the second-lowest Henry Hub price since April 2007, exceeding only the $6.24 per MMBtu price recorded this past Monday (July 2). Overall, prices at the other trading points in Louisiana decreased by an average of 53 cents to reach a regional average of $6.25 per MMBtu. Trading locations elsewhere along the Gulf Coast recorded average price decreases between 57 and 71 cents per MMBtu, or 8.6 and 9.8 percent.  This week's largest declines occurred at market locations in the Northeast, where prices declined by an average of $0.92 per MMBtu. The price for gas off the Transcontinental Gas Pipeline into New York City recorded the largest weekly decrease of all trading locations in the Lower 48 States, falling by $1.29 per MMBtu to $6.84. Despite the large decline, the average regional price in the Northeast was the highest in the Lower 48 States.  Bidweek prices also reacted to the relatively mild weather, as well as the price movements of the futures market. According to the results of the bidweek survey, the Henry Hub price averaged $6.93 per MMBtu, while prices at the Transcontinental Pipeline (New York) averaged $7.72 per MMBtu. The Rocky Mountain region's bidweek prices averaged $4.35 per MMBtu.   
<![if !vml]>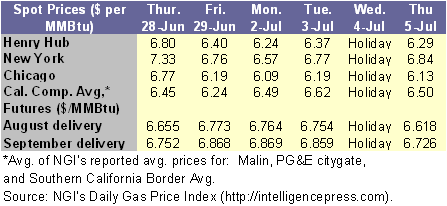 <![endif]>
The prices of the NYMEX contracts for delivery through the end of the 2007-2008 heating season all declined this week, recording net weekly decreases between 3.4 and 6.6 percent. The futures contract for August delivery declined $0.465 per MMBtu on the week to end trading yesterday (July 5) at $6.618, which was the lowest daily settlement price for a near-month contract since January 18, 2007, when the February futures contract settled at $6.324 per MMBtu. Similar to price activity in the spot markets, the prices of futures contracts moved lower this week in response to the moderate seasonal weather experienced throughout much of the Lower 48 States, including the lack of tropical storm activity that could disrupt supplies from the Gulf of Mexico producing region. Furthermore, volumes of natural gas in storage have continued to be injected at rates above last year for the past 10 weeks and remain well above the 5-year average. The price of the near-month contract decreased in all but one trading session during the report week, starting with the sizeable 43-cent per MMBtu decrease during its first day of trading as the near-month contract. Similarly, the futures contract for September delivery decreased about 45 cents or 6.2 percent per MMBtu on the week, settling yesterday at $6.726 per MMBtu. The heating season futures strip traded yesterday at $8.496 per MMBtu, which was 32 cents or 3.7 percent lower than last Wednesday's (June 27) price of $8.818. Currently, the January and February 2008 contracts are the highest priced contracts over the next 12 months, both closing yesterday at $8.839 per MMBtu.
Recent Natural Gas Market Data
Estimated Average Wellhead Prices

Dec-06

Jan-07

Feb-07

Mar-07

Apr-07

May-07

6.65

5.92

6.66

6.56

6.84

6.98

Price ($ per MMBtu)

6.48

5.76

6.48

6.39

6.66

6.80

Note: Prices were converted from $ per Mcf to $ per MMBtu using an average heat content of 1,027 Btu per cubic foot as published in Table A4 of the Annual Energy Review 2002.

Source:  Energy Information Administration, Office of Oil and Gas.
Working gas in underground storage was 2,521 Bcf as of June 29, which is 16.9 percent above the 5-year average inventory level for the report week, according to EIA's Weekly Natural Gas Storage Report  (see Storage Figure). The implied net injection for the week was 78 Bcf, which is 9 percent lower than the 5-year average net injection of 86 Bcf but about 8 percent higher than last year's net injection of 72 Bcf. Current inventories continue to remain below last year's level, however the difference declined for the 10th straight week, falling to 84 Bcf from 276 Bcf as of April 20. Warmer-than-normal temperatures that engulfed most of the Lower 48 States during the report week and the resulting increased cooling load contributed to the lower than average injection. The latest cooling degree-day (CDD) statistics published by the National Weather Service for the period roughly coinciding with the week covered by this storage report indicate that the temperatures in the Lower 48 States were 8 percent warmer than normal (see Temperature Maps), but about 7 percent cooler than last year for the same week. All Census Divisions with the exception of the West South Central had warmer-than-normal temperatures, as measured by CDDs.  CDDs in most Census Divisions were more than 10 percent higher than normal. 
<![if !vml]>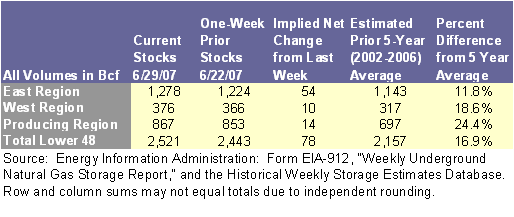 <![endif]>
Other Market Trends:
EIA Releases a New Report on Natural Gas Marketer Prices:  On June 29, the Energy Information Administration (EIA) released the report Natural Gas Marketer Prices and Sales to Residential and Commercial Customers: 2002-2005, which compares data on residential and commercial prices collected from natural gas marketers and local distribution companies (LDC) between 2002 and 2005.  In 2001, EIA developed the EIA-910, "Monthly Natural Gas Marketer Survey," which was designed to collect price and volume information on natural gas sales by marketers selling to residential and/or commercial customers in States with active customer choice programs.  EIA initiated the survey for marketers in five States (Georgia, Maryland, New York, Ohio, and Pennsylvania).  This report provides details on the collection and analysis of data from natural gas marketers and LDCs in Maryland, New York, Ohio, and Pennsylvania.  Georgia was not included because most natural gas customers in the State are required to purchase natural gas from marketers.  The analysis of the four States examines trends and differences observed in marketer and LDC prices collected on the EIA-910 and the EIA-857, "Monthly Report of Natural Gas Purchases and Deliveries to Consumers."  The report also includes analysis of data from the EIA-176, "Annual Report of Natural and Supplemental Gas Supply and Disposition," which shows the percentage of residential and commercial natural gas sales by marketers, as well as the accompanying percentage of residential and commercial customers purchasing natural gas from LDCs in the same period.
Natural Gas Transportation Update:
<![if !supportLists]>· <![endif]>Pacific Gas and Electric Company, which serves customers in northern and central California, issued a systemwide high-inventory operational flow order (OFO) for Saturday and Sunday, June 30 and July 1.  On Saturday, the OFO was Stage 2 with a $1 per decatherm (Dth) penalty for exceeding a 5-percent tolerance on positive daily imbalances.  On Sunday, the OFO was upgraded to Stage 3 and penalties were increased to $5 per Dth. 
<![if !supportLists]>· <![endif]>Columbia Gulf Transmission was accepting nominations only up to 200,000 Dth per day at its interconnect with Sea Robin Pipeline because of gas quality issues.  The limits were effective starting on Friday, June 29, until further notice. 
<![if !supportLists]>· <![endif]>Questar Pipeline Company reduced the capacity of a line segment near the Oak Spring Compressor Station in Carbon County, Utah, from 375,000 Dth per day to 365,000 Dth per day because of high temperatures that affected volumes through the compressor station.  The reduction started on Sunday, July 1, and will last until further notice.
<![if !supportLists]>· <![endif]>Maintenance caused Trunkline Gas Company to reduce capacity at the Transco Ragley Interconnect in South Louisiana from a maximum capacity of 700,000 Dth per day to 425,000 Dth per day on Friday, June 29.  Capacity was increased to 500,000 Dth per day on June 30, and back up to maximum capacity on July 3. 
<![if !supportLists]>· <![endif]>Florida Gas Transmission Company began unscheduled maintenance on Tuesday, July 3, at one of the two compressors at the Tennessee Carnes interconnect.  During the maintenance, which is expected to last through Friday, July 6, 30,000 MMBtu per day is being scheduled at the interconnect.  During normal operations, Florida Gas Transmission schedules up to 60,000 MMBtu per day there.