Overview: Thursday, June 21, 2007 (next release 2:00 p.m. on June 28, 2007)
Natural gas spot prices decreased at most locations this week east of the Rockies, and increased at almost all locations in the Rockies and West. During the week (Wednesday - Wednesday, June 13 - 20) wide-ranging temperatures across the country caused prices to fluctuate as needs for air conditioning arose and receded. The Henry Hub spot price decreased 21 cents, or about 3 percent, to $7.39 per MMBtu. At the New York Mercantile Exchange (NYMEX), the contract for July delivery dropped 22 cents, or about 3 percent, since last Wednesday to settle at $7.391 per MMBtu yesterday (June 20). Natural gas in storage as of Friday, June 15 was 2,344 Bcf, which is 18.4 percent above the 5-year average. The spot price for West Texas Intermediate (WTI) crude oil increased $2.33 per barrel, or about 4 percent, since last Wednesday, trading yesterday at $68.50 per barrel or $11.81 per MMBtu.
<![if !vml]>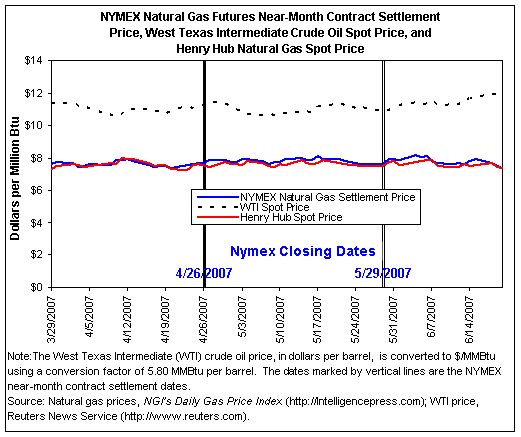 <![endif]>
Spot prices generally moved lower during most trading days this week except for a post-weekend surge at many locations owing to increased cooling load and returning industrial demand. Price increases during Monday's trading kept the week-on-week price declines moderate, ranging between 4 cents and 25 cents per MMBtu since Wednesday, June 13, at most locations. The Henry Hub spot price declined 21 cents on the week, averaging $7.39 per MMBtu yesterday (June 20) while the average price for all Louisiana markets was $7.37 per MMBtu yesterday. In Florida, prices remained relatively flat, declining 3 cents per MMBtu on average for the week despite hot temperatures and an overage alert day during the week.Moderate temperatures kept cooling load light in the Northeast where prices declined an average of 15 cents per MMBtu. Prices in the Northeast are among the highest in the country with an average regional price of $7.90 per MMBtu yesterday.Among the exceptions to the overall declining trends were locations in West Texas, which increased 5 cents on average for the week, and California markets where Pacific Gas & Electric Company issued a two-day operational flow order and prices were between 13 and 22 cents above last Wednesday's prices.The Rocky Mountain region continued to stand out from the rest of the country. Despite an average increase of 95 cents per MMBtu for the week, locations in the Rockies posted the lowest regional average spot price yesterday at $4.91 per MMBtu with more than half of the market locations trading below $4 per MMBu.
<![if !vml]>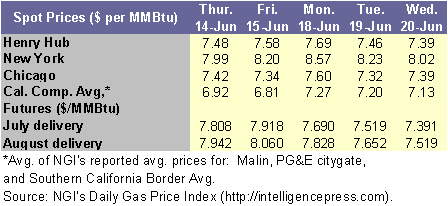 <![endif]>
At the NYMEX, the price of the futures contract for July delivery at the Henry Hub steadily increased in the trading days leading up to the weekend, then decreased by more than 50 cents in the days since then. Overall, the July contract decreased about 22 cents per MMBtu, or about 3 percent, since Wednesday, June 13, and averaged $7.391 per MMBtu yesterday (June 20). The rest of the natural gas futures contracts for delivery through the next heating season (ending March 2008) recorded similar declines on the week of at least 20 cents.Over the next year, the heating season contracts (November 2007 - March 2008) are the highest priced contracts, averaging $9.306 per MMBtu yesterday, which is about 2 percent less than last Wednesday. Though not as highly priced, the other contracts over the next year on the NYMEX still hold a premium to the current Henry Hub spot price, which equaled the July contract price yesterday at $7.39 per MMBtu. This offers storage operators economic incentive to inject natural gas into storage. The 12-month strip closed yesterday at $8.463 per MMBtu, which is $1.07 above the Henry Hub spot price.
Recent Natural Gas Market Data
Estimated Average Wellhead Prices

Dec-06

Jan-07

Feb-07

Mar-07

Apr-07

May-07

6.65

5.92

6.66

6.56

6.84

6.98

Price ($ per MMBtu)

6.48

5.76

6.48

6.39

6.66

6.80

Note: Prices were converted from $ per Mcf to $ per MMBtu using an average heat content of 1,027 Btu per cubic foot as published in Table A4 of the Annual Energy Review 2002.

Source:Energy Information Administration, Office of Oil and Gas.
Working gas in underground storage increased to 2,344 Bcf as of June 15, which is 18.4 percent above the 5-year average inventory level for the report week, according to EIA's Weekly Natural Gas Storage Report (see Storage Figure). The implied net change of 89 Bcf for the report week is equal to the 5-year average net injection and 13 percent more than the net injection of 79 Bcf in the equivalent week last year. Estimated inventories remain at 365 Bcf above the 5-year average of 1,979 Bcf.This week marks the eighth consecutive week that net injections exceeded last year's injections, which has decreased the deficit between this year's level and last year's level to 121 Bcf from 276 Bcf when this trend began. The average injection occurred during a week in which temperatures remained moderate for the most part (see Temperature Maps). The most significant space cooling demand in the Lower 48 States was in the East South Central and West South Central Census Divisions where average daily temperatures exceeded 85 degrees Fahrenheit in some parts. According to the National Weather Service, these two Census Divisions experienced 17 and 10 more cooling degree-days than normal, respectively. None of the Census Divisions experienced any significant heating degree-days which is normal for this time of year.
<![if !vml]>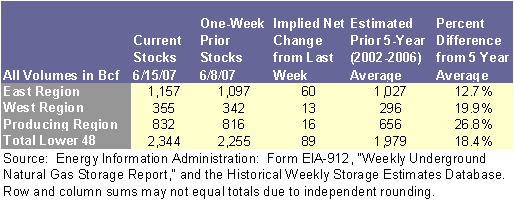 <![endif]>
Other Market Trends:
Natural Gas Rig Counts Match the Record High: The number of rigs drilling for natural gas again reached a record high of 1,484 on June 15, which equals the number of gas rigs that were actively drilling as of June 1, according to Baker-Hughes Incorporated. The average number of natural gas drilling rigs during the first 3 weeks of June 2007 surpassed that of the first 3 weeks of June 2006 by about 7 percent. Natural gas rigs have been on an increasing trend since November 2002 as higher prices have supported growing gas drilling activity in the United States. The current economics for drilling oil and natural gas prospects continue to provide favorable conditions for producers to explore for natural gas relative to crude oil. The share of natural gas rigs drilling made up 83.7 percent of the total rig count for the week (June 15). Natural gas rigs drilling as a percentage of the U.S. total rigs have consistently exceeded 83 percent since the week ending December 8, 2006.
Natural Gas Transportation Update:
Southern Natural Gas Company announced on Wednesday, June 13, that it had experienced an unscheduled engine outage at its White Castle compressor station on the west leg in South Louisiana. As a result of the outage, interruptible capacity in the South Louisiana supply area on the west leg was reduced. By Friday, June 15, the repairs to the engine were completed and the compressor station returned to full capacity.
Texas Gas Transmission, LLC, began a scheduled outage at the Sharon compressor station in Louisiana on June 18, 2007. The outage limits the maximum flow out of the station to about 450,000 MMBtu per day and is expected to last through Saturday, June 30. All meters on the Sharon-Carthage line, including the Texas Eastern-Sharon meter are affected by this outage.
El Paso Natural Gas Company announced several unscheduled maintenances over the past week on its system. Roswell #3 unit was shut down June 18 through June 19, while the Belen #2 unit was taken down June 19 through June 22. The two units reduced the capacity at the San Juan crossover by 30 MMcf and 20 MMcf per day, respectively. Elsewhere on the system, Dumas #2 was unavailable June 15 though June 18, resulting in a reduced capacity of 30 MMcf per day at Dumas East, along with the Seligman B outage (June 16) of 96 MMcf per day.
Florida Gas Transmission declared an overage alert day (OAD) for Monday, June 18, for its market area customers with a 25 percent tolerance for negative daily imbalances.
Pacific Gas and Electric Company issued a stage 2 high-inventory operational flow order (OFO) for gas days June 19 through 21, 2007. The pipeline initially set the tolerance level for positive daily imbalances at 10 percent, tightening it to 9 percent on Wednesday, June 20. The OFO carried a penalty of $1 per decatherm (Dth).
Northwest Pipeline Corporation is performing line welding and pigging facility installations near the Lava Hot Springs compressor station between June 18 and June 22, 2007. Since primary firm nomination requests through this point exceed the available capacity of 471,000 Dth per day, the pipeline issued a notice of declared deficiency period for gas day June 18, which is expected to last until the work is completed. Northwest originally had scheduled maintenance to replace the starters and relief valves at the Kemmerer compressor station on June 26-29, however, the pipeline announced on June 19 that the Kemmerer maintenance will be completed concurrently with the work at the Lava compressor station, and will thus not result in additional impact to the shippers.