Overview: Thursday, June 14, 2007 (next release 2:00 p.m. on June 21, 2007)
Natural gas spot and futures prices decreased this week (Wednesday-Wednesday, June 6-13) as weather-related demand was limited amid close-to-normal temperatures for this time of year. Easing prices also likely resulted in part from reduced supply uncertainty in response to the amount of natural gas in underground storage (mostly for use during the winter heating season but also available for periods of hot weather in the summer). Supplies from international sources have grown considerably this spring, as imports of liquefied natural gas (LNG) have increased markedly even as natural gas supplies from Canada (transported by pipeline) likely have decreased. On the week, the Henry Hub spot price decreased 23 cents per MMBtu, or 2.9 percent, to $7.60. At the New York Mercantile Exchange (NYMEX), the contract for July delivery decreased 47.2 cents per MMBtu on the week to a daily settlement of $7.608 yesterday (June 13). EIA's Weekly Natural Gas Storage Report today reported natural gas storage supplies of 2,255 Bcf as of Friday, June 8, reflecting an implied net injection of 92 Bcf. This level of working gas in underground storage is 19.3 percent above the 5-year average inventory for this time of year. The spot price for West Texas Intermediate (WTI) crude oil increased $0.20 per barrel on the week to $66.17 per barrel, or $11.41 per MMBtu.
<![if !vml]>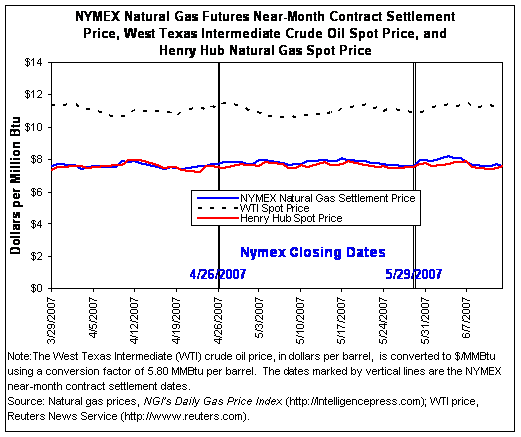 <![endif]>
Spot price movements this week remained within a range established in the last couple of months. In the 12 weeks since March 22, the Henry Hub price has traded between $7.07 and $7.96 per MMBtu. Although the Henry Hub price started out the report week at the high end of this range (posting $7.88 per MMBtu on Thursday, June 7), the average spot price at the hub was below $7.50 on Monday and Tuesday before finishing the week at $7.60 yesterday (June 13). The sharpest price movement of the week in the spot markets came last Friday as the Henry Hub price fell 36 cents per MMBtu, at least in part in reaction to higher-than-expected injections into underground storage announced on Thursday. Moderate temperatures also have characterized the weather for most of the Lower 48 States, providing relatively little in the way of weather-related demand. Summer-like heat has moved into the Southwest, but elsewhere temperatures are mild. For the week, prices at production-area trading locations along the Gulf Coast in Louisiana generally decreased between 14 and 31 cents per MMBtu. Highly-varied pricing continues to characterize trading at Rockies market locations with relatively abundant supplies lacking access to markets, resulting in large price decreases. At $6.68 per MMBtu as of Wednesday (June 13), the price at the El Paso Bondad pool in Colorado was 17 cents lower than the previous Wednesday but nonetheless at the high end of the region's range. In contrast, fierce competition among Rockies suppliers for access to California or Nevada markets on Kern River Gas Transmission resulted in an average price of $1.95 per MMBtu as of Wednesday, which was 57 cents less than the previous week. The market price for supplies on Colorado Interstate Gas on Tuesday, June 12, averaged $1.68 per MMBtu, the lowest average price in the region during the week. Despite an average decline of 32 cents per MMBtu for the week in the Northeast, the average price in the region still exceeds $8. Off Transcontinental Gas Pipe Line at New York City, the average price yesterday was $8.16 per MMBtu, or 30 cents lower on the week. Still a variety of factors could lead to higher prices in the next few weeks, including rising prices for competing petroleum products (as evidenced by an increase in the underlying crude oil price). Hurricanes during this season, which started June 1, could affect supplies significantly, as was seen in the extreme following the devastating 2005 season with Katrina and Rita. Supply disruptions also occur routinely with merely cautionary evacuations of offshore platforms during storm periods.
<![if !vml]>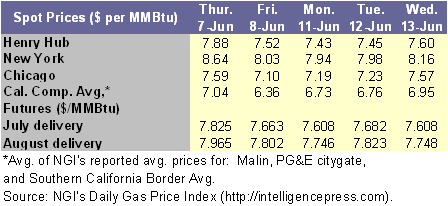 <![endif]>
At the NYMEX, the price of the futures contract for July delivery decreased in four of five trading sessions this week, resulting in a net decrease of 47.2 cents per MMBtu (to $7.608). All futures contracts through the end of the next heating season also decreased on the week (albeit in lesser amounts). As a result, the price of the 12-month strip, or the average price for contracts over the next year, dropped 28 cents per MMBtu, or 3.1 percent, to $8.663. The price of the near-month contract is $1.445 per MMBtu higher than last year's price at this time (on June 13, 2006, the July 2006 contract settled at $6.163 per MMBtu). At this time last year, the difference between the Henry Hub price and the price for the NYMEX contract for delivery the following January (the month that is normally the highest price in the 12-month strip) had widened to $4.14 per MMBtu, a spread that was highly unusual. The corresponding spread this year, although narrower at $2.27 per MMBtu, is still atypically high. Currently, the January 2008 contract is priced at $9.87 per MMBtu.
Recent Natural Gas Market Data
Estimated Average Wellhead Prices

Dec-06

Jan-07

Feb-07

Mar-07

Apr-07

May-07

6.65

5.92

6.66

6.56

6.84

6.98

Price ($ per MMBtu)

6.48

5.76

6.48

6.39

6.66

6.80

Note: Prices were converted from $ per Mcf to $ per MMBtu using an average heat content of 1,027 Btu per cubic foot as published in Table A4 of the Annual Energy Review 2002.

Source:Energy Information Administration, Office of Oil and Gas.
Working gas in underground storage was 2,255 Bcf as of June 8, which is 19.3 percent above the 5-year average inventory level for the report week, according to EIA's Weekly Natural Gas Storage Report (see Storage Figure). The implied net injection for the week was 92 Bcf, which nearly matches the 5-year average (2002-2006) net injection of 93 Bcf but is considerably higher than last year's net injection of 77 Bcf. As a result, current inventory levels are now 365 Bcf higher than the 5-year average, but 131 Bcf less than last year at this time. Net injections for the past 7 weeks have been relatively strong at an average of nearly 99 Bcf, which is significantly more than the average injection of 78 Bcf for the corresponding time frame last year. Cooling degree-day statistics published by the National Weather Service for the period roughly coinciding with the week covered by this storage report show that cooling degree-days (CDDs) were about 13 percent more than normal for the United States as a whole (see Temperature Maps). Some Census Divisions showed large percentage differences from normal, but the actual CDD levels were relatively low compared with summer levels and therefore do not represent significant cooling demand.
<![if !vml]>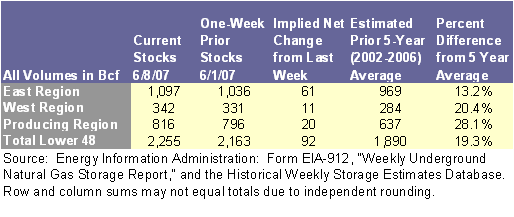 <![endif]>
Other Market Trends:
EIA Releases June Short-Term Energy Outlook Including a 2007 Hurricane Outlook: The Energy Information Administration (EIA) released the monthly Short Term Energy Outlook on June 12, 2007, which provides monthly energy projections through December 2008. According to the report, EIA expects the Henry Hub natural gas spot price to average $7.96 per thousand cubic feet (Mcf) in 2007, which is a $1.02 per Mcf increase from the 2006 average. The Henry Hub spot price is projected to climb to a winter peak of $9.45 per Mcf in January 2008, and average $8.15 per Mcf for all of 2008. Although natural gas demand this summer is expected to be close to what it was last summer, consumption for all of 2007 is expected to increase about 4 percent over 2006 levels as temperatures in the winter months of 2006 are expected to be significantly colder. Growth in natural gas consumption is expected to slow to 0.8 percent in 2008. Dry natural gas production from the Gulf of Mexico is expected to decrease 7.4 percent in 2007, and then increase 3.1 percent in 2008 partly because of the Independence Hub, which is projected to start later this year and produce 1 billion cubic feet (Bcf) per day by the middle of 2008. Total dry natural gas production is expected to remain flat in 2007 compared with 2006 levels and then grow by 1.5 percent in 2008. Imports of liquefied natural gas (LNG) in 2007 are expected to increase to 790 Bcf, which is 35 percent more than 2006 levels, while pipeline natural gas imports are projected to decline by 4.4 percent in 2007.Also included in this month's edition of the Short Term Energy Outlook is a supplement describing the 2007 outlook for hurricane impacts on Gulf of Mexico crude oil and natural gas production. According to the supplement, above-normal hurricane activity in the Atlantic is likely to impact offshore crude oil and natural gas producers in the Gulf of Mexico. Based on predictions by the National Oceanic and Atmospheric Administration (NOAA) on the level of Atlantic basin hurricane activity compared with historical activity, EIA expects a total of about 13.2 million barrels of crude oil and 86.5 Bcf of natural gas to be shut in during the 2007 hurricane season. These estimates have been included in EIA's projections for crude oil and natural gas production. The supplement also notes that the likelihood of a repeat of the destruction caused by Hurricanes Katrina and Rita in 2005 is small.
Natural Gas Transportation Update:
Pacific Gas and Electric Company (PG&E) extended a Stage 2 high-inventory operational flow order (OFO) from Friday, June 8, through Wednesday, June 13, for the entire California gas transmission system. The pipeline imposed penalties of $1 per decatherm (Dth) for exceeding a 5-percent tolerance on positive daily imbalances.On June 14, PG&E kept the OFO in place but loosened the tolerance on positive daily imbalances to 16 percent.
Responding to forecasts of high temperatures, Florida Gas Transmission Company issued an overage alert day (OAD) for market area customers for Tuesday, June 12. The OAD carried a 25 percent tolerance for negative daily imbalances. The OAD did not continue beyond Tuesday.
Because of an unplanned meter repair at the Midwestern Joliet Interconnect, ANR Pipeline Company announced on June 8, that the Midwestern Joliet Meter Station located in Illinois will be shut in until further notice. ANR is not accepting any volumes or nominations at the 4194 JOLIET (MGT-DEL) and 48641 JOLIET (MGT-REC) locations. ANR anticipates minimal to no impact related to this outage, since there are no significant nominations or flows occurring at these locations. In addition, on June 12, ANR announced that it completed its pipeline inspection south of the Madisonville compressor station along the South East Mainline located in Kentucky and also completed engine repairs at the Marshfield compressor station located in Wisconsin. The associated capacity restrictions in both locations have been lifted.
Southern Natural Gas Company announced that on June 13, and until further notice, the White Castle Compressor Station on the west leg located in Louisiana will be shut in because of an unscheduled engine outage.Capacity at this location is 188,885 MMBtu. Interruptible capacity in the South Louisiana area on the west leg will be reduced.