Overview:  Thursday, May 10, 2007 (next release 2:00 p.m. on May 17, 2007)
Springtime temperatures in most regions of the country this week and lack of any significant cooling or heating load through much of the Lower 48 States led to an easing of natural gas spot prices since Wednesday, May 2. Furthermore, the formation of the first tropical storm of the 2007 Atlantic Hurricane Season 3 weeks prior to the beginning of the traditional hurricane season appeared to have no impact on the spot markets in the Lower 48 States. On the week (Wednesday-Wednesday, May 2-9), the Henry Hub spot price declined 18 cents per MMBtu, or 2.4 percent, to $7.46. In contrast to spot market activity, trading of futures contracts at the New York Mercantile Exchange (NYMEX) this week resulted in gains for all contracts with the exception of the near-month contract, possibly reflecting an expected tightness in supply over the summer months. While the NYMEX contract for June delivery decreased 1 cent per MMBtu on the week to a daily settlement of $7.720 yesterday (May 9), contracts through the end of the injection season all increased, albeit only by an average of 0.3 percent. Net injections reported in today's release of EIA's Weekly Natural Gas Storage Report brought natural gas storage supplies to 1,747 Bcf as of Friday, May 4, which is 20.5 percent above the 5-year average inventory for the report week. The spot price for West Texas Intermediate (WTI) crude oil decreased $2.24 per barrel on the week to $61.54 per barrel, or $10.61 per MMBtu.
<![if !vml]>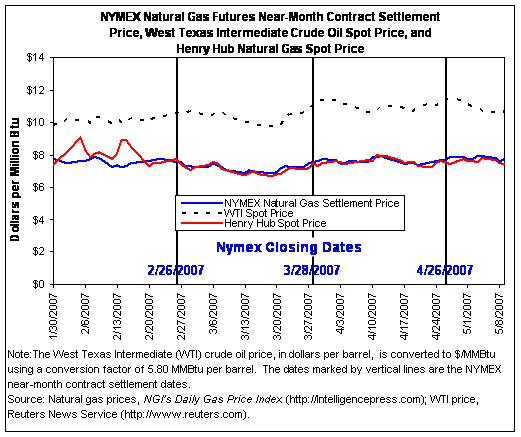 <![endif]>
Moderating temperatures this week left prices lower than the previous week at nearly all market locations across the Lower 48 States. For the week, prices at production-area trading locations along the Gulf Coast generally decreased between 8 and 39 cents per MMBtu. The Henry Hub spot price fell to $7.46 per MMBtu, which is 18 cents lower than last Wednesday's price. The largest price decreases on the week were in the Rocky Mountain region, which recorded decreases between 11 cents and $1.36 per MMBtu, trading yesterday at the regional average of $5.01 per MMBtu. West of the Rockies, excess supply in some areas and an increase in cooling load in others led to a mixed price movement on the week. Still, the weekly increases in southern California trading locations and points in Arizona/Nevada trading regions were only between 6 and 13 cents per MMBtu. After a dip in the temperatures during the first half of the report week in the Northeast, the return of spring-like temperatures led to an easing in the spot market prices in this region, recording average decreases of 20.0 cents per MMBtu on the week, to a regional average $7.97 per MMBtu yesterday. The formation of the first tropical storm of the season had no effect on the natural gas prices other than dampening the cooling load in the South Atlantic States of Georgia and Florida. According to the latest National Weather Service report, Subtropical Storm Andrea is gradually weakening as it drifts southward offshore the northeastern Florida coast.
<![if !vml]>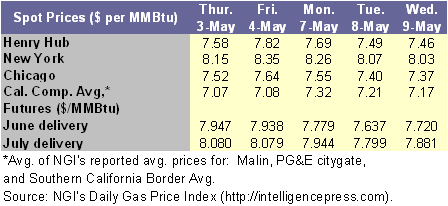 <![endif]>
NYMEX futures prices increased this week with the exception of the June 2007 futures contract, recording net weekly increases for contracts through the end of the next heating season. The price movement reflected an uncertainty in the market, as the possibility of an active hurricane season and a tight supply/demand balance may have a significant impact on the futures prices during the coming summer months and beyond. Nevertheless, as these increases were only between 2.5 and 3.7 cents, futures contracts on the week remained fairly flat. The near-month contract (for June delivery) decreased only 1 cent on the week, settling yesterday at $7.720 per MMBtu. Similarly, the July 2007 contract also recorded a small net change (in this case a net weekly increase) of 1 cent, settling yesterday at $7.881 per MMBtu. The rest of the contracts through the end of the 2007 injection heating season traded yesterday above $8 per MMBtu, while futures contracts for delivery between December 2007 and March 2008 averaged $9.718 per MMBtu in yesterday's trading. As a result, the 12-month strip, which is the average price for futures contracts over the next 12 months, closed yesterday at $8.683 per MMBtu, an increase of 3.4 cents since last Wednesday.
Recent Natural Gas Market Data
Estimated Average Wellhead Prices

Nov-06

Dec-06

Jan-07

Feb-07

Mar-07

Apr-07

6.43

6.65

5.92

6.66

6.56

6.84

Price ($ per MMBtu)

6.26

6.48

5.76

6.48

6.39

6.66

Note: Prices were converted from $ per Mcf to $ per MMBtu using an average heat content of 1,027 Btu per cubic foot as published in Table A4 of the Annual Energy Review 2002.

Source:  Energy Information Administration, Office of Oil and Gas.
Working gas in underground storage was 1,747 Bcf as of May 4, which is 20.5 percent above the 5-year average inventory level for the report week, according to EIA's Weekly Natural Gas Storage Report (see Storage Figure). The implied net injection for the week was 96 Bcf, which was 48 percent higher than the 5-year average net injection of 65 Bcf and 19 percent higher than last year's net injection of 81 Bcf. As a result, the difference between current inventory levels and the 5-year average increased to 297 Bcf. While the difference between current inventories and last year's level decreased with this week's report, the volume of gas in storage remains 230 Bcf below the level at this time last year. The latest heating- and cooling-degree day statistics published by the National Weather Service for the period roughly coinciding with the week covered by this storage report show that weather-related gas demand was minimal relative to the peak periods in the summer and winter, limiting any heating- or cooling-load demand (see Temperature Maps). All Census Divisions had heating degree-days (HDD) that were lower than normal and below last year's; HDDs numbered 41 percent lower than normal for the entire Lower 48 States. As for cooling degree days (CDD), some Census Divisions showed large percentage differences from normal, but the actual CDD levels were relatively low compared with summer levels and therefore do not represent significant cooling demand.
<![if !vml]>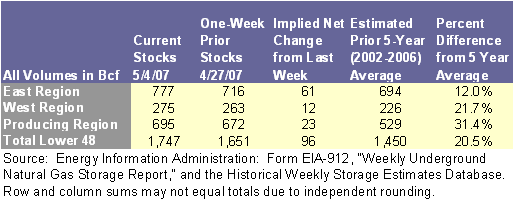 <![endif]>
Other Market Trends:
EIA Releases Its Latest Short-Term Energy Outlook (STEO): The Energy Information Administration (EIA) on May 8, 2007, released its latest Short Term Energy Outlook (STEO), which includes forecasts through December 2008.  The May STEO highlights the continuing problems for refineries, the West Texas Intermediate (WTI) crude oil price, the Henry Hub natural gas spot price, as well as residential electricity prices.  Because of the colder-than-normal weather in April, prices at the Henry Hub increased from an average of $7.32 per thousand cubic feet (Mcf) in March to an average of $7.83 per Mcf in April. Despite the recent increase, prices are expected to decrease in May to $7.51 per Mcf before rising over the next several months. The Henry Hub natural gas spot price is expected to average $7.84 per Mcf in 2007 and $8.16 per Mcf in 2008.  The projected West Texas Intermediate crude oil price is expected to average $66 per barrel this summer, compared with more than $70 per barrel last summer. Natural gas consumption is expected to rise because of colder weather during the first 4 months of 2007.  Total consumption was more than 10 percent higher (7,140 Bcf) during the first quarter of 2007 compared with the first quarter in 2006.  As of April 27, 2007, working natural gas in storage was 1,651 Bcf, which was 266 Bcf more than the 5-year average (2002-2006).
Natural Gas Transportation Update:
<![if !supportLists]>· <![endif]>Sea Robin Pipeline Company began maintenance and repairs at the Vermilion 149 compressor station offshore Louisiana on Thursday, May 3.  During the maintenance, which will last for an undetermined amount of time, station capacity will be limited to 600 million cubic feet (MMcf) per day.
<![if !supportLists]>· <![endif]>Southern California Gas Company issued a high-linepack operational flow order (OFO) for Thursday and Friday, May 3 and 4.  They were able to lift the OFO on Saturday, May 5, when 120 MMcf per day of injection capacity returned at the Aliso Canyon storage facility after a 1-day maintenance constraint.
<![if !supportLists]>· <![endif]>Pacific Gas and Electric Company issued a systemwide Stage 2 high-inventory OFO for Saturday, May 5, because of projections that linepack on the California Gas Transmission system would rise above maximum target levels.  Penalties were set at $1 per decatherm for exceeding a 10 percent tolerance on positive daily imbalances. 
<![if !supportLists]>· <![endif]>Florida Gas Transmission declared an Overage Alert Day on Saturday, May 5, with a 25 percent tolerance for negative daily imbalances. 
<![if !supportLists]>· <![endif]>Mississippi River Transmission Corporation (MRT) implemented a System Protection Warning on Tuesday, May 8, because of high linepack and unavailability of the Unionville storage facility in northern Louisiana.  During the restriction, MRT will not schedule any volumes that result in a daily long imbalance position and will not schedule or allocate storage injection volumes. 
<![if !supportLists]>· <![endif]>Natural Gas Pipeline Company of America (NGPL) reported a force majeure on Monday, May 7, after heavy rain led to flooding at the excavation of an ongoing maintenance project in Gage County, Nebraska.  Pressure and flows were reduced on NGPL's two mainlines in the area.  NGPL did not have any intraday scheduling reductions on Monday, but interruptible transportation and secondary out-of-path transports were not available on Tuesday.  The force majeure was lifted on Wednesday morning after an inspection found no damage.