Overview:  Thursday, March 8, 2007 (next release 2:00 p.m. on March 15, 2007)
Since Wednesday, February 28, natural gas spot prices generally increased east of the Rocky Mountains and decreased in the Rocky Mountains and to the west.  On Wednesday, March 7, prices at the Henry Hub averaged $7.52 per MMBtu, gaining 28 cents per MMBtu, or about 4 percent, from the level of the previous Wednesday (February 28).  The NYMEX futures contract for April delivery at the Henry Hub settled at $7.366 per MMBtu on Wednesday, March 7, rising about 7 cents per MMBtu, or nearly 1 percent, from the settlement price of $7.300 recorded last Wednesday, February 28.  Natural gas in storage was 1,631 Bcf as of March 2, which is 14 percent above the 5-year average.  The spot price for West Texas Intermediate (WTI) crude oil increased 7 cents per barrel on the week (Wednesday-Wednesday) to $61.85 per barrel or $10.66 per MMBtu.
<![if !vml]>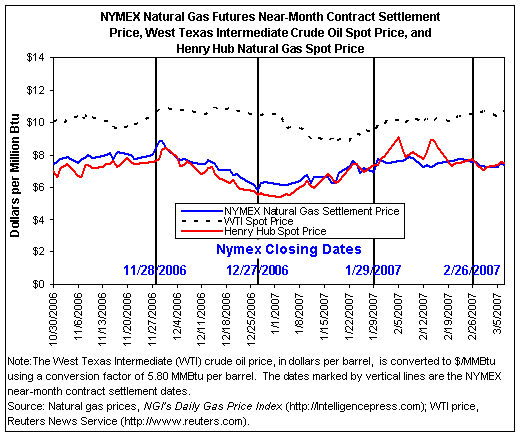 <![endif]>
Spot prices increased at most market locations east of the Rocky Mountains since last Wednesday, February 28.  A cold front moving in from Canada contributed to the price increases, as cold temperatures increased heating demand for natural gas heading into the weekend.  The largest increases occurred principally in the Northeast region, where increases averaged $2.27 per MMBtu since Wednesday, February 28.  Prices in the Northeast region were characterized by considerable volatility during the week, as prices at most market locations increased through Tuesday before declining on Wednesday, March 7.  The highest price in the Northeast region occurred at the New York citygate where prices peaked at $17.56 per MMBtu on Tuesday, March 6.  In and to the west of the Rocky Mountains, where temperatures were not as frigid, prices generally declined.  Prices fell about 18 cents per MMBtu on average in the Rocky Mountains region, while in Arizona, Nevada, and California, price declines ranged between 12 and 19 cents per MMBtu.  Selected markets in West Texas and the Midcontinent regions posted narrow declines.  Prices exceeded levels reported last year at this time, with prices at the Henry Hub 99 cents per MMBtu or 14 percent above last year's level. 
<![if !vml]>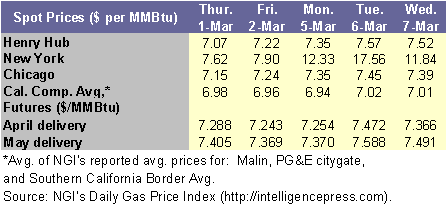 <![endif]>
At the NYMEX, prices for the futures contracts for the next 12 months increased across the board with the 12-month futures strip (April 2007 through March 2008) gaining about 11 cents per MMBtu, or about 1 percent, since last Wednesday, February 28. The price of the NYMEX futures contract for April delivery at the Henry Hub settled at $7.366 per MMBtu on Wednesday, March 7, rising about 7 cents per MMBtu, or less than 1 percent.  Prices for delivery in the ensuing months increased by slightly larger margins, increasing a little more than 1 percent.  Overall, the 12-month futures strip (April 2007 through March 2008) traded at a premium of about 79 cents per MMBtu relative to the Henry Hub spot price, averaging $8.31 per MMBtu as of Wednesday, March 7.    
Recent Natural Gas Market Data
Estimated Average Wellhead Prices

Sep-06

Oct-06

Nov-06

Dec-06

Jan-07

Feb-07

5.51

5.03

6.43

6.65

5.92

6.66

Price ($ per MMBtu)

5.37

4.90

6.26

6.48

5.76

6.48

Note: Prices were converted from $ per Mcf to $ per MMBtu using an average heat content of 1,027 Btu per cubic foot as published in Table A4 of the Annual Energy Review 2002.

Source:  Energy Information Administration, Office of Oil and Gas.
Working gas in storage totaled 1,631 Bcf as of Friday, March 2, which is about 14 percent above the 5-year average inventory level for the report week, according to EIA's Weekly Natural Gas Storage Report (See Storage Figure).  As of March 2, stocks were below the 1,692 Bcf in storage at the end of last year's heating season, yet still exceeded the 5-year average by 194 Bcf.  On the week, withdrawals from storage totaled 102 Bcf compared with the 5-year average withdrawal of 117 Bcf and last year's net withdrawal of 97 Bcf for the same report week.  Temperatures on average were slightly above historical levels for the Lower 48 States with heating degree-days exceeding both the normal level and last year's level by about 3 percent, but with significant variability among the Census Divisions. In the high gas-consuming areas of the New England, Middle Atlantic, and East North Central Census Divisions, heating degree-days were up to 7 percent above historical norms.  The Pacific and Mountain Census Divisions exceeded historical norms by 48 and 14 percent, respectively.  Elsewhere, heating degree-days ranged between 4 and 43 percent below normal (See Temperature Maps) .  If net withdrawals from storage during the remainder of the heating season match the 5-year average, working gas in storage will finish the heating season at 1,426 Bcf on March 30, 2007, roughly 16 percent above the 5-year average of 1,232 Bcf but 16 percent below last year's level of 1,692 Bcf. 
Other Market Trends:
EIA Releases Its March Short-Term Energy Outlook:  According to the Energy Information Administration's (EIA) latest Short Term Energy Outlook (STEO), released March 6, the Henry Hub spot price is projected to average $7.58 per Mcf in 2007 and increase to $7.86 per Mcf in 2008. Drilling for natural gas continues at historically high levels, and domestic dry natural gas production is expected to increase by 2.4 percent in 2007, which is a slightly higher growth rate than in 2006. Net imports of natural gas are expected to decrease for the second year in a row. However, the decline for 2007 (2 percent) would be lower than the net import decline in 2006 (5 percent). EIA expects total liquefied natural gas (LNG) imports to increase from their 2006 level of 580 Bcf to 770 Bcf in 2007. LNG import projections remain strong for 2008 as well, expanding by 39 percent to exceed the 1 Tcf mark. With the return of normal temperatures for 2007, residential natural gas consumption for the year is expected to be larger than in the previous year. A first-quarter 2007 comparison of EIA's estimated residential consumption shows a 14-percent year-over year increase. For the year as a whole, residential consumption is expected to increase by 10.8 percent in 2007. Similarly, commercial and industrial sector consumption volumes are expected to increase by 6.3 and 1.9 percent, respectively, in 2007 because of a return to normal weather, lower commercial prices, and growing industrial output. Total natural gas consumption for 2007 and 2008 is projected to increase by 2.9 and 1.8 percent, respectively, after falling by 1.7 percent in 2006. Working gas in underground storage was 1,733 Bcf as of February 23, falling below year-ago levels, but still remaining above the 5-year average. Cold weather across most of the Lower 48 States led to record withdrawals of natural gas from storage in February.
Natural Gas Transportation Update:
Effective March 6, and until further notice, Dominion Transmission Inc. (DTI) has issued an operational flow order (OFO) for eight stations (Corning Natural Gas; New York State Electric and Gas; Rochester Gas and Electric; Niagara Mohawk Power; Fillmore Gas; National Fuel Gas Distribution; Steuben Storage; and Alliance/Lower Leroy) in its New York service area.

 

The OFO is a result of current conditions and weather forecasts. The company further reported that quantities delivered to customers at stations listed above are in excess of the quantities that DTI is receiving on behalf of the customers.

 

DTI cannot tolerate under-receipts without jeopardizing its ability to provide firm service to other customers and may require that DTI issue additional OFOs.
Transcontinental Gas Pipeline Corporation (Transco) conducted facility modifications on March 7 and 8 associated with a tap installation on the mainline downstream of Milepole 26.16 in Hidalgo County, TX.

 

Approximately 20 MMcf per day of production was affected.

 

Transco also announced for gas day March 6 that physical constraints on the system are in effect until further notice, affecting seven different locations.

  

Southern Natural Gas Company experienced damage caused by a third party on its 18-inch pipe and is unable to accept nominations at three receipt points (Main Pass 61A – 028800, Main Pass 61 B – 029100, and Main Pass 61 B Buy Back – 029110) on its South Pass line. Repairs are expected to be completed around mid-March.

Vector Pipeline announced that deliveries to the interconnection with Union Gas at Dawn, Ontario, for gas day March 8 would be restricted to 640,000 decatherms (Dth) per day. Vector anticipates that these restriction levels will remain in place until Vector is able to run a cleaning pig. With the exception of the St. Clair delivery point, the restriction does not affect receipts and/or deliveries at any other location on the U.S. portion of the Vector system. The restriction, originally announced on February 28, is the result of Vector's operational constraints and to accommodate the continuing inspection, replacement, and monitoring of the filters at Dawn.

Southern California Gas Company declared an OFO for the evening cycle on Thursday, March 8. The company has limited all nominations to the transportation service access quantity and requested that customers ensure that all deliveries on the system are within 110 percent of expected usage.

Algonquin Gas Transmission, LLC reported a capacity constraint for gas day Monday, March 5, urging all shippers and point operators to carefully review demands for gas and schedule gas consistent with daily needs. Furthermore, the pipeline urged shippers to tender and receive gas consistent with confirmed nominations. In order to maintain operational flexibility, the pipeline imposed a maximum 2-percent daily variance between scheduled and actual deliveries. Any deliveries that exceeded the maximum daily variance were charged a penalty equal to 3 times the gas daily posting for the high common price at the Algonquin citygate per Dth of excess gas.

    
Potential Natural Gas Savings Found at Industrial Facilities:  On March 2, the Department of Energy (DOE) announced that Energy Savings Assessments (ESAs) had been completed at 200 of the largest industrial facilities in the United States.  The ESAs uncovered opportunities to save more than 50 trillion Btu (48.5 billion cubic feet) of natural gas, which is roughly equal to the amount of natural gas used in 700,000 American homes.  DOE estimates that the energy savings could reach $500 million per year and could reduce carbon dioxide emissions by 3.3 million metric tons per year.  The industrial sector is the largest consuming sector of natural gas.  In 2005, this sector consumed almost 7 trillion cubic feet, which was about 33 percent of the total volume of natural gas delivered to consumers.  According to DOE, the 200 ESAs were conducted over the past 12 months at the Nation's most energy-intensive manufacturing facilities.  The ESAs analyzed pumps, fans, compressed air systems, and process and heating systems.  Identified savings at each plant were typically between 5 and 15 percent of a plant's total energy use. In 2007, DOE plans to conduct 250 additional ESAs and offer cost-sharing options with industry, utilities, and other partners.