Overview:  Thursday, March 1, 2007 (next release 2:00 p.m. on March 8, 2007)
Natural gas spot prices decreased at almost all market locations this week in spite of continuing cold weather through most of the country and increasing crude oil prices.  For the week (Wednesday to Wednesday), the spot price at the Henry Hub declined 27 cents per MMBtu, or about 4 percent, to trade at $7.24 per MMBtu yesterday (February 28).  The price of the NYMEX futures contract for April delivery at the Henry Hub decreased 42 cents, or about 5 percent, this week, closing yesterday at $7.300 per MMBtu, while the March contract expired at $7.547 per MMBtu on Tuesday, February 27.  Natural gas in storage as of Friday, February 23, decreased to 1,733 Bcf, which is 11.5 percent above the 5-year average.  The spot price for West Texas Intermediate (WTI) crude oil gained $2.38 per barrel since last Wednesday to trade yesterday at $61.78 per barrel or $10.65 per MMBtu, which is the highest price since late December.
<![if !vml]>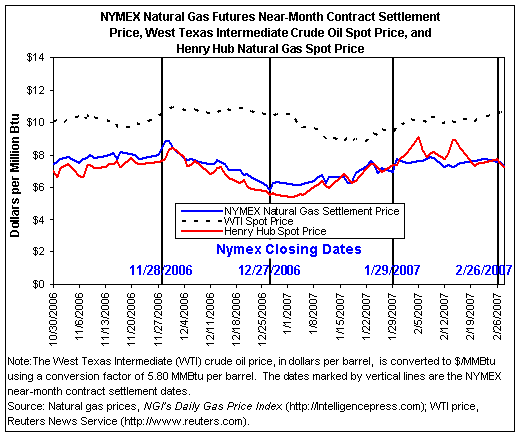 <![endif]>
With only 1 month left in the traditional winter heating season and still above-average levels of natural gas in storage, pressure eased on natural gas spot prices this week.  The weather also contributed to the decreasing prices.  Although below freezing weather persisted in the Northeast and areas of the Midwest, temperatures have increased from the February lows, and spring-like temperatures already have begun to spread across the South.  Almost all market locations recorded decreases this week mainly because of widespread declines on the past 2 days of trading (Tuesday and Wednesday, February 27 and 28).  Since Wednesday, February 21, price drops ranged from 1 to 47 cents with several market locations unchanged.  The Henry Hub spot price was $7.24 per MMBtu yesterday, February 28, which is 27 cents less than the price on the previous Wednesday.  Elsewhere in Louisiana, price decreases averaged 18 cents per MMBtu, resulting in an average spot price of $7.18 per MMBtu in the State.  Spot prices at locations in the Rocky Mountains and the Northeast exhibited the largest average declines, at 20 cents and 29 cents per MMBtu, respectively.  However, price levels in these two regions differ significantly with the Rocky Mountains averaging the lowest regional spot price yesterday at $6.40 per MMBtu, and the Northeast averaging the highest at $7.74 per MMBtu.  Despite the widespread declines this week, the spot prices at almost all market locations yesterday were between 24 cents and $1.52 per MMBtu higher than the same day last year. 
<![if !vml]>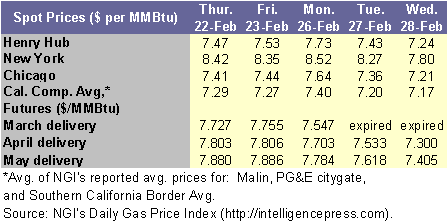 <![endif]>
The price of the New York Mercantile Exchange (NYMEX) futures contract for April 2007 delivery at the Henry Hub settled at $7.300 per MMBtu yesterday in its second day of trading as the near-month contract.  After small increases at the beginning of the report week (Thursday and Friday, February 22 and 23), the contract price dropped by 51 cents in three trading sessions, resulting in an overall loss of 42 cents per MMBtu, or about 5 percent, for the week.  The March 2007 futures contract expired on Monday, February 26, at $7.547 per MMBtu, which represents a 10-cent drop from the price last Wednesday and a 19-cent drop in its tenure as the near-month contract.  All of the futures contracts for the upcoming year (April 2007 to March 2008) decreased by at least 20 cents since last Wednesday, yet prices for contracts during next winter are still as high as $9.300 per MMBtu.  The 12-month strip decreased 31 cents per MMBtu, or about 4 percent, this week to average $8.180 per MMBtu yesterday.  On the same date last year, the equivalent contracts (April 2006 to March 2007) averaged $8.312 per MMBtu. 
Recent Natural Gas Market Data
Estimated Average Wellhead Prices

Aug-06

Sep-06

Oct-06

Nov-06

Dec-06

Jan-07

6.51

5.51

5.03

6.43

6.65

5.92

Price ($ per MMBtu)

6.34

5.37

4.90

6.26

6.48

5.76

Note: Prices were converted from $ per Mcf to $ per MMBtu using an average heat content of 1,027 Btu per cubic foot as published in Table A4 of the Annual Energy Review 2002.

Source:  Energy Information Administration, Office of Oil and Gas.
Working gas in storage decreased to 1,733 Bcf as of Friday, February 23, 2007, according to the EIA Weekly Natural Gas Storage Report (See Storage Figure).  Storage levels are currently 179 Bcf, or 11.5 percent, above the 5-year average, and 263 Bcf, or 13.2 percent, below the storage level at this time last year.  The implied net withdrawal of 132 Bcf is 3 Bcf, or about 2 percent, above the 5-year average net withdrawal of 129 Bcf and 33 Bcf, or about 20 percent, below last year's net withdrawal of 165 Bcf.  This week's net withdrawal is the smallest withdrawal in 6 weeks and marks the first time since the end of December that the weekly net withdrawal has been less than last year's net withdrawal.  For the week ending February 22, temperatures were significantly colder than normal for all eastern and southern Census Divisions as measured by the National Weather Service's heating degree-days (See Temperature Maps).  Temperatures in these areas, which ranged between 7 to 24 percent colder than normal, likely influenced withdrawals from storage as home heating needs continued to maintain strong demand for natural gas.  Even with temperatures in the Mountain and Pacific Census Divisions at 12 and 13 percent warmer than normal, the United States was about 9 percent colder than normal overall.  Since the beginning of the heating season (November 1, 2006), cumulative net withdrawals have totaled about 1,719 Bcf.  If net withdrawals from storage over the remaining weeks of the heating season match the 5-year average, then cumulative net withdrawals for the heating season will exceed the 5-year average heating season net withdrawal of 1,921 Bcf by almost 5 percent.  This would leave end of heating season working gas stocks at around 1,440 Bcf, which is about 15 percent above the 5-year average level of 1,256 Bcf.
<![if !vml]>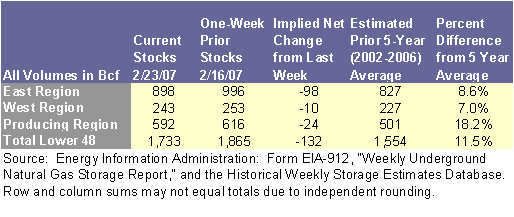 <![endif]>
Other Market Trends:
GAO Releases Report on Advanced Energy Technologies: The U.S. Government Accountability Office (GAO) in its February 28, 2007, report, DOE: Key Challenges Remain for Developing and Deploying Advanced Energy Technologies to Meet Future Needs, recommended that Congress consider further stimulating the development and deployment of a diversified energy portfolio by focusing research and development (R&D) funding on advanced energy technologies. The GAO report examined R&D funding trends and strategies for developing advanced energy technologies, key barriers to developing and deploying advanced energy technologies, and current efforts. The report found that the Department of Energy's (DOE) current level of R&D funding is not sufficient to deploy advanced energy technologies over the next 25 years. Furthermore, when adjusted for inflation, DOE's budget authority for energy R&D decreased 85 percent from its peak in fiscal year 1978 compared with the level in fiscal year 2005. DOE's R&D efforts have resulted in steady incremental progress in reducing costs for renewable energy, reducing emissions from coal-fired power plants, and improving safety and efficiency for nuclear energy. However, these efforts did not result in a decrease of the Nation's dependence on fossil fuels over the past 30 years. The report highlighted several key challenges in development and deployment of advanced renewable, fossil, and nuclear energy technologies, which included high capital costs, environmental concerns, and technology-specific challenges.
NOAA Reports La Niña Conditions May Increase Hurricane Activity: In their February 28 report, scientists at the National Oceanic and Atmospheric Administration (NOAA) Climate Prediction Center noted that as the 2006-2007 El Niño faded, surface and subsurface ocean temperatures rapidly decreased, which coupled with the recently cooler-than-normal water temperatures in the east-central equatorial Pacific, indicate a possible transition to La Niña conditions. Typically, during the U.S. spring and summer months, La Niña conditions do not significantly affect overall inland temperature and precipitation patterns. However, La Niña episodes often do have an effect on Atlantic and Pacific hurricane activity. La Niña conditions occur when ocean surface temperatures in the central and east-central equatorial Pacific become cooler than normal. These changes affect tropical rainfall patterns and atmospheric winds over the Pacific Ocean, which influence the patterns of rainfall and temperatures in many areas worldwide. NOAA noted that while other factors also affect the frequency of hurricanes, there is generally a greater-than-normal number of Atlantic hurricanes during La Niña events. During the winter, La Niña usually results in drier and warmer-than-average conditions over the southern United States. La Niña events at times follow El Niño conditions, and this naturally occurring phenomenon may last up to 3 years. La Niña generally develops between March and June, reaches peak intensity during December through February, and then weakens during the following March through May. The last lengthy La Niña conditions occurred in 1998 through 2001, resulting in serious drought conditions in the western United States.
RIK Sale in Wyoming Generates Increased Revenues: A recent Minerals Management Service (MMS) royalty-in-kind (RIK) natural gas sale in Wyoming is expected to generate an additional $5 to $10 million compared with royalties taken as cash payments. The RIK sale of 36 Bcf of natural gas, which is approximately 120,000 MMBtu per day, was the first such sale from the fields in Wyoming's southwest region. The State of Wyoming will receive 50 percent of the revenues generated by the sale. A total of 14 companies submitted bids on four packages. Winning bidders included Sempra Energy Trading Corporation, UBS Energy LLC, and Oneok Energy Markets and Trading Company, LP. Delivery of the natural gas sold began in January and will continue through October 31, 2007. The RIK program, which began as a pilot program 10 years ago, allows MMS to take royalties "in kind" as product and then sell it competitively on the open market. The program provides benefits by reducing regulatory costs, improving efficiency, and shortening the compliance cycle, and has resulted in reduction of administrative costs of nearly 50 percent compared with managing royalties received in value.
Natural Gas Transportation Update:
As a result of problems on Dominion Gas Transmission's Cornwell compressor station's engine 9 and exceedingly high line pressures, the company announced that it had to shut in production in bubbles 3226, 3227, and 2207. The shut-in occurred on February 21 and lasted until Monday, February 26. Dominion also announced that because of mechanical problems on engines 7 and 8 of the Cornwell compressor station, production in bubbles 2205, 2206, and 2207 had to be reduced by 30 percent. The latest problems began on February 27 and are expected to last until further notice.

 

Gulf South Pipeline Company announced plans last week to conduct an online auction of excess gas in place in its Bistineau storage facility in northwest Louisiana. The auction was held on Friday, February 23, and the company sold 250,000 decatherms (Dth) of natural gas. BP Energy Company acquired 10,001 Dth, and the UBS AG London branch purchased 239,999 Dth, with both sales priced at $7.76 per Dth. The natural gas sold is defined as a new interruptible storage service (ISS) agreement. Buyers have the option to take custody of the inventory or transfer the gas to another Gulf South customer with an effective firm storage service (FSS) agreement by March 31, 2007. Bistineau, along with the Jackson storage facility, supply the pipeline with a total working storage capacity of 83 Bcf.

   

Gulf South Pipeline also announced an unscheduled maintenance on the Montpelier compressor station unit 4. The maintenance began on Wednesday, February 28, and is expected to be completed by Wednesday, March 14. Capacity through the compressor station could be reduced by as much as 75,000 Mcf per day as a result of the ongoing work.

  

Questar Pipeline Company reported a mechanical failure at Oak Spring compressor station on Friday, February 23, and it had to reduce the main line capacity at ML 104 to 300,000 Dth per day in cycle 4 nominations. The latest mechanical failure occurred the same day that the pipeline completed a scheduled maintenance at Oak Spring station and restored the ML 104 capacity to the normal 385,000 Dth per day with cycle 3 nominations. However, Questar announced on Saturday that the repairs were completed and that ML104 was reset to 385,000 Dth per day in cycle 4 nominations for Saturday gas day.

Pacific Gas and Electric Company issued a customer-specific stage 2 low-inventory operational flow order (OFO) for Wednesday and Thursday (February 28 – March 1). Penalties of $1 per Dth were set for negative daily imbalances exceeding 5 percent tolerance level.