Overview:  Thursday, February 22, 2007 (next release 2:00 p.m. on March 1, 2007)
As the weather has made the transition from extreme cold to much more moderate conditions this week, natural gas spot prices have declined in much of the country. For the week (Wednesday to Wednesday, February 14–21), the Henry Hub spot price declined $1.40 per MMBtu to $7.51 as prices for next-day delivery responded to reduced demand for space-heating. However, the bitter and widespread cold of the first 2 weeks of February likely contributed to revised expectations of future storage levels, leading to increased futures prices this week. At the New York Mercantile Exchange (NYMEX), the price for the futures contract for March delivery at the Henry Hub increased 41 cents per MMBtu or about 5.6 percent. Generally, futures prices for delivery months through next summer increased by more than 4 percent. Working gas in storage as of Friday, February 16, was 1,865 Bcf, which is 10.8 percent above the 5-year (2002-2006) average. The spot price for West Texas Intermediate (WTI) crude oil increased $1.40 per barrel on the week to $59.40, or $10.24 per MMBtu.
<![if !vml]>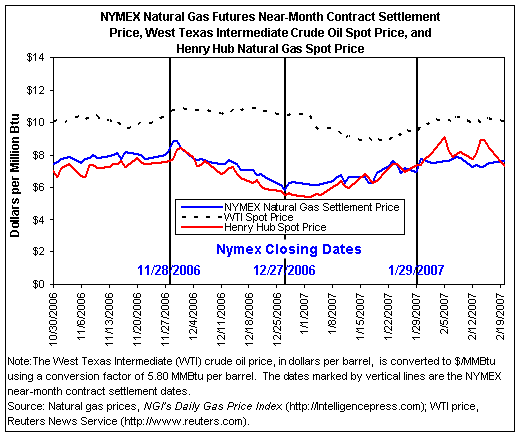 <![endif]>
A cold weather front in the Northeast last weekend was not enough to prevent steep price declines that occurred at most market locations east of the Mississippi River. Traders returned from a Presidents Day holiday to warming temperatures and a neutral weather outlook. On Tuesday, February 20, the average price at the Henry Hub was $7.33 per MMBtu, down $1.12 on the day and the lowest price since January 26.  On the week, the price at the Henry Hub declined about 16 percent from last Wednesday's average of $8.91 per MMBtu. Prices at other production area trading locations in East Texas and Louisiana declined similarly, although the magnitude varied from $2.96 down to $0.60. Price changes were largest in the Northeast region, where the average price decrease was $4.74 per MMBtu. The price at the New York citygate dropped $10.88 per MMBtu on the week to $8.20. The New York citygate price had reached as high as $40.03 per MMBtu earlier this month, creating a wide differential to other markets and indicating a short-term transportation constraint. However, with price declines this week, the New York citygate price differential to the Henry Hub is now closer to a regular trading pattern of under $1 per MMBtu. Prices in the West continue to trade at a significant discount of 30 cents or more to the Henry Hub despite increasing in the Rockies and California.  The spot price at the Opal, Wyoming, trading point increased 11 cents per MMBtu to $6.37, while the price at the Pacific Gas and Electric citygate at the northern California border was 8 cents higher on the week, reaching $7.59 per MMBtu yesterday (Wednesday, February 21).
<![if !vml]>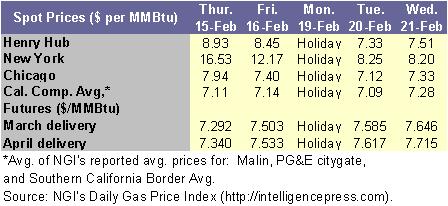 <![endif]>
At the NYMEX, the near-month contract (for March delivery) increased on the week by 41 cents per MMBtu, or 5.6 percent, settling yesterday at $7.646. The near-month contract increased in value every trading day during the week, as a longer-term outlook suggests that storage levels may end the heating season at lower levels than previously expected. The extremely cold temperatures early this February and the resulting large storage withdrawals have considerably lowered working gas in storage relative to the 5-year average. As a result, the March contract is now trading nearly $0.73 per MMBtu higher than the expiration price of the February contract ($6.917). At its settlement price yesterday, the March contract price was only about 9 cents lower than the year-ago price of the March 2006 contract, which was thought to be extraordinarily high following the devastating 2005 hurricane season. The 12-month strip, which is the average price for futures contracts over the next 12 months, closed yesterday at $8.35 per MMBtu, an increase of 29.6 cents since last Wednesday. Currently, the highest-priced contract in the 12-month strip is the January 2008 contract, which closed yesterday at $9.50 per MMBtu, a premium of $1.99 to yesterday's Henry Hub price.
Recent Natural Gas Market Data
Estimated Average Wellhead Prices

Aug-06

Sep-06

Oct-06

Nov-06

Dec-06

Jan-07

6.51

5.51

5.03

6.43

6.65

5.92

Price ($ per MMBtu)

6.34

5.37

4.90

6.26

6.48

5.76

Note: Prices were converted from $ per Mcf to $ per MMBtu using an average heat content of 1,027 Btu per cubic foot as published in Table A4 of the Annual Energy Review 2002.

Source:  Energy Information Administration, Office of Oil and Gas.
Working gas in underground storage was 1,865 Bcf as of February 16, which is 10.8 percent above the 5-year average inventory level for the report week, according to EIA's Weekly Natural Gas Storage Report (See Storage Figure). The net change on the week was a withdrawal of 223 Bcf, which significantly exceeds the year-ago implied net change of 120 Bcf and the 5-year average of 137 Bcf. As a result, the difference between current storage inventories and the 5-year average decreased by 86 Bcf to 182 Bcf during this report week. The cold first half of February this year has led to an unusually large drawdown already this month. From the beginning of the month to February 16, the net withdrawals from storage were 546 Bcf.  This partial volume for the month already exceeds the total February withdrawal in all but 2 of the past 31 years of monthly data.  During the report week, the weather for the country as a whole was about 22 percent colder than normal, as measured by heating degree-days (HDDs) for the week ending February 15, according to the National Weather Service (See Temperature Maps). Key markets for space heating demand were considerably colder than normal. In the Middle Atlantic, HDDs were 22 percent higher than normal. In the East North Central, which includes Chicago and other major population centers in the Midwest, HDDs were 30 percent above normal.
<![if !vml]>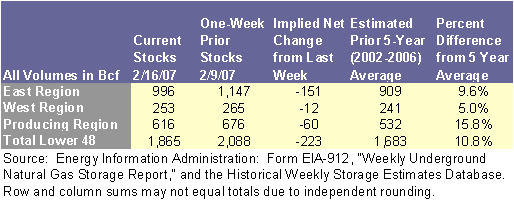 <![endif]>
Other Market Trends:
LNG Projects Advance through Regulatory Review: Numerous projects to import liquefied natural gas (LNG) into the United States have received approval from Federal regulators in recent weeks. On February 15, the Federal Energy Regulatory Commission (FERC) approved two new onshore LNG terminals that could supply approximately 3.1 Bcf of natural gas per day. The two projects, sponsored by Bayou Casotte Energy LLC (owned by Chevron) and Gulf LNG Energy LLC, are located adjacent to one another in Jackson County, Mississippi. The proposed new onshore Casotte Landing LNG terminal (1.6 Bcf per day of deliverability) would be built on a 264-acre parcel of land adjacent to Chevron's existing Pascagoula, Mississippi, oil refinery. Gulf LNG Energy LLC, which has named its project the "LNG Clean Energy" project (1.5 Bcf per day), plans to provide vaporized natural gas to the interstate grid through a new pipeline that would connect with two interstate pipelines and a gas processing plant owned by BP. Separately, the U.S. Maritime Administration (MARAD) has given approval recently to three offshore projects. In New England, two projects are proposed to be developed by Suez LNG NA, LLC and Excelerate Energy LLC. Massachusetts Gov. Mitt Romney in late 2006 gave his final approval to the projects. MARAD in early January also approved McMoran Exploration Co.'s Main Pass Energy Hub (MPEH) project for the offshore Gulf of Mexico. The MPEH facility, as approved, would be capable of regasifying LNG at a peak rate of 1.6 Bcf per day, storing 28 Bcf of natural gas in salt caverns and delivering 3.1 Bcf per day of natural gas, including gas from storage, to the U.S. market. Together, the projects approved in recent weeks would provide more than 5 Bcf per day of deliverability to U.S. markets.
EIA Releases the Annual Energy Outlook 2007: U.S. energy markets are changing gradually in response to higher energy prices since 2000, the greater influence of developing countries on worldwide energy requirements, and recently enacted legislation and regulations in the United States, according to the Energy Information Administration's (EIA) newly-released annual long-term forecast, the Annual Energy Outlook 2007 (AEO2007). In the AEO2007, EIA projects that the real wellhead price of natural gas will decline from current levels through the year 2015.  By 2030, wellhead natural gas prices are expected to rise to about $6 per thousand cubic feet (in constant 2005 dollars).  Natural gas consumption is projected to grow to 26.1 trillion cubic feet (Tcf) in 2030, which is 0.8 Tcf less than the AEO2006 projection.  The higher natural gas prices projected in this year's AEO reference case result in lower growth of natural gas use for electricity generation over the last 10 years of the forecast.  Domestic production is expected to peak at about 21.1 Tcf in 2022 and then decrease to 20.6 Tcf by 2030.  Because new resources are expected to come on line, Lower 48 offshore production is expected to grow from 3.4 Tcf in 2005 to 4.6 Tcf in 2015.  However, after 2015, production is expected to decline to 3.3 Tcf in 2030.  Unconventional gas in the Lower 48 is expected to boost natural gas supplies in the United States, accounting for 50 percent of domestic U.S. natural gas production in 2030, which is 5 percent more than was expected according to last year's AEO.  Construction planning for the Alaska natural gas pipeline is expected to start 3 years later than previously projected in the AEO2006 and be completed by 2018.  According to the AEO2007, LNG imports are expected to help meet the increased U.S. demand for natural gas with the construction of new terminals and expansions to existing ones.  In addition to the reference case, the AEO2007 includes more than 30 alternative cases examining different aspects of energy markets.
Natural Gas Transportation Update: 
<![if !supportLists]>· <![endif]>Florida Gas Transmission Company (FGT) continued an Overage Alert Day through Monday, February 19, for most market-area customers.  The restriction, which was implemented because of near-freezing temperatures in northern Florida, held a 25-percent tolerance for negative daily imbalances.  FGT also began maintenance February 20 on one of the mainlines in Texas.  The work is expected to last through the end of February and will prevent any gas from flowing through the mainline upstream of Galveston Bay.  FGT is still allowing flow downstream of Galveston Bay.   
<![if !supportLists]>· <![endif]>Northern Natural Gas Company ended a System Overrun Limitation on Friday, February 16.  The limitation, which had been in place since Tuesday, February 13, because of cold weather, restricted interruptible service and withdrawals from storage.  
<![if !supportLists]>· <![endif]>Questar Pipeline Company announced that repairs at the Fidlar Compressor Station in eastern Utah were completed on Friday, February 16.  Capacity at the station increased to 280,000 decatherms per day on Saturday.
<![if !supportLists]>· <![endif]>Pacific Gas and Electric Company issued a system wide Stage 2 high inventory operational flow order on Sunday and Monday, February 18 and 19.  There was a penalty of $1 per decatherm for exceeding a 5-percent tolerance on positive daily imbalances. 
<![if !supportLists]>· <![endif]>Southern California Gas Company declared a high linepack operational flow order on Sunday, February 18, with a 10-percent tolerance for positive daily imbalances.