Overview:  Thursday, February 15, 2007 (next release 2:00 p.m. on February 22, 2007)
Natural gas spot prices increased this week at most market locations as frigid temperatures and winter storms blanketed the United States, particularly in the Northeast region.  For the week (Wednesday to Wednesday, February 7 to February 14), the spot price at the Henry Hub increased $1.02 per MMBtu, or about 13 percent, to trade at $8.91 per MMBtu yesterday (February 14).  In contrast, the price of the NYMEX futures contract for March delivery at the Henry Hub decreased 6 percent this week to settle yesterday at $7.241 per MMBtu.  Natural gas in storage as of Friday, February 9, was 2,088 Bcf, which is 14.7 percent above the 5-year average.  The spot price for West Texas Intermediate (WTI) crude oil increased 25 cents per barrel, or less than 1 percent, since last Wednesday to trade yesterday at $58 per barrel or $10 per MMBtu.
<![if !vml]>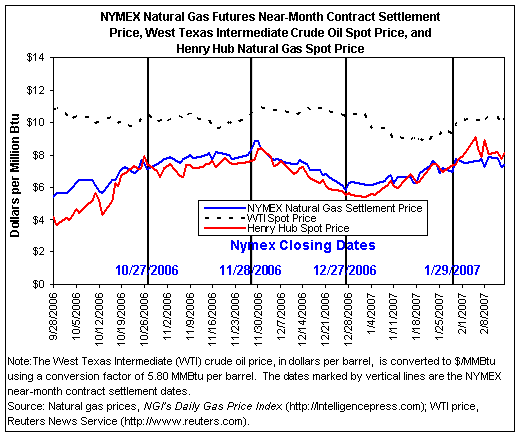 <![endif]>
Space heating demand continued to be strong this week as almost all regions east of the Rockies experienced significantly colder-than-normal weather with below freezing temperatures persisting across much of the northern and eastern portions of the United States.  Temperatures placed upward pressure on prices, causing widespread gains in natural gas spot prices of more than $3 per MMBtu in some areas.  The Henry Hub spot price traded yesterday (Wednesday, February 14) at $8.91 per MMBtu, which is $1.02 or about 13 percent more than the price last Wednesday, and $1.88 more than the price at this time last year.  Spot prices at most other locations in Louisiana also increased by more than $1 per MMBtu including Southern Natural and Florida Gas Zone 3, where there were pipeline constraints and prices climbed by more than $2 per MMBtu this week (see Natural Gas Transportation Update).  The average regional price in Louisiana increased $1.27 per MMBtu to $9.15 per MMBtu yesterday.  By far, the largest price gains this week were in the Northeast, which was hit by blizzard conditions in some areas and frigid temperatures throughout.  Prices in this region increased $3.27 per MMBtu on average to trade yesterday at an average regional price of $12.77 per MMBtu.  This includes the price at the New York citygate (Transco Zone 6 New York), which has fluctuated significantly lately and averaged $19.08 yesterday.  The increase at this location was $7.72 per MMBtu since last Wednesday, with all but $0.33 of the gain occurring during the past 2 trading days (February 13 and 14). 
<![if !vml]>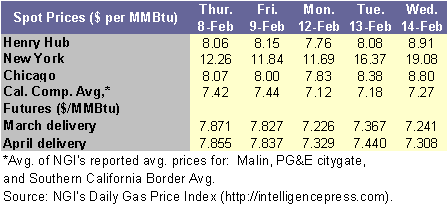 <![endif]>
The price of the New York Mercantile Exchange (NYMEX) futures contract for March 2007 delivery at the Henry Hub settled at $7.241 per MMBtu yesterday (February 14), which is 47 cents, or about 6 percent, less than the price last Wednesday (February 9).  The expected turnaround in temperatures to more moderate levels by next month and the size of the remaining working gas volumes in storage likely contributed to the decline in futures contract prices.  The relief in weather would reduce demand pressure on prices.  The continuing large storage stocks pose the possibility of incremental natural gas volumes entering the market before the end of the heating season as holders of storage capacity rights strive to meet contractual obligations to ratchet down storage volumes by specified dates.  The March contract price is currently between 7 cents and $2.12 per MMBtu lower than any contract price over the next year.  Furthermore, the March contract is currently $1.67 below the Henry Hub spot price of $8.91 per MMBtu, which offers economic incentive to withdraw natural gas from storage.  Prices of all the futures contracts for the upcoming injection season (April through October) also decreased this week, although less than the March contract, with declines ranging between 31 and 39 cents per MMBtu.  The 12-month strip, which is the average futures price for all contracts for the coming year, decreased 26 cents per MMBtu this week to average $8.056 per MMBtu yesterday. This price is also significantly less than the Henry Hub spot price. 
Recent Natural Gas Market Data
Estimated Average Wellhead Prices

Aug-06

Sep-06

Oct-06

Nov-06

Dec-06

Jan-07

6.51

5.51

5.03

6.43

6.65

5.92

Price ($ per MMBtu)

6.34

5.37

4.90

6.26

6.48

5.76

Note: Prices were converted from $ per Mcf to $ per MMBtu using an average heat content of 1,027 Btu per cubic foot as published in Table A4 of the Annual Energy Review 2002.

Source:  Energy Information Administration, Office of Oil and Gas.
Working gas in storage decreased to 2,088 Bcf as of Friday, February, 2007, according to the EIA Weekly Natural Gas Storage Report (See Storage Figure).  Stocks are currently 14.7 percent above the 5-year average of 1,820 Bcf and 8.5 percent below last year's level of 2,281 Bcf.  The implied net withdrawal during the week was 259 Bcf, which is the second largest weekly net withdrawal (for the period since 1994 when the weekly series begins) below only the 260 Bcf withdrawn during the week ending January 17, 1997.  The implied net withdrawal is 74 percent more than the 5-year average withdrawal for this week of 149 Bcf, and almost 3 times as much as last year's withdrawal of 92 Bcf.  On a regional basis, the East Region recorded a record high implied net withdrawal of 179 Bcf, and the West and Producing Regions recorded 12 and 68 Bcf, respectively.  The Producing Region withdrawal is tied for the third highest.  The larger-than-average net withdrawal from storage reflects the impact of the strong backwardation in prices and much colder-than-normal temperatures during the report week.  Average temperatures for the Lower 48 States have been decreasing steadily for the past 5 weeks.  Heating degree-days in the Lower 48 States for the week ended February 8 exceeded normal by 26 percent and last year's level by 56 percent.  Heating degree-days were between 12 and 44 percent above normal levels in the seven Census Divisions east of the Rocky Mountains.  The West North Central, East North Central, Middle Atlantic, and New England Census Divisions experienced particularly cold weather with average temperatures for the week below 20 degrees (See Temperature Maps).
<![if !vml]>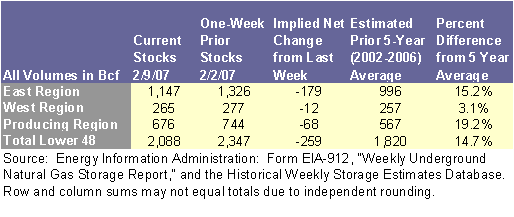 <![endif]>
Other Market Trends:
Construction Progresses at U.S. LNG Import Projects:  The construction of new facilities to receive liquefied natural gas (LNG) at four sites in the U.S. Gulf region is proceeding. Freeport LNG L.P., which broke ground on its facility on Quintana Island, Texas, in 2005, will likely be the owner of the first new onshore terminal in the continental United States in more than 20 years. As of the end of 2006, construction of the facility was 71 percent completed, according to Cheniere Energy, Inc., which owns 30 percent of the company. Freeport LNG would have one berthing dock that can receive tankers with capacity to transport 260,000 cubic meters of LNG, or nearly 6 Bcf. In its initial operations, the facility would be able to vaporize 1.5 Bcf per day. This send-out capacity has been purchased by ConocoPhillips Company and Dow Chemical Company. Cheniere Energy projects the facility will be complete and ready for operations in the first half of 2008. Cheniere Energy also is constructing a wholly-owned facility, called Sabine Pass LNG, L.P., on 853 acres in Cameron Parish, Louisiana. At the end of 2006, Cheniere Energy said that construction at the Sabine Pass terminal was 65-percent complete and that the facility would reach operational status in the first half of 2008. Sabine Pass would have two berthing docks, each capable of handling ships with capacity to transport 265,000 cubic meters of LNG. In its first phase, Sabine Pass would be able to vaporize 2.6 Bcf per day, with Total, S.A.; Chevron; and affiliate Cheniere Marketing having purchased the capacity rights. Cameron LNG, which was approved by the Federal Energy Regulatory Commission in December 2003 for a site on Lake Charles, Louisiana, began construction in late 2005 and expects to begin commercial operations by late 2008. As of January 2007, the construction of the facility was 35 percent complete. The terminal's owner, Sempra LNG, has reached agreements to provide Tractebel LNG North America up to one-third of the capacity, or about 500 million cubic feet (MMcf) per day, for 20 years. Additionally, Italy's ENI signed a preliminary agreement with Sempra to take 600 MMcf per day of capacity for 20 years. Finally, Golden Pass LNG Terminal, LLC, has begun construction of its facility near Sabine Pass, Texas. Golden Pass LNG, which is 70 percent owned by Qatar Petroleum Company with the remaining portion owned equally by affiliates of Exxon Mobil Corporation and ConocoPhillips Company, started construction in June 2006. Final commissioning of the facility is expected to occur before the end of 2009. Golden Pass will have send-out capacity of about 2 Bcf per day, with most of the LNG expected to come from Qatar. Exxon Mobil and ConocoPhillips separately are involved in massive liquefaction projects in that country. The construction of these LNG facilities indicates the scope of new volumes of LNG that potentially can be imported into the United States in the coming years. The volume of LNG imports of liquefied natural gas (LNG) has decreased over the past 2 years, but EIA is forecasting a trend of increasing LNG imports in both its long- and short-term forecasts (See LNG Imports – The Next Wave).
Natural Gas Rig Counts Hit New Record Despite Declining Prices: The number of rigs drilling for natural gas increased to 1,473 for the week ending February 9, according to Baker-Hughes Incorporated. This is the highest gas-directed rig count for any week since record keeping by fuel type began in 1987. The number of natural gas rigs is about 11 percent greater than last year at this time, and about 69 percent higher than the 5-year average for the report week. The share of natural gas rigs drilling was more than 85 percent of the total rig count for the report week, exceeding the 85-percent mark for the first time since the week ended February 24, 2006. Natural gas rigs drilling have been on an increasing trend, generally reflecting the increase in natural gas spot prices since 2002.  The continued strength in natural gas drilling suggests a possible departure from earlier trends in drilling response to price changes.  Gas rigs drilling have tended to respond to the spot prices with a lag of 6 months of less. For example, gas rigs drilling peaked and then declined in July 2001, demonstrating a lagged response to the decrease in the spot price that began in January 2001. The number of rigs drilling bottomed out in April 2002, after prices started to increase in February of that year. More recently, natural gas spot prices have declined from record levels attained in December 2005.  Spot natural gas prices at the Henry Hub have averaged $7.08 per MMBtu so far this year, which is 46 percent below the average for December 2005.  Although prices are much lower in recent months, the number of natural gas rigs drilling continued their upward trend. The continued increase in rigs drilling may be attributed to changing business practices that affect the relative economics of gas drilling and the overall higher level of prices.  One factor is that producers are reported to have been relying more heavily on price hedging to reduce price uncertainty.  This business practice can insulate them from at least some of the impact of the falloff in prices.  Additionally, prices in recent years are at levels that are significantly higher than those that prevailed through most of the period up to mid 2002.  Producers clearly still have enough economic incentive to continue expansion of their efforts to explore for and develop natural gas prospects, despite the large dropoff in prices in the past year. (See Rigs Drilling for Natural Gas)
Natural Gas Transportation Update:
Similar to last week's system overrun limitation (SOL), which was lifted on Sunday, February 11, Northern Natural Gas declared another SOL effective for all of the pipeline's market area zones. The most recent SOL was declared for gas days Wednesday and Thursday (February 14-15). The pipeline did not indicate when the current limitation will be lifted.

Southern Natural Gas Company implemented a Type 6 operational flow order (OFO) for short imbalances on its contiguous pipeline system for Wednesday, February 14, until further notice.

 

In order to maintain the operational integrity on its system, the pipeline has asked that shippers and poolers remain in balance. Negative balances exceeding 8 percent carry a $15 per decatherm (Dth) penalty, while 5 to 8 percent imbalances and 2 to 5 percent daily imbalances carry penalties of $5 and $1 per Dth, respectively. Imbalances of up to 2 percent or 200 Dth will not penalized.

Because of an unscheduled outage at Mississippi River Transmission Corp.'s Shattuc turbine on the east line, the pipeline announced that as of Monday, February 12, the total available east line capacity will be reduced to 230,000 Dth per day. The duration of the outage is unknown, however the company does not anticipate any service interruptions, based on daily utilization of the east line thus far during the 2006-2007 heating season.

Gulf South Pipeline began unscheduled maintenance Monday, February 12, on its Arnaudville compressor station unit #1, which will continue until further notice. Capacity from Marksville to Bayou sale junction could be reduced by as much as 150,000 thousand cubic feet (Mcf) per day. The pipeline also declared a force majeure effective today, February 15, because of unscheduled maintenance on Index 269 – Koran 16 inch, requiring all production at 14 different locations to be shut in as a result of the maintenance.

Florida Gas Transmission Company issued an overage alert day (OAD) on February 15, for its market area customers as a result of the near-freezing temperatures forecasted in the northern part of the State. The tolerance for negative daily imbalances was set at 25 percent.