Overview:  Friday, January 5. 2007 (next release 2:00 p.m. on January 11, 2007)
Natural gas spot prices increased this week at almost all market locations despite dropping crude oil prices and unseasonably mild temperatures that continue to persist in most regions outside of the Rockies.  For the week (Wednesday to Thursday, December 27 to January 4), the spot price at the Henry Hub increased 5 cents per MMBtu, or less than 1 percent, to trade at $5.60 per MMBtu yesterday (January 4).  The price of the NYMEX futures contract for February delivery at the Henry Hub also increased less than 1 percent this week.  The contract closed yesterday at $6.162 per MMBtu, which is 2 cents per MMBtu higher than last Wednesday's price.  Natural gas in storage as of Friday, December 29, was 3,074 Bcf, which is 15.3 percent above the 5-year average.  The spot price for West Texas Intermediate (WTI) crude oil dropped $4.66 per barrel since last Wednesday to trade yesterday at $55.65 per barrel or $9.59 per MMBtu.
<![if !vml]>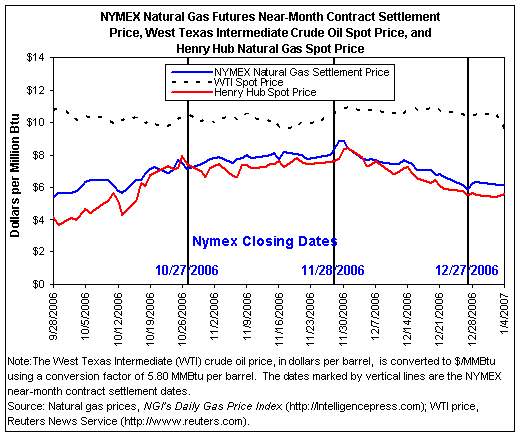 <![endif]>
Despite mild weather and declining oil prices, which typically place downward pressure on prices, natural gas spot prices mostly increased since Wednesday, December 27.  The increases ranged from $0.01 to $1.29 per MMBtu, and reflected varying conditions across the Lower 48 States.  The Henry Hub spot price traded yesterday (Thursday, January 4) at $5.60 per MMBtu, which is about 5 cents less than the price last Wednesday.  The Henry Hub price fluctuated during the report week, however, decreasing to $5.41 on Tuesday, which is the lowest price since this year's heating season began (November 1).  Although warmer-than-normal temperatures likely resulted in light heating demand for much of the report week in Louisiana and Texas, short periods of cold weather in this region in the past 2 days may have caused short spikes in heating load.  The average increase for Texas locations on the week was 21 cents per MMBtu and, similar to the Henry Hub, most of the increases occurred since Tuesday.  By far, the greatest price increases occurred in the Rockies, which is experiencing average winter temperatures but is still relatively cold compared with the rest of the Lower 48 States.  The average regional increase in the Rockies was 74 cents per MMBtu with several locations recording gains greater than $1.  The overall increase in natural gas spot prices occurred despite two nuclear plants increasing power this week.  According to the U.S. Nuclear Regulatory Commission, one unit in South Carolina returned to full power after a planned outage that began in mid-November and one unit in southern California has returned to 65 percent power after completing repairs that had reduced power to less than 30 percent.  Natural gas spot prices also deviated from the WTI crude oil price this week, which decreased to $55.56 per barrel yesterday, the lowest price since June 15, 2005.
<![if !vml]>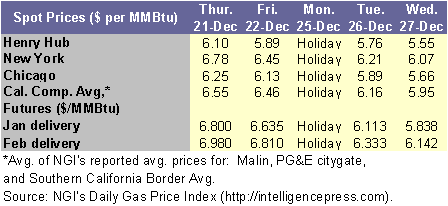 <![endif]>
<![if !vml]>

<![endif]>
At the NYMEX, the price of the futures contract for February delivery gained almost 16 cents in its first 2 days of trading as the near-month contract on Thursday and Friday last week (December 28 and 29).  Despite this early momentum, the contract settled yesterday at $6.162 per MMBtu, only 2 cents more than the price last Wednesday, December 27.  The January 2007 contract expired on December 27, 2006, at $5.838 per MMBtu, which is the lowest price for this contract since July 2004 and the lowest expiration price for any January contract since the January 2003 contract expired at $5.251.  Additionally, the January 2007 contract decreased $3.033 per MMBtu, or about 34 percent, during its tenure as the near-month contract.  The March 2007 contract increased about 7 cents, or about 1 percent, on the week to settle at $6.330 per MMBtu yesterday.  The prices for these two heating season contracts (January and March) are currently the lowest for any contract listed on the NYMEX.  The 12-month strip, or the average price for contracts over the next year, increased about 1 percent to close yesterday at $7.058 per MMBtu.
Recent Natural Gas Market Data
Estimated Average Wellhead Prices

July-06

Aug-06

Sep-06

Oct-06

Nov-06

Dec-06

5.82

6.51

5.51

5.03

6.43

6.65

Price ($ per MMBtu)

5.67

6.34

5.37

4.90

6.26

6.48

Note: Prices were converted from $ per Mcf to $ per MMBtu using an average heat content of 1,027 Btu per cubic foot as published in Table A4 of the Annual Energy Review 2002.

Source:  Energy Information Administration, Office of Oil and Gas.
Working gas in storage decreased to 3,074 Bcf as of Friday, December 29, 2006, according to the EIA Weekly Natural Gas Storage Report (See Storage Figure).  Stocks are currently 15.3 percent above the 5-year average and 16.4 percent above last year's level of 2,641 Bcf.  The implied net withdrawal during the week was 47 Bcf, which is 53 percent less than the 5-year average withdrawal for this week of 100 Bcf, but more than double last year's withdrawal of 22 Bcf.  Stocks currently exceed the 5-year average level by about 407 Bcf, which is the greatest margin of this kind since the week ending July 28, 2006.  Mild temperatures across the country likely contributed to the relatively modest withdrawal this week with all regions recording warmer-than-normal temperatures as measured by the National Weather Service's heating degree-days (See Temperature Maps).  The Lower 48 States as a whole was about 24 percent warmer than normal while the South and Middle Atlantic and East North Central Census Divisions were more than 30 percent warmer than normal.  The Mountain Census Division, which has experienced significant snowfall recently, was the coldest of the nine Census Divisions, although only 4 percent warmer than normal.  
<![if !vml]>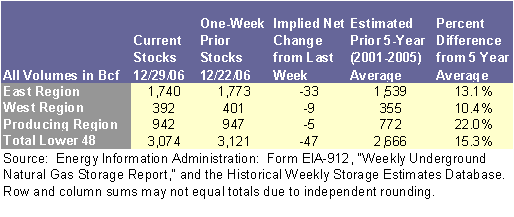 <![endif]>
Other Market Trends:
EIA Releases An Updated Mexico Country Analysis Brief: The Energy Information Administration (EIA) on January 3, 2007, published the updated Mexico Country Analysis Brief, which presents detailed information on the energy situation in Mexico and includes maps, graphs, and links to various other related web sites. Mexico is a major non-OPEC oil producer and home to one of the world's largest oil companies, Petróleos Mexicanos (Pemex). The State-owned Pemex holds a monopoly on natural gas exploration and production in Mexico. While the Mexican government opened the downstream natural gas sector to private operators in 1995, no single company is allowed to participate in more than one industry function, and private company participation has remained limited. Mexico's natural gas production has grown in recent years, after steady declines during the late 1990s. During that time, natural gas consumption has increased steadily, mostly driven by the electricity sector, whose share of total natural gas consumption increased from 16 percent in 1994 to 33 percent in 2004. As a result of the domestic shortfall in natural gas production, Mexico imported 766 MMcf per day of natural gas in 2004 and 480 MMcf per day in 2005. To help meet the growing natural gas demand, various companies are developing Mexico's liquefied natural gas (LNG) prospects. Currently, Mexico has one operating LNG terminal, one under construction, and several more plants in various stages of the planning process. Many of those facilities are near the U.S.-Mexico border in Baja California, with the intention to supply markets in both countries.
Update on U.S. Natural Gas Rigs: The number of rigs drilling for natural gas was 1,425 for the week ending December 29, 2006, according to Baker-Hughes Incorporated. The number of natural gas rigs is about 15 percent greater than last year at this time, and about 50 percent higher than the average for the report week in the previous 5 years. The share of natural gas rigs drilling was about 83 percent of the total gas and oil rig count for the report week. Despite the downward trend in the natural gas prices during 2006, the number of gas rigs drilling in the United States has remained very strong. In fact, the number of rigs drilling gas prospects increased about 17 percent since the beginning of the year, despite a 37-percent average decrease in spot prices in the Lower 48 States during the same time period. After the hurricanes hit the Gulf region in 2005, active gas rigs in the Gulf of Mexico declined to a low of 32 as of January 27, 2006.  Gas rigs recovered to an average of 80 in December, which is slightly below the levels prevailing in the months before the hurricanes.
Natural Gas Transportation Update:
Questar Pipeline Company will be performing maintenance on the compressors at its Clay Basin storage facility between January 8 and January 29. As a result, Questar will not be able to inject gas into the reservoir during this time period.

ANR Pipeline Company (ANR) declared force majeure on December 22, 2006, owing to damages to its pipeline from a third party.

 

Repairs already completed west of the LeGrange compressor station will need to be inspected, and some repairs likely will have to be made to its pipeline segment.

 

Meanwhile, ANR has returned the 22-inch line segment located in Cass County, Michigan, back to service, while the 24-inch line segment remains isolated until further notice. During this period, the total Bridgman East capacity will be limited to 1,091 MMcf per day. Based on current nominations, it is anticipated the reductions may result in the curtailment of nominations associated with firm secondary and interruptible transportation service through Bridgman East.
Southern California Gas Company took its North Needles station offline on Wednesday, December 27, 2006, in order to repair broken gears.

 

Until further notice, 150 MMcf per day of border receipt capacity will be impacted.

 

Colorado Interstate Gas Company announced several capacity reductions through January 26. The Greasewood compressor station was out of service on January 3, reducing its capacity from 195 to 150 MMcf per day. The pipeline also announced that one of the units at the Rawlins compressor station in Wyoming will be out of service through January 26, resulting in a reduced capacity of 550 MMcf per day. Also in Wyoming, the Cheyenne Compressor Station will have one unit out of service from January 9-12, 2006, reducing capacity from 600 to 557 MMcf per day.

 

Transcontinental Gas Pipe Line Corporation initiated an operational flow order (OFO) on January 4, 2007.

 

Warm weather in its market area and limited storage injection capacity necessitated the OFO in order to accommodate day-to-day market fluctuations and within-day variability.

 

Until further notice, Transco will not allow any pipeline imbalance makeup nominations.

 

Furthermore, the pipeline has asked its customers to resolve any existing imbalances.