Overview:  Thursday, December 21 (next release 2:00 p.m. on January 5, 2007)
Warmer-than-normal temperatures throughout the country led to lower natural gas spot prices at many trading locations in the Lower 48 States. For the week (Wednesday-Wednesday, December 13-20), the price for next-day delivery at the Henry Hub decreased 78 cents per MMBtu, or 10.8 percent to $6.43 per MMBtu. The NYMEX futures contract for January delivery at the Henry Hub settled yesterday (December 20) at $6.769 per MMBtu, which was 90 cents less than last Wednesday's price. Natural gas in storage decreased to 3,167 Bcf as of December 15, leaving inventories at 9.5 percent above the 5-year average. The spot price for West Texas Intermediate (WTI) crude oil moved up $1.74 per barrel or about 2.8 percent since last Wednesday to $63.08 per barrel or $10.88 per MMBtu.
<![if !vml]>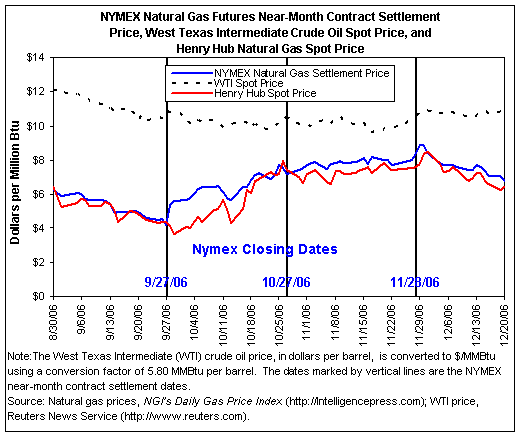 <![endif]>
Moderate temperatures this week boosted an already favorable supply situation, leading to widespread declines in natural gas spot prices in the Lower 48 States.  The exceptions to the general price trend could be found only at Rockies trading locations, as a winter storm enveloped the region and colder-than-normal temperatures have increased heating demand. As a result of the cold weather in the Rockies, the price at the Opal, Wyoming trading increased 18 cents per MMBtu, or 3.8 percent to $4.87. But the trend has been lower prices elsewhere. Since last Wednesday, December 13, price declines were steepest at locations in the Gulf Coast region and in the Northeast, where prices fell up to 92 cents per MMBtu. Before gaining 17 cents per MMBtu in trading yesterday (December 20), the Henry Hub average price dipped as low as $6.26 on Tuesday. This was the lowest daily average price since mid-October, a signal that weather during this winter peak demand season has not influenced buyers and sellers strongly to date. In the Northeast, where temperatures were in the upper 50s, the price for natural gas off Transcontinental Pipeline in New York City on the week decreased 77 cents per MMBtu to $7.07. Declines at most other market locations in the California, Texas, Midwest, and Midcontinent regions in the same period were somewhat less pronounced. At the PG&E citygate in California, the spot price declined 55 cents per MMBtu, or 7.3 percent. With these declines, spot prices are now about half last year's hurricane-induced historically high prices. For example, as of December 20, the price at the Henry Hub was 53 percent below last year's level of $13.79 per MMBtu.
<![if !vml]>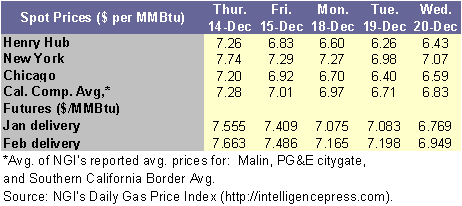 <![endif]>
The price of the NYMEX futures contract for January delivery decreased $0.904 per MMBtu since last Wednesday, settling at $6.769 per MMBtu yesterday (December 20). This marks the first close under $7.00 per MMBtu for the January 2007 contract since early 2005, although other near-month contracts have traded at this level more recently. Prices of all futures contracts at the NYMEX moved lower this week with indications of colder weather and higher demand lacking. The January contract is now priced $1.549 lower, or nearly 19 percent, than the expiration price of the December 2006 contract. Additionally, the near-month contract price is 41 percent lower than the expiration price for the January 2006 contract, which was likely elevated in part from hurricane effects. Contracts for the remainder of the heating season (January 2007 through March 2007) decreased an average of nearly $0.852 per MMBtu to settle at an average of $6.91, which is a premium of about $0.48 per MMBtu over yesterday's Henry Hub cash price of $6.43. The premium provides an economic incentive to retain natural gas in storage or store additional gas in preparation for colder temperatures this winter. However, the premium is rapidly decreasing and, as what happens most years, likely will disappear shortly as winter progresses and market participants become comfortable with the supply outlook for the remainder of the season. The 12-month strip, which is the average of futures prices for the coming year, decreased $0.644 per MMBtu since last Wednesday (December 13) to $7.402.
Recent Natural Gas Market Data
Estimated Average Wellhead Prices

June-06

July-06

Aug-06

Sep-06

Oct-06

Nov-06

5.80

5.82

6.51

5.51

5.03

6.43

Price ($ per MMBtu)

5.65

5.67

6.34

5.37

4.90

6.26

Note: Prices were converted from $ per Mcf to $ per MMBtu using an average heat content of 1,027 Btu per cubic foot as published in Table A4 of the Annual Energy Review 2002.

Source:  Energy Information Administration, Office of Oil and Gas.
Working gas in storage decreased to 3,167 Bcf as of Friday, December 15, 2006, according to EIA's Weekly Natural Gas Storage Report (See Storage Figure). The implied net withdrawal was 71 Bcf, which leaves storage levels at 9.5 percent above the 5-year average for this time of year. At 3,167 Bcf, stocks are also 342 Bcf, or over 12 percent, higher than this time last year. This report week's implied net withdrawal is 41 percent below the 5-year average of 121 Bcf and nearly 58 percent below last year's net withdrawal of 168 Bcf. This week's below average withdrawal likely resulted from the return of moderate temperatures across much of the Lower 48 States, especially in the major population centers of the Midwest and the Northeast, as measured by National Weather Service heating degree-days (HDDs) for the week ended December 14. HDDs in the East North Central Census Division, which includes Chicago and other large consuming areas, and the West North Central Census Division numbered 18 and 26 percent less than normal, respectively (See Temperature Maps).  In the Middle Atlantic, HDDs were nearly 15 percent below normal. Indeed, HDDs for the Lower 48 States as a whole were about 16 percent less than normal.
<![if !vml]>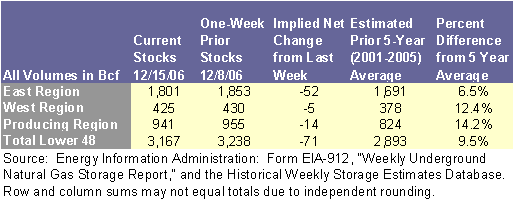 <![endif]>
Other Market Trends:
EIA Releases State Energy Profiles:  The Energy Information Administration (EIA) released a new web-based product site that centralizes State energy data.  State Energy Profiles allows users to access individual State profiles that contain key facts and statistics about energy industries within the State.  Each profile begins with a State map showing major energy infrastructure such as natural gas flows, electric transmission lines, and electric power plants.  The maps also show renewable energy potential.  Below the map, the profile lists details about the State's economy, energy prices, reserves and supply, distribution and marketing, consumption, and environmental data.  Each of the statistics within these categories is presented in relation to the United States as a whole.  Additionally, since this is a web-based product, readers can utilize web links within each page to access EIA's historical data.  Many of the statistics in the profiles will be updated as data on the EIA web site are updated, and EIA plans to add more extensive updates to the profiles periodically.
EIA Releases Field-Level Storage Data:  The Energy Information Administration (EIA) released a new table that provides the field level data collected from Form EIA-191A. The table provides details relating to underground natural gas storage facilities, including storage field capacity, field type, and maximum deliverability of each field as of December 31, 2005. The table includes records for nearly 400 fields. These data are reported annually by U.S. natural gas storage operators for all underground storage fields. Data collected prior to 2005 are not available as they are protected under EIA confidentiality provisions.
Microhole Drilling Technology: A specially designed new hybrid microhole coiled tubing rig recently completed the drilling of 25 test wells targeted towards the Niobrara formation in Kansas and Colorado, utilizing technology that could have a significant impact on natural gas and oil drilling. The coiled tubing rig passed a series of field tests and delivered cost savings of 25 to 35 percent per well drilled compared with conventional drilling equipment. Furthermore, as a result of these tests, up to 1 Tcf of shallow natural gas that had previously been bypassed by conventional drilling has now been made economically recoverable. Coiled tubing rigs are generally used to service or stimulate production in existing oil and natural gas wells where necessary. However, operators have recently started using these rigs to drill exploratory and development wells, a practice previously limited mostly to Alaska and Canada. The commercial Niobrara drilling program in which 3,000-foot wells were drilled in as little as 19 hours, from the time the rig moved in until the target depth was reached, followed a Department of Energy-funded (DOE) research project to adapt a conventional coiled tubing rig for drilling exploratory and development wells with ultra-small diameters (1.75 to 4.50 inches). Microhole coiled tubing drilling technology could be applied to bypassed resources in oil and natural gas reservoirs, particularly for shallow reservoirs in mature or depleted fields. According to DOE estimates, more than 218 billion barrels of bypassed crude oil remains in U.S. oilfields at less than 5,000 feet. Recovering 10 percent of this untapped resource equates to an amount equal to 10 years of OPEC oil imports at current rates.
Natural Gas Transportation Update:
The Hess Corporation-operated Sea Robin processing plant was shut down for emergency maintenance on Wednesday, December 13, and Thursday, December 14. The plant was not processing natural gas during the outage; however, it continued to dehydrate natural gas.

Mississippi River Transmission Corporation issued a system protection warning (SPW) on Saturday, December 16, which lasted until Monday, December 18, owing to warm weather forecasts and the resulting high linepack on its system. While the SPW was in place, the pipeline did not schedule any volumes that would result in a daily long imbalance, and it did not accept any additional volumes from shippers to cover their short imbalance positions.

Because of unplanned engine repairs at the Patterson, Louisiana, compressor station, ANR Pipeline Company on Sunday, December 17, began restricting all deliveries between Patterson and Eunice compressor stations in the Southeast gathering area to 650,000 decatherms (Dth) per day. The restrictions are expected to last until Friday, December 22, and could cause curtailment of firm secondary and interruptible service nominations.

 

Gulf South Pipeline Company announced that the scheduled maintenance at the Jackson, Mississippi, compressor station has been extended until December 23, 2006. The maintenance, which was initially expected to last until December 17, continues to affect capacity by as much as 125,000 Dth per day.