Overview:  Thursday, November 30 (next release 2:00 p.m. on December 7, 2006)
Natural gas spot prices increased at nearly all market locations in the Lower 48 States since Wednesday, November 22, 2006, with some Midcontinent and Western regions showing increases of more than $2 per MMBtu.  With only 3 trading days included in the report week owing to the Thanksgiving holiday, the spot price at the Henry Hub increased by 34 cents, or about 5 percent, to $7.75 per MMBtu.  The price of the NYMEX futures contract for January delivery settled at $8.871 per MMBtu yesterday (November 29), which is 77 cents, or about 10 percent, more than last Wednesday, and the December 2006 contract expired Tuesday at $8.318 per MMBtu.  As of Friday, November 24, 2006, natural gas in storage was 3,417 Bcf or 7.2 percent above the 5-year average.  The spot price for West Texas Intermediate (WTI) crude oil rose to $62.45 per barrel or $10.77 per MMBtu yesterday.  This price is $5.17 per barrel, or 9 percent, more than the price last week and is the highest price since late September.
<![if !vml]>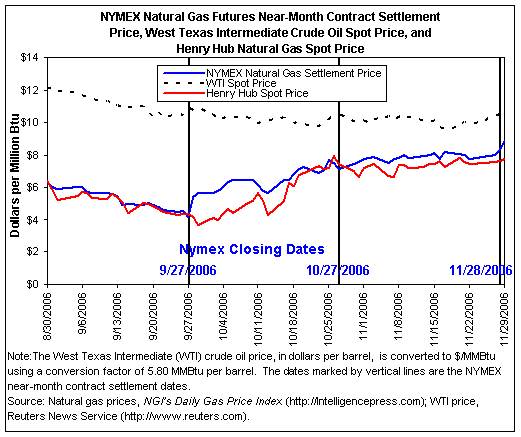 <![endif]>
Although natural gas spot prices rose in almost all market locations this week, shifting weather patterns across the Lower 48 States created wide price variations among the regions.  Moderate temperatures in the Midcontinent and the West last week were replaced by winter-like conditions after the Thanksgiving holiday, which spurred an increase in heating demand.  West Texas, the Midcontinent, and the Rockies, which recorded price decreases of more than $1 per MMBtu at many locations last Wednesday (November 22), also saw gains since then ranging as high as $2.95 per MMBtu.  Average increases per MMBtu in these regions were $2.21 (West Texas), $2.07 (Midcontinent), and $2.04 (Rocky Mountains) since last Wednesday.  Anticipation of similar cold temperatures, which are expected to reach the South and Northeast by the end of this week, likely placed upward pressure on other market prices as well.  The price at the Henry Hub was $7.75 per MMBtu yesterday, which is an increase of 34 cents, or 5 percent, since last Wednesday.  Prices in the Northeast, which averaged $7.96 per MMBtu yesterday, showed the smallest gains ranging between 2 cents and 25 cents per MMBtu for the week.  Besides increased heating demand, increasing crude oil prices and transportation constraints may have contributed to the upward pressure on prices.  The WTI increased by more than $5 to $62.45 per barrel during this report week after falling to $55.90, which was the lowest price since June 2005, during the previous week.  Also, announcements of strained operating conditions and overrun entitlements in the Northwest alerted customers to potential supply constraints on pipelines in this region (see Transportation Update).
<![if !vml]>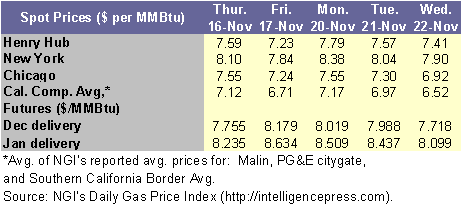 <![endif]>
<![if !vml]>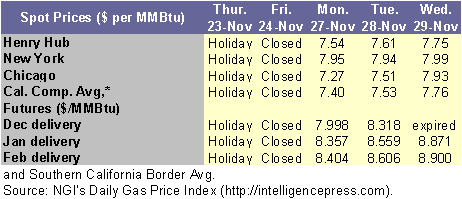 <![endif]>
The price of the New York Mercantile Exchange (NYMEX) futures contract for January 2007 delivery at the Henry Hub settled at $8.871 per MMBtu yesterday in its first day of trading as the near-month contract.  Despite no trading on Thursday and Friday of last week because of the Thanksgiving holiday, the price consistently increased on each trading day this week, settling about 77 cents, or 10 percent, higher on the week (Wednesday – Wednesday, November 22-29).  The December 2006 futures contract expired on Tuesday, November 28, at $8.318 per MMBtu, which is the highest price for this contract during its term as the near-month contract.  The expiration price is 60 cents higher than the price last Wednesday and 90 cents higher than the price on October 30 when it became the near-month contract.  The remaining two contracts of the current heating season, February and March 2007, had price increases similar to the January contract and settled at $8.90 per MMBtu and $8.73 per MMBtu, respectively.  These are the highest prices for both these contracts since mid-September.  The prices of the NYMEX futures contracts for the current heating season continue to exceed the Henry Hub spot price by $1.21 (January 2007), $1.15 (February 2007), and 98 cents per MMBtu (March 2007).  Looking forward over the next year, the 12-month strip increased 53 cents since last Wednesday, to $8.65 per MMBtu, which holds a 90-cent premium over the Henry Hub spot price.
Recent Natural Gas Market Data
Estimated Average Wellhead Prices

May-06

June-06

July-06

Aug-06

Sep-06

Oct-06

6.19

5.80

5.82

6.51

5.51

5.03

Price ($ per MMBtu)

6.03

5.65

5.67

6.34

5.37

4.90

Note: Prices were converted from $ per Mcf to $ per MMBtu using an average heat content of 1,027 Btu per cubic foot as published in Table A4 of the Annual Energy Review 2002.

Source:  Energy Information Administration, Office of Oil and Gas.
Working gas in storage decreased to 3,417 Bcf as of Friday, November 24, which is 7.2 percent above the 5-year average according to the EIA Weekly Natural Gas Storage Report (See Storage Figure).  The implied net withdrawal during the week was 32 Bcf, which is 10 Bcf more than the 5-year average withdrawal for this week, but 11 Bcf less than last year's withdrawal of 43 Bcf.  It is the third and largest withdrawal in the 4 weeks since the heating season began.  By comparison, the first withdrawal of the season was reported this week last year.  However, since storage inventories have been high this year and the recent withdrawals have been relatively modest, storage levels continue to remain notably above the past year's level and the 5-year average.  The difference between the current inventory level and the 5-year average decreased to 230 Bcf this week, which is the smallest margin of this kind since the week ending December 30, 2005.  Stock levels also exceed year-earlier levels by 185 Bcf, or about 5.7 percent.  On a regional basis, the West region recorded an injection of 1 Bcf, while the East and Producing regions withdrew 28 and 5 Bcf, respectively. Temperatures across the country likely contributed to the regional pattern this week as the Mountain and Pacific Census Divisions were more than 30 percent warmer than normal for the week ending November 23, as measured by the National Weather Service's heating degree-days (See Temperature Maps).  The Lower 48 States were about 7 percent warmer than normal, while the South Atlantic and South Central Census Divisions were 12 to 34 percent colder than normal.
<![if !vml]>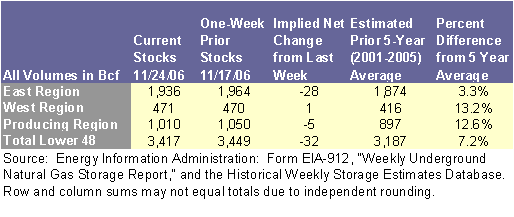 <![endif]>
Other Market Trends:
EIA Publishes the Natural Gas Annual 2005: The Energy Information Administration (EIA) on November 16, 2006, published the Natural Gas Annual 2005 (NGA2005), which provides comprehensive information on the supply and disposition of natural gas in the United States. According to the NGA2005, the national average wellhead price for natural gas in 2005 was $7.33 per thousand cubic feet (Mcf), 34 percent higher than the 2004 average of $5.46 per Mcf. Recorded U.S. marketed production was 18.95 trillion cubic feet (Tcf), which was about 2.9 percent below the level in 2004.  A key factor reducing marketed production in 2005 was the production shut-ins caused by Hurricanes Rita and Katrina at the end of summer 2005.  Total natural gas imports increased in 2005 by almost 2 percent to 4.3 Tcf.  Overall, prices were higher, but supplies and consumption decreased from the previous year's levels.  The NGA2005 also includes data for production, transmission, storage, deliveries, and price by State for 2005, as well as summary statistics for each State for 2001 through 2005.
NOAA Publishes Its Final Forecast for the 2006-2007 Winter:  The National Oceanic and Atmospheric Administration (NOAA) published its final forecast for the upcoming winter on November 16, 2006, reiterating that the 2006-2007 winter is expected to be warmer than normal, although not as warm as the 2005-2006 winter. NOAA's heating degree-day (HDD) forecast for December, January, and February reflects weather that will be 2 percent warmer than the 30-year (1971-2000) average, but about 9 percent cooler than last year.  An El Nino event continues to develop in the equatorial Pacific and is likely to continue into the spring of 2007.  NOAA expects warmer-than-average temperatures across the Pacific Northwest, the northern and central plains, the Midwest, the Northeast, northern mid-Atlantic, as well as most of Alaska during December 2006 through February 2007. Near-average temperatures are projected for parts of the Southeast from Louisiana through North Carolina, while below-average temperatures are anticipated for Hawaii. Parts of the mid-Atlantic, the Tennessee Valley, the Southwest from Texas to California, and the intermountain West have equal chances of warmer, cooler, or near-normal temperatures this winter.  Overall, this winter is expected to be milder than the average winter across much of the North, with fewer arctic air outbreaks. 
BLM Releases Study of Onshore Oil and Natural Gas Resources:  The Bureau of Land Management (BLM) released a report on November 28, 2006, titled Scientific Inventory of Onshore Federal Lands' Oil and Gas Resources and the Extent and Nature of Restrictions or Impediments to Their Development.  The report, which was congressionally mandated by the Energy Policy Act of 2005, presents inventory estimates of 11 U.S. Federal onshore basins and the limitations on their development.  According to the report, the inventoried area contains 187 trillion cubic feet of natural gas and 21 billion barrels of oil, which represents 76 percent of onshore Federal oil and natural gas resources.  Of this amount, 27 percent of the natural gas and 51 percent of the oil are closed to leasing.  Under standard lease terms, 13 percent of the natural gas and 3 percent of the oil are accessible, and 60 percent of the natural gas and 46 percent of the oil are accessible subject to certain restrictions.  The current report differs in two ways from a similar publication released in 2003.  First, BLM added six new oil and natural gas basins in Alaska, the Rocky Mountain West, and the East to the five basins previously studied.  The new area is equal to 99 million acres of Federal land.  Also, restrictions on the drilling permits were considered in this study.  Previously, only restrictions on the actual leases were included in the accessibility estimates.   
Natural Gas Transportation Update:
Pacific Gas and Electric Company issued a systemwide operational flow order (OFO) for Wednesday, November 22. The OFO carried a $1 per decatherm penalty for exceeding daily balances by 5 percent.

Owing to colder weather and the resulting low linepack, Florida Gas Transmission Company (FGT) issued an overage alert day (OAD) for its customers on Tuesday, November 21, which lasted until Thursday, November 23. FGT set the tolerance for negative daily imbalances at 10 percent.

The El Paso Natural Gas Company-operated Washington Storage facility's unit 2 experienced a turbocharger failure on November 17, 2006. As a precautionary measure, El Paso took unit 1 out of service as well, in order to perform a thorough inspection to determine its suitability for operation. While unit 1 was returned to service on Wednesday, November 22, unit 2 is expected to be out of service until further notice, and the injection capacity of unit 1 will be limited to approximately 60 MMcf per day.

 

Owing to the outage, El Paso's operational flexibility to accept supplies in excess of scheduled quantities is limited. Meanwhile, as the pipeline initially announced was the possibility, on November 30, El Paso declared a system-wide strained operating condition (SOC) with the imbalance tolerance set at 4 percent. Underperforming supplies in combination with takes that exceed scheduled quantities have significantly reduced linepack, as the Washington Ranch storage facility is at maximum withdrawal rates. El Paso further announced that if the situation does not improve, a critical operating condition (COC) will be declared.

Northwest Pipeline Corporation declared a stage II (8 percent) overrun entitlement for receiving parties on the Wenatchee lateral and a stage III (13 percent) overrun entitlement on November 27 for all other receiving parties located north of Kemmerer compressor station. The overrun entitlements were extended indefinitely as of November 29. An overrun entitlement as defined in Section 15.5 of Northwest Pipeline's tariff will subject a receiving party to penalties if the total quantity of gas taken by such receiving party exceeds its confirmed nominations by more than the allowed threshold percentage.

As of November 28, CenterPoint Energy lifted limits on storage transactions that were implemented in September and announced that it is no longer imposing penalties on shippers who incur long imbalances.