Overview: Thursday, November 16 (next release 2:00 p.m. on November 30, 2006)
Changes in natural gas spot prices were modest at most trading locations in the Lower 48 States this week (Wednesday-Wednesday, November 8-15), as current demand for space-heating remained relatively low amid continuing concerns over long-term supplies. For the week, the price at the Henry Hub increased $0.08 per MMBtu, or about 1 percent, to $7.45. At the New York Mercantile Exchange (NYMEX), the price of the futures contract for December delivery at the Henry Hub moved about 30 cents per MMBtu, or 3.4 percent, higher on the week to settle yesterday (Wednesday, November 15) at $8.12. Natural gas in storage was 3,450 Bcf as of Friday, November 10, which is 7.4 percent higher than the 5-year average. The spot price for West Texas Intermediate (WTI) crude oil decreased $1.14 per barrel or about 2 percent, since last Wednesday (November 8) to trade yesterday at $58.79 per barrel or $10.14 per MMBtu.
Natural gas spot prices yesterday (November 15) were generally within a dime of last Wednesday's prices. Although seasonally mild temperatures limited space-heating demand during the second week of the heating season, concerns over the long-term supply picture and relatively high prices for competing petroleum products continued to provide support for generally strong prices into the winter. The Henry Hub price rose in each trading day starting Monday for a cumulative weekly increase of 8 cents per MMBtu. At $7.45 per MMBtu, the Henry Hub price yesterday was the highest since late October and more than double this season's low of $3.66 (reached on September 29). With very few exceptions, other trading locations in producing areas along the Gulf Coast and in South Texas also registered changes up to a dime, either up or down. Prices increased significantly in the Rockies from last week's levels as temperatures returned to normal after a mild beginning to November. For the week, trading locations in the Rockies registered an average price increase of $0.80 per MMBtu to trade at an average of $5.90. However, price movements in the region varied considerably throughout the week, following the rupture of a major pipeline that blocked regional production from moving to markets. The rupture of a Wyoming Interstate Co. (WIC) line occurred near Cheyenne, Wyoming, essentially stranding large volumes of production. Prices on Monday decreased sharply in production-area trading locations such as Kern River, which posted an average of $1.86 per MMBtu on Monday. WIC intends to have returned to full capacity in time for scheduling on Thursday, November 16. Price impacts from the temporary loss of capacity out of the Rockies rippled all the way to alternative supply sources to meet demand in Midwest markets. For example, the price for supplies off Natural Gas Pipeline Company of America's (NGPL) Amarillo Mainline, a major pipeline into the Midwest, increased 99 cents per MMBtu during trading on Monday. The price at the Chicago citygate registered a more moderate increase of 20 cents per MMBtu on the day. For the week, the Chicago citygate price increased 3 cents per MMBtu to $7.44. In the Northeast, moderate temperatures resulted in an average price decrease of $0.08 per MMBtu. The price for gas off Transcontinental Gas Pipe Line (Transco Zone 6) into New York City decreased $0.11 per MMBtu, or about 1.4 percent, to $7.85, only a $0.40-premium to the Henry Hub price. The relatively-low basis differential between the Henry Hub and Transco Zone 6 likely reflected limited weather-related demand in market areas.
<![if !vml]>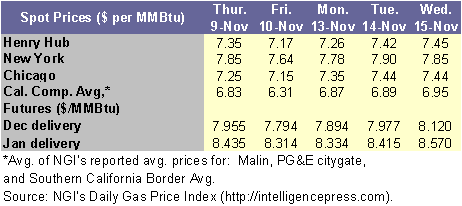 <![endif]>
At the NYMEX, the price of the futures contract for December delivery gained close to $0.30 per MMBtu on the week to settle at $8.12 yesterday (November 15). Prices of all futures contracts moved up slightly this week, as colder weather and higher demand during the winter season appears imminent. The price increases resulted in the highest price for a near-month contract since August 1, 2006, when the September contract settled at $8.211 per MMBtu. However, the December 2006 contract itself has traded at more than $8 per MMBtu as recently as late October. Its all-time high price of $12.183 per MMBtu was reached on December 8, 2005. Contracts for the remainder of the heating season (January 2007 through March 2007) increased an average of nearly 27 cents per MMBtu to settle at an average of $8.548, which is a premium of about $1.10 per MMBtu over yesterday's Henry Hub cash price. The premium continues to suggest that it is economic to store gas in preparation for colder temperatures this winter. The 12-month strip, which is an average of futures prices for the coming year, increased 18.4 cents per MMBtu since last Wednesday (November 8) to $8.251.
Recent Natural Gas Market Data
Estimated Average Wellhead Prices

May-06

June-06

July-06

Aug-06

Sep-06

Oct-06

6.19

5.80

5.82

6.51

5.51

5.03

Price ($ per MMBtu)

6.03

5.65

5.67

6.34

5.37

4.90

Note: Prices were converted from $ per Mcf to $ per MMBtu using an average heat content of 1,027 Btu per cubic foot as published in Table A4 of the Annual Energy Review 2002.

Source:Energy Information Administration, Office of Oil and Gas.
Working gas in storage as of November 10 was 3,450 Bcf, which is 7.4 percent above the 5-year average inventory level for the reporting week, according to EIA's Weekly Natural Gas Storage Report (See Storage Figure). The implied net injection of 5 Bcf for the report week was considerably less than both last year's net injection of 54 Bcf and the 5-year average net injection of 13 Bcf. As a result, the difference between this year's stocks and the 5-year average has decreased to 238 Bcf, and the difference between this year's stock level and last year's declined to 176 Bcf. While the report's net change in working gas stocks follows 2 weeks of net withdrawals from storage, net injections are not unusual in November. In fact, EIA reported at least one net injection during November in each of the past 3 years. Lower-than-normal heating demand in key market locations contributed to the net injection, as warmer-than-normal temperatures were extensive (See Temperature Maps). Temperatures across the Lower 48 States were about 10 percent warmer than normal for the week ending November 9, according to the number of heating degree-days as measured by the National Weather Service. Most notably, heating degree-days in the East North Central Census Division were 5 percent less than the normal level for the week. The East North Central Division includes Chicago and other major heating-demand markets.
<![if !vml]>
<![endif]>
Other Market Trends:
EIA Updates Its Residential Price Brochure: The Energy information Administration (EIA) has released the 2006 update of the brochure entitled Residential Natural Gas Prices: What Consumers Should Know. This brochure provides basic information to residential consumers concerning natural gas supplies and prices. It explains the factors that influence natural gas prices, summarizes EIA's projections for the coming heating season, and suggests ways for consumers to save on their natural gas bills. EIA projects that the cost of natural gas at the wellhead (commodity cost) will comprise 60 percent of the residential price this winter, because of market conditions that include weak natural gas production response despite increased drilling levels, declining net imports, high demand, and high crude oil prices. For the heating season of 2006-2007, EIA estimates that homeowners will pay about $1.07 per therm, or about $11.01 per thousand cubic feet (Mcf), for natural gas. The nearly 18 percent decrease in price, coupled with an expected increase in consumption of about 4 percent, assuming normal weather, would result in a decrease of about 14 percent in total expenditure for gas by households.
EIA Reports on Technology-Based Oil and Natural Gas Plays: The Energy Information Administration released a report on November 8, 2006, about the Bakken Formation of the Williston Basin, located in the north central United States, underlying North Dakota, eastern Montana, northwestern South Dakota, and into southern Canada. The report describes how production and reserves in the Bakken Formation, which was previously considered uneconomic, have greatly increased in recent years from using technology to convert unconventional resources into reserves. Oil and natural gas operators utilized detailed geologic data and new drilling and completion technology to achieve this success. Although the report mainly focuses on crude oil data, natural gas also has been produced in the Williston Basin for decades and the technology-based trends may also have large implications for natural gas. Montana reported that the Elm Coulee Field in the Bakken Formation doubled its oil production for the third year in a row in 2005 to 15 million barrels. Furthermore, between 1999 and 2005, crude oil proved reserves increased by 106 percent in Montana and 59 percent in North Dakota. In addition to production and reserve data, the report also provides information on the history, geology, and resources in the Williston Basin, and it describes several of the new technologies used there. The report is the first in a series intending to share information about technology-based oil and natural gas plays.
Natural Gas Transportation Update:
El Paso Corporation's Wyoming Interstate Gas Company declared a force majeure following a rupture on its pipeline system on Saturday, November 11, about 10 miles south-southwest of Cheyenne, WY. The rupture, which also caused supply backups on the Colorado Interstate Gas System, shut-in about 770 MMcf per day of gas production flowing to the Cheyenne Hub. El Paso said that owing to welding delays during the repair, it had to curtail all mainline volumes to zero through Wednesday, November 15, but expected to accept full nominations on Thursday.
Pacific Gas and Electric Company declared a high-inventory systemwide operational flow order (OFO) from Thursday, November 9 through Saturday, November 11.Another high-inventory OFO was announced for Wednesday, November 15.During both periods, the OFO carried a 5-percent tolerance level with penalties at $1 per Decatherm.
Starting on Thursday, November 9, Tennessee Gas Pipeline Company said it would accept nomination for interruptible storage injections across the system. The company also announced it is experiencing high linepack in the Texas area and does not have the ability to compensate for over-deliveries into the system, or for system users who take less than planned from the system.