Overview:  Thursday, October 26 (next release 2:00 p.m. on November 2, 2006)
Since Wednesday, October 18, natural gas spot prices increased significantly at all market locations, as colder weather moved across the country.  For the week (Wednesday to Wednesday), the price at the Henry Hub increased $1.13 per MMBtu, or about 19 percent, to $7.20 per MMBtu.  The NYMEX futures contract for November delivery at the Henry Hub gained about 89 cents since last Wednesday to close yesterday (October 25) at $7.693 per MMBtu.  Natural gas in storage as of Friday, October 20, was 3,461 Bcf, which is 10 percent above the 5-year average.  The spot price for West Texas Intermediate (WTI) crude oil increased $1.43 per barrel, or about 2.5 percent, since last Wednesday to trade yesterday at $59.09 per barrel or $10.19 per MMBtu. 
<![if !vml]>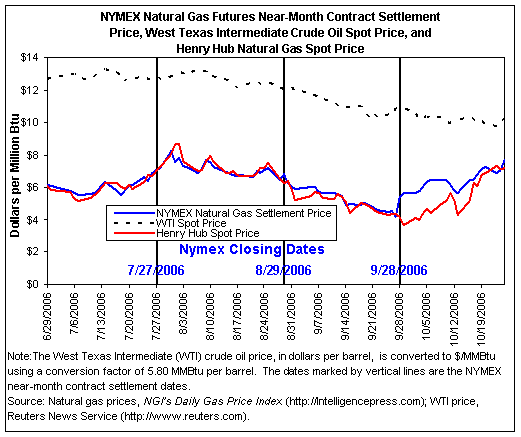 <![endif]>
After a late-summer and early-fall characterized by declining prices in a weak natural gas market, spot prices for natural gas continued to surge upward this week, increasing by as much as $1.52 per MMBtu in some market locations.  The weather likely prompted an increase in heating demand as colder-than-normal temperatures moved from western market areas to high-demand eastern market locations over the course of the week (Wednesday to Wednesday, October 18 to 25).  The Henry Hub spot price increased $1.13 per MMBtu, or about 19 percent since last Wednesday, October 18.  At $7.20 per MMBtu, yesterday's Henry Hub spot price is much lower than the price on this date last year ($12.95 per MMBtu) when markets were reacting to supply disruptions caused by major hurricanes, but similar to the price 2 years ago ($7.12 per MMBtu).  The magnitude of the widespread increases is especially significant considering that in Tuesday's trading, spot prices decreased at almost all locations by as much as 35 cents.  Regionally, the highest prices as well as the largest weekly increases were in the Northeast where the average spot price yesterday was $7.90 per MMBtu.  Prices gained $1.40 per MMBtu on average in this region.  While most of the price increases in the country were in response to drops in temperatures, the Florida market responded to unseasonably hot weather with an Overage Alert Day late last week.  The Florida Gas Transmission Citygate spot price was $7.38 yesterday, which is 63 cents higher than the price last Wednesday.
<![if !vml]>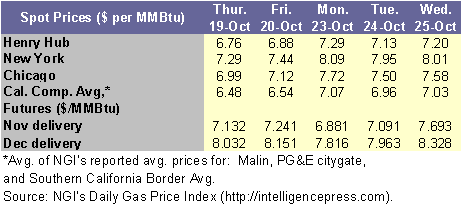 <![endif]>
At the NYMEX, the price of the futures contract for November delivery at the Henry Hub increased 89 cents, or about 13 percent, to $7.693 per MMBtu since last Wednesday, October 18.  The daily price movements have fluctuated greatly over the week, including a 36-cent drop on Monday and a 60-cent increase during yesterday's trading (Wednesday).  With only 2 trading days before the November contract expires on October 27, yesterday's price is almost 43 percent higher than the price on September 28 when it became the near-month contract.  Prices for the rest of the contracts through the end of the heating season (December through March) also increased with gains ranging between 38 and 48 cents per MMBtu on the week.  The relatively large futures price swings may reflect uncertainty about weather during the upcoming winter heating season, despite high storage inventories.  The heating season contracts settled at $8.400 per MMBtu on average yesterday with the highest at $8.731 per MMBtu (February 2007).  The 12-month strip, which is the average of the monthly futures prices for the upcoming year, increased about 34 cents this week to settle at $8.211 yesterday. 
Recent Natural Gas Market Data
Estimated Average Wellhead Prices

Apr-06

May-06

June-06

July-06

Aug-06

Sep-06

6.59

6.19

5.80

5.82

6.51

5.51

Price ($ per MMBtu)

6.42

6.03

5.65

5.67

6.34

5.37

Note: Prices were converted from $ per Mcf to $ per MMBtu using an average heat content of 1,027 Btu per cubic foot as published in Table A4 of the Annual Energy Review 2002.

Source:  Energy Information Administration, Office of Oil and Gas.
Working gas in storage increased to 3,461 Bcf as of Friday, October 20, according to EIA's Weekly Natural Gas Storage Report (See Storage Figure).  The implied net injection of 19 Bcf for the week is 61 percent less than the 5-year average injection of 49 Bcf for the week and about 75 percent below last year's injection of 77 Bcf.  Working gas levels are currently 315 Bcf, or about 10 percent, above the 5-year average, and 333 Bcf, or 11 percent, above last year's level.  Cold temperatures largely contributed to the relatively small net injection this week.  According to the National Weather Service, temperatures were colder-than-normal in every Census Division in the Lower 48 States  as measured by heating degree-days (See Temperature Maps).  The West North Central Census Division was particularly cold with 45 percent more heating degree-days than normal, and the country as a whole experienced 22 percent more heating degree-days than normal.  This week's net injection is tied with the weeks ending April 7 and July 28 for having the smallest injection since the last heating season ended (March 31, 2006), excluding the 2 weeks in which there were withdrawals.  Although NYMEX futures contracts for the upcoming heating season are priced at least 49 cents higher than the current Henry Hub spot price, the economic incentive to inject or keep natural gas in storage posed by the relative price differentials generally has been declining in recent weeks.  With a week and a half remaining in this year's injection season, storage levels are 11 Bcf less than the previous high of 3,472 Bcf  at the end of November 1990.
<![if !vml]>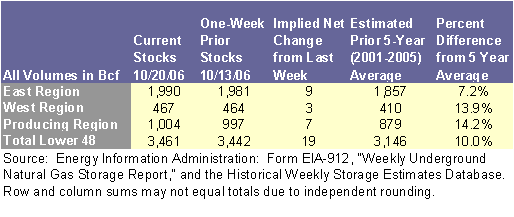 <![endif]>
Other Market Trends:
FERC Expands Eligibility of Blanket Certificates: The Federal Energy Regulatory Commission (FERC) issued a final rule on October 19, 2006, that expanded the scope of blanket certificate eligibility for natural gas infrastructure projects and raised the limits for project costs. The final rule allows the blanket certificate to be extended to some previously excluded facilities such as mainlines, certain storage facilities, and pipelines that transport revaporized liquefied natural gas (LNG), as well as synthetic and natural gas. Blanket certificates are granted to companies that have previously obtained a certificate of public convenience and necessity under Section 7 of the Natural Gas Act. Companies with blanket certificates may improve or upgrade their existing facilities, or construct certain new facilities, without the need for further authorization. The new projects will be subject to prior-notice review procedures in order to ensure the new activities do not adversely affect existing customers' rates and services or have an adverse impact on the environment. The rule raises the cost limits that apply to eligible blanket certificate projects from the current $8.2 million to $9.6 million for automatic authorizations and from $22.7 million to $27.4 million for prior-notice projects. Among other things, the rule also clarifies that a natural gas company may charge different customers different rates for the same service based on the date customers commit to service. The rule will take effect 60 days after publication in the Federal Register.
Natural Gas Transportation Update: Over the past week, several pipeline companies and storage operators relaxed the constraints on their systems as cooler temperatures occurred across much of the Lower 48 States. Dominion Transmission, Inc., for example, announced that actions taken by its customers as well as the arrival of colder weather allowed it to lift the operational flow order (OFO) on Thursday, October 19, that had been issued on September 20. Because of the resulting lower linepack on its system as of last week, the company is now able to resume storage injections. Similarly, Transcontinental Gas Pipe Line Corporation announced on Monday (October 23) that its operational flexibility has returned to more acceptable levels and that it has thus lifted numerous restrictions, including services covered under the park and loan (PAL) rate schedule, and will allow excess storage injections under the general storage service (GSS) and the Washington storage service (WSS) rate schedules. Other transportation-related events during the week include:
Florida Gas Transmission Company (FGT) issued an overage alert day (OAD) on Thursday, October 19, because of forecasts of 90-degree weather in its service territory. The OAD, which carried a 15 percent tolerance for negative daily imbalances, was lifted on Sunday, October 22.

 

An outage at the Sea Robin processing plant was extended until Saturday (October 21), despite previous expectations that the plant would be back on line by October 15. While the plant was operational Saturday morning, the company asked shippers to adjust their gas flows and nominations as needed. The outage began on October 11 because of emergency maintenance that resulted from a steam-turbine leak.

Southern California Gas Company announced Thursday, October 19, that it will have to reduce the amount of injection capacity as individual storage fields become full. The company reported that its storage inventory levels in general are fast approaching maximum capacities and that the injection capacity reductions will have to take place on its system.