Overview: Thursday, October 19 (next release 2:00 p.m. on October 26, 2006)
Natural gas prices exhibited significant increases this week (Wednesday-Wednesday, October 11-18), as temperature-driven demand across much of the United States exerted upward pressure on both spot and futures prices. For the week, the price at the Henry Hub increased 42 cents per MMBtu, or 7.4 percent, to $6.07. At the New York Mercantile Exchange (NYMEX), the price of the futures contract for delivery during November increased about 66 cents per MMBtu, settling yesterday (Wednesday, October 18) at $6.807. Natural gas in underground storage was 3,442 Bcf as of Friday, October 13, which is 11.1 percent above the 5-year average. The spot price for West Texas Intermediate (WTI) crude oil increased 10 cents per barrel or less than 1 percent on the week, trading yesterday at $57.66 per barrel or $9.94 per MMBtu. With the exception of last Wednesday, October 11, the WTI price has not been less than $10 per MMBtu since February 15, 2006, when crude oil traded at $9.93 per MMBtu.
<![if !vml]>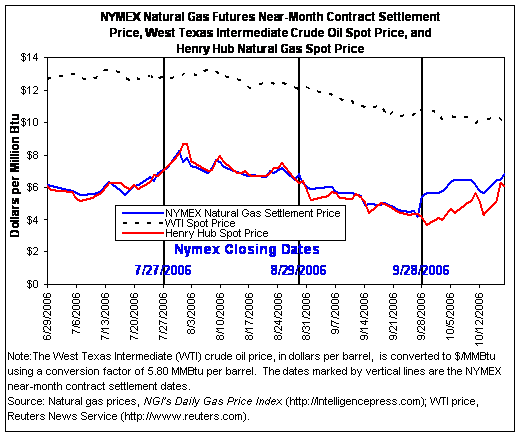 <![endif]>

Temperature patterns motivated both heating- and cooling-load natural gas demand. Colder temperatures encompassed much of the northern tier of the country, while significantly warmer temperatures entered the coastal States along the Gulf of Mexico. This weather pattern led to widespread increases in spot prices since last Wednesday, October 11. Despite the above-average stocks of natural gas in storage, the weather and price-inelastic natural gas demand and supply supported price increases that ranged between 32 cents and $1.76 per MMBtu. Furthermore, given the reluctance of operators to rely on storage withdrawals before the start of the heating season and the premium between current future prices and spot prices, much of the gas needed during the week was purchased on the spot market. Prices in production areas along the Gulf Coast increased, posting increases on the week of about 50 cents. Despite the systemwide high-inventory operational flow order (OFO) for part of the week, the prices at Malin and the PG&E citygate, along with the other trading locations in California, increased on the week by an average of 72 cents per MMBtu. The Rocky Mountain region recorded the highest increases on the week, averaging $1.18 per MMBtu, or about 28 percent higher than last Wednesday's average price of $4.21 per MMBtu. Despite the largest increases for the week, the lowest average regional price as of yesterday was recorded in the Rockies ($5.39 per MMBtu), followed by West Texas ($5.65 per MMBtu), and the Midcontinent ($5.88 per MMBtu).

<![if !vml]>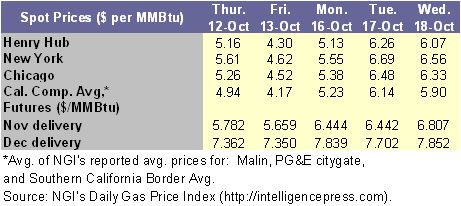 <![endif]>

At the NYMEX, the price of the futures contract for November delivery at the Henry Hub increased 66 cents per MMBtu or about 11 percent to $6.807 per MMBtu since last Wednesday. Since it became the near-month contract, the November 2006 contract has increased every week, contrary to its price movement between August 30 and September 27, 2006, when it decreased $2.591 per MMBtu or about 31 percent. The December 2006 contract also increased on the week, settling yesterday at $7.852 per MMBtu, which was 18 cents or about 2 percent higher. With the exception of the March 2007 contract, which did not change, all futures contracts for delivery through the end of the next injection season (October 2007) increased during the week, recording average increases of 14 cents or nearly 2 percent, and reflecting the expectation of market tightness in the near-term, as well as over the next year. As of yesterday, the highest-priced futures contract for delivery over the next 12 months was the February 2007 contract, which ended trading yesterday at $8.305 per MMBtu. The price of the 12-month strip, which is the average price of futures contracts for delivery over the next year, increased to $7.867 per MMBtu compared with the $7.740 per MMBtu average last Wednesday (October 11).

Recent Natural Gas Market Data
Estimated Average Wellhead Prices

Apr-06

May-06

June-06

July-06

Aug-06

Sep-06

6.59

6.19

5.80

5.82

6.51

5.51

Price ($ per MMBtu)

6.42

6.03

5.65

5.67

6.34

5.37

Note: Prices were converted from $ per Mcf to $ per MMBtu using an average heat content of 1,027 Btu per cubic foot as published in Table A4 of the Annual Energy Review 2002.

Source:  Energy Information Administration, Office of Oil and Gas.
Working gas in storage increased to 3,442 Bcf as of Friday, October 13, according to the EIA Weekly Natural Gas Storage Report (See Storage Figure). Storage inventories are currently 11.1 percent above the 5-year average and 12.8 percent above last year's storage level at this time. The implied net injection of 53 Bcf is nearly 19 percent lower than the 5-year average injection of 65 Bcf and about 27 percent less than last year's injection of 73 Bcf when heating degree-days (HDDs), as measured by the National Weather Service, were considerably lower in the region east of the Mississippi River than in the past week. The comparatively low injection compared with the historical average likely is related to colder-than-normal weather during the report week across the East and West North Central Census Divisions where major gas consuming markets are located. For the week ending October 12, 2006, temperatures overall were about 5.5 percent cooler than normal, according to HDDs. (See Temperature Maps) While the higher HDDs for the week were indicative of increased heating demand, the lower-than-average injection for the week also can be partially attributed to factors such as the nearly full storage facilities.
<![if !vml]>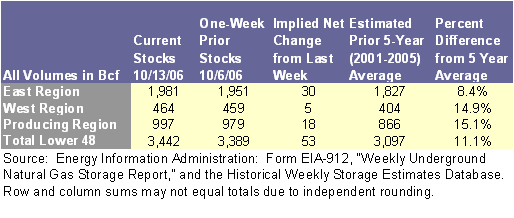 <![endif]>
Other Market Trends:
EIA Releases Report on Underground Natural Gas Storage Developments: The Energy Information Administration (EIA) released a special report on October 17, 2006, titled U.S. Underground Natural Gas Storage Developments: 1998-2005, which examines the current status of the underground natural gas storage sector in the United States. The report also discusses changes in the natural gas storage sector since 1998, particularly regarding deliverability from storage, working gas capacity, ownership, and operational capabilities. Between 1998 and 2005, estimated working gas capacity increased by 6 percent, rising from 3.79 trillion cubic feet (Tcf) in 1998 to 4.01 Tcf in 2005. During the same time period, the estimated overall natural gas storage deliverability rate rose by 13 percent, increasing from 73.9 Bcf per day in 1998 to 83.6 Bcf per day in 2005. The report indicates that more efficient operational techniques, such as horizontal drilling, and ongoing expansions at existing salt-formation facilities were key reasons for the increase in working gas capacity and, in particular, daily deliverability. Furthermore, the report includes a discussion and an analysis of underground natural gas storage expansions in 2005, and it provides an overview of proposals for additional storage expansions through 2008. According to the report, underground natural gas storage development activity fell significantly in 2005, compared with levels in 2004. Additions to storage deliverability were 38 percent less than in 2004, and additions to working gas capacity were 59 percent less than year-earlier levels. All of the nine underground natural gas storage projects completed during 2005 were expansions or upgrades to existing facilities rather than new facilities. Thirty-eight underground natural gas storage projects have either been approved or are under review by the Federal Energy Regulatory Commission (FERC) or other appropriate jurisdictional authority. Of these, 15 are new facilities and 23 are expansions to existing facilities, and have the potential to add as much as 197 Bcf to existing working capacity, as well as increase the daily deliverability by 9.5 Bcf per day.
Natural Gas Transportation Update:
Colorado Interstate Gas Company (CIG), an El Paso Corp. pipeline, implemented a strained operating condition (SOC) for its transmission system effective October 13, which will last until further notice. During this SOC, the company will require all transportation transactions to be in balance between receipts and deliveries. Aditionally, the high levels of natural gas in its storage facilities will limit CIG's storage injection capability. Furthermore, all storage customers should adjust flowing supplies to ensure that storage injections remain at or below currently allowed limits. Finally, the exception table for Auto Park and Loan shippers will be suspended during the effective period of the SOC. Questar Pipeline Company (QPC) declared an operational flow order (OFO) because of testing at the Clay Basin Storage Facility between October 12 and 18. Questar's transmission system is operating at close to capacity and the injection test has placed an added burden on operating conditions resulting in minimal linepack being available for balancing. Until further notice, shippers and point operators are required to have a match between production volumes and accepted nominations. Estimations by Northwest Pipeline Company and QPC, based on current reservoir pressures and anticipated receipt pressures, indicate that the total physical injection capacity for Clay Basin will be 250 million cubic feet per day beginning gas day Thursday, October 19.
On Saturday, October 14, Pacific Gas & Electric Company (PG&E) declared an operational flow order (OFO) through Monday, October 16. On Wednesday, October 18, PG&E placed a stage 3 high-inventory OFO in effect, assessing charges of $5 per decatherm for exceeding a 5-percent tolerance on positive daily imbalances.
On October 18, Gulf South Pipeline Company announced unscheduled maintenance on its Goodrich Compressor Station Unit #5 effective immediately and continuing for about 10 days. Throughput capacity at the Goodrich Compressor Station may be reduced by as much as 50,000 decatherms per day.