Overview:  Thursday, October 12 (next release 2:00 p.m. on October 19, 2006)
Natural gas spot prices increased sharply this week (Wednesday-Wednesday, October 4-11) as colder temperatures crept into the Midwest. For the week, the price at the Henry Hub increased $1.28 per MMBtu, or about 29 percent, to $5.65. At the New York Mercantile Exchange (NYMEX), the price of the futures contract for November delivery at the Henry Hub moved higher by about 16 cents per MMBtu to settle yesterday (Wednesday, October 11) at $6.150. Natural gas in storage was 3,389 Bcf as of Friday, October 6, which is 11.8 percent higher than the 5-year average. The spot price for West Texas Intermediate (WTI) crude oil decreased $1.97 per barrel, or about 3 percent, since last Wednesday (October 4) to trade yesterday at $57.56 per barrel or $9.92 per MMBtu.
<![if !vml]>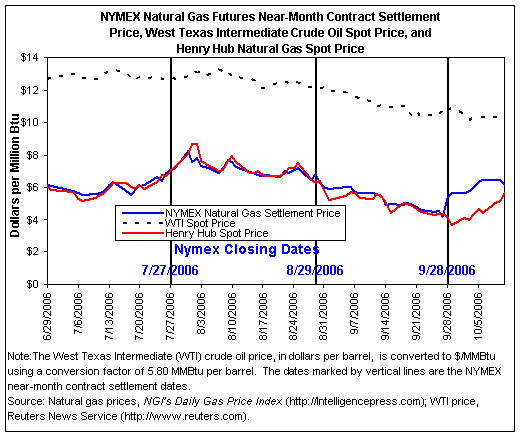 <![endif]>
Spot price increases were widespread this week, with prices at most reporting market locations outside of the Rockies increasing by more than $1 per MMBtu. The Henry Hub price has risen in five of the past six trading sessions, trading at the end of this report week at $5.65 per MMBtu, as autumn weather sets in. This is the highest price for next-day delivery at the Henry Hub in more than a month (since September 6). However, the spot price is still considerably lower (about 60 percent) than it was this time last year, following the devastating hurricane season. At this time last year the Henry Hub was just coming back into service after Hurricane Rita struck, and the first price quotes exceeded $13 per MMBtu. In contrast, this hurricane season, which does not end officially until November 1, has yielded little, if any, interruption of natural gas flows from the Gulf of Mexico. This is certainly one factor in what was a trend of generally declining prices in September. However, that trend reversed in early October with 2 straight weeks of price increases. Trading locations in producing areas along the Gulf Coast this week registered increases from $0.77 to $1.33 per MMBtu. In the Midwest, where low temperatures were below freezing in some areas, the average price increased $1.33 per MMBtu to $5.79. Although the unusually cold temperatures have not quite reached the Northeast, prices in the region gained an average of $1.30 per MMBtu to an average price of $6.02 as of Wednesday, October 11. The price for gas off Tennessee Gas Pipeline in New England (Zone 6) increased $1.30 per MMBtu to $6.18, which was the highest price in the country yesterday. In contrast to price trends in the East, prices decreased at several market locations in the Rockies on the week. The spot price at Opal, Wyoming, declined 28 cents per MMBtu on the week to $3.74. Prices in California were higher on the week, albeit less so than in the East. The price at the Southern California border increased $0.46 per MMBtu, or 10 percent, to $5.03.
<![if !vml]>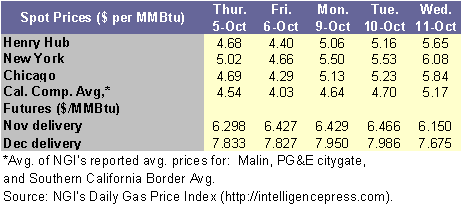 <![endif]>
The price of the NYMEX futures contract for November delivery gained $0.155 per MMBtu on the week to settle at $6.150 yesterday (October 11), as the prices for contracts over the next year moved up this week in response to early cold temperatures. NYMEX futures also may have been pushed higher in technical trading following the precipitous decline last month, which was prompted by the lack of hurricane related shut-ins and, possibly, lower prices for crude oil and petroleum products that compete with natural gas. Before decreasing about 32 cents per MMBtu yesterday, the price of the November contract had increased in eight consecutive trading sessions. The sequence of price increases resulted in the highest price for the November contract ($6.466 per MMBtu on Tuesday, October 10) since mid-September. The NYMEX contract for February 2007 closed yesterday at $8.302 per MMBtu, up about 15 cents on the week and the highest price in the 12-month strip. Contracts for the heating season (November 2006 through March 2007) increased an average of nearly 15 cents per MMBtu to settle at an average of $7.71. This heating season average price is considerably lower than the $10-plus prices traded for the winter delivery contracts several months ago. Still, at yesterday's closing price, the November contract was trading at a 50-cent per MMBtu premium to the Henry Hub spot price, providing an economic incentive to store gas for later use. The 12-month strip, which is an average of futures prices for the coming year, increased about 14 cents per MMBtu to $7.74 since last Wednesday (October 4).
Recent Natural Gas Market Data
Estimated Average Wellhead Prices

Apr-06

May-06

June-06

July-06

Aug-06

Sep-06

6.59

6.19

5.80

5.82

6.51

5.51

Price ($ per MMBtu)

6.42

6.03

5.65

5.67

6.34

5.37

Note: Prices were converted from $ per Mcf to $ per MMBtu using an average heat content of 1,027 Btu per cubic foot as published in Table A4 of the Annual Energy Review 2002.

Source:  Energy Information Administration, Office of Oil and Gas.
Working gas in storage as of October 6 was 3,389 Bcf, which is 11.8 percent above the 5-year average inventory level for the report week, according to EIA's Weekly Natural Gas Storage Report (See Storage Figure). The implied net injection of 62 Bcf for the report week was 5 percent less than the 5-year average net injection of 65 Bcf and about 11 percent more than last year's net injection of 56 Bcf. As a result, the difference between this year's stocks and the 5-year average increased to 358 Bcf, and the difference between this year's stock level and last year declined to 410 Bcf.  This report week's net injection is the lowest for the Lower 48 States since August 25, when cooling demand in key market locations likely contributed to reduced net injections. This week's low injection relative to recent weeks reflects heating demand picking up in parts of the country, although temperatures as a whole were warmer than normal during the report week (See Temperature Maps), according to heating degree-days as measured by the National Weather Service. In its most recent short-term forecast, EIA has projected that working gas in storage at the start of the winter heating season (November 1) will be about 3,540 Bcf, which is about 360 Bcf above the 5-year average yet below EIA's estimated maximum working gas storage capacity of about 3,600 Bcf. This week's working gas volume is the second highest yearly peak for working gas in storage recorded by EIA. The largest volume of working gas in storage to date is 3,472 Bcf, achieved at the end of November 1990.
<![if !vml]>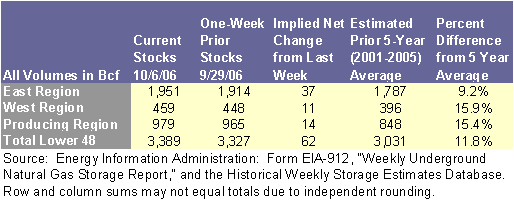 <![endif]>
Other Market Trends:
EIA Releases Its Winter Fuels Outlook: According to the Energy Information Administration's (EIA) latest Short Term Energy Outlook (STEO), released on October 10, natural gas spot prices at the Henry Hub are expected to average about $6.90 per thousand cubic feet (Mcf) in 2006 and increase to $7.53 per Mcf in 2007.  Total U.S. natural gas consumption in 2006 is expected to fall by about 250 billion cubic feet (Bcf) or about 1.1 percent below the 2005 level and then increase by about 640 Bcf or almost 3 percent in 2007.  The relatively low consumption in 2006 reflects a large drop-off in residential consumption, which is attributable largely to the mild weather during the early months of 2006.  During the start of this winter season on November 1, working gas in storage is expected to be about 3,540 Bcf, which is roughly 360 Bcf more then the 5-year average.  This large inventory should mitigate upward pressure on natural gas prices.  Domestic dry natural gas production in 2006 is expected to increase by 0.8 percent in both 2006 and in 2007, owing to continued high levels of drilling for natural gas prospects and restored production capacity from the major disruptions caused by Hurricanes Katrina and Rita in the Gulf of Mexico in 2005.  Because of the lack of activity so far this hurricane season, significant hurricane-induced losses are not likely this year. Included in this month's STEO are, among other things, expected prices for petroleum products; the baseline weather case for this winter; projection of heating expenditures by residential customers relative to last winter; and a projection of prices beyond the upcoming winter.
Recent Trends in LNG Imports to the United States: Although the global market for liquefied natural gas (LNG) is growing, LNG still accounts for a small part of the U.S. supplies. Indications so far this year are that there will be little, if any, incremental increase over the annual volumes of the last few years. U.S. importers have not yet begun bringing the expected larger volumes of LNG to the United States under long-term contracts, and transactions in the growing but small LNG spot market this year have so far resulted in lackluster volume growth compared with levels recorded earlier this decade. Through August 2006, the United States has received the gaseous equivalent of 409 billion cubic feet (Bcf) in LNG imports, a slight decrease from last year's 411 Bcf total through August. The Lake Charles, Louisiana, facility has had the lowest utilization rate (not including the new offshore Gulf Gateway facility). This facility in the past has received the largest volumes of LNG from the spot market. This suggests that either supplies on the spot market are minimal or price competition, particularly from the United Kingdom and Spain in the Atlantic Basin, has limited spot shipments to the United States. Although the markets in Europe and United States currently are not experiencing the turmoil of last year's chaotic preparations for winter (the U.S. industry was recovering from the worst hurricane season in decades), prices for winter deliveries are still high relative to previous years. Natural gas prices on the International Petroleum Exchange (IPE) in the United Kingdom show that prices during the upcoming winter season in Europe are once again expected to exceed those in the United States by a significant margin. The price for the futures contract for January 2007 delivery on the New York Mercantile Exchange, for example, was $8.505 per MMBtu as of October 9, while the IPE price for the corresponding contract was $13.68 (see figure). This relative price pattern indicates that the United Kingdom or the European continent likely will be preferred destinations for spot market cargoes. The Energy Information Administration (EIA) currently projects deliveries of roughly 650 Bcf in 2006. In the long-term, EIA still expects LNG to be a critical supply source, which will expand to meet growing U.S. consumption. In 2007, EIA projects year-over-year LNG import growth of more than 40 percent to 920 Bcf.
NOAA Releases Winter Weather Outlook: The National Oceanic and Atmospheric Administration (NOAA) released its latest weather outlook for the 2006-2007 winter on October 10, 2006, predicting above normal temperatures, although slightly cooler than last year's. According to NOAA, from December through February, the Lower 48 States can expect about 2 percent fewer heating degree-days (HDDs) than average, but about 5 to 10 percent more HDDs than during the same period last winter. The NOAA Climate Prediction Center further states that the weak El Nino conditions which have developed in the tropical Pacific are expected to persist throughout the 2006-2007 winter, and possibly reach moderate strength over the next few months. However, the event is not expected to reach the magnitude of the very strong 1997-1998 El Nino event. The strengthening El Nino event is expected to affect winter precipitation and temperature patterns across the United States. Warmer-than-normal temperatures are expected west of the Rocky Mountains, the Midwest, most of the Northeast, as well as most of Alaska. Close to normal temperatures are expected for parts of the Southeast, while below normal temperatures are anticipated for Hawaii. The remaining regions have equal chances of warmer, cooler, and near-normal temperatures this winter. 
Natural Gas Transportation Update:
On Friday, October 6, Pacific Gas & Electric Company (PG&E) ended the stage 3 high-inventory operational flow order (OFO) that had been in effect since Tuesday, October 3. However, the pipeline issued a new stage 3 OFO for Saturday, October 7, assessing charges of $5 per decatherm (Dth) for exceeding a 5 percent tolerance on positive daily imbalances. While PG&E did not extend the OFO beyond Saturday, it implemented a new OFO for Tuesday (10/10) and today (10/12).

Southern California Gas Company declared a high-linepack OFO for Saturday and Sunday, charging shippers buy-back charges if they delivered more than 110 percent of their gas usage on the OFO day.

Natural Gas Pipeline Company of America lifted the force majeure on Monday, October 9, which had been in place since September 27. The force majeure was necessitated by an unscheduled repair on a compressor unit at Station 342 in Cameron Parish, Louisiana.

 

Owing to limited storage injection capability, Tennessee Gas Pipeline Company is requiring that all nominated storage injections under the firm storage service (FSS) agreement be limited to maximum daily injection quantities (MDIQ). Additionally, the El Paso subsidiary will continue to not accept any interruptible storage injections across the system. These limitations, effective gas day today, October 12, will remain in effect until further notice.

 

The Sea Robin Processing Plant operated by Amerada Hess Corporation was shut down on Wednesday, October 11, because of emergency maintenance that resulted from a steam turbine leak. During the outage, which is expected to last 4 days, the plant will continue to dehydrate natural gas. However, processing operations will not resume until the repairs have been completed.

 

Dominion Transmission, Incorporated, is conducting pressure stabilization tests at its Bridgeport Storage Pool until Friday, October 13. The 5-day test is affecting all deliveries in Dominion's eastern service area and also has prompted the company to require that all producers shut in compression in bubbles 4202, 4203, and 4205.