Overview:  Thursday, August 31 (next release 2:00 p.m. on September 7, 2006)
Natural gas spot prices decreased significantly in the Lower 48 States this week as Tropical Storm Ernesto moved north along the east coast, easing the threat to Gulf of Mexico natural gas supplies.  The spot price at the Henry Hub dropped 79 cents, or about 11 percent this week (Wednesday to Wednesday, August 23 to 30) to $6.40 per MMBtu.  In its first day of trading as the near month contract, the price of the New York Mercantile Exchange (NYMEX) futures contract for October delivery settled at $6.29 per MMBtu yesterday (August 30), which is 72 cents, or about 10 percent, less than last Wednesday's price.  As of Friday, August 25, 2006, natural gas in storage was 2,905 Bcf or 12.4 percent above the 5-year average.  The spot price for West Texas Intermediate (WTI) crude oil declined $1.25 this week to $70.20 per barrel or $12.10 per MMBtu yesterday.    
<![if !vml]>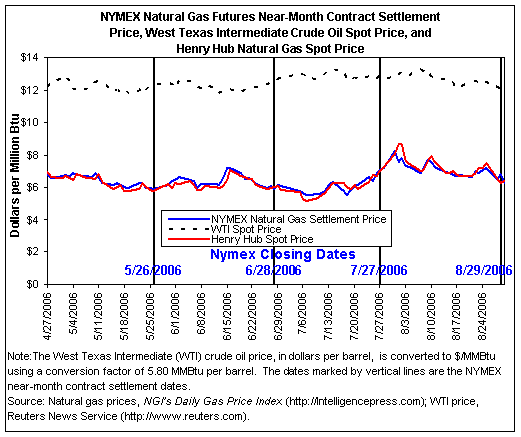 <![endif]>
Spot prices this week responded to an increasing and then diminishing threat from Atlantic storm activity.  The upgrade of Tropical Depression Five to Tropical Storm Ernesto last Friday, August 25, caused a slight increase in prices at most market locations as uncertainty rose regarding the storm's path and potential impact on Gulf of Mexico natural gas supplies.  After the weekend, however, prices dropped dramatically when it was clear that Ernesto instead would move northeast, away from the Gulf.  Coupled with moderate late-August temperatures, the lack of a weather-related threat caused prices to settle yesterday at levels between 65 cents and $2.16 per MMBtu less than last Wednesday (August 23).  The spot price at the Henry Hub was $6.40 per MMBtu yesterday, which is 79 cents or about 11 percent less than last Wednesday.  Elsewhere along the Gulf Coast, prices in Louisiana and East Texas declined 85 cents and 90 cents on average, respectively.  The largest drops were recorded in the Rocky Mountains, where the average spot price declined from $6.20 per MMBtu last Wednesday to $4.86 per MMBtu yesterday.  This includes the price at Colorado Interstate Gas (CIG), which fell $2.16 this week to $3.94 per MMBtu.  Weather likely had an impact on natural gas demand in this region as temperatures were significantly cooler than normal over the weekend and early this week, prompting a decrease in cooling load.  Temperatures also were notably cooler than normal in the Northeast where price declines ranged between 65 cents and $1.02 per MMBtu.  Despite these decreases, the spot price in this region averaged $6.71 per MMBtu yesterday, which was the highest regional average price. 
<![if !vml]>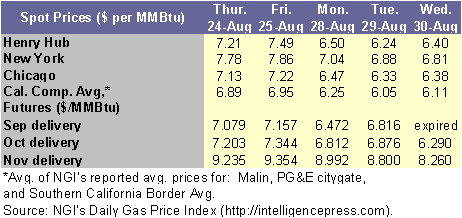 <![endif]>
The price of the New York Mercantile Exchange (NYMEX) futures contract for October 2006 delivery at the Henry Hub settled at $6.29 per MMBtu yesterday in its first day of trading as the near-month contract.  Despite consistent increases during trading late last week (Wednesday – Friday), this price is about 72 cents, or 10 percent, less than the level of last Wednesday (August 23) because of considerable declines after the weekend.  The September 2006 futures contract expired on Tuesday, August 29, at $6.816 per MMBtu, which is about 6 cents less than the price last Wednesday and 37 cents less than the price on July 28, 2006, when the September 2006 contract became the near month contract.  Looking ahead, the futures contracts for the upcoming heating season (November 2006 to March 2007) decreased between 59 cents and 75 cents to average $9.964 per MMBtu yesterday, which is the first time prices for the upcoming winter averaged below $10 since July 25, 2006.  On the same date last year, the equivalent contracts (November 2005 to March 2006) averaged $12.146 per MMBtu.  These year-ago prices were heavily influenced by the impact of Hurricane Katrina, which already had caused severe devastation to Gulf Coast infrastructure at this time.  Despite falling prices this week, this heating season's futures contracts still hold significant premiums ranging between $1.86 (November 2006) and $4.215 (February 2007) over yesterday's Henry Hub spot price.  The 12-month strip, which is an average of futures prices for the coming year, decreased 56 cents per MMBtu this week to average $8.814.
Recent Natural Gas Market Data
Estimated Average Wellhead Prices

Feb-06

Mar-06

Apr-06

May-06

June-06

July-06

7.28

6.52

6.59

6.19

5.80

5.82

Price ($ per MMBtu)

7.09

6.35

6.42

6.03

5.65

5.67

Note: Prices were converted from $ per Mcf to $ per MMBtu using an average heat content of 1,027 Btu per cubic foot as published in Table A4 of the Annual Energy Review 2002.

Source:  Energy Information Administration, Office of Oil and Gas.
Working gas in storage increased to 2,905 Bcf as of Friday, August 25, according to the EIA Weekly Natural Gas Storage Report (See Storage Figure).  The implied net injection during the week was 48 Bcf, which was about 28 percent lower than the 5-year average net injection of 67 Bcf, and 18 percent lower than last year's net injection of 58 Bcf.  Despite the lower than normal net injection this week, storage levels remain 12.4 percent above the 5-year average.  The difference between the current inventory level and the 5-year average fell to 320 Bcf this week, which is the smallest difference during this year's injection season (April 2006 to present).  This margin has been declining since the week ending May 12, 2006, when current inventories were 722 Bcf more than the 5-year average.  For the week ending August 24, the weather for the Lower 48 States was about 17 percent warmer than normal, as measured by cooling degree days (CDDs), according to the National Weather Service (See Temperature Maps).  This likely contributed to the below average injection as demand for natural gas increased to meet power generation needs.  Areas in the Atlantic and East South Central Census Divisions were particularly warm with 27 to 36 percent more cooling degrees days than normal.  Although all regions had above normal cooling degree days for the week, the Mountain Census Division was the only Division to also experience significant heating degree days with 22.   
<![if !vml]>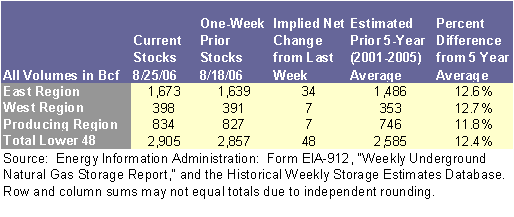 <![endif]>
Other Market Trends:
Minerals Management Service Announces a Proposed 5-Year Plan for the OCS and the Associated Draft Environmental Impact Statement: The Department of the Interior's Minerals Management Service (MMS) on August 31 released a Federal Register notice, seeking comments on its proposed 5-year (2007-2012) leasing plan for the outer continental shelf (OCS) and the associated draft environmental impact statement (DEIS).  The proposed plan is available at http://www.mms.gov/ooc/press/2006/press0824.htm.  MMS will accept comments on the OCS oil and gas leasing plan through November 24, 2006, and comments on the DEIS plan through November 22, 2006.  The plan proposes 21 lease sales in 7 of the 26 OCS planning areas.  This is part of the draft leasing plan MMS released in February 2006.  The proposed plan includes a special interest sale in areas off the coast of Virginia. MMS has estimated that the complete set of planning areas contain a total of 67.9 billion barrels of oil and 340.4 trillion cubic feet of natural gas in undiscovered technically recoverable resources.  Currently, more than 85 percent of the OCS is under Presidential and Congressional moratoria, and thus not available for energy development.  The current leasing program runs through June 30, 2007.
Natural Gas Transportation Update:
Tropical Storm Ernesto led to several warnings on the Florida Gas Transmission (FGT) system, leading to both overage alert day (OAD) and underage alert day (UAD) warnings for its area customers. The OAD was declared for Tuesday, August 29, and carried a 15 percent tolerance for negative daily imbalances. Additionally, FGT warned the area customers of a possibility of an UAD on Wednesday, August 30, since rains resulting from Tropical Storm Ernesto prompted the pipeline to anticipate significantly reduced consumption on the system for Wednesday.

Southern Natural Gas Company announced Tuesday, August 22, that it had experienced an unscheduled engine outage at the White Castle compressor station in South Louisiana, resulting in the reduction of interruptible capacity on the west leg upstream of Franklinton compressor station. By Friday, August 25, the pipeline reported that the unscheduled maintenance was complete and that the capacity upstream of Franklinton was increased to 725,000 decatherm (Dth) per day until further notice.

Gulf South Pipeline Company on Wednesday, August 30, announced the completion of the scheduled maintenance on its Bistineau storage facility in Bienville Parish, Louisiana, which began on August 22. During the maintenance period, physical injections and withdrawals were not available and nominations were scheduled based on the use of other facilities to balance the system.