Overview:  Thursday, August 24 (next release 2:00 p.m. on August 31, 2006)
Since Wednesday, August 16, natural gas spot prices increased at most market locations with the exception of a few locations in the Northeast. For the week (Wednesday–Wednesday), prices at the Henry Hub increased 17 cents to $7.19 per MMBtu.  Yesterday (August 23), the price of the NYMEX futures contract for September delivery settled at $6.875 per MMBtu, increasing about 11 cents or about 2 percent since Wednesday.  Natural gas in storage was 2,857 Bcf as of August 18, which is 13.5 percent above the 5-year average. The spot price for West Texas Intermediate (WTI) crude oil decreased 19 cents per barrel, or about 0.3 percent, on the week to $71.45 per barrel, or $12.32 per MMBtu.
<![if !vml]>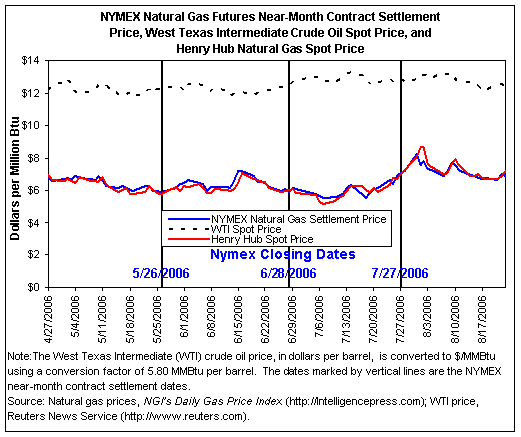 <![endif]>
Despite the lower cooling load across much of the Lower 48 States and a diminished threat from Tropical Storm Debby, natural gas spot prices increased at most market locations on the week. The increases, however, were moderate, as they were mostly limited to less than 15 cents per MMBtu. With the exception of the southern United States, power loads have been steadily diminishing in the past couple of weeks. Gas demand for electric power generation was much lower compared with the week ending August 5, when the Edison Electric Institute (EEI) reported record-high weekly electricity demand, leading to the 12 Bcf net withdrawal for the storage week ended August 4, 2006. On a regional basis, market locations in East Texas recorded the largest increases since Wednesday, August 16, averaging 18 cents per MMBtu, followed by Louisiana (16 cents per MMBtu). Most locations along the Gulf Coast recorded increases between 3 and 18 cents, while major consuming areas in the Midwest recorded an average increase of 14 cents per MMBtu. Despite the general increases this week, a few market locations in the Northeast recorded decreases since last Wednesday, the largest one of which was the 10-cent decrease at the Dracut, MA, trading point. Even with the overall increases in recent weeks, as of August 23, 2006, spot prices at market locations in the Lower 48 States are 17 to 30 percent lower than last year's levels.
<![if !vml]>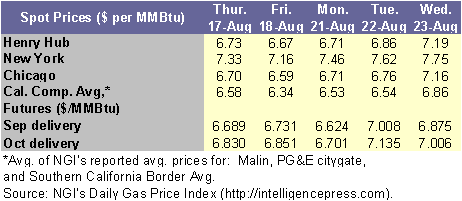 <![endif]>
At the NYMEX, settlement prices for the futures contracts for delivery in September and October exhibited weekly increases for the second time since the beginning of this month.  The near-month contract (for September delivery) increased $0.109 per MMBtu since last Wednesday to settle yesterday at $6.875, which is nearly 31 cents lower than the price during its first day of trading as the near-month contract. The October 2006 futures contract also increased $0.067 per MMBtu, or less than 1 percent, to settle at $7.006 per MMBtu. The slight increase on the week reflected the possibility of the development of Tropical Storm Debby into a hurricane. According to the August 24 National Weather Service (NWS) update however, Tropical Storm Debby is not expected to pose a threat to the United States, as it is expected to turn north-northwest and perhaps only result in some rainfall over the East Coast. The NYMEX contract for February 2007 closed yesterday at $11.291 per MMBtu, which was the highest priced contract in the 12-month strip. Contracts for the next heating season (November 2006 through March 2007) increased by an average of 15 cents per MMBtu to settle at an average of $10.635 yesterday, which represents a $3.445 premium to the Henry Hub spot price.  Contracts for delivery in January and February 2007 have a price premium of about $4 per MMBtu relative to the spot price.
Recent Natural Gas Market Data
Estimated Average Wellhead Prices

Feb-06

Mar-06

Apr-06

May-06

June-06

July-06

7.28

6.52

6.59

6.19

5.80

5.82

Price ($ per MMBtu)

7.09

6.35

6.42

6.03

5.65

5.67

Note: Prices were converted from $ per Mcf to $ per MMBtu using an average heat content of 1,027 Btu per cubic foot as published in Table A4 of the Annual Energy Review 2002.

Source:  Energy Information Administration, Office of Oil and Gas.
Working gas in storage as of August 18 totaled 2,857 Bcf, which is 13.5 percent above the 5-year average inventory level for the week according to EIA's Weekly Natural Gas Storage Report (See Storage Figure). The net addition to storage was 57 Bcf, which is 15 percent below the 5-year average net injection of 67 Bcf and about 3 percent below the net injection of 59 Bcf for the same week last year. As of August 18, natural gas stocks were 291 Bcf higher than last year's level, and also 339 Bcf higher than the 5-year average stocks for the report week. Temperatures for the Lower 48 States for the week ended August 17 were normal, and about 14 percent lower than last year for the same week, as measured by the National Weather Service's cooling degree days (CDDs) (See Temperature Maps). All Census Divisions east of the Appalachian Mountains experienced lower-than-normal CDDs. Additionally, the East North Central and Pacific Census Divisions also recorded cooler-than-normal temperatures, noting CDDs that were 27 and 7 percent below normal, respectively. By contrast, the Southern States continued to experience warmer-than-normal temperatures, reflecting the relatively low 2-Bcf injection into storage, which sharply contrasts with both the 5-year average injection of 13 Bcf and last year's 9-Bcf injection for the week.
<![if !vml]>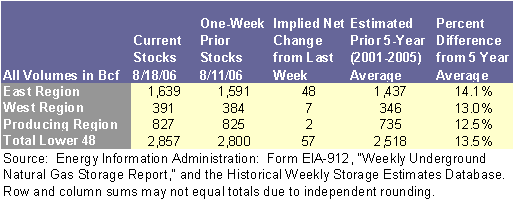 <![endif]>
Other Market Trends:
FERC Issues New Rule Requiring Pipeline Companies to Report Infrastructure Damage   On August 23, 2006, the Federal Energy Regulatory Commission (FERC) revised its rules to better monitor and assess the physical state of the interstate natural gas pipeline grid and gas storage infrastructure when service is disrupted because of damage caused by a hurricane, other natural disasters, or acts of terrorism.   The final rule will require jurisdictional natural gas companies to report to the Commission damage to their facilities and report service disruptions that occur when a natural disaster or other cause results in a reduction in pipeline throughput or storage deliverability.
Current FERC regulations only require regulated entities to report serious service disruptions, but not damage to the affected gas infrastructure.  FERC will now require companies to file electronically more specific information on the cause and the extent of damage done to gas infrastructure, even if there is no service interruption. In addition, FERC will require reporting of the time of damage occurrence, emergency actions taken by the company to maintain gas service, and when damaged facilities are fully restored to service, among other things. In addition to these damage reports, companies must continue to report serious service interruptions and restoration of service.  The final rule is effective immediately upon publication in the Federal Register.
Natural Gas Rig Count:  According to Baker-Hughes Incorporated, U.S. total rigs drilling reached a record high of 1,762 for the week ending August 18, 2006.  The count for natural gas rigs drilling was 1,427, which was also a record for any week since record keeping by fuel type began in 1987.  Compared with last year, the number of natural gas rigs was 206 higher or almost 17 percent.  Gas drilling has been on an upward trend for more than 4 years, expanding from a low of 591 in April 2002.
Natural Gas Transportation Update:
Northwest Pipeline Corporation announced that all of the Jackson Prairie storage facility customers in Washington must have a minimum of 80 percent of their account's working gas inventory in place on August 31.

 

In addition, accounts must be 100 percent full on September 30.

 

Sea Robin Pipeline Company reported that the Sea Robin Processing Plant in Southern Louisiana, operated by Hess Corporation, was shut down unexpectedly Friday, August 18, and resumed processing operations the night of Monday, August 21.

 

During the outage, the plant continued to dehydrate gas, but shippers were urged to contact downstream operators to see if they would accept gas from the plant.

 

The Sea Robin plant, which has a capacity of about 750 MMcf/d, primarily processes wet natural gas from offshore Gulf of Mexico production fields.
Several maintenance projects will reduce capacity on El Paso Natural Gas Company's North Mainline, which runs through Arizona and New Mexico.

 

The maintenance projects are scheduled between August 21 and 31 and will cut capacity by varying amounts ranging between 60 MMcf per day and 245 MMcf per day from a base of 2,200 MMcf per day.
Florida Gas Transmission Company declared an Overage Alert Day for Wednesday, August 23, with a 25 percent tolerance for negative daily imbalances.

 

The restraint means that shippers must stay within the set percentage of daily scheduled volumes.