Overview:  Friday, July 7 (next release 2:00 p.m. on July 13, 2006)
Natural gas spot prices decreased sharply this week (Wednesday-Thursday, June 28 – July 6), although crude oil prices continued to trade at near record high levels. For the week, the price at the Henry Hub decreased $0.76 per MMBtu, or about 13 percent, to $5.28. At the New York Mercantile Exchange (NYMEX), the price of the futures contract for August delivery at the Henry Hub moved about 50 cents per MMBtu lower to settle yesterday (Thursday, July 6) at $5.664. Natural gas in storage was 2,615 Bcf as of Friday, June 30, which is 29.2 percent higher than the 5-year average.  Crude oil continued to trade at near record-high prices. The spot price for West Texas Intermediate (WTI) crude oil increased $2.85 per barrel or about 3 percent since last Wednesday (June 28) to trade yesterday at $75.00 per barrel or $12.93 per MMBtu.
<![if !vml]>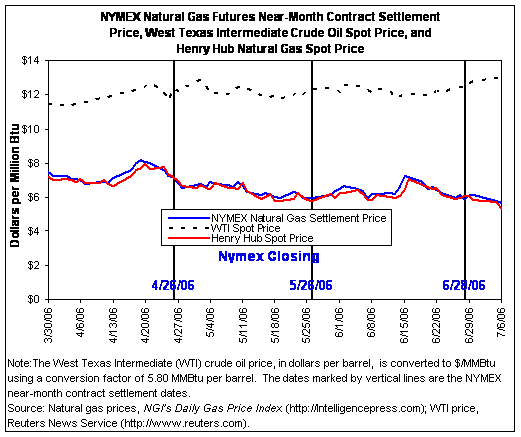 <![endif]>
Spot prices decreased last week as cooler-than-normal temperatures in many areas of the country limited demand for natural gas as a fuel for power generation to meet air-conditioning load. The lack of industrial demand during the holiday week, as well as generally ample supplies already in storage this summer, contributed to the widespread price declines. The absence of any significant tropical storm activity in the Gulf of Mexico also appeared to be a factor in weakening prices. The price decline has occurred despite a significant increase in oil prices.  (For a discussion of natural gas and residual fuel oil prices, see Other Market Trends, below.) Prices at all reporting market locations decreased by $0.33 per MMBtu or more. The Henry Hub price has fallen in three consecutive trading sessions, including a decrease of 43 cents per MMBtu yesterday (July 6). The Henry Hub price ended the week at $5.28 per MMBtu, which is the lowest price for next day delivery at the Henry Hub since November 2004. Other trading locations in producing areas along the Gulf Coast registered decreases similar to the $0.76 per MMBtu decline at the Henry Hub, with most points falling between $0.65 and $0.92 per MMBtu. This week's largest price decreases occurred at market locations in the Northeast, where prices declined an average of $0.97 per MMBtu. The price for gas off Transcontinental Gas Pipe Line into New York City decreased $1.05 per MMBtu to $5.70. Prices decreased significantly at trading locations in the Rockies and the West Coast as well, albeit slightly less so than in the East. The price at the Southern California border decreased $0.52 per MMBtu, or 9 percent, to $5.25. Trading locations in the Rockies registered an average decline of $0.38 per MMBtu to trade at an average of $4.78.
<![if !vml]>

<![endif]>
The price of the NYMEX futures contract for August delivery declined $0.496 per MMBtu on the week to end trading yesterday (July 6) at $5.664. Similar to price activity in the spot markets, the prices of futures contracts moved lower this week in response to the moderate seasonal weather experienced throughout much of the Lower 48 States, including the lack of tropical storm activity that could disrupt supplies from the Gulf of Mexico producing region. The price of the near-month contract has decreased in five consecutive trading sessions. The price decreases resulted in the lowest price for a near-month contract since September 27, 2004. The 12-month strip, which is an average of futures prices for the coming year, decreased 34 cents per MMBtu to $8.145 since last Wednesday (June 28). Currently, the NYMEX contract for February 2007 is the highest priced contract over the next 12 months. The February 2007 contract closed yesterday at $10.132 per MMBtu, down about 32 cents on the week. Nonetheless, the February 2007 contract as of the end of trading yesterday carried a premium of $4.85 per MMBtu to the spot Henry Hub price. This premium is considerably more than the historical norm, and at a minimum provides a strong economic incentive to inject gas into storage.
Recent Natural Gas Market Data
Estimated Average Wellhead Prices

Dec-05

Jan-06

Feb-06

Mar-06

Apr-06

May-06

10.02

8.66

7.28

6.52

6.59

6.19

Price ($ per MMBtu)

9.76

8.43

7.09

6.35

6.42

6.02

Note: Prices were converted from $ per Mcf to $ per MMBtu using an average heat content of 1,027 Btu per cubic foot as published in Table A4 of the Annual Energy Review 2002.

Source:  Energy Information Administration, Office of Oil and Gas.
Working gas in storage as of June 30 totaled 2,615 Bcf, which is 29.2 percent above the 5-year average inventory level for the reporting week, according to EIA's Weekly Natural Gas Storage Report.  (See Storage Figure) The implied net injection of 73 Bcf is 21 percent less than the 5-year average net injection of 92 Bcf, yet about 4 percent higher than last year's net injection of 70 Bcf. As a result, the difference between this year's stocks and the 5-year average declined to 591 Bcf, and the difference between current stocks and storage levels at this time last year grew to 425 Bcf. This week's report marks the seventh consecutive report in which the net injection fell short of the 5-year average net injection and the eighth report in the past 13 weeks (since the beginning of the injection season) in which the net injection was below average. Despite the lower-than-average injections, however, working gas inventories remain considerably higher than normal. Even if net injections only reach the lowest monthly totals of any year in the past 5 years for the remainder of the injection season (through October), storage levels would reach almost 3,400 Bcf by the beginning of the heating season. Temperatures during the report week were warmer than normal for the country as a whole, likely resulting in cooling demand, and leading to the below average injection during the week.  (See Temperature Maps)  Overall, cooling degree days (CDDs), as measured by the National Weather Service, were about 7 percent above normal.
<![if !vml]>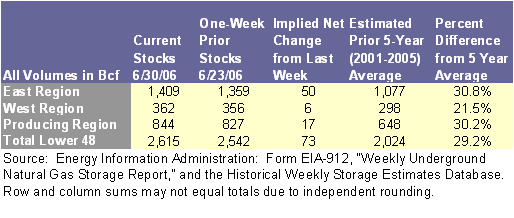 <![endif]>
Other Market Trends:
Recent Trends in Natural Gas and Residual Fuel Oil Prices:  Changing market conditions in the United States over the past 7 months have led to dramatic decreases in natural gas prices from the historically high levels prevailing at the beginning of the year.  This has resulted in a shift from the typical price pattern in which natural gas prices exceed that of residual fuel oil. For example, from November 2002 through January 2006, the price of natural gas to electric utilities exceeded that of residual fuel oil.  In the subsequent 5 months, natural gas prices have been below residual oil prices.  As competing fuels in certain markets, the price of residual fuel oil often serves as a floor for natural gas prices.  However, the recent change in the relative price pattern for these two fuels occurred as global conditions led to rising crude oil and petroleum products prices while conditions in the North American gas market resulted in declining natural gas prices.  
The decline in natural gas prices reflects the easing of market tightness since the beginning of the year.  Supplies have increased as domestic production and imports have expanded.  The recovery of the oil and gas industry in the Gulf of Mexico (GOM) region continues, and reported natural gas production shut-ins in the Federal offshore GOM have declined from roughly 2 billion cubic feet per day (Bcf/d) at the beginning of the year to about 0.94 Bcf/d as of June 19. Increased liquefied natural gas (LNG) imports likely also contributed to the decrease in price.  Although LNG imports were relatively low early in the year, LNG imports in April increased by 58 percent compared with the average volumes imported between January and March 2006. In addition, end-use consumption during January-April 2006 was 8 percent less than year-ago levels.  The improved supply picture and reduced demand have put downward pressure on natural gas prices.
The cost of residual fuel oil has been below natural gas prices with few exceptions since the 1990s. A comparison of the costs of residual fuel and natural gas to electric utilities provides an illustrative example. Between June 2000 and February 2006, the average monthly cost of natural gas to electric utilities exceeded the cost of residual fuel oil 88 percent of the time—in 60 months out of the 68-month period. However, since February 2006, the price of natural gas to electric power utilities has dropped, and by June 2006 it was estimated to be almost $2 per MMBtu, or 23 percent, lower than the price of residual fuel oil.
In the near-term, natural gas prices are expected to not be constrained unduly by residual fuel oil prices.  Although natural gas prices are projected again to exceed residual fuel oil prices by the 2006-2007 winter, this historical pattern is expected to be reversed by April 2007.  However, while the current trend continues, natural gas will be an economically attractive choice for electric utilities, as well as other energy customers. 
New Study on Capacity Constraints on Canadian Natural Gas Pipelines:  Canada's independent Federal agency for the energy industry, the National Energy Board (NEB), released a report on Friday, June 30, titled An Assessment of the Canadian Hydrocarbon Transportation System.  The report examined the adequacy and economic efficiency of the oil, gas, and petroleum product pipelines regulated by the NEB, including capacity constraints, prices of services, and the ability to meet the demands of the market. According to the NEB, there is sufficient or excess capacity in place on existing natural gas pipelines even during the peak winter season.  However, there are constraints at the market end of some pipelines as indicated by expansions currently underway, and growth in demand for natural gas in North America, especially for oil sands production, is expected to present new challenges in the near future.  Growing supplies from liquefied natural gas (LNG) imports are expected to help meet the increase in demand but will also impact natural gas flow patterns and create the need for new pipelines to feed LNG from receiving terminals into the pipeline system.  In addition to the capacity conclusions, the NEB found that oil and natural gas shippers are reasonably satisfied with the services they receive from pipeline companies in Canada, and that NEB-regulated pipeline companies are financially sound.   
Natural Gas Transportation Update:
<![if !supportLists]>· <![endif]>Owing to high temperatures in the Florida natural gas market, Florida Gas Transmission Company issued an Overage Alert Day from Thursday, June 29, through Saturday, July 1, with a 15 percent tolerance on Thursday and a 25 percent tolerance on Friday and Saturday for negative daily imbalances.  Another Overage Alert Day was issued on Wednesday, July 5, with a 25 percent tolerance.  The restraint means that shippers must stay within the set percentage of daily scheduled volumes.
<![if !supportLists]>· <![endif]>Columbia Gas Transmission Corporation (CGT) issued a system-wide Critical Day notice from Saturday, July 1, through Wednesday, July 5.  The notice prevented injections for nonfirm services as CGT did not expect to have any excess capacity available. 
<![if !supportLists]>· <![endif]>Kern River Gas Transmission Company announced that capacity at the Veyo Compressor Station in Washington County, Utah, has been reduced to 1,990,000 Dekatherms per day since Monday, July 3, owing to brush fires over the weekend that prevented Kern River from bringing all supply onto the system.  The reduced capacity will continue to be reduced for an undetermined time period.    
<![if !supportLists]>· <![endif]>Unscheduled maintenance at Gulf South Pipeline Company's Clarence Compressor Station in Louisiana will affect station capacity by as much as 125 MMcf per day.  The maintenance, which started Friday, June 30, is expected to last over a week.