Overview:  Thursday, June 29 (next release 2:00 p.m. on July 7, 2006)
Natural gas spot prices decreased at virtually all market locations this week (Wednesday – Wednesday, June 21-28) partly because of moderate cooling demand across much of the Lower 48 States.  The Henry Hub spot price decreased 46 cents, or about 7 percent, to $6.04 per MMBtu, while locations in the Midwest and Midcontinent recorded the largest decreases averaging 59 and 66 cents per MMBtu, respectively.  The price of the NYMEX futures contract for July delivery expired yesterday (June 28) at $5.887, decreasing 70 cents per MMBtu, or 10.6 percent, since last Wednesday (June 21).  Natural gas in storage as of Friday, June 23 was 2,542 Bcf, which is 31.6 percent above the 5-year average.  The spot price for West Texas Intermediate (WTI) crude oil increased $2.08 per barrel, or about 3 percent, since last Wednesday, trading yesterday at $72.15 per barrel, or $12.44 per MMBtu.
<![if !vml]>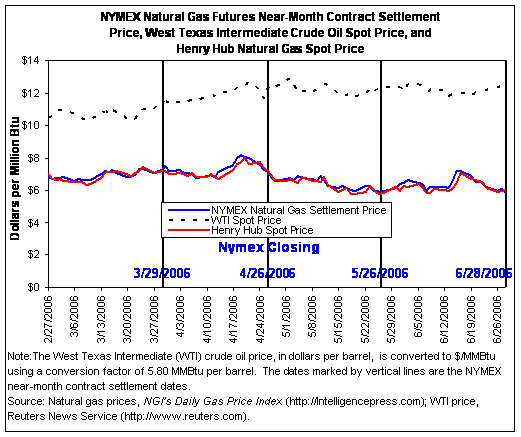 <![endif]>
Virtually all trading locations in the Lower 48 States experienced decreases in natural gas spot prices of up to 73 cents since last Wednesday, June 21.  The Henry Hub spot price declined 46 cents, or about 7 percent, over the week to average $6.04 per MMBtu yesterday.  Remaining locations in Louisiana experienced similar decreases on the week with the exception of trading at Louisiana points along the Mississippi River Transmission system, where the highest weekly decrease in the Lower 48 of 73 cents per MMBtu was recorded. Most other market locations in the producing regions along the Gulf Coast and in the Rockies recorded average decreases ranging between 48 and 55 cents per MMBtu. Relatively high, summer-like temperatures in the Arizona/Nevada and California regions resulted in more modest decreases in spot prices there than in other regions, recording average declines of 41 and 48 cents per MMBtu, respectively. The high linepack operational flow order declared by Southern California Gas, indicating abundant supplies, failed to lead to larger price decreases in the region. As of yesterday, spot prices in the Lower 48 States were on average about 14 percent lower than a year ago, however they still remain high compared with the historical average.
<![if !vml]>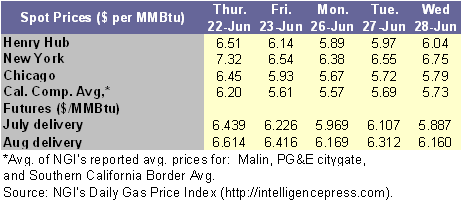 <![endif]>
At the NYMEX, the futures contract for July delivery at the Henry Hub expired on Wednesday, June 28, at $5.887 per MMBtu, marking the lowest price for a near month contract since the February 2005 contract settled at $5.833 per MMBtu on January 5, 2005. The July 2006 closing price is also the lowest contract closing price since the October 2004 contract expired at $5.723 per MMBtu. This expiration price for the July contract is about 24 cents, or 4 percent, lower than its settlement price on May 30, its first full day of trading as the near-month contract. The downward trend in the price for this contract since it peaked at $7.207 per MMBtu on June 15 indicates growing uncertainty about the ability of the market and storage facilities to absorb expected supplies.  On the week, the July contract decreased 70 cents or nearly 11 percent since last Wednesday, June 21. Similarly, the futures contracts through the remainder of the refill season (August – October) decreased between 55 cents and 64 cents per MMBtu.  Contracts for the next heating season (November 2006 to March 2007) decreased by an average of 23 cents per MMBtu to settle at an average price of $9.797 yesterday (June 28). The futures contracts for delivery during the upcoming heating season continue to trade at a significant premium to the Henry Hub spot price, which currently ranges between $2.15 and $4.41 per MMBtu.
Recent Natural Gas Market Data
Estimated Average Wellhead Prices

Dec-05

Jan-06

Feb-06

Mar-06

Apr-06

May-06

10.02

8.66

7.28

6.52

6.59

6.19

Price ($ per MMBtu)

9.76

8.43

7.09

6.35

6.42

6.02

Note: Prices were converted from $ per Mcf to $ per MMBtu using an average heat content of 1,027 Btu per cubic foot as published in Table A4 of the Annual Energy Review 2002.

Source:  Energy Information Administration, Office of Oil and Gas.
Working gas in storage increased to 2,542 Bcf as of Friday, June 23, which is 31.6 percent above the 5-year average inventory level for the report week, according to EIA's Weekly Natural Gas Storage Report. (See Storage Figure) The implied net injection of 66 Bcf is about 33 percent less than the 5-year average injection for the report week of 98 Bcf and about 30 percent lower than last year's injection of 95 Bcf.  This week's report marks the sixth consecutive report that fell short of the 5-year average net injection and the seventh report in the past 12 weeks (since the beginning of the injection season) in which the net injection was below average. Despite the lower-than-average injections, however, working gas inventories remain more than 600 Bcf higher than the 5-year average stocks. Temperatures during the report week were warmer than normal across the Lower 48 States, resulting in cooling demand, and leading to the below average injection during the week (See Temperature Maps).  Overall, cooling degree days (CDDs) in the Lower 48 States were about 34 percent above normal. Although the lowest temperature deviations from normal occurred in the West South Central Census Division, the average temperatures there were the highest of any region.
<![if !vml]>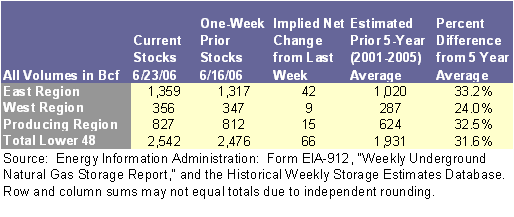 <![endif]>
Other Market Trends:
EIA Releases Report on Federal Offshore Royalty Relief:  The Energy Information Administration released a special report on June 23, 2006, providing an overview of the royalty payment system for Federal offshore oil and gas leases operated by the Department of the Interior's Minerals Management Service (MMS).  The report, entitled Overview of the Federal Offshore Royalty Relief Program, focuses on the provisions under which certain leaseholders are offered relief from royalty obligations, and the current issues that surround these provisions.  Under the Outer Continental Shelf Lands Act, as amended in 1978, and the Deepwater Royalty Relief Act of 1995 (DWRRA), royalty relief may be granted to increase production or to encourage development on certain producing or non-producing leases. Oil and natural gas leases in the western Gulf of Mexico may qualify for royalty relief if production occurs in deep water (waters greater than 200 meters or 656 feet) or from deep wells in shallow water (total depth greater than 15,000 feet). The decision to suspend royalty obligations for these leases depends on the date on which MMS issued the lease as well as economic considerations.  The DWRRA also directs MMS to retract royalty relief when prices exceed specified limits.  The issue of price thresholds has received attention recently because of an inquiry by the U.S. Government Accountability Office into specific leases that excluded price threshold language and a court action by Kerr-McGee Oil and Gas Corporation challenging the Department of the Interior's authority to impose price thresholds on certain leases. 
Natural Gas Transportation Update:
<![if !supportLists]>· <![endif]>Sea Robin Pipeline Company reported that the Sea Robin Processing Plant, which has a 750 MMcf per day capacity, came back on line last week but was shut in unexpectedly on June 28. However during the outage, the plant will continue to dehydrate.  If the company is notified by any other downstream pipeline operator that Sea Robin gas can no longer be accepted, then Sea Robin will provide as much notice as possible to shippers of the need to deliver their gas to other delivery points.  The company is suggesting that shippers call their downstream delivery point operators to see if they will be accepting gas from Sea Robin during this outage.
<![if !supportLists]>· <![endif]>ANR Pipeline Company performed engine maintenance at its Joliet Compressor Station located in Illinois on June 27 and 28.  The maintenance will reduce total capacity to 35,000 dekatherms (Dth) per day at the Joliet Interconnect.  The reductions could result in the curtailment of firm secondary and interruptible transportation nominations at the Joliet Interconnect.
<![if !supportLists]>· <![endif]>Southern Natural Gas Company revised the force majeure that was issued on June 21 for four points on its 6-inch main pass 296 lateral (which was damaged by Hurricane Ivan) and the unscheduled repair on its 12-inch main pass 144 lateral. The unscheduled maintenance is expected to be completed during Thursday, June 29.