Overview:  Thursday, June 1 (next release 2:00 p.m. on June 8, 2006)
Natural gas spot prices were virtually unchanged at most market locations in the Lower 48 States during the holiday-shortened trading week (Wednesday to Wednesday, May 24-31), while futures prices increased. The spot price at the Henry Hub decreased by 4 cents per MMBtu on the week, or less than 1 percent, to $5.97 per MMBtu.  On the New York Mercantile Exchange (NYMEX), the June contract expired at $5.925 per MMBtu on May 26, marking the lowest contract closing price since the October 2004 futures contract closed at $5.723 per MMBtu. The settlement price for the futures contract for July delivery at the Henry Hub increased 21 cents on the week, settling yesterday (May 31) at $6.384 per MMBtu.  EIA reported that inventories of working gas in underground storage were 2,243 Bcf as of Friday, May 26, which is 45.9 percent higher than the 5-year average.  The spot price for West Texas Intermediate (WTI) crude oil gained $1.95 per barrel, or about 3 percent, since last Wednesday (May 24), trading yesterday at $71.42 per barrel ($12.31 per MMBtu).
<![if !vml]>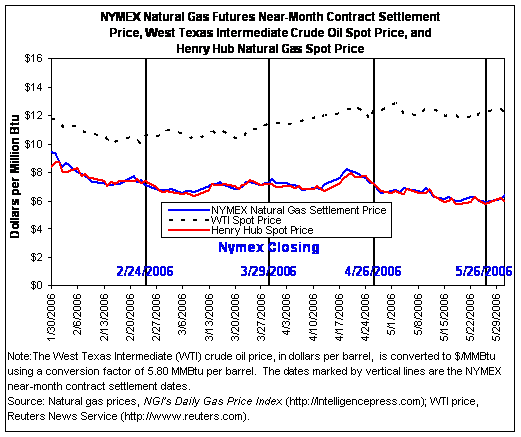 <![endif]>
The widespread price increases in Tuesday's and Wednesday's trading were sufficient to roughly offset the price declines of last Thursday and Friday (May 25-26).  Prices declined on Thursday and Friday owing to anticipated soft industrial load over the Memorial Day holiday weekend and mild weather trends. The return of industrial demand to more normal levels after the holiday weekend and higher temperatures across much of the Lower 48 States put upward pressure on prices on Tuesday (May 30), leading to an increase of as much as $1.19 cents in the Northeast and 88 cents in Florida, with the increases temporarily spreading into upstream market locations in East and West Texas as well. On the week, however, spot prices were virtually unchanged at most market locations in the Lower 48 States, varying by no more than a nickel since last Wednesday. A few locations in the Rocky Mountain and California regions recorded higher increases, including those in the Arizona/Nevada region, where the price at the El Paso North Baja trading location increased 46 cents, or almost 9 percent on the week, to $5.60 per MMBtu.  Only three market locations, including the Southern California Border Average, increased by more than 20 cents per MMBtu. Several trading locations ranging from the western Great Lakes region down to Louisiana recorded small price decreases on the week, but prices in the East and South Texas regions decreased by up to 30 cents or about 5 percent on the week.
<![if !vml]>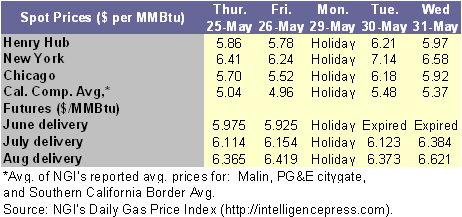 <![endif]>
At the NYMEX, the futures contract for June delivery expired on Friday, May 26, at $5.925 per MMBtu, which is the lowest expiration price for a near-month contract since September 28, 2004, when the October 2004 contract expired at $5.723 per MMBtu. The June contract's expiration price is about 13 percent lower than its settlement price of $6.805 at the beginning of its tenure as the near-month contract on April 27, and about 3 percent lower than the expiration price of the June 2005 contract ($6.123). The July 2006 contract finished its first day of trading as the near-month contract at $6.123 per MMBtu on May 30. Overall, the July 2006 futures contract gained 21 cents, or about 3 percent on the week. Similarly, the August 2006 futures contract increased on the week, settling yesterday at $6.621 per MMBtu, 22 cents higher than last Wednesday (May 24). The price of contracts for delivery through November 2006 increased by an average of 18 cents on the week, or nearly 3 percent, while remaining contracts for delivery during the next heating season (December 2006 – March 2007) decreased by an average of 23 cents, or 2.3 percent. The increases in prices of futures contracts on the week likely reflect market expectations of possible hurricane-related supply disruptions as well as recent forecasts of warmer-than-normal temperatures during the upcoming summer. Today's start of the traditional hurricane season (June 1 – November 30) follows a number of forecasts that predict above normal storm activity, as tropical Atlantic Ocean temperatures remain warmer than normal. However, since La Nina conditions seem to have eased, the current season is expected to be less active than the 2005 Atlantic hurricane season. The February 2006 contract still remains the highest priced contract over the next 12 months, settling yesterday at $10.096 per MMBtu, reflecting a $4.13 per MMBtu premium over the current Henry Hub spot price. Other 2006-2007 heating season contracts were trading yesterday at an average premium of $3.51 per MMBtu to the Henry Hub spot price.
Recent Natural Gas Market Data
Estimated Average Wellhead Prices

Dec-05

Jan-06

Feb-06

Mar-06

Apr-06

May-06

10.02

8.66

7.28

6.52

6.59

6.19

Price ($ per MMBtu)

9.76

8.43

7.09

6.35

6.42

6.02

Note: Prices were converted from $ per Mcf to $ per MMBtu using an average heat content of 1,027 Btu per cubic foot as published in Table A4 of the Annual Energy Review 2002.

Source:  Energy Information Administration, Office of Oil and Gas.
Working gas inventories were 2,243 Bcf as of Friday, May 26, with implied net injections of 80 Bcf, according to EIA's Weekly Natural Gas Storage Report (See Storage Figure).  This leaves storage levels 45.9 percent above the 5-year average for this week and 27.0 percent above last year's level of 1,766 Bcf.  The net injection is 10 Bcf or 11 percent lower than the 5-year average injection of 90 Bcf for this week and marks the second week in a row that injections fell short of the 5-year average.  However, net additions to storage have exceeded the 5-year average in 5 out of 8 weeks since the beginning of the non-heating season (April through October 2006), and the differential of the current storage volume relative to the 5-year average has increased from 654 Bcf to 706 Bcf since March 31.  Overall, moderate temperatures prevailed in the Lower 48 States during the week ended May 25, contributing to the robust net additions to storage. As measured by heating degree days (HDDs) and cooling degree days (CDDs) published by the National Weather Service, temperatures were not significant enough to cause much weather-related demand. (See Temperature Maps)
<![if !vml]>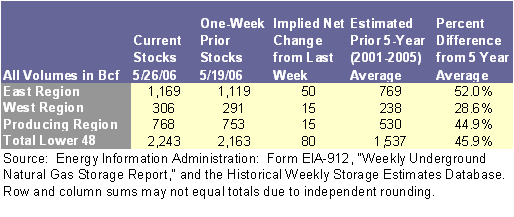 <![endif]>
Other Market Trends:
Federal Agencies Announce Preparations for Hurricane Season:  The U.S. Department of Energy (DOE) and the U.S. Department of the Interior's Minerals Management Service (MMS), which both play important roles in managing oil and gas resources in the United States, announced on May 30 preparedness measures for the upcoming hurricane season.  DOE's Office of Electricity Delivery and Energy Reliability outlined ways that the Department has enhanced its hurricane response system since the hurricanes of 2005, which caused extensive damage to oil and gas production in the Gulf of Mexico.  The measures include:  increasing the number of trained response personnel to more than 70, reviewing best practices and lessons learned, updating the hurricane modeling system for DOE's Visualization Room, working with States to improve their energy assurance plans, and implementing a toll-free hotline to improve communications among industry and State, local, and Federal representatives.  MMS announced that it has implemented several improvements to its oversight system, including pre-season communications planning with DOE and the U.S. Coast Guard, coordination with industry to improve safety practices and technology on offshore facilities, and improvements to the electronic hurricane reporting system.  The hurricane season begins on June 1 and lasts until November 30.  According to a recent report from the National Oceanic and Atmospheric Administration, the 2006 Atlantic hurricane season is expected to be very active, but fewer storms are predicted than during last year's record-breaking season.  
Natural Gas Transportation Update:
Pacific Gas and Electric Company (PG&E) and Southern California Gas Company both issued Operational Flow Orders (OFO) this week in their respective California markets.

 

PG&E issued a systemwide Stage 2 high-inventory OFO on Saturday, May 27.

 

The penalty for deliveries exceeding 5 percent of the daily positive balance was $1 per Dekatherm.

 

Southern California Gas is currently on the ninth day of its own high-linepack OFO, which it first declared on Wednesday, May 24.
Hess Corporation's Sea Robin Processing Plant began equipment repairs on Wednesday, May 31 for an estimated 2 days of work.

 

The plant is shut-in during this time, but will continue to dehydrate natural gas.

 

However, the plant warned that Btu content of the gas may exceed 1,065 per cubic foot, which downstream delivery points may not be able to accept.

 

ANR Pipeline Company said it is unable to make deliveries between the Grand Chenier Processing Plant and the Eunice Station in southwest Louisiana because of limited dehydration capabilities at the Grand Chenier plant.

 

The plant is expected to be back in service in late June.

 

ANR also said that receipt capacity will be reduced by 90 MMcf per day at the Viking-Marshfield Compressor Station in Wisconsin, leaving 231 MMcf per day available.

 

ANR expects that this may cause curtailment of firm secondary and interruptible transportation service nominations.