Overview: Thursday, May 25 (next release 2:00 p.m. on June 1, 2006)
Since Wednesday, May 17, natural gas spot prices decreased at most market locations in the Lower 48 States.On Wednesday, May 24, prices at the Henry Hub averaged $6.01 per MMBtu, decreasing 15 cents per MMBtu, or about 2 percent, since the previous Wednesday. The NYMEX futures contract for June delivery at the Henry Hub settled at $5.964 per MMBtu, on Wednesday, May 24, declining about 17 cents or 3 percent since last Wednesday. Natural gas in storage was 2,163 Bcf as of May 19, which is almost 50 percent above the 5-year average. The spot price for West Texas Intermediate (WTI) crude oil increased 82 cents per barrel, or about 1 percent, on the week (Wednesday-Wednesday) to $69.47 per barrel or $11.978 per MMBtu.
<![if !vml]>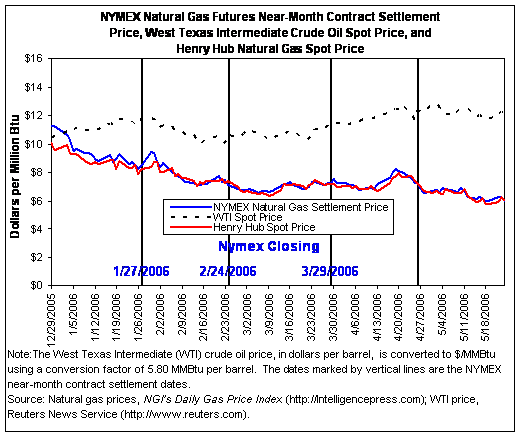 <![endif]>
Spot prices decreased at most market locations since last Wednesday, May 17, falling by as much as 66 cents per MMBtu. Moderate temperatures in most of the Lower 48 States and sufficient supplies of natural gas in storage likely contributed to the price declines. Overall, price declines were widespread but more pronounced in areas west of the Rocky Mountains region where decreases ranged between 24 and 66 cents per MMBtu, or about 5 to 11 percent, at most market locations. Prices in the Midcontinent and West Texas regions were also significantly below those of last Wednesday, May 17, but the price declines were not quite as large as in the West, ranging between 19 and 41 cents per MMBtu at most market locations. The smallest declines since last Wednesday, May 17, occurred principally in the Gulf of Mexico producing areas including East Texas, Louisiana, Mississippi, and Alabama, where prices fell less than 2 percent at most locations. In contrast to the overall pattern of declining prices in the Lower 48 States, prices increased at a few selected market locations principally serving customers in the Southeast. The largest increase occurred at the Florida citygate market location, where prices increased 50 cents per MMBtu, or about 8 percent, to $6.99 per MMBtu. Overall, prices are down relative to last year's levels, with differences mostly ranging between 24 and 90 cents per MMBtu, or about 3 to 15 percent. Prices at the Henry Hub are about 44 cents per MMBtu or about 7 percent below last year's level.
<![if !vml]>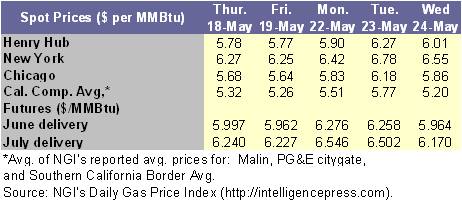 <![endif]>
At the NYMEX, the futures contract for June delivery at the Henry Hub settled yesterday (May 24) at $5.964 per MMBtu, declining about 3 percent since Wednesday, May 17. On Thursday, May 18, the June 2006 contract settled at $5.997 per MMBtu, falling below $6 for the first time since January 21, 2005. Prices for the other futures contracts through May 2007 decreased between 3 and 8 percent, or about 21 to 63 cents per MMBtu, for the week. The 12-month futures strip (June 2006 through May 2007) traded at a premium of $2.19 per MMBtu relative to the Henry Hub spot price, averaging $8.20 per MMBtu as of Wednesday, May 24.The futures contract prices for the upcoming heating season months (November 2006 through March 2007) are about $3.77 per MMBtu higher than the Henry Hub spot price on average. Differentials of this magnitude between the spot price and the futures contract prices provide suppliers strong economic incentives to inject gas into storage.
Recent Natural Gas Market Data
Estimated Average Wellhead Prices

Nov-05

Dec-05

Jan-06

Feb-06

Mar-06

Apr-06

9.54

10.02

8.66

7.28

6.52

6.59

Price ($ per MMBtu)

9.29

9.76

8.43

7.09

6.35

6.42

Note: Prices were converted from $ per Mcf to $ per MMBtu using an average heat content of 1,027 Btu per cubic foot as published in Table A4 of the Annual Energy Review 2002.

Source:Energy Information Administration, Office of Oil and Gas.
Working gas in storage totaled 2,163 Bcf as of Friday, May 19, which is 50 percent above the 5-year average inventory level for the report week, according to EIA's Weekly Natural Gas Storage Report (See Storage Figure). During the week, the implied net injection of 83 Bcf was 7 percent less than the 5-year average of 90 Bcf and 10 percent less than last year's injection of 93 Bcf. As of May 19, stocks exceeded last year's level by 484 Bcf. With working gas levels well above historical levels for this time of year, lingering uncertainty about the sustainability of the current price level and operational constraints that have been indicated in anecdotal evidence (see related discussion in the Natural Gas Transportation Update, below) may have contributed to the below-average injection. During the report week, moderate temperatures in the Lower 48 States likely mitigated natural gas demand for heating and air conditioning. Heating degree days were above normal in each of the Census divisions with the exception of the Pacific, Mountain, and Middle Atlantic Census divisions. Cooling degree days were below normal on average in the Lower 48 States.Overall, temperatures were moderate throughout most of the Lower 48 States, limiting potential demand for natural gas for either heating or air conditioning load at this point in the injection season. (See Temperature Maps)
<![if !vml]>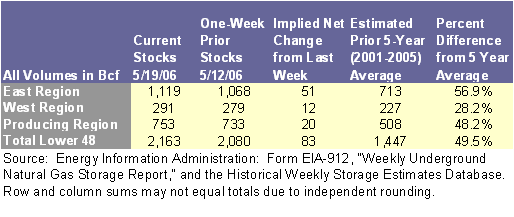 <![endif]>
Other Market Trends:
First Quarter Financial Performance of Independent Energy Companies: The Energy Information Administration (EIA) released on May 23, the first quarter financial data from U.S. independent energy companies, which are typically smaller than the major U.S. energy companies and do not have integrated production and refining operations. The report includes data for three types of companies:oil and gas producers, oil field companies, and refiners/marketers. Overall, the 48 companies included in this report reported total net income of $4,239 million, which is 81 percent more than the first quarter of 2005. Total revenue in the first quarter of 2006 was $31,944 million, which is 33 percent more than during the first quarter of 2005. The higher net incomes and revenue may partly be attributed to increases in both natural gas and crude oil prices, as the natural gas wellhead price rose about 31 percent and refiner acquisition costs of imported crude oil rose about 33 percent between the first quarters of 2005 and 2006. Net income of the oil and gas producers in the first quarter of 2006 rose by 56 percent more than the first quarter of 2005 and revenue rose by 35 percent. Net income of U.S. oil field companies increased by 89 percent over the first quarter of 2005, and revenues increased by 34 percent. An increase in active rig counts contributed to the rise in U.S. oil field company earnings. The worldwide rig count in the first quarter of 2006 was 3,080, which is 15 percent more than in the first quarter of 2005. For the United States, the rig count growth rate for the same period is 19 percent. Moreover, this quarter-year total marks the 13th consecutive quarter that natural gas rig counts have increased over year-earlier counts. Total income for the third group, refiners/marketers, was 4 percent more than during the first quarter 2005 and total revenue increased by 33 percent. The modest increase in net income for refiners/marketers compared with the other two groups reflects a small increase in U.S. gross refining margin of 1 percent over the year-ago quarter.
Active 2006 Hurricane Season Predicted: The National Oceanic and Atmospheric Administration (NOAA) has released its 2006 hurricane season forecast for the north Atlantic region. According to the forecast, this year's hurricane season is expected to be more active than normal, but there are fewer storms predicted than the numbers during last year's record-breaking season. NOAA is predicting 13 to 16 named storms in the north Atlantic region this year compared with 28 last year and an average number of 11 named storms. Of the named storms, 8 to 10 are expected to become hurricanes compared with 15 last year and a historical average number of 6 hurricanes in this region. Lastly, NOAA says that 4 to 6 of this year's storms could become major hurricanes of Category 3 strength or higher. In 2005, there were 7 major hurricanes in the Atlantic (a record 4 hit the United States), and the average number of major hurricanes in this region is 2. Factors contributing to the greater number and intensity of storms include:warmer ocean water, low wind shear (wind shear typically inhibits a building storm), and weaker easterly trade winds. The hurricane season begins in June and lasts until late November. Regardless of the forecast, NOAA is stressing preparedness and announced that May 21-27 is National Hurricane Preparedness Week.
Natural Gas Transportation Update:
Texas Gas Transmission (TGT) announced that the company will reduce capacity through the Haughton and Sharon compressor stations in its North Louisiana supply lateral area between May 23 and September 30, 2006, for pipeline and station horsepower maintenance and installation. The capacity reduction at the Sharon compressor station will amount to as much as 500,000 MMBtu per day, while Houghton shut-in capacity will reach as much as 250,000 MMBtu per day.
ANR Pipeline Company announced on May 19, 2006, that it would reduce injection capacity to various storage facilities owing to unplanned maintenance projects. ANR reduced the capacity by 575 MMcf per day (leaving 925 MMcf per day available) until June 30, 2006. Based on current nominations into storage, ANR anticipates that the reduction will result in curtailment of firm secondary and interruptible transportation nominations.
Florida Gas Transmission Company issued an overage alert day with a 20 percent tolerance for negative daily imbalances on Monday, May 22, which lasted until Wednesday, May 24, because of forecasts of high temperatures.
On May 10, 2006, Southern Natural Gas posted a notice advising shippers that current working storage inventory levels are significantly above levels for a comparable period last year. Further, the notice stated that restrictions on certain storage transactions might be required to preserve firm storage obligations and interruptible storage quantities that already have been accepted. On Wednesday, May 24, the company announced that the restrictions on interruptible storage transactions would be implemented immediately, while firm storage transactions would not be affected by the imposed restrictions.