Overview:  Thursday, May 18 (next release 2:00 p.m. on May 25, 2006)
Natural gas spot prices decreased this week (Wednesday – Wednesday, May 10-17) at virtually all market locations, partly because of weak weather-related demand and a decrease in the price of crude oil.  The Henry Hub spot price decreased 34 cents per MMBtu, or about 5 percent, while some other market locations in Louisiana noted decreases of up to 65 cents on the week. East and South Texas trading locations, as well as locations in the Northeast, experienced slightly less dramatic decreases, averaging 31 cents per MMBtu.  Yesterday (May 17), the price of the New York Mercantile Exchange (NYMEX) futures contract for June delivery at the Henry Hub settled at $6.129 per MMBtu, decreasing 77 cents or about 11 percent since last Wednesday.  Natural gas in storage as of Friday, May 12, increased 91 Bcf to 2,080 Bcf, which is 53.2 percent above the 5-year average.  The spot price for West Texas Intermediate (WTI) crude oil declined $3.50 per barrel, or almost 5 percent on the week (Wednesday – Wednesday), to $68.65 per barrel or about $11.84 per MMBtu.
<![if !vml]>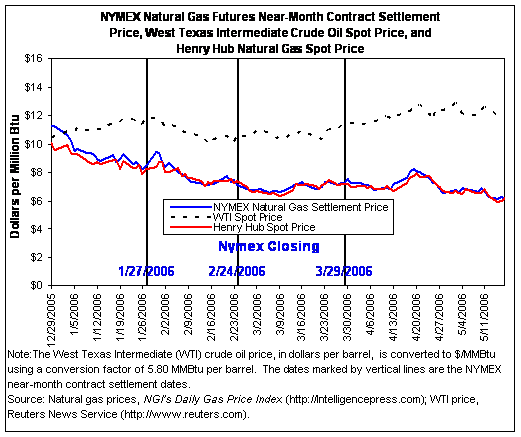 <![endif]>
Virtually all trading locations in the Lower 48 States experienced decreases in natural gas spot prices since last Wednesday, May 10. The Henry Hub spot price decreased 34 cents per MMBtu, or 5.2 percent, to average $6.16 per MMBtu yesterday. Spot markets in the South and East Texas regions continued to reflect weak demand, as prices decreased this week between 18 and 41 cents per MMBtu. The outage at the Sable Offshore Energy Project and the cool temperatures in the northern market areas failed to put upward pressure on spot prices in the Northeast, where prices decreased up to 63 cents per MMBtu or 9 percent, to an average regional price of $6.55.  Sales on Florida Gas Transmission recorded the highest week-on-week price decrease, trading yesterday at $6.49 per MMBtu, 92 cents or about 12 percent lower than on Wednesday, May 10. Despite weak demand and several nuclear power plants back online, California market locations recorded only slight decreases and a contrasting 4-cent increase at the Southern California gas trading location. Another exception to the general price declines over the past week occurred in the Arizona/Nevada region, where prices increased by an average of 13 cents or 2.3 percent, ending trading yesterday at $5.69 per MMBtu. 
<![if !vml]>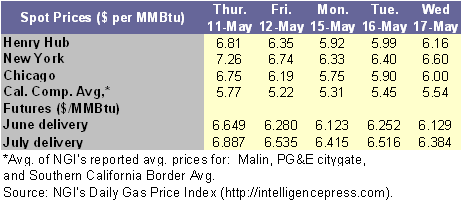 <![endif]>
At the NYMEX, the price of the futures contract for June delivery at the Henry Hub decreased about 77 cents per MMBtu, or about 11 percent, since last Wednesday, May 10, to end the week at $6.129 per MMBtu.  This price is the second lowest for this contract since February 22, 2005, above only the $6.123 per MMBtu recorded on Monday, May 15.  The decline in the futures contract price follows the drop in the price for crude oil, which is at its lowest level since late April.  The WTI spot price declined $3.50 per barrel this week, or about 5 percent, to $68.65 per barrel.  As of yesterday, spot gas at the Henry Hub traded at a 3-cent premium to the June 2006 futures contract. Natural gas prices for futures contracts for the remaining months in this year's storage injection season (July 2006 - October 2006) decreased by about 73 cents per MMBtu on average, or roughly 10 percent, similar to the price movement for the June contract.  Beyond October 2006, futures contract prices declined at a lower rate for all months until April 2007. Despite the high levels of gas in storage for this time of year, however, the price differential between the Henry Hub spot price and futures contract prices for months in the next heating season was as high as $4.819 per MMBtu (February 2007 contract) in yesterday's trading. The 12-month strip, which is the average price for contracts over the next year, closed yesterday at $8.668 per MMBtu, which is 61 cents or about 7 percent lower than last Wednesday.
Recent Natural Gas Market Data
Estimated Average Wellhead Prices

Nov-05

Dec-05

Jan-06

Feb-06

Mar-06

Apr-06

9.54

10.02

8.66

7.28

6.52

6.59

Price ($ per MMBtu)

9.29

9.76

8.43

7.09

6.35

6.42

Note: Prices were converted from $ per Mcf to $ per MMBtu using an average heat content of 1,027 Btu per cubic foot as published in Table A4 of the Annual Energy Review 2002.

Source:  Energy Information Administration, Office of Oil and Gas.
Working gas in storage was 2,080 Bcf as of Friday, May 12, 2006, which was 53.2 percent above the 5-year average, according to EIA's Weekly Natural Gas Storage Report. (See Storage Figure) The implied net injection of 91 Bcf for the week was almost 11 percent higher than the 5-year average of 82 Bcf and 7 percent higher than last year's net injection of 85 Bcf. With the high injection relative to last year and the 5-year average, inventories remain well above historical levels. The week ended May 12, 2006, marks the earliest date at which natural gas volumes have surpassed 2,000 Bcf since record-keeping of the weekly data began in 1994. Total storage levels rose to 494 Bcf more than last year and 722 Bcf more than the 5-year average. One factor contributing to the large injections of gas was moderate, spring-like temperatures for most of the nation during the report week, as measured by heating degree days (HDDs) and cooling degree days (CDDs) published by the National Weather Service.  Although degree-day measures for some Census Divisions showed large percentage differences from normal, actual temperatures were not extreme enough to cause significant weather-related demand. (See Temperature Maps)
<![if !vml]>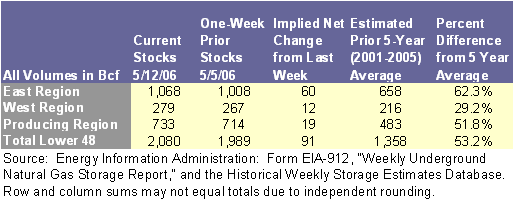 <![endif]>
Other Market Trends:
U.S. Natural Gas Imports and Exports in 2005:  Natural gas imports increased 1.4 percent in 2005 while exports decreased 14.8 percent from last year's record high, according to a recent report from the Department of Energy's Office of Fossil Energy.  The report, which is prepared quarterly containing monthly data, provides a summary of natural gas imports and exports in the fourth quarter of 2005 (October – December) in addition to the 2005 annual summary.  Net natural gas imports were 3,675.8 Bcf in 2005, which accounted for 16.7 percent of total U.S. consumption of natural gas.  Imports from Canada increased 2 percent in 2005 to 3,763.8 Bcf at an average international border price of $7.95 per MMBtu, which is 39.5 percent more than the 2004 price of $5.70 per MMBtu.  Imports from Mexico totaling 9.3 Bcf are the first imports from this country since the first quarter of 2002.  Following a record high in 2004, liquefied natural gas (LNG) imports decreased 3.2 percent in 2005 to 631.3 Bcf, which accounted for about 3 percent of total U.S. consumption.  At 439.2 Bcf, or about 70 percent, Trinidad and Tobago continues to be the source of the largest amount of U.S. LNG imports for the seventh consecutive year.  Algeria is second with 97.2 Bcf, and Egypt is third with 72.5 Bcf.  This is the first year that LNG shipments arrived in the United States from Egypt.  Other source countries for U.S. LNG shipments in 2005 include Malaysia (8.7 Bcf), Nigeria (8.2 Bcf), Qatar (3.0 Bcf), and Oman (2.5 Bcf).  Exports of natural gas totaled 728.6 Bcf in 2005 including 358.3 to Canada (compared with 394.6 Bcf in 2004) and 305.2 Bcf to Mexico (compared with 398.5 Bcf in 2004).  Facilities in Kenai, Alaska, also exported 65.1 Bcf of LNG to Japan. 
DOE Funds New Drilling-Related Technology: The Department of Energy (DOE) has announced commercialization of technology that provides for real-time communication of downhole conditions while drilling oil and natural gas wells.  With this new DOE-funded technology, drill pipe will have a way of transmitting drilling and geological formation data quickly from the bottom of a well to its surface and vice-versa.  This technology recently became available for commercial use and is economically beneficial owing to lower drilling cost, higher safety, and reduced environmental disruption.  The new technology allows for quick acquisition and processing of the data so that drillers can "look ahead" of the drillbit.  The new technology will provide a wide range of downhole data, including pressure, temperature, well position, and formation characteristics.  The process features high-speed, high-strength data cable embedded in the inside wall of the drill pipe, which carries data to small induction coils installed in protective grooves machined into the drillpipe connections, or couplers. When two sections are joined, the induction coils are placed close together, and a low-energy data signal can be transmitted passively between them without a dedicated power source—from one pipe section to another, along a string of tens of thousands of feet of drill pipe. Unlike in the past, with this new technology, there is no physical connection to break.  This system has undergone many tests conducted in the United States and Canada and has been proven to be very reliable. 
Natural Gas Transportation Update: