Overview:  Thursday, March 23 (next release 2:00 p.m. on March 30, 2006)
Natural gas spot prices showed relatively modest changes at most market locations in the Lower 48 States since Wednesday, March 15, 2006.  For the week (Wednesday – Wednesday, March 15 to 22), the spot price at the Henry Hub decreased by 3 cents, or less than one-half percent, to $7.07 per MMBtu.  The price of the NYMEX futures contract for April delivery settled at $6.953 per MMBtu yesterday (March 22), which is 19 cents, or about 3 percent, less than last Wednesday.  As of Friday, March 17, 2006, natural gas in storage was 1,809 Bcf or 67 percent above the 5-year average.  The spot price for West Texas Intermediate (WTI) crude oil was $60.03 per barrel or $10.35 per MMBtu yesterday.  This price is $2.08 per barrel less than the price last week, a decrease of about 3 percent.
<![if !vml]>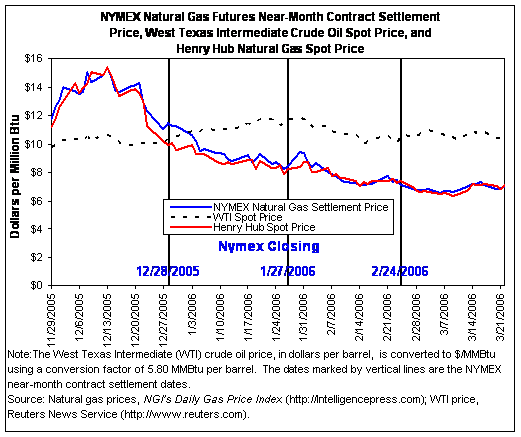 <![endif]>
Net changes to spot prices were relatively small this week despite colder-than-normal temperatures that ushered in the official start of spring.  High storage inventories and a small decrease in oil prices partly offset the upward pressure on prices from the cold weather as most market locations reported price movements on the week of about 2 percent in either direction.  The Henry Hub spot price increased only 3 cents, or less than one-half percent, to finish the week at $7.07 per MMBtu yesterday (March 22), which is slightly lower than the price on the same date last year of $7.25 per MMBtu.  Price decreases prevailed in almost all western locations including the Rockies, California, Arizona, and Nevada where prices declined about 11 cents on average for the week.  Most other regions exhibited more mixed trading with no clear overall trends.  The average spot price in the Northeast was $7.70 per MMBtu yesterday, which is less than 1 percent lower than last Wednesday.  Similarly, price movements in most producing areas around the Gulf Coast were modest, with an average decrease of less than 1 percent.
<![if !vml]>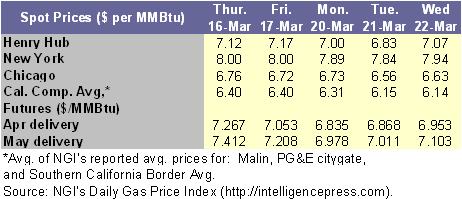 <![endif]>
At the NYMEX, the price of the futures contract for April delivery at the Henry Hub decreased 19 cents or less than 3 percent to $6.953 per MMBtu since last Wednesday, March 15.  With about 1 week until the April 2006 contract expires on March 29, the price is 37 cents or about 5 percent below the expiration price of the April 2005 contract.    Looking to the futures contracts over the next 12 months, the prices for all contracts in the injection season months (April – October) decreased slightly (about 2 percent on average), whereas the contract prices for next year's heating season months (November 2006 – March 2007) all increased slightly (about 1 percent on average).  The heating season contracts settled at $10.333 per MMBtu on average yesterday and remain about $2 per MMBtu higher on average than the equivalent 2005 contracts at this time last year, reflecting the continuing uncertainty about next summer's and winter's weather despite high storage inventories.  The 12-month strip, which is the average of the monthly futures prices for the coming year, decreased about 5 cents this week to settle at $8.627 yesterday.
Recent Natural Gas Market Data
Estimated Average Wellhead Prices

Sept-05

Oct-05

Nov-05

Dec-05

Jan-06

Feb-06

Price ($ per Mcf)

9.76

10.97

9.54

10.02

8.66

7.28

Price ($ per MMBtu)

9.50

10.68

9.29

9.76

8.43

7.09

Note: Prices were converted from $ per Mcf to $ per MMBtu using an average heat content of 1,027 Btu per cubic foot as published in Table A4 of the Annual Energy Review 2002.

Source:  Energy Information Administration, Office of Oil and Gas.
Working gas in storage was 1,809 Bcf, or 66.7 percent above the 5-year average as of Friday, March 17, according to EIA's Weekly Natural Gas Storage Report (See Storage Figure).  The implied net withdrawal of 23 Bcf is small compared with the 5-year average withdrawal of 59 Bcf, yet characteristic of the pattern during this year's heating season, which has seen 15 out of 20 weekly net withdrawals below the 5-year average.  Stock levels also exceed year-earlier levels by 506 Bcf or 38 percent.  The below average weekly withdrawal likely resulted in large part from spring-like temperatures across the Eastern United States during the storage report week especially in southern Census Divisions where temperatures were at least 47 percent above normal.  Temperatures were 14 percent to 55 percent warmer-than-normal in all Census Divisions except the Pacific and Mountain Divisions, as measured by the National Weather Service heating degree days (HDDs) for the week ending Thursday, March 16, 2006 (See Temperature Maps).  This is in sharp contrast to the Western United States, which was 25 and 54 percent colder-than-normal in the Pacific and Mountain Divisions, respectively.  If net withdrawals for the next 2 weeks match the 5-year average, working gas in storage will be 1,765 Bcf at the end of the heating season.  This would be the largest inventory for this time of year since 1991 when the level was 1,912 Bcf, and the sixth largest inventory since 1976 when EIA began collecting monthly storage data.  The record end-of-heating-season inventory level during this time frame was in 1983 when storage levels were 2,148 Bcf. 
<![if !vml]>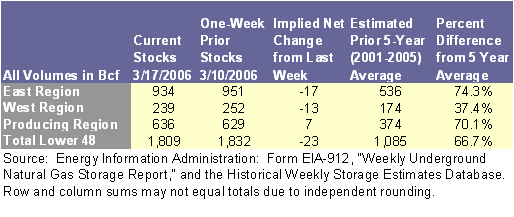 <![endif]>
Other Market Trends:
EIA Releases a Report on the Assumptions to the Annual Energy Outlook 2006:  On March 20, the Energy Information Administration (EIA) released a report entitled Assumptions to the Annual Energy Outlook 2006, which outlines the major assumptions of the National Energy Modeling System (NEMS) used to generate the projections in the Annual Energy Outlook 2006 (AEO2006). The report also discusses general features of the model structure and key input data and parameters that are most significant in formulating model results. The NEMS is made up of several different modules. Some of the key assumptions in the demand modules (residential, commercial, industrial, and transportation modules) are the numbers of consumers, type and amount of natural gas consumed, as well as their geographic distribution. The Oil and Gas Supply Module includes a number of key assumptions, including estimates of remaining technically recoverable resources, which are estimated to have been 1,304 trillion cubic feet (Tcf) for the United States as of January 1, 2004.  Major categories within this total include lower 48 volumes of undiscovered technically recoverable resources of 268.2 Tcf, inferred reserves of 224.4 Tcf, and unconventional gas recovery resources of 469.9 Tcf, and U.S. proved reserves of 189.0 Tcf.  Additionally, certain legislation and regulations are taken into account and incorporated into the analysis. Appendix A of the report lists the Federal and selected State legislation and regulations, gives a brief description, and describes how these were handled in the AEO2006. 
The NCC Releases a New Study:  The Nation's abundant coal resources and technological advances in recent years have led to an increased interest in maximizing the use of coal. The National Coal Council (NCC) released a study on Wednesday, March 22, titled Coal: America's Energy Future, which contains recommendations to the U.S. Secretary of Energy to make use of coal for clean electricity generation, transportation fuels, and production of synthetic natural gas, hydrogen, and ethanol over the next 20 years. The study found that the additional use of coal would reduce U.S. energy costs by 33 percent and would result in an aggregate gain of more than $3 trillion in GDP. Using coal to produce natural gas would ease supply pressures by providing an alternative to about 15 percent of U.S. annual consumption, or 4 trillion cubic feet (Tcf) per year of future consumption. The additional supply would moderate natural gas prices and use an additional 340 million tons of coal per year. Coal-generated natural gas could be used for home heating and all other applications that use natural gas, including powering existing underutilized combined cycle units. Natural gas production in the United States is projected to peak in 2019, which, coupled with increasing demand, could lead to supply and deliverability issues, higher prices and increasing dependence on foreign sources. The year-long study was conducted by the NCC following a request by the U.S. Secretary of Energy, Samuel Bodman. The Council identified eight priority findings and developed a set of proposed policy, fiscal, and legislative recommendations to address the findings. The Energy Information Administration (EIA) projects that U.S. energy consumption will increase by 34 percent between 2004 and 2030, and the study asserts that coal is the only domestic fuel that has the flexibility and reserve base to meet the increasing demand, with enough reserves to last more than a century, even at elevated levels of use.
Natural Gas Transportation Update:
<![if !supportLists]>· <![endif]>Mississippi River Transmission Corp. (MRT) implemented a system protection warning (SPW) on Friday, March 17 until further notice.  MRT cited forecasts of cold weather in its service area as the reason for the warning. The company reported that daily short imbalances will not be allowed for the duration of the SPW.
<![if !supportLists]>· <![endif]>Texas Gas Transmission (TGT) announced that capacity through the Sharon (Louisiana) Compressor Station will be limited to 450,000 MMBtu per day through Friday, March 24, because of station horsepower maintenance and installation.
<![if !supportLists]>· <![endif]>East Tennessee Natural Gas Co. announced on Monday, March 20, that it will require the balancing of some Load Management (Market Area) Service (LMS-MA) contracts as a result of system imbalances. The company will adjust its deliveries and corresponding receipts at meters in the LMS-MA contracts to an appropriate level based on the best available imbalance information.
<![if !supportLists]>· <![endif]>Florida Gas Transmission Co. declared an overage alert day on Tuesday, March 21, owing to forecasts of warmer weather for central Florida and lower linepack. The company set the tolerance for negative daily imbalance at 10 percent.
<![if !supportLists]>· <![endif]>Pacific Gas & Electric Co. issued a customer-specific low-inventory operational flow order (OFO) for Wednesday, March 22.
<![if !supportLists]>· <![endif]>El Paso Natural Gas declared a force majeure on Monday, March 20, as a result of a compressor failure at the Monument Station. According to the pipeline company, about 35 MMcf per day of capacity has been lost at four nearby points. The force majeure will be in effect while repairs and maintenance are performed.