Overview:  Thursday, March 9 (next release 2:00 p.m. on March 16, 2006)
Natural gas spot price movements were mixed this week (Wednesday to Wednesday, March 1-8) as temperatures varied across the Lower 48 States. Spot prices at some market locations climbed 2 to 49 cents per MMBtu since last Wednesday, primarily in areas that experienced colder-than-normal temperatures during the week, while price declines in the East, Midwest, and Louisiana averaged 34 cents per MMBtu. The Henry Hub spot price decreased 14 cents per MMBtu, or 2 percent, to $6.48. At the New York Mercantile Exchange (NYMEX), the futures contract for April delivery at the Henry Hub fell by 9 cents per MMBtu, settling at $6.648 on Wednesday, March 8. Natural gas in storage as of Friday, March 3, decreased to 1,887 Bcf, which is 54 percent above the 5-year (2001-2005) average. The spot price for West Texas Intermediate (WTI) crude oil traded at $60.06 per barrel, decreasing $1.95, or $0.34 per MMBtu on the week.
<![if !vml]>
<![endif]>
Spot prices received a boost this week in some regions, as colder-than-normal temperatures were recorded across the Midwest and the Rocky Mountains, driving space-heating demand in those regions.  The spot price at the Henry Hub declined 14 cents per MMBtu since Wednesday (March 1) to $6.48 per MMBtu. Elsewhere in the Gulf producing region, price changes ranged between a 27-cent decrease and a 32-cent increase per MMBtu. The highest price increase during the week occurred at the Questar trading location in the Rockies, where prices averaged $5.50 per MMBtu, 49 cents higher than a week ago. On a regional level, the West Texas region recorded the largest average increase, averaging 36 cents per MMBtu, followed by the Rocky Mountain region (34 cents per MMBtu) and California (30 cents per MMBtu). In contrast to the market response to wintry conditions in the West, market locations in the Northeast recorded considerable price decreases, despite lower-than-normal temperatures. On the week, the average price for the Northeast trading locations decreased about 73 cents to $6.89 per MMBtu. The price off Algonquin Gas Transmission, which serves much of New England, decreased by $1.52 per MMBtu, or 18 percent, to an average of $6.97 per MMBtu. The price declines in the Northeast despite the cold temperatures likely reflects market adjustments that bring basis differentials back to more typical levels. On Wednesday, March 1, prices in the Northeast averaged $7.59 per MMBtu, which was as much as $2 per MMBtu higher than other market locations in the Lower 48 States.
<![if !vml]>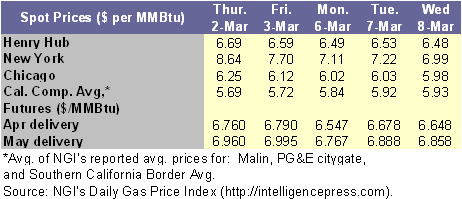 <![endif]>
At the NYMEX, the futures settlement price for April delivery at the Henry Hub decreased by about 9 cents or slightly over 1 percent, to $6.648 per MMBtu yesterday.  The April contract has been the near-month contract for less than 2 weeks, and during this period the contract price has decreased by more than 2 percent. Additionally, on its first day of trading as the near-month, the April contract fell below $7 per MMBtu, and since then has been trading in the $6.547 and $6.790 per MMBtu range. Similarly, the May contract registered a decrease of 8 cents on the week, ending trading yesterday at $6.858 per MMBtu. For the week, the prices of futures contracts decreased at successively smaller amounts through the August 2006 contract. However, the September 2006 contract and those through the end of the next heating season (March 2007) increased. Natural gas spot and futures prices are currently in contango (future delivery contract prices exceed current spot prices) and have generally been so since the last week of December with few exceptions.  The 12-month strip, which is the average of the monthly futures prices for the coming year, settled at $8.347 per MMBtu, or about one-tenth of a percent less than a week ago. As of yesterday, January and February 2007 futures contracts were the highest priced contracts, both settling at $10.473 per MMBtu. The average price differential between the futures contract prices for delivery next winter (November 2006-March 2007) and the Henry Hub spot price was $3.43 per MMBtu in yesterday's trading.  This difference provides suppliers economic incentives to rely more on current supplies (production and imports) rather than withdrawals from storage.
Recent Natural Gas Market Data
Estimated Average Wellhead Prices

Sept-05

Oct-05

Nov-05

Dec-05

Jan-06

Feb-06

Price ($ per Mcf)

9.76

10.97

9.54

10.02

8.66

7.28

Price ($ per MMBtu)

9.50

10.68

9.29

9.76

8.43

7.09

Note: Prices were converted from $ per Mcf to $ per MMBtu using an average heat content of 1,027 Btu per cubic foot as published in Table A4 of the Annual Energy Review 2002.

Source:  Energy Information Administration, Office of Oil and Gas.
Working gas inventories were 1,887 Bcf as of Friday, March 3, according to EIA's Weekly Natural Gas Storage Report.  The implied net withdrawal of 85 Bcf for the report week was 21 percent lower than the 5-year average of 108 Bcf and 37 percent lower than last year's withdrawal of 134 Bcf (See Storage Figure). As of yesterday, contracts through the end of the next heating season (November 2006 – March 2007) were trading at a premium relative to the Henry Hub. The average premium of $3.43 per MMBtu, as well as the average 70 cent premium for the refill season (April – October), helps explain the relatively low drawdown from storage.  These premiums serve as a strong economic incentive to purchase natural gas at spot markets for delivery to consumers and to refrain from withdrawing natural gas from underground storage. For the report week ended Thursday, March 2, warmer-than-normal temperatures prevailed in much of the western half of the Nation, contributing to a net addition of 2 Bcf in the Producing region.  The East experienced up to 26 percent colder-than-normal temperatures, resulting in significant space-heating demand. The East Region had a withdrawal of 77 Bcf, which is 12 percent higher than the 5-year average withdrawal of 69 Bcf for the week. According to the National Weather Service, temperatures for the entire Lower 48 States, as measured by gas-customer weighted heating degree days (HDD), were about 2 percent warmer than normal, and about 13 percent warmer than last year for the week. (See Temperature Maps) The data for the winter months, November through February, show withdrawals this winter have been much below average. Warmer-than-normal weather and the pervasive premiums between future delivery contract prices and corresponding spot prices led to an estimated cumulative net withdrawal of 1,271 Bcf, which is the lowest total for the 4-month period since 1984.  The estimated net withdrawal of 251 Bcf during January 2006 is 423 Bcf, or 63 percent less than the 5-year (2001-2005) average January withdrawal of 674 Bcf. In comparison, weekly net withdrawals have exceeded the entire January 2006 withdrawal twice since the beginning of 1994. As of the end of February, about 1,923 Bcf of working gas remained in underground storage, which is 52 percent above the 5-year average and 359 Bcf or 23 percent higher than last year at the same time.
<![if !vml]>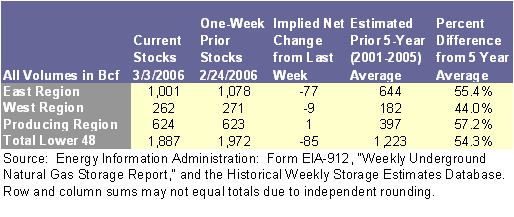 <![endif]>
Other Market Trends:
Greenhouse Gas Emissions Reductions Associated With Natural Gas:  The Energy Information Administration released its 2004 annual report, titled Voluntary Reporting of Greenhouse Gases, on March 6, 2006, which records the results of voluntary measures to reduce, avoid, or sequester greenhouse gas emissions.  Although not specific to natural gas, the report includes several natural gas related activities that contributed to reduced emissions in 2004.  Electric power projects were the most numerous project type reported in 2004, accounting for 23 percent of all projects. Since 1990, carbon dioxide emissions from the electric power industry have increased by about 27 percent. However, the emissions intensity of electricity generation has fallen by about 2.1 percent partly reflecting the increased use of natural gas which has lower carbon content than coal or oil.  A total of 51 fuel-switching projects (coal or oil to natural gas) were reported for 2004, which is 3 more than in 2003 and about 10 percent of all the reported electric power projects.  Natural gas projects also played a key role in reducing greenhouse gases through reduced methane emissions in 2004.  Although only 27 of the 443 methane reduction projects, 6 percent of the total, were listed as natural gas production, transmission and distribution projects, they resulted in direct methane emission reductions of about 9.4 percent of all direct methane emission reductions.  Another large source of greenhouse gas emissions reduction comes from energy end use.  For 2004, 64 entities reported 345 energy end-use projects, accounting for 18 percent of all the projects.  Although the amount of reductions attributable to natural gas activities is not available owing to entities that aggregate information on a range of activities into a single project, the report provides examples of emission reductions related to natural gas use such as fuel switching and the use of natural-gas-fueled vehicles.  
DOE Awards Funds for Coal Gasification Project: As part of President George W. Bush's 2002 Clean Coal Power Initiative (CCPI), the Department of Energy (DOE) awarded a $235 million grant to aid in Southern Gas Services' development of a combined cycle power plant fired by coal-derived gas. This project was announced in October 2005 and in February 2006 DOE signed a cooperative agreement that launches the design and construction of this plant. The Nation's abundant coal resources are increasingly emerging as a key resource in the future energy portfolio, especially in the electric power generation sector. High oil and natural gas prices, as well as environmental constraints have led to initiatives to identify alternative resources to natural gas in chemical production and electric power generation.  One option is coal gasification, where coal-derived gas would replace natural gas. For electric power generation, the gas is used in an integrated gasification combined cycle (IGCC) – a variation on a natural gas-fired combined cycle power plant.  The gas is first passed through a gas turbine to generate electricity. The hot gas then is used to heat water to produce steam to power a steam turbine and generate additional electricity. The coal-derived gas also can be used as a feedstock or fuel once it has been converted into syngas. The total projected cost of Southern Company Service's plant, which is co-owned by Orlando Utilities Commission and Southern Power Company, is $557 million. The plant is expected to come on line in 2010 and expected to produce 285 megawatts of electricity, which will power about 285,000 households.  The plant will be located in Orange County, Florida, near Orlando, at the Orlando Utilities Commission's Stanton Energy Center.  Advanced emission controls will be added to make it one of the cleanest, most energy-efficient coal power plants ever.  Using the IGCC, the plant will turn different types of coal into gas in order to generate electricity, while reducing capital and operating cost. 
EIA Releases Its March Short-Term Energy Outlook:  According to the Energy Information Administration's (EIA) latest Short Term Energy Outlook (STEO), released March 7, total natural gas demand in 2006 is expected to remain near 2005 levels and increase in 2007 by about 2.4 percent.    Domestic dry natural gas production in 2005 is estimated to have declined by 3.2 percent, owing mainly to the hurricane-impacted supply disruptions in the Gulf of Mexico, but it is projected to increase by 2.2 percent in 2006 and 1.7 percent in 2007.  According to the Minerals Management Service, approximately 400 million cubic feet per day of natural gas production are expected to remain offline prior to the start of the next hurricane season, June 1, 2006     The Henry Hub spot price in 2005 averaged about $8.98 per thousand cubic feet (Mcf) but has recently dropped below $8 owing to weak heating-related demand this winter and the resulting high levels of natural gas in storage.  The 2006 Henry Hub spot price is expected to average $8.11 per Mcf or about 10 percent less than in 2005.  In 2007 demand is expected to increase.  Heating fuel demand has been down this winter across fuels and regions owing to the overall warm weather.  Space heating expenditures this winter are still expected to be higher than in the 2004-2005 heating season.  Homes heated with natural gas may expect to spend $126 or 17 percent more for natural gas this winter than last winter. 
Natural Gas Transportation Update:  Several maintenance projects were announced this week by pipeline companies in the United States.  Gulf South Pipeline Company scheduled a 1-day pigging on March 9 (Thursday) of one of its lines from Lafayette to Weeks Island in South Louisiana and another week-long pigging starting March 14 on a segment from Lake Charles to Iowa, Louisiana.  In North Louisiana, the Logansport Compressor Station, operated by Southern Natural Gas Company, will be out of service starting March 8 for 2 or 3 days owing to pipeline modifications at the station and at the Spider Field tap.  According to El Paso, the ongoing force majeure involving repair at the Belen Station will continue until further notice, reducing San Juan Crossover capacity by 35 MMcf per day from a base capacity of 650 MMcf per day.  Questar Corporation announced maintenance plans at its Oak Spring Compressor Station for March 21-23.  Capacity at this location will be reduced by about 30 percent during the maintenance. Lastly, Northern Natural Gas Company has contracted a repair crew and dive boat to repair a leak site on the Northern-operated Matagorda Offshore Pipeline System offshore Texas.  After setbacks because of logistical constraints, Northern Natural Gas said it expects restoration of all but three platforms downstream of Matagorda 758 sometime on March 9. In addition to maintenance announcements, ANR Pipeline Company announced that it will be limiting storage account activity owing to current and projected storage inventory and the current weather outlook.  Customers are not allowed to exceed their account balances as of March 2.  Also, Southern Natural Gas announced an open season for bids on 140 MMcf per day of capacity in the Production Zone on the South Mainline system. Ninety MMcf per day will become available on February 1, 2007, and the other 50 MMcf per day will become available on March 1, 2007.