Overview:  Thursday, February 23 (next release 2:00 p.m. on March 2, 2006)
Natural gas spot prices increased at most market locations this week (Wednesday to Wednesday, February 15 – 22) with the exception of some western locations where prices declined modestly.  The spot price at the Henry Hub increased 23 cents, or about 3 percent, since last Wednesday to trade at $7.54 per MMBtu yesterday (February 22).  The price of the NYMEX futures contract for March delivery at the Henry Hub also increased about 3 percent this week closing at $7.283 per MMBtu yesterday.  Natural gas in storage as of Friday, February 17, decreased to 2,143 Bcf, which is 48 percent above the 5-year average.  The spot price for West Texas Intermediate (WTI) crude oil increased $1.42 per barrel, or about 2 percent, since last Wednesday to trade yesterday at $59.03 per barrel or $10.18 per MMBtu.  
<![if !vml]>
<![endif]> 
A period of colder-than-normal temperatures during what has been an unseasonably mild winter pushed spot prices slightly higher during this report week.  The winter weather coupled with an increase in crude oil spot prices supported increases of up to 5 percent at most market locations.  The Henry Hub spot price traded yesterday at $7.54 per MMBtu, which is 23 cents, or about 3 percent, more than the previous Wednesday's level.  Trading locations in Gulf Coast regions registered the highest average regional gains with increases in South and East Texas of 31 cents and 27 cents respectively, and 22 cents in Louisiana.  In the Northeast, despite a jump of $1.16 per MMBtu in trading on Friday, Transco Zone 6 in New York ended this report week 17 cents higher than last Wednesday at $8.10 per MMBtu.  In contrast, most locations in the Rockies and California showed modest declines on the week.  The average spot price in these two regions was $6.53 per MMBtu yesterday, about 5 cents lower than the previous Wednesday.  With prices lower than levels earlier this heating season, there is a corresponding narrowing trend in the daily trading range, or the difference between the high and low price on a given trading day at a market location.  At the Henry Hub, the average daily trading range in November and December, when spot prices were between $9 and $15 MMBtu, was 76 cents and 41 cents, respectively.  These average ranges are 7 and 3 percent relative to the prevailing prices.  In January, there was an overall downward trend in spot prices and the daily trading range averaged 29 cents, which again was 3 percent of the daily price.  During February so far the average difference between the daily high and low price at the Henry Hub has been about 18 cents on average, and for this report week the range was about 13 cents or less than 2 percent of the daily price. 
<![if !vml]>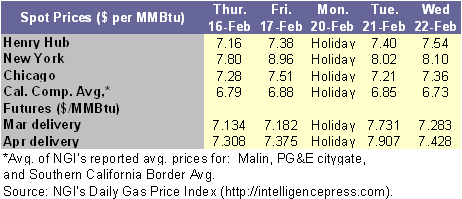 <![endif]>
At the NYMEX, the price of the futures contract for March delivery gained in three consecutive trading sessions this week, before dropping 45 cents yesterday to close at $7.283 per MMBtu.  Yesterday's settlement price represents an overall gain on the week (Wednesday to Wednesday) of about 22 cents per MMBtu or 3 percent.  With only 2 days of trading before it expires, the March contract has dropped by more than $2 since becoming the near month contract on January 30.  Contract prices for next year's heating season (November 2006 – March 2007) posted the largest gains this week ranging from about 5 to 7 percent higher than last Wednesday.  The prices for these contracts, which range from $9.148 to $10.813 per MMBtu, are significantly higher than the Henry Hub spot price and the current March contract price.   The 12-month strip, or the average price for contracts over the next year, closed yesterday at $8.581 per MMBtu, which is an increase of about 35 cents or about 4 percent on the week. 
Recent Natural Gas Market Data
Estimated Average Wellhead Prices

Aug-05

Sept-05

Oct-05

Nov-05

Dec-05

Jan-06

10.02/1.0237Price ($ per Mcf)

7.68

9.76

10.97

9.54

10.02

8.66

Price ($ per MMBtu)

7.48

9.50

10.68

9.29

9.76

8.43

Note: Prices were converted from $ per Mcf to $ per MMBtu using an average heat content of 1,027 Btu per cubic foot as published in Table A4 of the Annual Energy Review 2002.

Source:  Energy Information Administration, Office of Oil and Gas.
Working gas in storage decreased to 2,143 Bcf as of Friday, February 17, according to EIA's Weekly Natural Gas Storage Report (See Storage Figure).  The current storage level is 694 Bcf, or almost 48 percent, above the 5-year average level for this week of 1,449 Bcf.  Stocks in each of the three reporting regions were 45 percent or more above the respective 5-year averages.  The implied net withdrawal of 123 Bcf this week is the largest net withdrawal since the week ending December 23, 2005, but 2 percent lower than the 5-year average withdrawal.  This implied net withdrawal is the closest to average for the most recent 7 weeks, during which net withdrawals were between 29 to 100 percent lower than the 5-year average.  The relatively large withdrawal is partly due to cooling weather trends.  Although temperatures in the United States were about 6 percent warmer-than-normal according to the National Weather Service's Heating Degree Days for the week ending Thursday, February 16, the weather was cold compared with much of this winter, which saw temperatures up to 32 percent above normal in some report weeks (See Temperature Maps).  Temperatures last week were the highest for any storage report week since the week ending December 22, 2005.  Additionally, temperatures last week were about 17 percent colder than last year for the country as a whole and up to 63 percent colder than last year in all Census Divisions except for the Pacific.  With about 5 weeks left in the traditional heating season, if storage is drawn down at a rate similar to the 5-year withdrawal rate, inventories will end the heating season slightly above 1,700 Bcf.  This would be more than 60 percent above the 5-year average level at the end of March of 1,041 Bcf.  The last time storage levels ended the heating season at more than 1,545 Bcf was 1991.
<![if !vml]>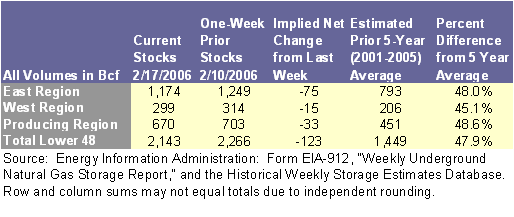 <![endif]>
Other Market Trends:
DOE Begins a Series of Public Education Forums on LNG: The Department of Energy (DOE) is conducting a series of forums on liquefied natural gas (LNG) in order to foster communication between Government officials and interested citizens, and is held in compliance with the Energy Policy Act of 2005.  The first forum has been scheduled for Friday, March 10, 2006, in Boston, Massachusetts.  Its main objective is to discuss U.S. energy needs and to address public security concerns relating to LNG terminal siting and construction. The Energy Information Administration (EIA) projected in its Annual Energy Outlook 2006 (AEO 2006) that the United States will have to increase imports of LNG by more than 600 percent in the next 25 years in order to meet the Nation's demand for natural gas. Several other Government agencies will join DOE in presenting the series of forums, including the U.S. Department of Transportation and the U.S. Department of Homeland Security, as well as other State and professional organizations.  The Boston forum is open to the public.  Additional information is available at http://www.energy.gov/news/3197.htm. 
Natural Gas Rig Count:  The number of rigs drilling for natural gas reached a record high of 1,327 on February 17, 2006, according to Baker-Hughes Incorporated.  This completed a sequence of 3 weeks in which a new record was set, as the gas rig count expanded from 1,313 to 1,327.  The number of natural gas rigs was about 231 greater than last year during the same week, and about 46 percent higher than the 5-year average for the report week.  Of the total rigs currently drilling in the United States, 85.9 percent are drilling for natural gas.  The share of total rigs drilling for natural gas has been consistently above 85 percent for the past 3 weeks.  Of the 1,327 natural gas rigs, 70 rigs are located in the Gulf of Mexico, which is 3 more than last week's Gulf total.  Both total and natural gas rigs drilling in the Gulf of Mexico for the week are about 20 percent lower than in early August.  This likely reflects the continuing impacts of hurricanes Katrina and Rita.
Natural Gas Transportation Update:
<![if !supportLists]>· <![endif]>On Wednesday, February 15, 2006, Texas Gas Transmission (TGT) reminded storage customers that they are required to withdraw at least 68 percent of their maximum seasonal quantity or unnominated seasonal quantity by April 1, and stated that because of operational issues, such as deadweight tests and reservoir protection, this obligation could not be eliminated. Should storage inventories remain at unseasonably high levels, TGT will issue an operational flow order (OFO) directing its storage customers to comply with the 68 percent minimum withdrawal requirement. Gas owners who have not withdrawn at least 45 percent of their maximum seasonal storage quantity will be subject to an OFO penalty for all quantities in their account on April 1 in excess of the 68 percent minimum withdrawal.
<![if !supportLists]>· <![endif]>Columbia Gulf Transmission Co. announced that it began accepting up to 125,000 decatherms (Dth) per day in receipt nominations from the Targa-Venice Plant in southeast Louisiana effective with intraday nominations Tuesday.
<![if !supportLists]>· <![endif]>Northern Natural Gas Co. issued a System Overrun Limitation in anticipation of cold winter weather at most reporting stations in its market area, which lasted until Monday, February 20, 2006. The limitation was in place for all market area zones, and the imbalance tolerance was set at 25 percent. 
<![if !supportLists]>· <![endif]>Northwest Natural declared a Stage II (8 percent imbalance tolerance) Unauthorized Overrun Entitlement for all receiving party customers located north of the Kemmerer Compressor Station effective Friday, February 17, 2006, until further notice. Northwest declared the entitlement in an effort to maintain its Jackson Prairie storage balance during the extremely cold weather forecast for the Pacific Northwest over the next few days. To avoid penalties, Northwest requested that customers stay within their scheduled volumes, and asked customers who owe gas to Northwest north of Kemmerer to make arrangements to pay back their imbalances.