Overview:  Thursday, February 9 (next release 2:00 p.m. on February 16, 2006)
Despite the slightly colder weather that dominated the country this week, natural gas spot and futures prices generally decreased for the week (February 1-8).  The Henry Hub natural gas spot price fell 83 cents, or about 10 percent, while prices at most other regional markets ended the week with decreases averaging 58 cents per MMBtu. The price of the NYMEX futures contract for March delivery at the Henry Hub decreased 99 cents per MMBtu, or slightly over 11 percent, settling yesterday (February 8) at $7.735 per MMBtu. The Energy Information Administration (EIA) reported working gas in underground storage of 2,368 Bcf as of February 3, which reflects an implied net decrease of 38 Bcf. The spot price for West Texas Intermediate (WTI) crude oil decreased $4.10 per barrel, or more than 6 percent since last Wednesday (February 1), ending trading yesterday at $62.51 per barrel, or $10.78 per MMBtu.
<![if !vml]>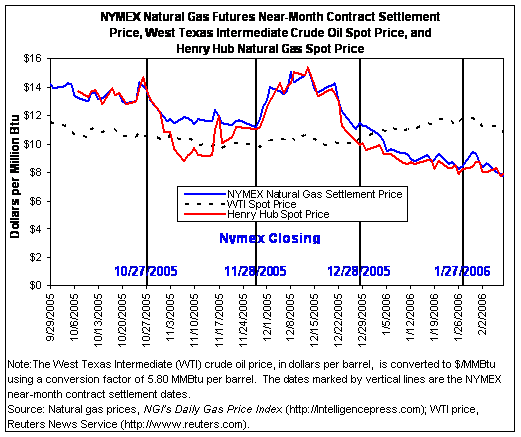 <![endif]>
The continued warmer-than-normal temperatures across much of the Lower 48 States, coupled with the decreasing crude oil prices, led to a decrease in natural gas prices.  For the week, spot prices at trading locations in Texas generally decreased between 36 and 71 cents per MMBtu, or 4.7 and 8.5 percent, while declines in the Rocky Mountain region were greater at 50 cents or more. The Henry Hub spot price decreased to $7.88 per MMBtu, 83 cents lower than last week. In the Northeast prices fell by an average of 52 cents to $8.70 per MMBtu. The price at New York citygates dropped 38 cents per MMBtu on the week to $8.98. Prices in the Midcontinent production region decreased 12 cents per MMBtu or more and in certain markets dropped below $7 for a few days.  The largest decline on the week of all Lower 48 markets was recorded at the Michigan Consolidated market location, which recorded a 94-cent per MMBtu decrease to an average of $7.86 per MMBtu yesterday (February 8). On a regional level, the Midwest recorded the largest decreases since last Wednesday, averaging 85 cents per MMBtu, followed by California (75 cents per MMBtu) and Louisiana (65 cents per MMBtu).
<![if !vml]>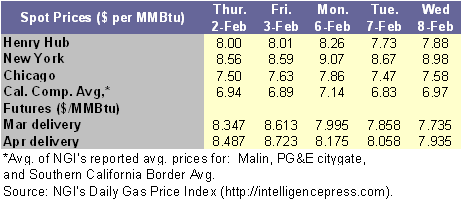 <![endif]>
Spot prices have exhibited a downward trend since mid-December, falling by $7.52 per MMBtu or about 49 percent from the $15.40 recorded at the Henry Hub on December 13, 2005. Similarly, the price of the near-month futures contracts has decreased by $7.643 per MMBtu or about 50 percent during the same time. While the current heating season started out with gas inventories below last year's level, with the difference expanding to more than 200 Bcf by mid December, current storage levels are 437 Bcf higher than during the same week last year. The unusually high levels of working gas in storage are due to the combination of warmer-than-normal temperatures in the Lower 48 States and the level of spot prices relative to futures contract prices. Weather for the Lower 48 States for November and December 2005 was 13 percent warmer than normal and about 7 percent warmer than during the same period last year, according to the National Weather Service. Moreover, a recently published weather report by the National Climate Data Center (NCDC) indicated that January 2006 was the warmest January on record, averaging 39.5 degrees Fahrenheit, which is 8.5 degrees above average for January. More than 74 percent of the country was classified as "much above normal" when compared with the 1961-1990 climate normal. On average for the entire month of January, none of the Lower 48 States had below average temperatures, while 15 States had record high temperatures for the month.  Beginning in the last week of December and with few exceptions, the prices for future delivery in all months through next winter have exceeded the prevailing Henry Hub spot price, often by a considerable margin.  The higher value for gas in the future relative to current supplies poses a clear economic incentive to rely more on current supplies and discourages heavy reliance on gas from storage.
At the NYMEX, the price of the futures contract for March delivery at the Henry Hub decreased almost $1 per MMBtu since Wednesday, February 1, to a settlement price of $7.735 per MMBtu on Wednesday, February 8. While the March 2006 contract increased by about 27 cents during the Friday, February 3 trading, the increase was not enough to offset the overall decline on the week. At $7.735 per MMBtu, the near-month contract price is the lowest since July 28, 2005, when the September 2005 contact settled at $7.694 on its first day as the near-month contract. The March 2006 contract price is also at its lowest level since May 19, 2005. In trading this week, the April 2006 contract declined 94 cents, or 10.6 percent, to $7.935 per MMBtu. The 12-month strip, or the average price for contracts over the next year, closed yesterday at $8.903, a decline of 82 cents, or 8.5 percent on the week.
Recent Natural Gas Market Data
Estimated Average Wellhead Prices

Aug-05

Sept-05

Oct-05

Nov-05

Dec-05

Jan-06

10.02/1.0237Price ($ per Mcf)

7.68

9.76

10.97

9.54

10.02

8.66

Price ($ per MMBtu)

7.48

9.50

10.68

9.29

9.76

8.43

Note: Prices were converted from $ per Mcf to $ per MMBtu using an average heat content of 1,027 Btu per cubic foot as published in Table A4 of the Annual Energy Review 2002.

Source:  Energy Information Administration, Office of Oil and Gas.
Working gas in underground storage decreased to 2,368 Bcf as of Friday, February 3, according to EIA's Weekly Natural Gas Storage Report. The implied net withdrawal of 38 Bcf for the report week was significantly lower than both the 5-year average of 158 Bcf and last year's withdrawal of 178 Bcf (See Storage Figure). Currently, working gas stocks remain 649 Bcf or 37.8 percent above the 5-year average and 437 Bcf or about 23 percent above last year's level. While stocks in the East and West regions reflect implied net withdrawals of 30 and 10 Bcf, respectively, there was an implied net injection for the week of 2 Bcf in the Producing Region. As measured by heating degree days (HDDs) published by the National Weather Service, temperatures for the country as a whole were almost 32 percent warmer than normal and about 33 percent warmer than last year for the week. (See Temperature Maps). With 8 weeks left in the traditional heating season, if storage is drawn down at a rate similar to the 5-year withdrawal rate, inventories will end the heating season at about 1,700 Bcf. As of yesterday, only the near-month contract was trading at a 15-cent discount to the Henry Hub spot price. Contracts through the end of the next heating season (November 2006 – April 2007) were trading at an average premium of $1.26 per MMBtu relative to the Henry Hub, indicating a strong economic incentive to purchase natural gas at spot markets for delivery to consumers and to refrain from withdrawing natural gas from underground storage.
<![if !vml]>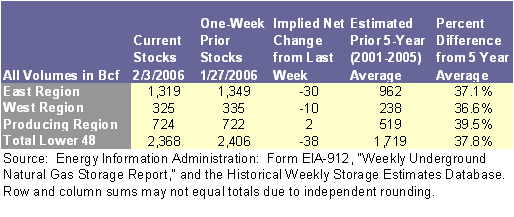 <![endif]>
Other Market Trends:
LNG Imports to Continental United States Fall in 2005: Growth in imports of liquefied natural gas (LNG) to the continental United States stalled in 2005 as price competition from other countries diverted volumes away from the U.S. market. The United States imported the gaseous equivalent of 631 Bcf from a total of seven countries, which was a decrease of 3 percent from the 652 Bcf imported in 2004, according to the Department of Energy's Office of Fossil Energy. Trinidad and Tobago was once again the leading supplier, accounting for 439 Bcf, or 70 percent, of U.S. LNG imports, maintaining a proportion approximately equivalent to that of the past couple of years. In 2005, Algerian supplies totaled 97.2 Bcf, the second highest volume of any source country for U.S. LNG imports. Egypt, a new LNG producer and exporter in 2005, was the source country for 72.5 Bcf during the year. The remaining 3.5 percent of U.S. LNG imports in 2005 came from Malaysia (8.7 Bcf), Qatar (3.0 Bcf), Nigeria (8.1 Bcf), and Oman (2.5 Bcf). Dominion's regasification facility in Cove Point, Maryland, received the greatest volume of LNG deliveries of any of the five import facilities operating during the year (See Figure on LNG Imports to the Continental United States by Terminal). Dominion Cove Point received 221.7 Bcf, primarily from Trinidad and Tobago. Distrigas, located in Everett, Massachusetts, received 168.5 Bcf, which was the second highest volume received by the terminals. Southern LNG, located on Elba Island, Georgia, received 132.0 Bcf, and Trunkline LNG in Lake Charles, Louisiana, received 103.8 Bcf. Gulf Gateway, a new import facility located offshore in the Gulf of Mexico, received two cargos for a total of 5.2 Bcf.
AGA Reports a Record Year in New Homes Built with Natural Gas:  The American Gas Association (AGA) released a report on Thursday, February 2, detailing the results of the 2004 annual Residential Natural Gas Market Survey.  The survey found that more than 1 million single-family homes heated with natural gas were completed in 2004, which is a new record and about 8 percent more than in 2003.  Gas is the leading heating source for all new single-family homes in 2004 with about 69 percent of these homes heated by natural gas or propane.  This is followed by 29 percent with electric heat, 2 percent with oil, and 1 percent with other fuel sources such as wood and kerosene.  Regionally, the highest concentration of new single-family gas-heated homes is in the Midwest and West with 91 percent each.  About 73 percent of new Northeast homes were heated by gas followed by 45 percent in the South.  Natural gas is also the leading heating source overall.  Out of the 108 million heated housing units in the United States, 52 percent are heated by natural gas, 31 percent by electricity, 9 percent by heating oil, 6 percent by propane, and 2 percent by other fuel sources.  The AGA report also details other aspects of the residential natural gas market including state comparisons of energy prices, bill paying assistance programs, and customer comparisons. 
EIA Releases Its February Short-Term Energy Outlook:  According to the Energy Information Administration's (EIA) latest Short Term Energy Outlook (STEO), released February 7, total natural gas demand in 2006 is expected to remain near 2005 levels and increase in 2007 by about 2.3 percent.  Domestic dry natural gas production in 2005 is estimated to have declined by 2.7 percent, owing mainly to the hurricane-impacted supply disruptions in the Gulf of Mexico, but it is projected to increase by 3.0 percent in 2006 and 1.3 percent in 2007.   The Henry Hub spot price in 2005 averaged about $9.00 per thousand cubic feet (Mcf) and is projected to average $8.87 and $8.70 in 2006 and 2007, respectively.  According to the Minerals Management Service, production shut-ins related to hurricanes Katrina and Rita still will be around 400 million cubic feet (MMcf) per day of natural gas and 255 thousand barrels per day of crude oil at the beginning of June 2006.  During the month of January, natural gas prices were lower than estimated in the previous (January 2006) STEO, which was a result of unusually warm winter temperatures.  Despite the warmer-than-normal temperatures and lower than expected prices, space heating expenditures this winter are still expected to be higher than in the 2004-2005 heating season.  Homes heated with natural gas may expect to spend $178 or 24 percent more for natural gas this winter than last winter. 
Natural Gas Transportation Update:  Natural gas pipeline companies reported relatively few operational issues during this report week.  Gulf South announced that about 75 million cubic feet per day (MMcf/day) could be affected by unscheduled maintenance that began last week on one of the Hall Summit Compressor Station units.  After a mechanical failure at the Crawford Compressor Station in West Texas over the weekend, Transwestern declared a force majeure which reduced station capacity from 60,000 MMBtu per day to about 32,000 MMBtu per day.  A replacement compressor station is expected to be available by today (Thursday).  Florida Gas Transmission announced that it is currently scheduling 150,000 MMBtu per day of the normal 200,000 MMBtu per day at the ANR St. Landry interconnect in South Louisiana.  Lastly, Transwestern has proposed an expansion of its West Texas Lateral to serve customers in the Waha market area with a design capacity of 110 MMcf per day.  It is soliciting feedback through 3 p.m. this Friday.