Overview:  Thursday, January 26 (next release 2:00 p.m. on February 2, 2006)
Natural gas spot prices continued to decrease this week at all market locations as unseasonably mild temperatures persist in most regions of the United States.  For the week (Wednesday to Wednesday), the spot price at the Henry Hub declined 35 cents per MMBtu, or about 4 percent, to trade at $8.50 per MMBtu yesterday (January 25).  The price of the NYMEX futures contract for February delivery at the Henry Hub also decreased this week.  The contract closed yesterday at $8.460 per MMBtu which is 23 cents per MMBtu, or about 3 percent, less than last Wednesday's price.  Natural gas in storage as of Friday, January 20, decreased to 2,494 Bcf, which is 21.7 percent above the 5-year average.  The spot price for West Texas Intermediate (WTI) crude oil dropped 16 cents per barrel since last Wednesday to trade yesterday at $65.60 per barrel or $11.31 per MMBtu.
<![if !vml]>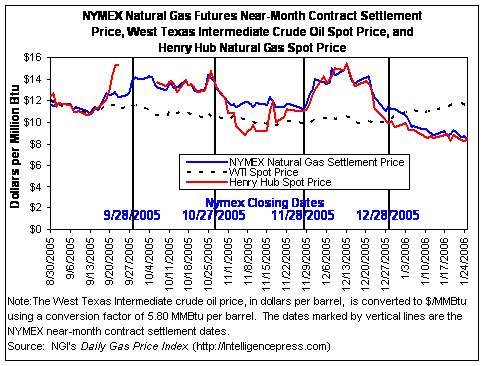 <![endif]>
Natural gas spot prices fluctuated slightly during this past week in response to short periods of colder weather and winter-weather forecasts, but overall maintained the decreasing trend that has continued since mid-December.  All market locations recorded decreases since last Wednesday, January 18, ranging from 2 cents to 65 cents per MMBtu with no locations exceeding a decrease of more than 7 percent.  The Henry Hub spot price traded yesterday (January 25) at $8.50 per MMBtu, which is 35 cents, or about 4 percent, less than the previous Wednesday.  The largest declines occurred in the Midwest this week with an average decrease of 57 cents per MMBtu.  The Chicago Citygate price dropped below $8 per MMBtu for the first time since mid-November, but ended the week at $8.03 per MMBtu.  The Northeast, which is the only region exhibiting prices over $9 per MMBtu, registered the smallest decreases.  Transco Zone 6 in New York decreased only 2 cents since last Wednesday to close at $9.44 per MMBtu yesterday.  Although spot prices in all regions are generally $1 to $3 per MMBtu higher than this time last year, prices at most market locations are currently more than $1 lower than they were in mid-August before hurricanes Katrina and Rita.  These lower prices have been achieved despite the continuing shut in of gas production in the Gulf of Mexico.  According to the Minerals Management Service, shut-in gas production was 1.656 Bcf per day as of Wednesday, January 25.  The cumulative shut-in amount since August 26, 2005, was 609 Bcf, which is equivalent to more than 3 percent of yearly U.S. production.
<![if !vml]>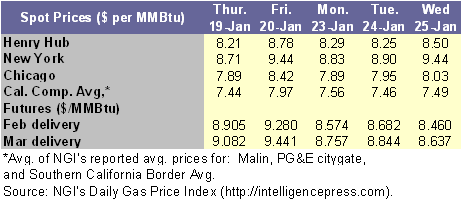 <![endif]>
After gaining almost 60 cents in trading last Thursday and Friday, the price of the NYMEX futures contract for February delivery at the Henry Hub declined to close yesterday (January 25) at $8.46 per MMBtu, which is about 23 cents or 3 percent less than last Wednesday.  This is the lowest price for this contract since the beginning of June and the lowest price for any contract through April 2009 currently listed on the NYMEX.  Since becoming the near-month contract on December 29, the February contract has declined $2.70 per MMBtu or about 25 percent.  On that date, it held a $1.15 premium to the Henry Hub spot price and remained in contango for most of the month.  Yesterday's Henry Hub spot price, however, exceeded the February contract price by 4 cents per MMBtu, which reduces the economic incentive to keep natural gas in storage.  The last trading day for the February contract occurs tomorrow (January 27).  All other contracts on the NYMEX through October 2006 have followed a similar pattern with modest net decreases on the week, yet still exhibited prices yesterday above the Henry Hub spot price.  The March contract decreased 24 cents on the week to settle at $8.637 per MMBtu yesterday and the April contract settled at $8.722 per MMBtu.  All NYMEX futures contracts past October 2006 posted gains on the week.  The 12-month strip, or the average price for contracts over the next year, decreased less than 1 percent to close yesterday at $9.366 per MMBtu. 
Recent Natural Gas Market Data
Estimated Average Wellhead Prices

Jul-05

Aug-05

Sept-05

Oct-05

Nov-05

Dec-05

Price ($ per Mcf)

6.69

7.68

9.76

10.97

9.54

10.02

Price ($ per MMBtu)

6.51

7.48

9.50

10.68

9.29

9.76

Note: Prices were converted from $ per Mcf to $ per MMBtu using an average heat content of 1,027 Btu per cubic foot as published in Table A4 of the Annual Energy Review 2002.

Source:  Energy Information Administration, Office of Oil and Gas.
Working gas in storage decreased to 2,494 Bcf as of Friday, January 20, according to EIA's Weekly Natural Gas Storage Report (See Storage Figure).  The current storage level is 445 Bcf, or 21.7 percent, above the 5-year average level of 2,049 Bcf and 191 Bcf, or 8.3 percent, above the storage level at this time last year.  Although the implied net withdrawal of 81 Bcf is the largest weekly withdrawal since the week ending December 23, it is 51 percent lower than the 5-year average withdrawal of 165 Bcf and 62 percent lower than the 213 Bcf withdrawn at this time last year.  Continuing mild temperatures for this time of year across the entire country decreased heating demand and contributed to the below average withdrawal during the report week (See Temperature Maps).  According to the National Weather Service, temperatures, as measured by Heating Degree Days (HDD's) were 25 percent warmer-than-normal for the week ending Thursday, January 19.  In particular, the regions in the middle of the country displayed some of the largest deviations from normal with the West South Central Census Division, which contains Texas and Louisiana, at almost 40 percent warmer-than-normal and the East North Central Census Division, containing the major market of Chicago, at 30 percent warmer-than-normal.  The Northeast Census Division, which exhibited the most modest price decreases as described above, also showed more moderate temperature deviations at about 19 percent warmer-than-normal.
<![if !vml]>
<![endif]>
Other Market Trends:
EIA Reports on Natural Gas Processing Plants:  The Energy Information Administration released a report on Friday, January 20, 2006, describing the natural gas processing industry and trends that have developed in this industry over the past decade.  The report, titled "Natural Gas Processing: The Crucial Link Between Natural Gas Production and Its Transportation to Market," provides a discussion and analysis of the role that processing plants play in the United States.  Specifically, these plants remove contaminants and liquids from natural gas produced at the wellhead in order to meet pipeline quality standards necessary for transportation.  The report notes that although this segment of the natural gas industry usually does not receive much public attention, its importance became apparent in the aftermath of hurricanes Katrina and Rita which caused damage to several plants and forced pipelines to suspend flow to several locations.  There are currently about 530 processing plants in the United States with a cumulative processing capacity of more than 60.5 billion cubic feet per day.  The greatest concentration of plants is in the Gulf Coast States of Louisiana and Texas with 61 plants and 166 plants, respectively.  Although the number of plants in the United States has dropped about 27 percent since 1995, processing capacity has risen by 49 percent.  Reasons for this include the addition and expansion of new larger plants, idling of older less efficient plants, expanding natural gas production in Wyoming, and successful exploration and development in Colorado.  The report also discusses natural gas processing cost recovery, the impact of industry restructuring, and the outlook and potential of the natural gas processing industry.    
FERC Issues Final Rule Barring Market Manipulation: The Federal Energy Regulatory Commission (FERC) has finalized a rule prohibiting energy market manipulation pursuant to its new Energy Policy Act of 2005 authority. The Final Rule is largely unchanged from the proposed rule the Commission issued in October, while providing clarification of certain matters. The Energy Policy Act bars "any manipulative or deceptive device or contrivance" in wholesale natural gas and electricity commodity and transportation or transmission markets subject to the Commission's jurisdiction. Under the Final Rule, it is unlawful for any entity, directly or indirectly, in connection with the purchase or sale of electric energy or natural gas or the purchase or sale of transmission or transportation services subject to Commission jurisdiction: (1) to defraud using any device, scheme, or artifice; (2) to make any untrue statement of material fact or omit a material fact; or (3) to engage in any act, practice or course of business that operates or would operate as a fraud or deceit. In addition to providing the FERC with express authority to prohibit market manipulation, the Energy Policy Act enhanced the Commission's civil penalty authority both by extending it across all of the substantive provisions of Part II of the Federal Power Act and the Natural Gas Act, and by increasing the maximum civil penalty under these statutes to $1 million per day per violation. Those violating the Final Rule will be subject to those penalties as outlined in the Commission's October 20, 2005, Policy Statement. FERC's Final Rule defines fraud as "… any action, transaction, or conspiracy for the purpose of impairing, obstructing or defeating the honest functioning of the market. Fraud is a question of fact that is to be determined by all the circumstances of a case." Further, FERC prohibits market manipulation by any entity, including governmental utilities and other market participants, and not just jurisdictional market-based rate sellers, natural gas pipelines, or holders of blanket certificate authority. According to FERC's Final Rule, if any entity engages in manipulation and the conduct is found to be 'in connection with' a jurisdictional transaction, the entity is subject to the FERC's anti-manipulation authority. However, fraud and manipulation in a non-jurisdictional transaction (such as a first or retail sale) is not subject to the new regulations. The Final Rule, Prohibition of Energy Market Manipulation, is effective upon its publication in the Federal Register on January 26, 2006. The Federal Register notice is available at http://frwebgate1.access.gpo.gov/cgi-bin/waisgate.cgi?WAISdocID=305977438195+0+0+0&WAISaction=retrieve.
Natural Gas Transportation Update: 
<![if !supportLists]>· <![endif]>ANR Pipeline Company has increased its delivery capacity between the Patterson and Eunice compression stations in Louisiana, effective January 23, 2006. The area known as the SE Gathering Area will increase capacity to 650,000 dekatherms (Dth) per day and will be available through February 28.  Owing to insufficient supply upstream of the Patterson compression station, interconnects between Eunice and Patterson may experience lower-than-normal line pressures.  Based on current nominations for this segment, it is anticipated that the reduced pressure will result in the curtailment of interruptible transportation nominations.
<![if !supportLists]>· <![endif]>Gulf South Pipeline Company revised its schedule for pigging maintenance on its 12-inch diameter pipeline Index 131 from Lafayette to Weeks Island in South Louisiana. The Lake Charles Area (Capacity Allocation Area 6) receipt capacity could be affected as much as 20,000 Mcf per day during this maintenance. According to the pipeline notice, the work, which began last Wednesday, has been extended through next Tuesday. The original schedule had called for pigging on Jan. 18-21.
<![if !supportLists]>· <![endif]>Tennessee Gas Pipeline Company reported that it has partially restored service at Compressor Station 25 in Cleveland, Texas, where it declared a force majeure event in late November as a result of equipment failure. However, owing to the unavailability of certain parts, three units remain out of service. All units are expected to be back in service by early May. Based on current throughput, Tennessee does not anticipate restricting volumes flowing through Station 25. However, in the event throughput changes, Tennessee estimates that approximately 5 percent of volumes flowing through Station 25 would be restricted.