Overview: Thursday, December 22, 2005 (next release 2:00 p.m. on January 5, 2006)
Spot prices have decreased at virtually all market locations in the Lower 48 States this week as moderating temperatures relative to the prior week reduced space-heating demand and prices for competing petroleum products eased. For the week (Wednesday-Wednesday, December 14-21), the Henry Hub price decreased $1.25 per MMBtu to $13.55. At the New York Mercantile Exchange (NYMEX), the price of the futures contract for January delivery settled yesterday (December 21) at $14.271 per MMBtu, which was about 41 cents per MMBtu, or 2.8 percent, lower on the week. The Energy Information Administration (EIA) reported that working gas in storage was 2,804 Bcf as of Friday, December 16, which reflects an implied net decrease of 162 Bcf. The spot price for West Texas Intermediate (WTI) crude oil decreased $2.30 per barrel, or about 3.8 percent, on the week to settle yesterday at $58.56 per barrel, or $10.10 per MMBtu.
<![if !vml]>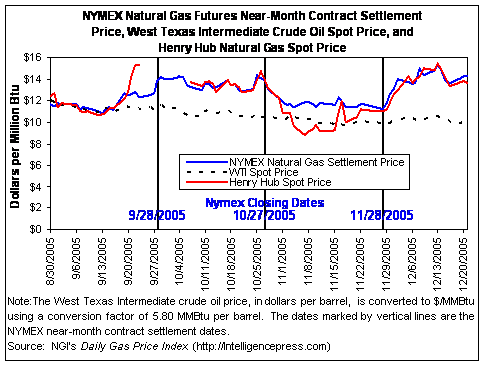 <![endif]>
Much of the country is finally receiving a reprieve from the blasts of arctic air that have prevailed this December, leading to lower space-heating demand. Spot prices have fallen for the week in a range from $0.64 to $2.10 per MMBtu. Since last Wednesday, December 14, the spot price at the Henry Hub has fallen about 8 percent, with much of the Louisiana trading locations registering similar decreases. The largest price declines during the week principally occurred in producing areas in West Texas, Rockies and the Mid-continent, where prices dropped between $1.39 and $2.10 per MMBtu. One significant development in regional pricing has been large differentials between prices at market locations in the Gulf region, reflecting intraregional transportation bottlenecks following the hurricane season. The price at the Houston Ship Channel yesterday was $11.59 per MMBtu, which was $1.96 less than at the Henry Hub. In the Northeast declines were more moderate on the week at an average of $1.38 per MMBtu. The price at the New York citygate registered the largest Wednesday-Wednesday decline in the region, falling $1.82 per MMBtu, or 11 percent, to $14.66. The New York citygate price as of yesterday reflected a premium of $1.11 per MMBtu over the Henry Hub price, down considerably from the more than $2.00 premium in mid-December and closer to more typical differentials for this time of year.
<![if !vml]>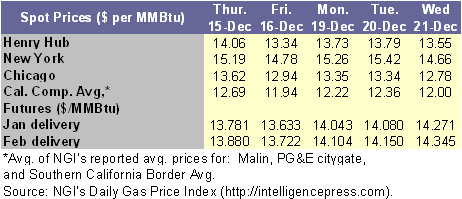 <![endif]>
NYMEX futures prices for delivery in the rest of the heating season (January-March) fell this week by relatively large amounts. The near-month contract (for January delivery) declined for the week by $0.408, as it settled yesterday (December 21) at $14.271 per MMBtu. Still, following the colder-than-normal first half of December, the January contract is trading $2.54 per MMBtu higher than on the first day of its tenure as the near-month contract. This contract is also still priced $8.06 per MMBtu more than the final settlement price of $6.21 for the January 2005 contract. The February and March contracts declined $0.383 and $0.324 per MMBtu, respectively, to settle yesterday at $14.345 and $14.278. Despite the price declines for these contracts, futures contract prices for delivery through the rest of this winter were at a significant premium to the Henry Hub contract in the past few days. This marks a reversal of the pattern for recent weeks in which the futures contract prices were below the Henry Hub spot. If the current pattern persists, this may have important implications for storage utilization strategies in the latter half of this month. While the futures contract for April delivery declined $0.044 per MMBtu, prices for contracts for the rest of the year rose an average of 6.7 cents. On the week, the 12-month strip, which is the average price for futures contracts over the next 12 months, closed yesterday at $11.98, an increase of 5.2 cents since last Wednesday.
Recent Natural Gas Market Data
Estimated Average Wellhead Prices

Jun-05

Jul-05

Aug-05

Sept-05

Oct-05

Nov-05

Price ($ per Mcf)

6.15

6.69

7.68

9.76

10.97

9.54

Price ($ per MMBtu)

5.99

6.51

7.48

9.50

10.68

9.29

Note: Prices were converted from $ per Mcf to $ per MMBtu using an average heat content of 1,027 Btu per cubic foot as published in Table A4 of the Annual Energy Review 2002.

Source: Energy Information Administration, Office of Oil and Gas.
Natural gas inventories for the lower 48 States stood at 2,802 Bcf as of Friday, December 16, according to the EIA's Weekly Natural Gas Storage Report. (See Storage Figure) The net stock change from the previous week was an implied net withdrawal of 162 Bcf, which is 37 percent higher than the previous 5-year (2000-2004) average net withdrawal. At the same time, this week's net change is 42 percent higher than the 114 Bcf withdrawal for the same week last year. Despite the size of the net decrease in stocks, this inventory remains at 2.3 percent above the 5-year average for the week. Similarly, reported volumes for all three regions (East, West, and Producing) show stocks that are up to 7.7 percent higher-than-average. Frigid temperatures across most of the lower 48 States during the week covered by the storage report produced a high amount of space heating demand. According to the National Weather Service, temperatures for the country as a whole were about 14 percent colder than normal, as measured by gas-customer weighted heating degree days (HDDs) (See Temperature Maps). At the same time, temperatures for the week ended December 15 were almost 30 percent colder than last year during the same week. West North Central was the only census division that experienced warmer-than-normal temperatures, as the recorded HDDs were about 7 percent lower than normal. The rest of the census divisions east of the Rockies were between 13 and 29 percent colder than normal.
<![if !vml]>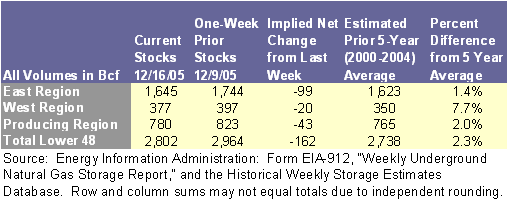 <![endif]>
Other Market Trends:
EIA Publishes the Natural Gas Annual 2004: The Energy Information Administration (EIA) published its Natural Gas Annual 2004 (NGA2004) on December 19, 2004, which provides comprehensive information on the supply and disposition of natural gas in the United States. According to the NGA2004, the national average natural gas wellhead price in 2004 was $5.46 per thousand cubic feet (Mcf), which is the highest annual wellhead price (based on 2004 constant dollars) in EIA's historical data series. Recorded U.S. marketed production was 19.7 trillion cubic feet (Tcf) compared with 20.0 Tcf the previous year. Marketed production in 2004 was reduced by shut-ins resulting from Hurricane Ivan and an adjustment to Texas production estimates. Recent EIA analysis indicates that prior EIA and Texas State data likely overstated natural gas production by about 5 percent in Texas. (A complete discussion of the issue and changes to the data is available in the report, Adjusted Estimates of Texas Natural Gas Production.) Total natural gas imports climbed more than 9 percent in 2004 as receipts of both liquefied natural gas (LNG) and pipeline imports from Canada rose, resulting in the first increase in natural gas net imports since 2001. Despite high prices and tight natural gas supplies, natural gas consumption increased by 0.9 percent in 2004. The rising wellhead cost of natural gas appeared to have a substantial impact on prices for natural gas to all sectors. Storage entering the heating season of 2004-2005 reached its highest level in 13 years. The NGA2004 also includes data for production, transmission, storage, deliveries and price by State for 2004, as well as summary statistics for each State for 2000 through 2004.
Natural Gas Liquefaction Capacity in the Atlantic Basin Expands in 2005: Several liquefied natural gas (LNG) export projects in the Atlantic Basin have been completed in 2005. These changes result in a large increase in LNG supplies potentially available to the United States, however the United States must compete for these supplies with other markets. In the Atlantic Basin (Europe, Africa, and the Western Hemisphere, excluding an export terminal in Alaska on the Pacific Ocean), one additional country, Egypt, began exporting this year after the completion of production units in Damietta and Idku. The projects are a one-train liquefaction facility at Damietta with an annual capacity of 244 Bcf (5.0 million tons) and a two-train project at Idku that with a total annual capacity of 351 Bcf (7.2 million tons). The Atlantic LNG complex in Trinidad and Tobago recently completed construction of a fourth train that could produce an additional 253 Bcf (5.2 million tons) per year. Trinidad and Tobago is the largest-volume supplier of LNG to the United States, delivering 462 Bcf in 2004. Prior to the completion of the fourth train, Trinidad and Tobago's three trains had an annual capacity of 482 Bcf (9.9 million tons). Although Nigeria has not supplied large volumes of LNG to the United States in the past, exports are likely to increase in the near future with the completion of two more trains at Nigeria's Bonny Island LNG plants. Capacity at the Bonny Island plant is currently 463 Bcf (9.5 million tons). The two additional trains, scheduled to begin commercial shipments early 2006, will increase capacity by 400 Bcf per year (8.2 million tons per year). In 2006, Norway's Statoil, which is relatively new to LNG markets, will begin exporting LNG from a liquefaction terminal now being built on Melk°ye Island in the Norwegian Sea. The plant is expected to have a capacity of 200 Bcf per year (4.1 million tons per year). Exports from these new plants are expected to be delivered to markets in Spain, France, and the United States.
Summary:
Spot prices decreased significantly on the week at almost all market locations as warmer temperatures moved into much of the country. The Henry Hub price declined $1.25 per MMBtu, while prices in the West generally showed steeper declines. While prices for futures contracts for this heating season decreased, prices for contracts beyond April 2006 rose slightly. Working gas in underground storage as of December 16 was 2,802 Bcf, which is 2.3 percent above the 5-year average.