Overview: Thursday, December 1, 2005 (next release 2:00 p.m. on December 8)
Colder-than-normal temperatures contributed to widespread price increases in natural gas spot markets since Wednesday, November 23 as heating demand increased. For the week (Wednesday to Wednesday), the spot price at the Henry Hub gained 59 cents per MMBtu, or about 5 percent, to trade at $11.73 per MMBtu yesterday (November 30). Similarly, at the NYMEX, the price for the futures contract for January delivery at the Henry Hub gained 54 cents since last Wednesday to close yesterday at $12.587 per MMBtu. Natural gas in storage as of Friday, November 25, decreased to 3,225 Bcf, which is 6.3 percent above the 5 year average. The spot price for West Texas Intermediate (WTI) crude oil dropped $1.02 per barrel, or about 2 percent, since last Wednesday to trade yesterday at $57.33 per barrel or $9.88 per MMBtu.
<![if !vml]>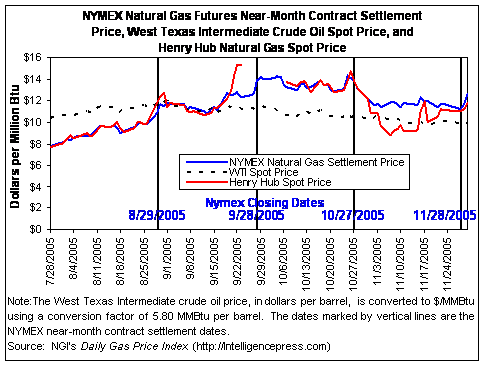 <![endif]>
Although there was no trading on Thursday or Friday of this report week owing to the Thanksgiving holiday, spot markets responded to winter-like weather and cold weather forecasts across much of the country, which spurred heating demand. Increases in natural gas spot prices occurred at all market locations in the Lower 48 States, ranging from around 50 cents per MMBtu to more than $2.50 per MMBtu in some western markets. After large fluctuations the previous week, the Henry Hub spot price remained slightly above $11 per MMBtu this report week before gaining 56 cents in yesterday's trading. The price at the Henry Hub yesterday was $11.73 per MMBtu, which is 59 cents higher than last Wednesday. On a regional basis, markets in the Northeast and Louisiana exhibited the smallest changes, with gains averaging 65 cents and 66 cents per MMBtu, respectively. In the Northeast, this may reflect a small reprieve from normal November temperatures, but prices still remain near or above $12 in all locations. The largest increases this week occurred in West Texas and the western States where colder-than-normal weather during the report week appears to be supporting those price gains. Price gains ranged from 20 percent to almost 40 percent with the Rocky Mountains averaging $9.83 per MMBtu yesterday. California, Arizona, and Nevada averaged $10.36 per MMBtu yesterday, and market locations in West Texas averaged $9.76 per MMBtu.
<![if !vml]>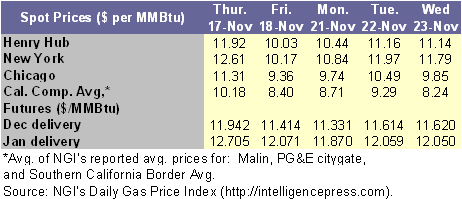 <![endif]>
<![if !vml]>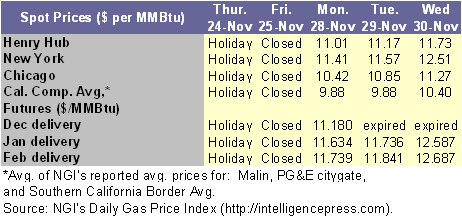 <![endif]>
At the NYMEX, the price of the futures contract for January delivery at the Henry Hub closed yesterday (November 30) at $12.587 per MMBtu, which is 54 cents higher than last Wednesday's daily settlement. However, on Monday, November 28, when the December contract expired, the prices for all contracts for the current heating season (December 2005 to March 2006) decreased to their lowest levels since August 26, which was before the hurricanes hit the Gulf coast. The December 2005 contract expired Monday at $11.18 per MMBtu, which is $1.88 per MMBtu lower than when it became the near-month contract on October 28. Since Monday, the January, February and March contracts have gained around 95 cents each. The 12-month strip, or the average price for contracts over the next year, closed yesterday at $11.07 per MMBtu, an increase of about 29 cents on the week. Looking at the past two weeks, however, the 12 month strip has declined about 24 cents since Wednesday, November 16.
Recent Natural Gas Market Data
Estimated Average Wellhead Prices

May-05

Jun-05

Jul-05

Aug-05

Sept-05

Oct-05

Price ($ per Mcf)

6.02

6.15

6.69

7.68

9.76

10.97

Price ($ per MMBtu)

5.86

5.99

6.51

7.48

9.50

10.68

Note: Prices were converted from $ per Mcf to $ per MMBtu using an average heat content of 1,027 Btu per cubic foot as published in Table A4 of the Annual Energy Review 2002.

Source: Energy Information Administration, Office of Oil and Gas.
Working gas in storage was 3,225 Bcf as of Friday, November 25, which is 6.3 percent above the 5-year average inventory level for the report week, according to EIA's Weekly Natural Gas Storage Report (See Storage Figure). The implied net withdrawal of 49 Bcf was the largest to date this season and 11 percent more than the 5-year average of 44 Bcf for the report week. There was an injection of 7 Bcf for the comparable week last year. Cooler-than-normal temperatures throughout the eastern half of the country contributed to temperature-driven swing demand (See Temperature Maps). Heating degree days (HDDs) were between 7 and 24 percent above normal for all Census regions east of the Mississippi for the week ending November 24, according to the National Weather Service. Additionally, the continuation of some shut-in production from the Gulf of Mexico caused by Hurricanes Katrina and Rita reduced supplies for the week by an estimated 20 Bcf, based on data from the Minerals Management Service. As of November 25, stocks were lower than last year's levels by 75 Bcf but 190 Bcf more than the 5-year average.
<![if !vml]>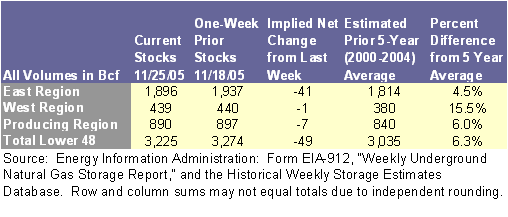 <![endif]>
Other Market Trends:
EIA Updates Its Residential Price Brochure: The Energy information Administration (EIA) has released the 2005 update of the brochure entitled Residential Natural Gas Prices: What Consumers Should Know. This brochure provides basic information to residential consumers concerning natural gas supplies and prices. It explains the factors that influence natural gas prices, summarizes EIA's projections for the coming heating season, and suggests ways for consumers to save on their natural gas bills. EIA projects that the cost of natural gas at the wellhead (commodity cost) will comprise 64 percent of the residential price this winter, as a result of. unusually high prices for the natural gas commodity owing to market conditions that include weak natural gas production response despite increased drilling levels, colder-than-normal weather for a number of consecutive weeks during the previous heating season, decreasing net imports at times, and record high crude oil prices. For the heating season of 2005-2006, EIA estimates that homeowners will pay about $1.55 per therm, or about $15.95 per thousand cubic feet (Mcf), for natural gas. This increased gas price, coupled with an expected increase in consumption of 3 percent, assuming normal weather, would result in an increase of about 48 percent in total expenditure for gas by households. The brochure can be accessed at http://www.eia.doe.gov/oil_gas/natural_gas/analysis_publications/natbro/gasprices.htm.
EIA Releases Adjusted Estimates of Texas Natural Gas Production: The Energy Information Administration (EIA) has revised its preliminary estimates of monthly natural gas production in Texas for 2004 and 2005 to account correctly for carbon dioxide (CO2) production. Prior to 2005, EIA relied exclusively on the voluntary reporting of production data by state and other government agencies to develop its natural gas production estimates. In 2005, however, EIA began collecting data directly from operators on the new EIA-914 production survey. These data as well as the recently updated data collection procedures by the Texas Railroad Commission (TRRC) suggested that the data previously reported to the TRRC and subsequently used by EIA likely overstated gross gas production by including production volumes of non-indigenous CO2 that should have been excluded. The changes to production estimates in Texas, which is the largest producing State, resulted in a revision of the production volumes, indicating that beginning in January 2004 through the first half of 2005, natural gas production was increasing, reversing the apparent trend exhibited in the previous estimates. Further details on the background, adjustments, and results of the new estimates can be found at http://www.eia.doe.gov/pub/oil_gas/natural_gas/feature_articles/2005/adjtxprod/adjtxprod.pdf. The new estimates will be included in the Natural Gas Monthly (NGM) scheduled to be released December 1, 2005.
MMS Issues Proposed Notice of Lease Sale 198: The Minerals Management Service (MMS) announced in the Federal Register on Tuesday, November 22, the availability of Proposed Notice of Lease Sale 196, an offshore oil and gas lease sale in the central Gulf of Mexico. The proposed lease sale, scheduled for March 15, 2006, covers about 21 million acres in the Outer Continental Shelf Planning Area offshore Louisiana, Mississippi, and Alabama. The area encompasses about 4,000 unleased blocks located from 3 to 210 miles offshore and in water depths ranging from 13 to more than 11,000 feet. According to MMS, the lease sale could result in the production of 276 to 654 million barrels of oil and 1.59 to 3.3 trillion cubic feet of natural gas. This lease sale includes new provisions for deepwater royalty relief and shallow-water deep-gas royalty relief that were specified in the Energy Policy Act of 2005, signed into law in August 2005. Another provision proposed in this lease sale is a limitation on the use of the seabed and water column in Mississippi Canyon Block 118 because of an ongoing federally funded University of Mississippi study of gas hydrates.
Summary:
Natural gas spot prices increased at almost all market locations since last Wednesday, November 23, as colder-than-normal temperatures moved through the United States. The December futures contract expired on Monday, November 28, at $11.18 per MMBtu, and the January futures contract price increased 54 cents on the week to settle at $12.587 per MMBtu yesterday. Working gas in storage decreased to 3,225 Bcf as of November 25, with an implied net withdrawal for the week of 49 Bcf.