Overview: Thursday, November 10 (next release 2:00 p.m. on November 17)
Natural gas spot prices decreased at almost all market locations since Wednesday, November 2, as above normal temperatures persisted throughout the country and working gas storage injections continued. For the week (Wednesday to Wednesday), the price at the Henry Hub decreased $1.53 per MMBtu, or about 14 percent, to $9.31 per MMBtu. The NYMEX futures contract for December delivery at the Henry Hub gained about 7 cents since last Wednesday to close yesterday (November 9) at $11.669 per MMBtu. Natural gas in storage as of Friday, November 4, was 3,229 Bcf, which is 4 percent above the 5 year average. The spot price for West Texas Intermediate (WTI) crude oil decreased 10 cents per barrel, or less than 1 percent, since last Wednesday to trade yesterday at $59.65 per barrel or $10.28 per MMBtu.
<![if !vml]>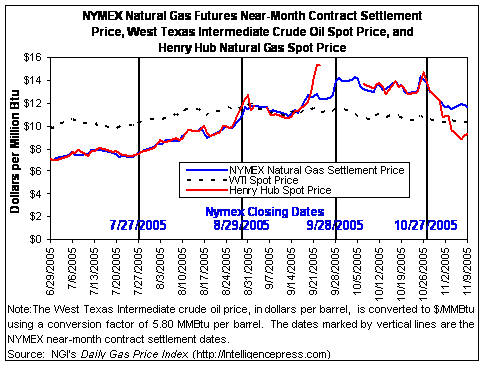 <![endif]>
Above normal temperatures across the country this week likely reduced heating or cooling demand in many key markets, as natural gas spot prices declined at almost all market locations. Also contributing to the lower prices were high-linepack operational flow orders on two California pipelines and ample gas storage levels in many locations, indicating high supplies in local markets. Although spot prices declined between 50 cents and $1.95 per MMBtu at most locations for the week, dramatic decreases were partially offset by rallies in the past two days of trading. Between Monday and Wednesday of this week, spot prices increased $1.07 per MMBtu on average and around $2 in some locations. Starting the report week at $10.84 per MMBtu, the Henry Hub spot price fell to $8.79 per MMBtu on Monday (November 7), which is the lowest price since the beginning of August. The Henry Hub spot price was $9.31 per MMBtu yesterday, a net decrease for the week of $1.53. Other locations in Louisiana, Alabama, and Mississippi saw some of the highest decreases for the country, averaging $1.63 per MMBtu. Prices in the Northeast region, which experienced unusually warm weather for this time of year, averaged $9.61 yesterday, a decrease of $1.51 per MMBtu for the week. Over the past two weeks natural gas spot prices have fallen between 27 and 50 percent as restoration to Gulf of Mexico supplies continues. Still, spot prices remain almost 50 percent higher, on average, than this time last year. Shut-in natural gas production in the Gulf of Mexico was 4.033 Bcf per day as of Wednesday, November 9, which is 1.01 Bcf per day less than on the previous Wednesday. Cumulative shut-in production since August 6, 2005, is 422 Bcf as of November 9, which is equivalent to 9.8 percent of the yearly production of gas in the Federal Gulf of Mexico.
<![if !vml]>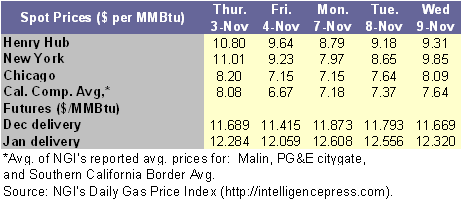 <![endif]>
The price of the NYMEX futures contract for December delivery gained about 7 cents, or less than 1 percent since last Wednesday to settle at $11.669 per MMBtu yesterday. The price of the December contract declined to $11.415 on Friday of this report week, which is the lowest price of this contract since the end of August. The prices for other futures contracts for the current heating season also changed relatively little with increases of about 1 percent, 2 percent and 3 percent, respectively, for the January 2006, February 2006 and March 2006 contracts. The highest price on the NYMEX is currently for the February 2006 contract, which settled yesterday at $12.36 per MMBtu. The heating season futures contracts hold a significant premium to the Henry Hub spot price between $2.36 and $3.05 per MMBtu, which offers economic incentive to inject gas to storage. Prices for contracts beyond the heating season are significantly lower with a 12 month strip of $10.62 per MMBtu, but this price still holds a $1.31 per MMBtu premium to the Henry Hub spot price.
Recent Natural Gas Market Data
Estimated Average Wellhead Prices

Apr-05

May-05

Jun-05

Jul-05

Aug-05

Sept-05

Price ($ per Mcf)

6.44

6.02

6.15

6.69

7.68

9.76

Price ($ per MMBtu)

6.27

5.86

5.99

6.51

7.48

9.50

Note: Prices were converted from $ per Mcf to $ per MMBtu using an average heat content of 1,027 Btu per cubic foot as published in Table A4 of the Annual Energy Review 2002.

Source: Energy Information Administration, Office of Oil and Gas.
Working gas in storage as of November 4 totaled 3,229 Bcf, which is 4 percent above the 5-year average inventory level for the week according to EIA's Weekly Natural Gas Storage Report (See Storage Figure). Working gas in underground storage climbed past the 3,200 Bcf mark for the first time in 2005. The net addition to storage was 61 Bcf, which is more than three times the 5-year average net injection of 17 Bcf and about 72 percent above the net injection of 35 Bcf during the report week last year. This is the third time in the 4 weeks since October 7, 2005, that net injections exceeded last year's levels, following a 15-week period during which they fell below last year's levels 14 times. As of November 4, working gas stocks were 93 Bcf less than the level reported last year at this time. During the report week, temperatures were moderate according to the number of degree days as measured by the National Weather Service (See Temperature Maps). Heating degree days (HDD) were about 15 percent below normal on average in the Lower 48 States for the week ending November 3, with only the South Atlantic and East South Central Census regions registering cooler-than-normal temperatures. Moderate temperatures and reduced industrial demand owing to the elevated level of natural gas prices likely contributed to the increased level of injections for the week. In addition, the 6-month futures strip traded at a significant premium to the Henry Hub spot price throughout most of the report week, providing economic incentives to continue injecting gas into storage.
<![if !vml]>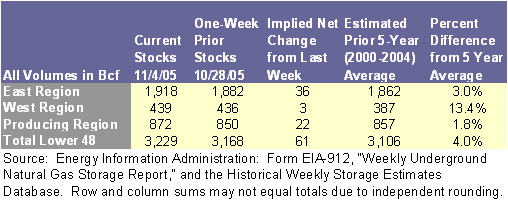 <![endif]>
Other Market Trends:
EIA Releases November 2005 STEO: In its latest Short Term Energy Outlook (STEO), released November 8, the Energy Information Administration (EIA) projected that energy prices will remain high during the remainder of 2005 and through 2006 because of tight international supplies and hurricane-induced supply losses. Natural gas spot prices at the Henry Hub are expected to average $9.15 per Mcf in 2005 and $9 in 2006, or about 2 percent more than projected in last month's STEO as recovery from supply disruptions in the Gulf will take longer than previously estimated. The current projections for winter residential natural gas expenditures reflect slight revisions downward from last month's estimates, however expenditures are still expected to be significantly higher than year-ago levels. On average, households heating primarily with natural gas likely will spend $306 (41 percent) more for fuel this winter than last winter. In response to the higher natural gas prices, total demand is projected to fall by 0.8 percent in 2005 compared with 2004 levels. Assuming a return to normal weather and a recovery in consumption by the industrial sector, demand for natural gas is expected to recover by 2.8 percent in 2006. Residential demand is also projected to decline by about 1 percent in 2005 mostly owing to relatively weak heating-related demand during the latter part of the 2004-2005 winter, while industrial demand is estimated to decline by over 8 percent during the same period owing to the much higher prices for natural gas as a fuel or feedstock. Resulting in large part from the major production disruptions in the Gulf of Mexico, domestic dry natural gas production is expected to decline by 4.2 percent in 2005, while net imports of liquefied natural gas (LNG) are projected to remain at the 2004 level of about 650 Bcf.
DOE Funds Five Methane Hydrate Research Projects: The Department of Energy (DOE) announced $2 million in funding on November 7, 2005, to research the energy potential, safety and environmental aspects of methane hydrate exploration and development. To supplement the DOE funds, university and science institute partners will provide an additional $1.3 million to examine this potentially vast source of hydrocarbon energy. Methane hydrates, which are ice crystals that trap natural gas under pressure and at cold temperatures, form on land in permafrost regions and beneath the ocean floor at water depths greater than 500 meters. The most recent estimates by the U.S. Geological Survey suggest that methane hydrate resources in the United States could total as much as 200,000 trillion cubic feet (Tcf) of natural gas. According to DOE, this resource estimate eclipses the current volume of conventionally recoverable natural gas resources and reserves in the United States, which is about 1,400 Tcf. Five projects have been selected to receive funding: (1) Battelle Memorial Institute will study aspects of the commercial production of gas hydrates; (2) Stanford University will use seismic data to better identify and quantify methane hydrate resources; (3) Texas A&M University will examine the stability of hydrate-bearing sediments; (4) The University of Texas in Austin will aim to detect and characterize hydrate bearing sediments in the deep oceans; and (5) Woods Hole Oceanographic Institution will study whether methane releases from hydrates affect the Earth's climate. All project durations range from 24 to 36 months.
Summary:
Natural gas spot prices decreased at almost all market locations since last Wednesday, November 2, as warmer-than-normal temperatures move through the United States. The December futures contract settled at an average of $11.669 per MMBtu yesterday, which is 7 cents or less than 1 percent lower than last week. Working gas in storage increased to 3,229 Bcf with an implied net injection of 61 Bcf.