Overview: Thursday, September 29 (next release 2:00 p.m. on October 6)
Natural gas spot prices declined this week as Hurricane Rita came ashore a weaker hurricane than expected, even while causing massive evacuations of rigs and platforms in the Gulf of Mexico and inflicting damage to both offshore and onshore energy-related infrastructure. While no price quotes are available at the Henry Hub, which was shut down owing to Hurricane Rita, trading at other market locations in Louisiana saw an average decrease of $1.35 per MMBtu on the week (Wednesday-Wednesday, September 21-28). The average price among Louisiana trading locations yesterday (September 28) was $13.45 per MMBtu. At the New York Mercantile Exchange (NYMEX), the futures contract for October delivery settled at $13.907 per MMBtu in its final day of trading yesterday, increasing about $1.31 per MMBtu or more than 10 percent since the previous Wednesday. Natural gas in storage was 2,885 Bcf as of September 23, which is 2.4 percent above the 5-year average. The spot price for West Texas Intermediate (WTI) crude oil decreased $0.60 per barrel, or less than 1 percent, on the week to $66.36 per barrel, or $11.44 per MMBtu.
<![if !vml]>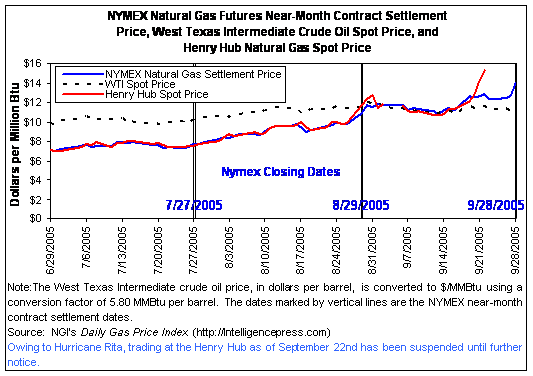 <![endif]>
For the week covered by this report (September 21-28), prices have declined largely owing to Hurricane Rita weakening as it reached major gas supply areas in the Gulf of Mexico. Nonetheless, the combination of Hurricanes Katrina and Rita has disrupted natural gas supplies and continued to prop up prices at near-record highs around the nation. According to the Minerals Management Service (MMS), as of yesterday, September 28, over 8 Bcf of natural gas production was still shut in the Federal waters of the Gulf of Mexico and the cumulative natural gas production shut-ins since August 26 were 181 Bcf. The Henry Hub is not operating (see below), but large price decreases prevailed in other Louisiana spot markets and East Texas. The average price in the two trading regions yesterday was $12.60 per MMBtu, a decline of $1.67 on the week. Prices also declined in major consuming regions in the Northeast and Midwest. Prices in the Northeast fell an average of $1.71 per MMBtu. The price for gas off Transcontinental Gas Pipe Line into New York City decreased $1.83 per MMBtu to $14.26. Prices decreased significantly in the Rockies and the West Coast as well, albeit slightly less so than in the East. The price at the Southern California border decreased $0.88 per MMBtu, or 8 percent, to $10.23. Trading locations in the Rockies registered an average decrease of $0.90 per MMBtu to trade at an average of $9.80.
<![if !vml]>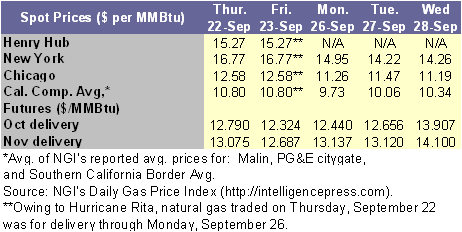 <![endif]>
The price of the NYMEX futures contract for October delivery gained over $1.25 per MMBtu on its final day of trading yesterday, to a monthly expiration price of $13.907. The monthly settlement was a record-high final settlement price for a near-month contract and is $3.06 per MMBtu higher than the September 2005 settlement, which in turn was $3.20 higher than the August contract price. On the week, the NYMEX contract for October delivery gained a little over $1.31 per MMBtu, while the average price for a contract for this winter heating season (November 2005 through March 2006) rose $1.07. The NYMEX contract for January 2006 yesterday closed at $14.875 per MMBtu, which is the highest price of any futures contract listed on the NYMEX and about $1.43 more than the current average cash price of $13.45 at trading locations in Louisiana. Since the previous Wednesday (September 21), the 12-month strip, which is the average of futures prices for the coming year, increased 91 cents per MMBtu to about $12.70.
Recent Natural Gas Market Data
Estimated Average Wellhead Prices

Mar-05

Apr-05

May-05

Jun-05

Jul-05

Aug-05

Price ($ per Mcf)

5.98

6.44

6.02

6.15

6.69

7.68

Price ($ per MMBtu)

5.82

6.27

5.86

5.99

6.51

7.48

Note: Prices were converted from $ per Mcf to $ per MMBtu using an average heat content of 1,027 Btu per cubic foot as published in Table A4 of the Annual Energy Review 2002.

Source: Energy Information Administration, Office of Oil and Gas.
Working gas in storage was 2,885 Bcf as of Friday, September 23, 2005, according to the EIA Weekly Natural Gas Storage Report. This level is 68 Bcf, or 2.4 percent, higher than the 5-year average for the report week (See Storage Figure). The implied net injection during the report week was 53 Bcf, which is about 32 percent below the 5-year average net addition of 78 Bcf for the week and 23 percent less than the injection of 69 Bcf reported for the same week last year. Net additions in the East region were almost 90 percent of the total for the week, however they were 1 Bcf lower than last year's additions and 5 Bcf less than the regional 5-year average for the week. During the report week, temperatures were considerably warmer than normal on average according to the National Weather Service (See Temperature Maps). The temperatures across the Lower 48 States for the week ended September 23 were about 3 degrees warmer than normal. All Census regions east of the Rocky Mountains region experienced warmer-than-normal temperatures. The production shut-ins owing to Hurricane Katrina and Rita were likely a key factor that contributed to the below average level of net additions to natural gas storage. As of Friday, September 23, the cumulative natural gas shut-ins since August 26 reached 140.5 Bcf.
<![if !vml]>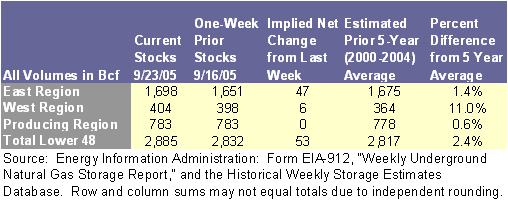 <![endif]>
Other Market Trends:
Impacts of Hurricane Rita on U.S. Energy Markets: The industry continues to assess the damage to oil and natural gas infrastructure as a result of Hurricane Rita. As of Wednesday, September 28, the Minerals Management Service reported that shut-in natural gas production increased on Wednesday to 8.027 billion cubic feet, which represents 77.2 percent of daily natural gas production in the Federal Gulf of Mexico. Additionally, over 1.5 million barrels of oil per day remained shut-in, which is 96.8 percent of the daily production in the Federal Gulf of Mexico. The Henry Hub, a key trading location and the delivery point for NYMEX natural gas futures contracts, has been under Force Majeure since Thursday, September 23. Reports by the operator, Sabine Pipeline, indicate water damage at the Henry Hub in addition to power outages. According to the Energy Information Administration's daily update on hurricane impacts, several oil and natural gas companies in the Gulf of Mexico are reporting varying levels of damage. For example, Texas Eastern announced that the company will have restored mainline capacity to pre-Katrina levels effective Wednesday, September 28, but is still operating without standard power. The Trunkline LNG facility, which suspended ship operations on September 22, will remain shut down pending further inspection. Tennessee Gas Pipeline has sustained supply losses of approximately 900,000 MMBtu per day owing to Hurricane Rita. Additional details on the impact of Hurricane Katrina on energy markets are provided in special EIA reports available at http://tonto.eia.doe.gov/oog/special/eia1_katrina.html.
Summary:
Spot prices declined $1 per MMBtu or more at trading locations outside of the West Coast as Hurricane Rita proved to be not as strong as anticipated at this time last week. Still, natural gas supplies have been disrupted and spot prices remain near record highs. The NYMEX futures contract for October finished trading as the near-month contract at a record high of $13.907 per MMBtu, and futures prices for delivery in the coming heating season increased significantly and carry a notable premium over current cash prices. As of September 23, natural gas in storage totaled 2,885 Bcf, or 2.4 percent above the 5-year average.