Overview:  Thursday, July 7 (next release 2:00 p.m. on July 14)
Natural gas spot prices increased sharply this week (Wednesday-Wednesday, June 29-July 6), as two tropical storms have disrupted production in the Gulf of Mexico and power generation demand to meet air-conditioning load has remained strong. For the week, the price at the Henry Hub increased $0.61 per MMBtu to $7.68. At the New York Mercantile Exchange (NYMEX), the price of the futures contract for August delivery at the Henry Hub moved approximately 60 cents per MMBtu higher to settle yesterday (Wednesday, July 6) at $7.688. Natural gas in storage was 2,186 Bcf as of Friday, July 1, which is 12.4 percent above the 5-year average inventory for the report week. The spot price for West Texas Intermediate (WTI) crude oil increased $4.01 per barrel or about 7 percent since last Wednesday to trade yesterday at an all-time high of $61.24 per barrel or $10.56 per MMBtu.  
<![if !vml]>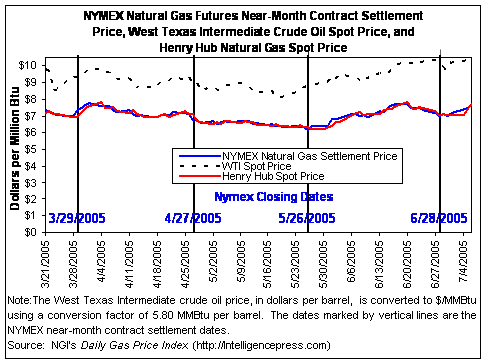 <![endif]>
Spot prices reached their low for the week on Friday, July 1, amid market expectations of moderate weather and lessened industrial demand owing to the holiday weekend. However, this was followed by rebounds in prices on Tuesday, July 5, in part owing to concerns that two tropical storms were headed for the Gulf of Mexico. In each of the two days of trading since the weekend, the Henry Hub price registered increases of 30 cents or more for a net increase since last Wednesday of 61 cents per MMBtu, or 9 percent. Tropical Storm Cindy has passed with a limited disruption of production.  About 1.2 Bcf in total was taken off-line over the past two days according to Minerals Management Service. However, there is still considerable uncertainty regarding Hurricane Dennis's path. The National Hurricane Center has upgraded Dennis to a Category 2 hurricane and projected the storm's landfall near Mississippi either late Sunday or early Monday. Hotter temperatures and associated increased demand for gas-fired electric power resulted in this week's highest price increases in the West. On the week, the price at the Southern California border increased 92 cents per MMBtu, or 15 percent, to $6.92. In contrast to high temperatures in the West during the week ending Wednesday, July 6, more moderate temperatures reigned in the Northeast, resulting in lesser net price increases this past week in a range of 32 to 54 cents per MMBtu.
<![if !vml]>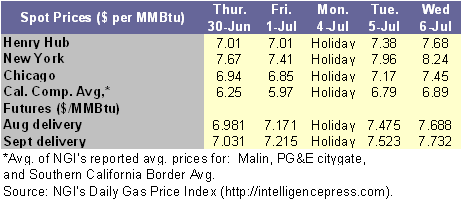 <![endif]>
The price of the NYMEX futures contract for August delivery gained $0.601 per MMBtu on the week to settle at $7.688 yesterday (July 6). Similar to spot prices, the price of futures contracts moved up this week as Tropical Storm Cindy and Hurricane Dennis caused disruptions to Gulf production. Higher prices for crude oil and petroleum products that serve as alternatives to natural gas also likely influenced natural gas futures prices. Yesterday, as the price of crude oil rose $1.53 per barrel to an all-time high of $61.24, the price of the near-month natural gas contract increased $0.213 per MMBtu to $7.688. The NYMEX contract for February 2006 closed yesterday at $9.214 per MMBtu, which is the highest price of any futures contract listed on the NYMEX and a record high for the February 2006 contract. Contracts for the next heating season (November 2005 through March 2006) increased an average of nearly 53 cents per MMBtu to settle at an average of approximately $8.94 yesterday, which holds a $1.26 premium to the Henry Hub spot price.  Since the previous Wednesday (June 29), the 12-month strip, which is the average of futures prices for the coming year, increased 50 cents per MMBtu to $8.31.
Recent Natural Gas Market Data
Estimated Average Wellhead Prices

Dec-04

Jan-05

Feb-05

Mar-05

Apr-05

May-05

Price ($ per Mcf)

6.25

5.52

5.59

5.98

6.44

6.02

Price ($ per MMBtu)

6.08

5.37

5.44

5.82

6.27

5.86

Note: Prices were converted from $ per Mcf to $ per MMBtu using an average heat content of 1,027 Btu per cubic foot as published in Table A4 of the Annual Energy Review 2002.

Source:  Energy Information Administration, Office of Oil and Gas.
Working gas in underground storage was 2,186 Bcf as of July 1, which is 12.4 percent above the 5-year average inventory level for the report week, according to EIA's Weekly Natural Gas Storage Report. (See Storage Figure) The implied net injection of 63 Bcf for the report week was 32 percent lower than the 5-year average net addition of 93 Bcf. Estimated inventories were 242 Bcf above the 5-year average of 1,944 Bcf and 155 Bcf higher than last year's stock level of 2,031 Bcf. The relatively low injection occurred during a week in which warmer-than-normal temperatures likely increased space cooling demand across much of Lower 48 States. Key gas-consuming markets throughout the Northeast and in the East South Central and West South Central Census regions experienced temperatures that were considerably higher than normal. Only the Pacific Census region had lower-than-normal temperatures for the week ending Thursday, June 30.  The weather for the country as a whole, as measured by cooling degree days (CDDs), was about 31 percent warmer than normal for the week, according to the National Weather Service. (See Temperature Maps)
<![if !vml]>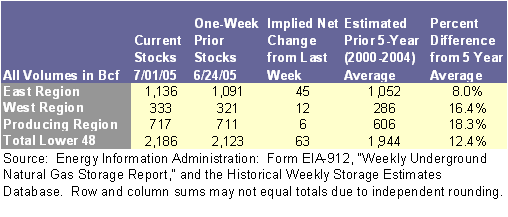 <![endif]>
Other Market Trends:
FERC Approves New LNG Terminals:  In its June 30, 2005, meeting, the Federal Energy Regulatory Commission (FERC) approved two new liquefied natural gas (LNG) terminals in response to growing domestic demand that increasingly relies on natural gas imports. FERC considered three proposed LNG terminals, one of which would be located on the Gulf Coast and two in the Northeast. The project proposed by Weaver's Cove Energy and Mill River Pipeline to be constructed in Fall River, Massachusetts, and the ExxonMobil's Golden Pass LNG terminal to be located in Jefferson County, Texas, received FERC's approval, and are planned to provide 2.8 Bcf per day of additional LNG import capacity. FERC denied the application by KeySpan LNG and Algonquin Gas Transmission for a planned conversion of an existing LNG storage terminal located in Providence, Rhode Island, to an import terminal because the facility would not meet current Federal construction and safety standards. The Weaver's Cove LNG project will have a peak sendout capacity of 800 MMcf per day, while the ExxonMobil's Golden Pass LNG project will provide 2 Bcf per day of peak sendout capacity. ExxonMobil has a 25-year gas supply agreement with Qatar Petroleum that will begin once the terminal is in service in late 2008 or early 2009.
Natural Gas Rig Counts: The number of rigs drilling for natural gas totaled 1,211 for the week ending July 1, according to Baker-Hughes Incorporated. Gas rigs drilling have exceeded 1,200 in four of the past five weeks, averaging 1,208 during that time period. The number of natural gas rigs is about 18 percent greater than last year at this time, and about 23 percent higher than the 5-year average for the report week. So far this year, the natural gas rigs drilling have exceeded the number of rigs drilling during the same period in 2003 and 2004. The natural gas share of total rigs drilling exceeded 88 percent for the report week.  This share has remained consistently above 86 percent since mid March. The emphasis on gas drilling reflects a relative advantage in the projected resources of natural gas compared with domestic crude oil prospects.
Summary:
Natural gas prices this week increased up to 92 cents per MMBtu with the appearance of two tropical storms and as temperatures of more than 100 degrees covered the Southwest. Natural gas in storage increased to 2,186 Bcf as of July 1, leaving inventories more than 12.4 percent above the 5-year average.