Overview:  Thursday, June 2 (next release on June 9)
Natural gas spot prices fell at virtually all market locations in the Lower 48 States during the holiday-shortened trading week (Wednesday to Wednesday, May 25-June 1), while futures prices increased. The spot price at the Henry Hub, however, rose by 3 cents per MMBtu on the week, or nearly 0.5 percent, to $6.36 per MMBtu.  On the New York Mercantile Exchange (NYMEX), the June contract expired at $6.123 per MMBtu on May 26 after declining 19 cents in its final day of trading. The settlement price for the futures contract for July delivery at the Henry Hub increased by 42 cents on the week, settling yesterday (June 1) at $6.789 per MMBtu.  EIA reported that inventories of working gas in underground storage were 1,778 Bcf as of Friday, May 27, which is 20.6 percent higher than the 5-year average.  The spot price for West Texas Intermediate (WTI) crude oil gained $4.03 per barrel, or 8 percent, since last Wednesday (May 25), ending trading yesterday at $54.40 per barrel ($9.38 per MMBtu), which is the highest spot price since the April 6, 2005, price of $55.88 per barrel. 
<![if !vml]>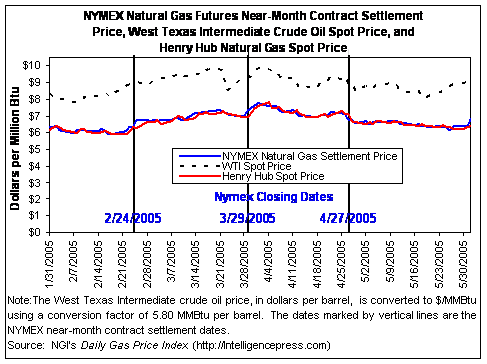 <![endif]>
Spot prices at virtually all market locations in the Lower 48 States decreased on the week by up to 41 cents per MMBtu. The Henry Hub was one of just four markets where reported spot prices increased. The widespread price increases of mostly a dime or less in the past day of trading were not enough to offset the price declines of last Thursday and Friday (May 26-27).  Prices declined on Thursday and Friday owing to anticipated soft industrial load over the Memorial Day holiday weekend, mild weather trends, and a second straight above-average net injection into underground storage. The average spot price in the West Texas region declined by 23 cents to $5.60 per MMBtu, while the decline in the Midcontinent and the Rocky Mountains regions was lower, at an average of 14 cents, to $5.76 and $5.39 per MMBtu, respectively.  The return of industrial demand to more normal levels after the holiday weekend put upward pressure on prices on Tuesday (May 31), leading to an increase of as much as 29 cents in the Rockies and 23 cents in California, with the increases spreading into upstream market locations in East and West Texas as well. 
<![if !vml]>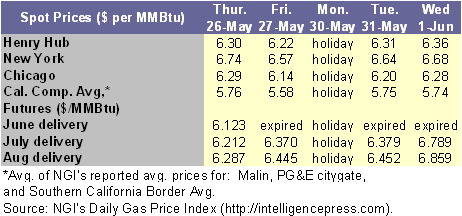 <![endif]>
At the NYMEX, the futures contract for June delivery expired on Thursday, May 26, at $6.123 per MMBtu, which is the lowest expiration price for a near-month contract since September 28, 2004, when the October 2004 contract expired at $5.723 per MMBtu. The June contract's expiration price is about 9 percent lower than its settlement price of $6.748 at the beginning of its tenure as the near-month contract on April 28, and about 7 percent lower than the expiration price of the June 2004 contract ($6.573). The July 2005 contract opened at $6.370 per MMBtu as the near-month contract on May 27, and the price increased by less than 1 cent during the next trading session (May 31). However, yesterday (June 1), following the increase in the crude oil prices, the near-month contract gained 41 cents, or 6.4 percent, settling at $6.789 per MMBtu, the highest settlement price for a near-month contract in more than a month. Overall, the July 2005 futures contract gained 42 cents on the week. The price of contracts for delivery during the next heating season increased by an average of 39 cents on the week, or 5 percent, settling at an average price of $8.05 per MMBtu. The November 2005 – March 2006 contracts are trading at an average premium of almost $1.70 per MMBtu to yesterday's Henry Hub spot price, providing an economic incentive for industry to store natural gas for the upcoming heating season.
Recent Natural Gas Market Data
Estimated Average Wellhead Prices

Dec-04

Jan-05

Feb-05

Mar-05

Apr-05

May-05

Price ($ per Mcf)

6.25

5.52

5.59

5.98

6.44

6.02

Price ($ per MMBtu)

6.08

5.37

5.44

5.82

6.27

5.86

Note: Prices were converted from $ per Mcf to $ per MMBtu using an average heat content of 1,027 Btu per cubic foot as published in Table A4 of the Annual Energy Review 2002.

Source:  Energy Information Administration, Office of Oil and Gas.
Working gas inventories were 1,778 Bcf as of Friday, May 27, with implied net injections of 86 Bcf, according to EIA's Weekly Natural Gas Storage Report (See Storage Figure).  This leaves storage levels 20.6 percent above the 5-year average for this week and 14.6 percent above last year's level of 1,552 Bcf.  The net injection slightly exceeds the 5-year average of 85 Bcf for this week and marks the third week in a row that injections exceeded the 5-year average.  Since the beginning of the refill season (April through October 2005), net additions to storage have exceeded the 5-year average in 7 out of 9 weeks, and the storage surplus relative to the 5-year average has increased 77 Bcf to 304 Bcf.  Overall, moderate temperatures prevailed in the Lower 48 States during the week ended May 27, contributing to the continued pace of above-average net additions to storage (See Temperature Maps).  However, cooler-than-normal temperatures in the Northeast and warmer-than normal temperatures in the Southwest likely increased demand for natural gas in those regions reducing net additions to storage somewhat.
<![if !vml]>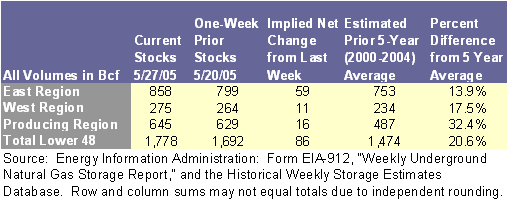 <![endif]>
Other Market Trends:
EIA Reports on Financial Performance of Major Energy Companies:  On Tuesday, May 31, the Energy Information Administration (EIA) issued its quarterly "Financial News for Major Energy Companies" that describes the financial results of 25 major energy companies for January to March 2005.  According to the report, these companies reported an overall net income in this year's first quarter of $20.4 billion, which is 44 percent higher than in the first quarter of 2004.  Broken down by worldwide lines of business, petroleum operations increased net income by 30 percent between first quarter 2004 and first quarter 2005.  This jump consists of a 27 percent increase in income from oil and natural gas production and a 40 percent increase in income from refining and marketing.  EIA also reported a 70 percent rise in income from downstream natural gas and power operations and a 202 percent rise for chemical operations.  These upward trends in income occurred despite decreases in foreign and domestic production of both oil and natural gas.  Oil production is down 3 percent domestically and 1.4 percent abroad.  Natural gas has seen decreases in production of 2.5 percent domestically and 3 percent abroad.  The EIA report states that between the first quarter of 2004 and the first quarter of 2005, the average U.S. natural gas wellhead price increased from $5.22 per thousand cubic feet to $5.70 per thousand cubic feet, or 9 percent.  Potentially abating even higher prices was an 8 percent increase in net imports of natural gas.
Minerals Management Service Announces Results of Lease Sale 197: The Department of the Interior's Minerals Management Service (MMS) recently announced the outcome of Lease Sale 197 for tracts in the Gulf of Mexico that resulted in the award of 10 leases and receipt of $6,595,753.  The lease sale was held on March 16, 2005, and encompassed unleased blocks in a section of the Eastern Gulf of Mexico Outer Continental Shelf Planning Area, directly south of Alabama. Nine companies submitted bids on 12 of the 124 unleased blocks that covered about 714,240 acres. The offered tracts are located from 100 to 196 miles offshore in water depths of 1,600 meters (5,249 feet) to more than 3,425 meters (approximately 11,237 feet). One of the companies declined two of its awarded leases, which resulted in the forfeiture of the 1/5th bonus bid deposit for each lease – about $49,651 and $45,043.  Estimates of undiscovered economically recoverable hydrocarbons in this lease area range from 65 to 85 million barrels of oil, and 2.65 to 3.4 trillion cubic feet of natural gas.
Summary:
Natural gas spot prices decreased by as much as 7 percent at virtually all market locations as the expected ease on the industrial load over the holiday weekend and mild weather contributed to widespread declines on the spot market. Natural gas futures prices during the past week, however, influenced by higher crude oil and petroleum products futures prices, showed an average increase of more than 5 percent through June 2006. Although the June contract expired at a relatively low price of $6.123 on May 26, the July contract price increased during the past three trading sessions to settle 42 cents, or almost 7 percent, above the prior week's level. Natural gas in storage increased to 1,778 Bcf as of May 27, leaving inventories 20.6 percent above the 5-year average.