Overview:  Thursday, May 12 (next release 2:00 p.m. on May 19)
Spot and futures natural gas prices this week (Wednesday-Wednesday, May 4-11) partly recovered from the prior week's sharp decline, owing to warmer temperatures moving into parts of the South and cool temperatures in the Rockies. The Henry Hub spot price increased 14 cents per MMBtu to $6.63. The New York Mercantile Exchange (NYMEX) futures contract for June delivery at the Henry Hub was higher on the week by about 5 cents per MMBtu, closing yesterday (May 11) at $6.683. Natural gas in storage as of Friday, May 6, increased to 1,509 Bcf, which is 22.3 percent above the 5-year average. Before declining sharply yesterday, crude oil spot prices appeared to be supporting higher natural gas prices, with the West Texas Intermediate (WTI) price increasing more than $1.50 per barrel since Wednesday (May 4) to over $52. The net change in the WTI price on the week was 17 cents per MMBtu, or less than 1 percent, as the price dropped $1.37 per barrel yesterday to $50.39 per barrel, or $8.69 per MMBtu.
<![if !vml]>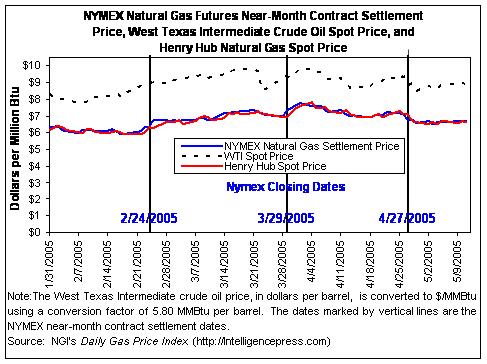 <![endif]>
Natural gas spot prices at trading locations in the Lower 48 States increased 2 to 23 cents per MMBtu this week, reversing in part last week's steep price decreases across the country. The Henry Hub spot price increased in three of the five days of trading to end the week at $6.63 per MMBtu, or 14 cents higher than last Wednesday (May 4). However, the Henry Hub price remains about 9 percent below its late April high of $7.27 per MMBtu. Weather in the South turned summer-like as temperatures in some areas climbed into the 90s, boosting prices at trading locations in East Texas an average of 19 cents per MMBtu. Meanwhile, cooler-than-normal weather in the Rockies and upper Plains may have spurred late-season heating demand. The spot price at the Cheyenne Hub in Wyoming increased 20 cents per MMBtu to $6.16. Prices at trading locations in the Northeast exhibited a seasonal difference to Gulf region prices of about 50 cents per MMBtu, reflecting transportation costs between regions. The spot price at the New York Transcontinental Gas Pipe Line Zone 6 increased 13 cents per MMBtu to $7.13.
<![if !vml]>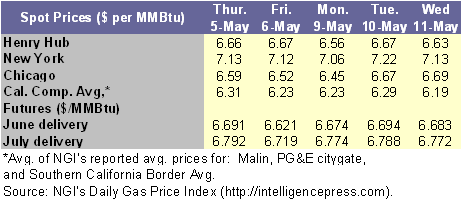 <![endif]>
At the NYMEX, the price of the futures contract for June delivery at the Henry Hub closed at $6.683 per MMBtu, a moderate increase of 5.3 cents on the week. Price movements during the week were relatively limited with the June contract's daily settlement price never falling below or reaching above the $6.60s each day. The basis differential between the Henry Hub spot price and the price of the futures contract for delivery in January 2006 at the end of trading yesterday was $1.45 per MMBtu. As a result, the basis continues to provide suppliers a strong economic incentive to inject gas into storage in preparation for heating demand next winter. The 12-month strip, or the average price for contracts over the next year (i.e., June 2004 – May 2005), closed yesterday at $7.25, a gain of 2.5 cents per MMBtu on the week. 
Recent Natural Gas Market Data
Estimated Average Wellhead Prices

Nov-04

Dec-04

Jan-05

Feb-05

Mar-05

Apr-05

Price ($ per Mcf)

6.07

6.25

5.52

5.59

5.98

6.44

Price ($ per MMBtu)

5.91

6.08

5.37

5.44

5.82

6.27

Note: Prices were converted from $ per Mcf to $ per MMBtu using an average heat content of 1,027 Btu per cubic foot as published in Table A4 of the Annual Energy Review 2002.

Source:  Energy Information Administration, Office of Oil and Gas.
Working gas in storage was 1,509 Bcf as of Friday, May 6, 2005, according to the EIA Weekly Natural Gas Storage Report. (See Storage Figure) The implied net injection during the week was 54 Bcf, or 25 percent less than the previous 5-year average injection of 72 Bcf. Despite the relatively low net injection, stocks remain 22.3 percent above the 5-year average and 217 Bcf above the year-ago level. Cooler-than-normal temperatures across much of the Lower 48 States likely contributed to the relatively low net injection of natural gas into storage. According to the latest data from the National Weather Service, gas-customer weighted heating degree days (HDD), especially in major gas-consuming regions, were higher than normal for the week ending May 5. Out of the nine National Weather Service Census regions, only the Pacific region recorded temperatures that were warmer than normal. The weather for the week ended May 5, 2005 also was significantly colder than last year at the same time, which had been warmer than normal. (See HDD table)
<![if !vml]>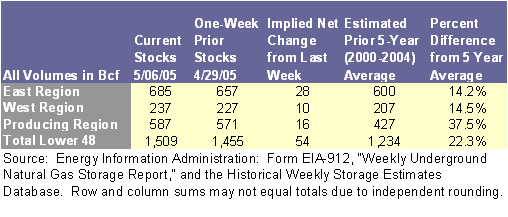 <![endif]>
Other Market Trends:
EIA Releases Short-Term Energy Outlook for May 2005:The Energy Information Administration (EIA) projected that Henry Hub spot prices will remain between $6.50 and $7.00 per thousand cubic feet (Mcf) through the summer in its

Short-Term Energy Outlook

, released on May 10.

 

The report cites

high world oil prices, continued strength in the economy, lower-than-normal expected

Pacific Northwest hydroelectric resources, and limited prospects for growth in domestic natural gas production as support for the price projections despite storage levels well above the 5-year average. Henry Hub spot prices are expected to average above $7.00 per Mcf for 2005 and 2006, while demand for natural gas is expected to increase by 2.1 percent in 2005 and 2.3 percent in 2006. On the supply side, EIA predicts that production will remain near 2004 levels despite a 13-percent increase in gas-directed drilling.The Short-Term Energy Outlook is a monthly EIA product that presents near-term projections for prices, supply, and demand for natural gas, crude oil, petroleum, electricity, and coal.
Forest Service Issues Final Rule for Roadless Areas within National Forests:  The U.S. Forest Service (USFS) announced on May 5, 2005, a final rule that supersedes a current ban on road building in national forests.  The final rule allows state governors to provide input for the management of all roadless areas within national forests that are included in USFS inventories, roughly 60 million acres of land.  The Clinton Administration issued a previous rule in January 2001, which prohibited all new road building or logging on national forest lands that did not have existing mineral leases.  Without roads, access to this land is severely restricted.  A U.S. District Court struck down this "Roadless Rule" in July 2003 on the grounds that it violated the National Environmental Policy Act and Wilderness Act, and forced the development of a new rule.  According to the USFS, the new version allows governors to petition the Secretary of Agriculture within 18 months of the final rule to develop regulations to manage roadless areas that meet the specific needs within each state.  Once the petition is accepted, the USFS will work with a State to set a state-specific rule on the management requirements for the defined area.  A November 2000 study conducted for the Department of Energy estimated that the affected lands could hold about 11 trillion cubic feet of natural gas.
Natural Gas Rig Count Remains Near Record Levels:  The number of rigs drilling for natural gas was 1,169 for the week ending May 6, 2005, according to Baker-Hughes Incorporated.  This number of rigs drilling for natural gas was up 14 from the previous week's level.  The gas rigs number remains close to the record of 1,175 reached during the week ending April 15, 2005. The average of 1,163 for natural gas rigs drilling for the month of April 2005 exceeded the average number of rigs drilling in April 2004 by 167 rigs or almost 17 percent.  Rigs drilling for natural gas accounted for 88 percent of the total active rigs last week, marking the highest percentage ever for the period in which rigs have been reported by fuel type.
Summary:
Natural gas spot prices at all market locations increased by up to 23 cents per MMBtu, in part owing to higher crude oil prices and relatively hot temperatures in the South. The NYMEX price for June delivery at the Henry Hub climbed about 5 cents per MMBtu to a close of $6.683 on Wednesday, May 11. Natural gas in storage increased to 1,509 Bcf, reflecting a continued sizeable surplus of 275 Bcf to the 5-year average volume. The implied net increase in storage inventories on the week was 54 Bcf.