Overview: Thursday, May 5 (next relea se 2:00 p.m. on May 12)
Since Wednesday, April 27, natural gas spot prices have decreased at all market locations in the Lower 48 States, as springtime temperatures prevailed in most areas. Spot prices at the Henry Hub decreased 62 cents or about 9 percent to $6.49 per MMBtu, while spot price declines were generally greater in West Texas at between 72 and 80 cents per MMBtu. Yesterday (May 4), the price of the NYMEX futures contract for June delivery at the Henry Hub, which became the near-month contract on April 28, settled at $6.630 per MMBtu, declining 17 cents or about 3 percent since last Wednesday. Natural gas in storage was 1,455 Bcf as of April 29, which is 25.2 percent above the 5-year average. The spot price for West Texas Intermediate (WTI) crude oil declined $1.15 per barrel or about 2 percent on the week (Wednesday-Wednesday) to $50.22 per barrel or $8.66 per MMBtu.
<![if !vml]>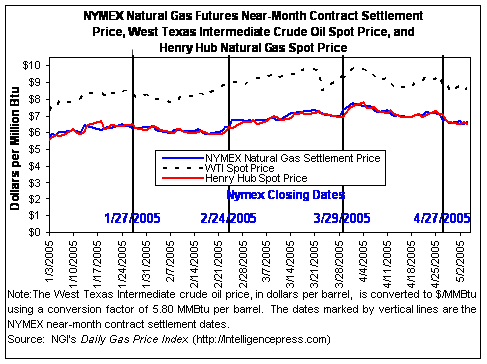 <![endif]>
Moderating temperatures led to price declines of 51 to 80 cents per MMBtu at all market locations in the Lower 48 States since last Wednesday, April 27.The steepest declines occurred in West Texas and Midcontinent markets, where price decreases ranged between 60 and 80 cents per MMBtu. In other market locations, price decreases generally ranged between 51 and 75 cents per MMBtu. In South Texas price declines averaged about 55 cents per MMBtu, while Northeast market locations recorded an average decline of 58 cents per MMBtu on the week. Despite these widespread declines, prices still exceed last year's levels by an average of more than 4 percent.Principal contributing factors sustaining the higher price levels likely include higher oil prices, as the price of crude oil exceeds last year's level by more than 29 percent.
<![if !vml]>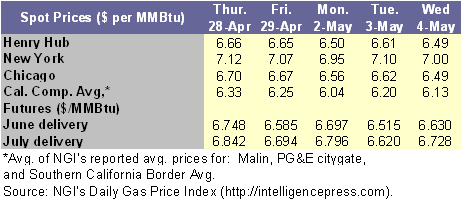 <![endif]>
At the NYMEX, the price of the futures contract for June delivery at the Henry Hub decreased about 17 cents per MMBtu or 3 percent since last Wednesday to $6.630 per MMBtu. The near-month contract declined 18 cents per MMBtu, or about 3 percent, on Wednesday (May 3) to $6.515, ending the day at the lowest price for a near-month contract since February 23, 2005. The decrease in Tuesday's price was due in large part to a decline in crude oil prices, which traded below $50 per barrel on Tuesday, and forecasts of warmer-than-normal temperatures. The June contract price increased by about 12 cents in yesterday's trading. However, this increase was not enough to offset the net decline of 17 cents on the week. The prices of the futures contracts for delivery in each of the following 6 months fell about 12 to 16 cents or 2 percent from last Wednesday's level. The 12-month strip, which is the average price for contracts over the next 12 months, closed yesterday at $7.225, a decline of 13 cents, or about 2 percent on the week.
Recent Natural Gas Market Data
Estimated Average Wellhead Prices

Oct-04

Nov-04

Dec-04

Jan-05

Feb-05

Mar-05

Price ($ per Mcf)

5.45

6.07

6.25

5.52

5.59

5.98

Price ($ per MMBtu)

5.30

5.91

6.08

5.37

5.44

5.82

Note: Prices were converted from $ per Mcf to $ per MMBtu using an average heat content of 1,027 Btu per cubic foot as published in Table A4 of the Annual Energy Review 2002.

Source: Energy Information Administration, Office of Oil and Gas.
Working gas in storage was 1,455 Bcf as of Friday, April 29, 2005, according to the EIA Weekly Natural Gas Storage Report. (See Storage Figure) This is 293 Bcf above the 5-year average for the report week and 238 Bcf more than the level for the same week last year. The implied net injection during the report week was 39 Bcf. This is about 39 percent below the 5-year average net addition of 64 Bcf for the week and contrasts to an injection of 73 Bcf reported for the same week last year. Lingering cool temperatures during the week ended April 28 likely contributed to the lower-than-average rate of injections as temperatures in most of the Lower 48 States were significantly cooler than normal. (See HDD table)
<![if !vml]>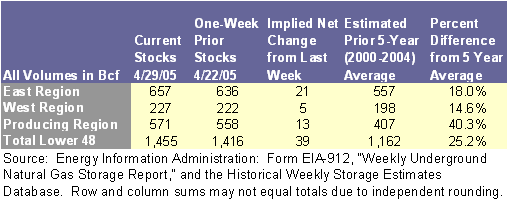 <![endif]>
Other Market Trends:
EIA Announces Format Changes to the Weekly Natural Gas Storage Report: On April 26, 2005, EIA issued a Federal Register notice establishing a new policy allowing for the unscheduled release of revisions to weekly estimates presented in EIA's Weekly Natural Gas Storage Report (WNGSR). This policy becomes effective with the WNGSR released on May 19, 2005, containing data as of May 13, 2005. Changes in the format of the WNGSR will be needed to accommodate possible revisions in the current as well as prior report weeks. A sample of the new WNGSR in the modified format is available for review or testing by electronic data users at http://tonto.eia.doe.gov/oog/info/05052005/ngs.html. Data users employing automated retrieval programs based on the main page contents, which are in HTML format, will need to modify their programs. For ready retrieval and use of the most current estimates, customers may want to rely on the table in CSV format. This product is accessible by clicking on the link labeled "Table in CSV Format," which is located in the upper right-hand corner of the WNGSR.
MMS Reports Expansion of Deepwater Activities: The Minerals Management Service (MMS) on Tuesday released an annual report detailing the activities of the oil and gas industry in the deepwater Gulf of Mexico. "Deepwater Gulf of Mexico 2005: Interim Report of 2004 Highlights" updates an MMS biennial report and describes the growing rates of oil and gas production in water at least 1,000 feet deep over the past 13 years. According to the report, by the end of 2004, production in deepwater grew to 922 barrels of oil per day and 3.9 billion cubic feet of natural gas per day, which represents an increase of 510 percent and 680 percent for oil and gas, respectively. There are about 8,150 active leases on the Gulf of Mexico Outer Continental Shelf, 53 percent of which are in deepwater. This can be compared to 5,600 active leases in 1992, of which only 27 percent were in deepwater. Also, the number of drilling rigs increased from three rigs in 1992 to 29 rigs in 2004. The report also highlights significant accomplishments that occurred in 2004. For example, MMS states that a record 16 exploratory wells were drilled in water depths greater than 7,500 feet in 2004. Also, last year a record four spars (floating production systems consisting of a fixed platform atop a large-diameter vertical cylinder) were installed. In the past six years, there have been 20 industry-announced discoveries in water depths greater than 7,000 feet. Seven of these were in 2004 alone, the most discoveries of this kind in any one year.
DOE Announces New Technologies for Stripper Wells: The Department of Energy's Office of Fossil Energy (FE) has joined the industry in the development of six new technologies that would extend the useful life of the more than 650,000 stripper wells in the United States, which deliver almost 15 percent of domestic oil production and almost 8 percent of domestic natural gas production. The Stripper Well consortium (co-funded by FE) developed the technologies, which generally serve the purposes of increasing production, raising efficiencies or lowering costs. Life-extension technologies reduce plugging and abandonment rates and sustain stripper wells. The six deployment-ready applications are: Gas-Operated Automatic Lift (GOAL) Petropump; Vortex Flow Tools; Hydraulic Diaphragm Electric Submersible Pump; Weatherbee Pump; Chemical Injector for Plunger Lift Gas Wells; and Low-Cost Real-Time Downhole Wireless Gauge. The United States has 393,000 oil stripper wells and 260,000 natural gas stripper wells. Without stripper wells, the United States would have to import an additional 860,000 barrels of oil per day and 1.5 trillion cubic feet of natural gas a year.
Summary:
Moderating temperatures reduced natural gas demand in most parts of the country, contributing to lower spot prices at all market locations in the Lower 48 States. Spot market price declines ranged between 51 and 80 cents per MMBtu. At the NYMEX, the price of the June futures contract decreased about 3 percent from last week's level. Working gas in storage increased to 1,455 Bcf, which is 25.2 percent above the 5-year average. The implied net increase in storage inventories on the week was 39 Bcf.