Overview: Thursday, April 21 (next release 2:00 p.m. on April 28)
Natural gas spot prices exhibited relatively modest changes at all market locations in the Lower 48 States since Wednesday, April 14, 2005. For the week (Wednesday – Wednesday, April 13 to 20), the spot price at the Henry Hub increased 3 cents, less than one-half percent, to $7.10 per MMBtu. The price of the NYMEX futures contract for May delivery settled at $7.057 per MMBtu yesterday (April 20), which is an 8 cent or 1.3 percent increase since last Wednesday. As of Friday, April 15, 2005, natural gas in storage was 1,343 Bcf or 28.4 percent above the 5-year average of 1,046 Bcf. The spot price for West Texas Intermediate (WTI) crude oil was $52.45 per barrel or $9.04 per MMBtu as of yesterday. This is $2.24 per barrel more than the price last week, an increase of about 4 percent.
<![if !vml]>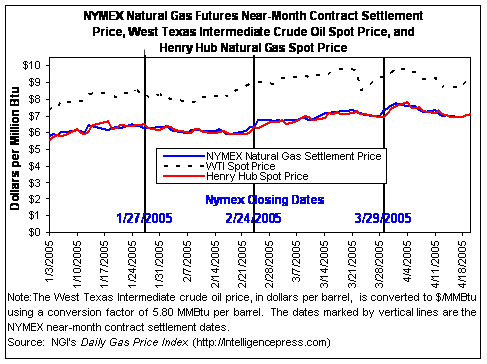 <![endif]>
Most market locations in the Lower 48 experienced relatively small net changes in spot prices for the week, reflecting predominantly moderate temperatures that likely suppressed space heating demand in consuming markets. The Henry Hub spot price increased only 3 cents, or less than one-half percent, to finish the week at $7.10 per MMBtu. Although Henry Hub prices dropped below $7.00 on Friday and Monday, increases on Tuesday and Wednesday managed to limit the net difference for the week. In most producing areas around the Gulf Coast, prices were similarly steady, increasing 10 cents or less at all locations. Of the locations that experienced drops in prices, mainly in the Rocky Mountains, California, and some Northeast markets, the net decreases were no larger than 8 cents. Overall, prices fluctuated less than 2 percent in either direction at all locations in the Lower 48 for the week.
<![if !vml]>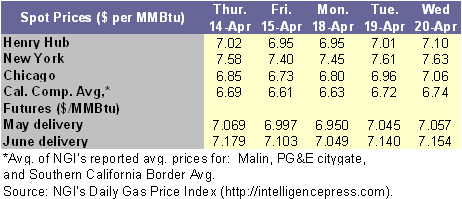 <![endif]>
At the NYMEX, the price of the futures contract for May delivery at the Henry Hub increased 8 cents, or 1.3 percent to $7.057 per MMBtu since last Wednesday, April 13. Similar to the spot price at the Henry Hub, the May futures contract price dropped below the $7.00 mark briefly before increasing during the last two trading sessions for the week. With less than one week until the May 2005 contract expires on April 27, the price is $1.122 above, or 19 percent above, the May 2004 contract price. All futures contracts through the end of the next heating season (March 2006) increased 7 to 10 cents this week, but none of the increases represented more than a 1.5 percent change. For the next year beyond that, net increases were more substantial in the range of 14 to 17 cents per MMBtu, or 2.5 percent higher than last week.
Recent Natural Gas Market Data
Estimated Average Wellhead Prices

Oct-04

Nov-04

Dec-04

Jan-05

Feb-05

Mar-05

Price ($ per Mcf)

5.45

6.07

6.25

5.52

5.59

5.98

Price ($ per MMBtu)

5.30

5.91

6.08

5.37

5.44

5.82

Note: Prices were converted from $ per Mcf to $ per MMBtu using an average heat content of 1,027 Btu per cubic foot as published in Table A4 of the Annual Energy Review 2002.

Source: Energy Information Administration, Office of Oil and Gas.
Working gas in storage was 1,343 Bcf as of Friday, April 15, 2005, according to the EIA Weekly Natural Gas Storage Report. (See Storage Figure) This is 28.4 percent more than the 5-year average for the report week and 270 Bcf, or 25 percent, more than the volume of gas in storage for the same week last year. The implied net injection during the report week was 50 Bcf, which is more than double the 5-year average net addition of 23 Bcf for the week and almost twice the 26 Bcf injection reported for the same week last year. The highest regional volume injected into underground storage facilities occurred in the East Region, where additions totaled 29 Bcf compared with an 8 Bcf injection recorded as both the 5-year average and last year's injection. Net additions in the West and Producing Regions were also higher than the 5-year average and last year's net change, but by a much smaller margin. Warmer-than-normal temperatures during the week ended April 14 likely contributed to the higher-than-average rate of injection as temperatures in the Lower 48 States were more than 18 percent warmer than normal, and about 22 percent warmer than last year. (See HDD table) Despite the relatively high temperatures, it was not warm enough to result in significant cooling-degree-days, which could lead to more gas-fired electric generation.
<![if !vml]>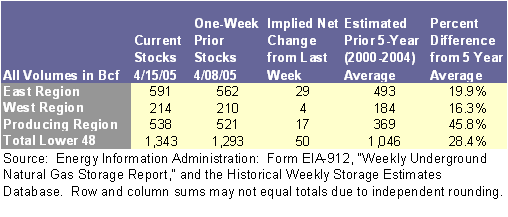 <![endif]>
Other Market Trends:
FERC Approves New Gas Infrastructure in Gulf Coast Region: The Federal Energy Regulatory Commission (FERC) on Wednesday, April 13, approved several new natural gas projects along the Gulf Coast, including the construction of a new marine terminal for liquefied natural gas (LNG) imports. FERC approved Corpus Christi LNG, a terminal proposed by Cheniere Energy to be located at Corpus Christi, Texas, which is the fourth new terminal to be approved by the Commission in recent years. Once constructed, the terminal will be the largest in the United States with the ability to send out 2.6 billion cubic feet (Bcf) of re-vaporized LNG per day. In another LNG-related proceeding, FERC approved an amended proposal by a Sempra Energy affiliate to expand LNG facilities in Hackberry, Louisiana, to receive larger LNG tankers. In separate decisions, FERC also approved three new underground storage facilities. It granted a preliminary determination of approval for Starks Storage Company's proposal to construct and operate a salt dome gas storage facility, with a total estimated capacity of about 28.9 Bcf of gas. It granted approval to Freebird Gas Storage's proposal to operate the existing 6-Bcf East Detroit Storage Facility in Lamar County, Alabama, in interstate commerce. FERC granted a certificate of public convenience and necessity to Caledonia Energy Partners to convert a depleted natural gas reservoir into a multi-cycle gas storage field capable of storing 12 Bcf of working gas in Lowndes and Monroe Counties, Mississippi.
Summary:
Net changes in natural gas spot prices for this week were relatively small, exhibiting less than a 2 percent net difference in either direction in all locations in the Lower 48. The price at the Henry Hub increased 3 cents during the week, trading at $7.10 yesterday. Futures prices increased 8 cents for May 2005 delivery and 7 to 10 cents for the next year. The net change in storage was 50 Bcf, leaving natural gas levels at 1,343 Bcf or 28.4 percent above the 5-year average.