Overview: Thursday, March 31 (next release 2:00 p.m. on April 7)
With the traditional heating season coming to a close, temperatures moderated this week and spot price changes were relatively small at most trading locations. For the week (Wednesday-Wednesday, March 23-30), the spot price at the Henry Hub increased 6 cents per MMBtu, or less than 1 percent to $7.17. In contrast to the mixed price patterns on the spot markets, the prices of futures contracts at the New York Mercantile Exchange (NYMEX) for delivery through next heating season all rose on the week. After rising 32.4 cents per MMBtu on Tuesday, March 29, the day of expiration, the April NYMEX contract's monthly settlement price was $7.323. The futures contract for May delivery at the Henry Hub yesterday (Wednesday, March 30) settled at $7.460 per MMBtu, which is 20.5 cents more than last Wednesday's price. Natural gas in storage decreased to 1,239 Bcf as of March 25, which is 19.9 percent above the 5-year average. The spot price for West Texas Intermediate (WTI) crude oil fell $4.53 per barrel or about 9 percent since last Wednesday to $53.96 per barrel or $9.30 per MMBtu.
<![if !vml]>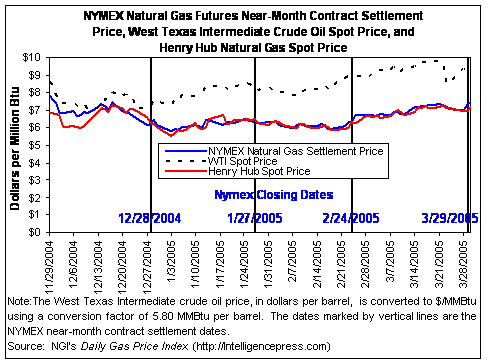 <![endif]>
Price changes in the spot market were mixed on the week as seasonably moderate temperatures likely limited space heating demand in consuming markets, while concerns over long-term gas supply trends continued to provide upward pressure on prices. Price increases were generally less than 15 cents per MMBtu along the Gulf Coast and in West Texas since last Wednesday, March 23. After a 23-cent per MMBtu increase to $7.17 yesterday, the net change in the spot price at the Henry Hub on the week was 6 cents per MMBtu. Price declines of up to 23 cents per MMBtu occurred in the Northeast, where the first week of spring brought warmer temperatures. At the New York citygate off Transcontinental Gas Pipe Line, the spot price decreased 9 cents per MMBtu to $7.65. The basis differential between the Northeast and the Gulf-area producing markets has continued to drop from the relatively high levels observed in the winter closer to shoulder-season norms of about 45-60 cents per MMBtu. Prices also generally declined for the week in the Midcontinent and Rockies producing regions. At Ventura, Iowa, the price for next day delivery off Northern Natural Gas fell 11 cents per MMBtu to $6.75. The price for deliveries at the trading point in Opal, Wyoming, fell 4 cents to $6.55 per MMBtu.
<![if !vml]>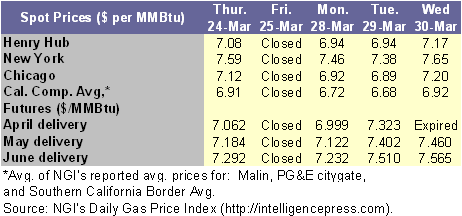 <![endif]>
At the NYMEX, the April contract expired on Tuesday, March 29, at $7.323 per MMBtu, after gaining slightly more than 32 cents in the final day of trading. During its tenure as the near-month contract, the April contract gained nearly 87 cents per MMBtu, or 13 percent, in value. The final April 2005 contract price exceeded the April 2004 contract price by approximately $1.96 per MMBtu, or 36 percent. The May 2005 contract gained 20.5 cents per MMBtu on the week, settling at $7.460 yesterday. The closing price for the new near-month contract was nearly 29 cents per MMBtu higher than the price commanded in the spot market. In fact, futures prices show an increasing trend through the January 2006 contract, the price for which ended trading yesterday at $8.603 per MMBtu. The January 2006 contract as of yesterday was priced $1.43 per MMBtu higher than gas in the current spot market. The 12-month strip, or the average price for contracts over the next year (May 2005 through April 2006), increased 20.0 cents per MMBtu to end the week at approximately $7.93.
Recent Natural Gas Market Data
Estimated Average Wellhead Prices

Sept-04

Oct-04

Nov-04

Dec-04

Jan-05

Feb-05

Price ($ per Mcf)

4.86

5.45

6.07

6.25

5.52

5.59

Price ($ per MMBtu)

4.73

5.30

5.91

6.08

5.37

5.44

Note: Prices were converted from $ per Mcf to $ per MMBtu using an average heat content of 1,027 Btu per cubic foot as published in Table A4 of the Annual Energy Review 2002.

Source: Energy Information Administration, Office of Oil and Gas.
Working gas in underground storage decreased to 1,239 Bcf as of Friday, March 25, according to EIA's Weekly Natural Gas Storage Report. Inventories now stand 19.9 percent, or 206 Bcf, above the preceding 5-year (2000-2004) average of 1,033 Bcf (See Storage Figure), and they are 222 Bcf, or 21.8 percent, higher than last year's level of 1,017 Bcf at this time. The implied net withdrawal for the week was 51 Bcf, which is the smallest net withdrawal in March 2005 and the smallest since a net withdrawal of 5 Bcf for the week ended November 26, 2004. However the implied net change for the week ended March 25 is still considerably higher than the 5-year average implied net change of -24 Bcf and last year's -25 Bcf for the same week. During the week ending March 24, 2005, the weather for the country as a whole was slightly more than 7 percent colder than normal, as measured by the National Weather Service heating degree days (HDD), and almost 16 percent colder than last year. In the East North Central region, which includes Chicago and other Midwest population centers with significant space heating demand, temperatures were over 10 percent colder than normal and about 8 percent colder than last year. The Middle Atlantic experienced temperatures that were over 8 percent colder than normal, but about 10 percent warmer than last year during the same time. (See HDD table) The colder-than-normal temperatures that prevailed across most of the Lower 48 States maintained some space-heating demand, influencing withdrawals from the storage facilities.
<![if !vml]>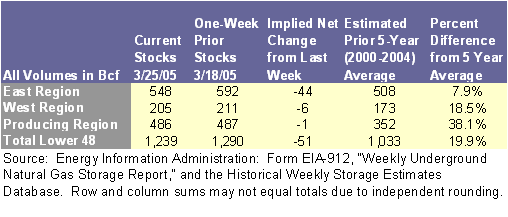 <![endif]>
Other Market Trends:
MMS Issues Proposed Notice of Lease Sale 196: The Minerals Management Service (MMS) announced in Monday's Federal Register the availability of Proposed Notice of Lease Sale 196, an offshore oil and gas lease sale in the western Gulf of Mexico. The proposed lease sale, scheduled for August 17, 2005, covers 20.3 million acres in the western Gulf of Mexico outer continental shelf planning area offshore Texas and in deeper waters offshore Louisiana. This area consists of approximately 3,754 unleased blocks located 5 to 357 kilometers (approximately 3 to 222 miles) offshore and in water depths ranging from 8 to 3,100 meters (approximately 26 to 10,170 feet). According to MMS, the lease sale could result in the production of 136 to 262 million barrels of oil and 0.81 to 1.44 trillion cubic feet of natural gas. One provision included in this lease sale is a recently proposed increase in base rental rates. The revised rates would increase from $5.00 to $6.25 per acre for blocks in water depths of less than 200 meters (approximately 656 feet) and from $7.50 to $9.50 per acre for blocks in water depths of 200 meters or deeper.
Summary:
Spot prices this week were generally little changed at most market locations in the Lower 48 States. For the week, the price at the Henry Hub increased less than 1 percent to $7.17 per MMBtu. Futures prices increased generally about 20 cents for delivery months over the next year. Net storage withdrawals were 51 Bcf, leaving stocks at 19.9 percent above the 5-year average.