Overview: Thursday, February 10 (next release 2:00 p.m. on February 17)
Natural gas spot and futures prices have generally decreased for the week (Wednesday-Wednesday, February 2-9). The Henry Hub natural gas spot price fell 18 cents, or about 3 percent, while prices at most other regional markets ended the week with decreases of betwe
en 2 and 42 cents per MMBtu. The price of the NYMEX futures contract for March delivery at the Henry Hub decreased $0.211 per MMBtu, or slightly over 3 percent, settling yesterday (February 9) at $6.165 per MMBtu. The Energy Information Administration (EIA) reported working gas in underground storage of 1,906 Bcf, which reflects an implied net decrease of 176 Bcf. West Texas Intermediate crude oil on the spot market fell $1.20 per barrel, or about $0.21 per MMBtu, since last Wednesday (February 2), ending trading yesterday at $45.45 per barrel, or $7.84 per MMBtu.
<![if !vml]>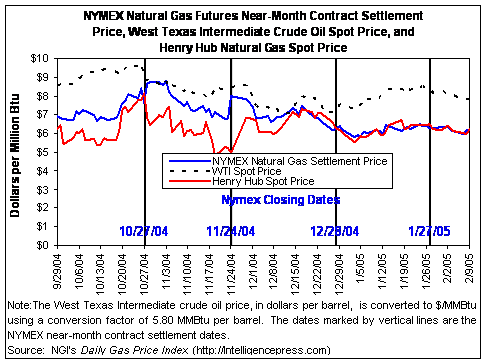 <![endif]>
Although spot prices increased yesterday (February 9) between 5 and 78 cents at most market locations, they moved lower week-on-week, reflecting the above-normal temperatures that prevailed across the Lower 48 States. The Henry Hub average spot price dropped 18 cents on the week to $6.20 per MMBtu. The largest price increases on Wednesday were seen in the Northeast: prices for deliveries off Algonquin rose 72 cents to $7.23 per MMBtu, while those at Iroquois Zone 2 increased 67 cents to $7.17 per MMBtu. Despite these increases, the largest week-to-week price decreases also were recorded in the Northeast. Spot prices at Dracut fell by 42 cents, or about 6 percent to $7.15 per MMBtu, while at Tennessee Zone 6 they decreased by 34 cents to $7.20 per MMBtu. In the Midwest, price declines were more moderate, as Chicago Citygate prices declined 11 cents to $6.18 per MMBtu. Midcontinent prices fell by an average of 9 cents. Prices in West Texas declined by 13 to 20 cents to a regional average of $5.71 per MMBtu in yesterday's (February 9) trading. Prices at East Texas markets fell by an average of 16 cents to $5.99 per MMBtu.
<![if !vml]>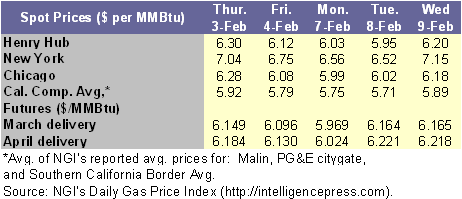 <![endif]>
On the NYMEX, the settlement price for the near-month contract (March delivery) decreased by slightly more than 21 cents since last Wednesday, February 2, to $6.165 per MMBtu. Correspondingly, the price of the April contract declined by about 18 cents, settling yesterday (February 9) at $6.218 per MMBtu. During the week, both the March and April contract prices declined through Monday, February 7, but increased on Tuesday by almost 20 cents per MMBtu and remained virtually unchanged on Wednesday. The Tuesday increase, however, was not sufficient to offset the overall downward trend of the futures prices for the week.
Recent Natural Gas Market Data
Estimated Average Wellhead Prices

Aug-04

Sept-04

Oct-04

Nov-04

Dec-04

Jan-05

Price ($ per Mcf)

5.36

4.86

5.45

6.07

6.25

5.52

Price ($ per MMBtu)

5.21

4.73

5.30

5.91

6.08

5.37

Note: Prices were converted from $ per Mcf to $ per MMBtu using an average heat content of 1,027 Btu per cubic foot as published in Table A4 of the Annual Energy Review 2002.

Source: Energy Information Administration, Office of Oil and Gas.
Working gas in underground storage decreased to 1,906 Bcf as of Friday, February 4, according to EIA's Weekly Natural Gas Storage Report. The implied net withdrawal of 176 Bcf for the report week was about 7 percent higher than the 5-year average of 165 Bcf.(See Storage Figure) Despite the relatively high drawdown, working gas stocks remain 15.9 percent above the 5-year average level of inventories. The implied net withdrawal was the lowest in three weeks, reflecting the generally warmer temperatures during the week across the country. In addition, the weather for the country was almost 20 percent warmer than last year, as measured by heating degree days (HDDs) published by the National Weather Service, when the withdrawal for the report week was an estimated 227 Bcf. With about eight weeks left in the traditional heating season, if storage is drawn down at a rate similar to the 5-year average, inventories will end the withdrawal season in a range of 1,200-1,300 Bcf. (See Temperature Map) (See Deviations Map)
<![if !vml]>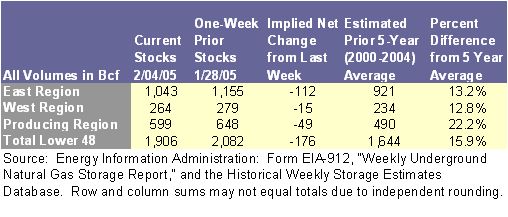 <![endif]>
Other Market Trends:
EIA Received Public Comments on Weekly Natural Gas Storage Report Revision Policy: The period for comments regarding the revision policy of the Weekly Natural Gas Storage Report ended on February 7. Comments were solicited through a notice published in the Federal Register on January 7, 2005. EIA received comments from more than 2 dozen entities. EIA is preparing the submissions for posting on the EIA web site and expects that to occur by February 18. Once the submissions are posted, EIA will analyze them and assess their implications. EIA expects to complete its review and publicly announce any changes to the WNGSR revision policy early in the spring.
LNG Deliveries Increase Nearly 30 Percent to New Record High: Imports of liquefied natural gas (LNG) to the continental United States in 2004 reached 652 billion cubic feet (Bcf), which is about 29 percent more than the 507 Bcf delivered in 2003 and a new annual record. Trinidad and Tobago exported 462.1 Bcf to the Lower 48 States, which was slightly more than 70 percent of all U.S. LNG imports. Algeria was the next largest source country with deliveries of 120.3 Bcf. After two decades of dormancy (from international trade), Dominion Cove Point in Maryland received 209 Bcf in its first full year of operations. This was the largest volume received at any of the four operating LNG terminals. Trunkline LNG, located in Lake Charles, Louisiana, received 163 Bcf in 2004. Source countries for deliveries at Trunkline LNG included Trinidad and Tobago, Algeria, Australia, Malaysia, Nigeria, Oman, and Qatar. The Distrigas facility in Everett, Massachusetts, received 174 Bcf in 2004, all from Trinidad and Tobago. Activity at Southern LNG, located on Elba Island, Georgia, is picking up owing to more LNG production from Atlantic LNG in Trinidad and Tobago and the purchase of capacity by BG Group. In 2004, receipts at Southern LNG totaled 105 Bcf. Although LNG imports to the continental United States are at record highs, they represent only about 3.5 percent of U.S. dry production and 16 percent of imports.
<![if !vml]>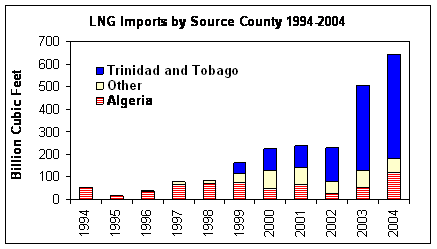 <![endif]>
MMS Notes Major Advances in Deepwater of the Gulf of Mexico in 2004: The Minerals Management Service (MMS) on January 31, 2005, reported major advancements in the deepwater region of the Gulf of Mexico in 2004, despite several disruptions owing to hurricanes. MMS announced that there were fourteen new deepwater startups and twelve new deepwater discoveries in 2004. Six of the fourteen starts are floating production facilities, two of which are tension leg platforms and the remaining four are spars that can act as hubs in the future for undersea development projects. Owing to some of the new deepwater discoveries, new areas for natural gas drilling are opening up in the Eastern Gulf. Last year marked the tenth year of sustained expansion of deepwater production in the Gulf.
EIA Releases the Short-Term Energy Outlook: The Energy Information Administration (EIA) has published its Short Term Energy Outlook - February 2005, which estimates prices and supply and demand through 2006 for natural gas, crude oil, petroleum, electricity, and coal. According to the report, the average Henry Hub natural gas spot price was $6.78 per thousand cubic feet (Mcf) in December and $6.32 per Mcf in January. Owing to the mild winter weather in the Northeast this past December, which reduced heating demand, spot prices for natural gas declined in January. Spot prices at the Henry Hub are expected to average $5.45 per Mcf in 2005 and $5.77 in 2006. Considering the continuous economic growth, natural gas demand is expected to increase by 3.0 percent in 2005, whereas production for domestic natural gas is expected to increase by 1.6 percent from the 2004 levels. That is partly due to the high gas drilling rates and partly due to the continued recovery in the Gulf of Mexico from Hurricane Ivan.
Summary:
Natural gas prices decreased for the week at virtually all market locations across the Lower 48, with spot prices declining between 4 and 42 cents since last Wednesday, February 2. The NYMEX futures price also experienced a decrease, as the March contract price settled $0.211 lower yesterday (February 9) compared with the week ago level. According to EIA's recently released Short-Term Energy Outlook, spot prices at the Henry Hub are projected to average $5.29 per MMBtu in 2005, while the demand for natural gas and domestic production are expected to increase by 3 and 1.6 percent, respectively. Working gas stocks as of Friday, February 4, remain 15.9 percent above normal.