Overview:  Wednesday, November 10 (next release 2:00 p.m. on November 18)
Natural gas spot and futures prices declined this week as prices for competing fuels decreased and temperatures were moderate. For the week (Tuesday-Tuesday, November 2-9), the spot price at the Henry Hub decreased $1.03 per MMBtu, or about 15 percent, to $5.85. Prices at trading locations along the Gulf Coast and Texas similarly fell between $1.00 and $1.60 per MMBtu, while declines at Northeast trading locations were generally more moderate as cooler air moved into the region. At the New York Mercantile Exchange (NYMEX), the price of the futures contract for December delivery settled at $7.471 per MMBtu on Tuesday, November 9, a decline of roughly $1.10 per MMBtu or 13 percent since last Tuesday. Natural gas in storage increased to 3,327 Bcf as of Friday, November 5, which is about 8.7 percent above the 5-year average. The spot price for West Texas Intermediate (WTI) crude oil decreased $2.20 per barrel or 4.4 percent since last Tuesday to trade yesterday (November 9) at $47.40 per barrel or $8.17 per MMBtu.
<![if !vml]>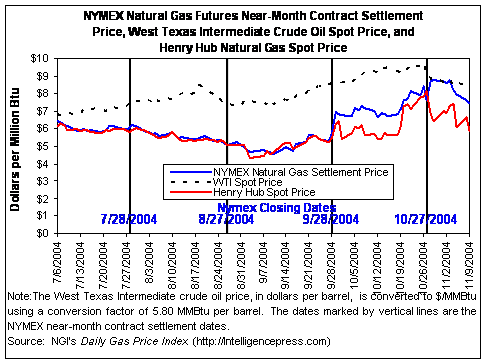 <![endif]>
Falling crude oil prices and seasonally moderate temperatures throughout much of the country weighed down spot prices this week (November 2-November 9), with trading locations in the Lower 48 States registering weekly declines of between $0.84 and $1.60 per MMBtu. Price movements were relatively large during the week, including widespread declines near or above $1 per MMBtu on Friday and Tuesday and steep increases throughout the country on Monday. The Henry Hub price dropped $0.79 per MMBtu in trading yesterday to $5.85, adding to declines last week for a net decrease of $1.03 since last Tuesday. Price declines on the week were more moderate in the Northeast, where weather-sensitive load appears to have begun flowing with freezing temperatures moving into the region. The price at delivery points in the Northeast off Tennessee Gas Pipeline fell 99 cents per MMBtu from a week ago to $6.49 in trading yesterday. Trading off other pipelines in the Northeast ended in similar week-to-week price declines ranging from $0.84 to $1.19 per MMBtu. In the West, most Rockies price declines ranged between $1.05 and $1.29 per MMBtu. The declines were among the highest in the country, resulting from a temporary warming of temperatures in the region. The price of spot gas at the Questar trading point in Utah fell to $5.18 per MMBtu yesterday, a decline of $1.24 on the week. Prices in the Northwest, a region also experiencing seasonally moderate temperatures, were close to or over $1.00 per MMBtu lower than last week. At Malin, Oregon, near the border with California, the price for next-day delivery dropped $1.12 per MMBtu to $5.48.
<![if !vml]>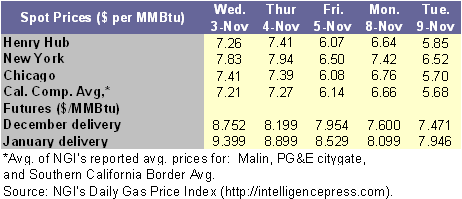 <![endif]>
The futures contract price for December delivery at the Henry Hub has declined for four consecutive trading sessions, ending yesterday's NYMEX session at $7.471 per MMBtu. On the week, the December contract declined in value by $1.096 per MMBtu, or about 13 percent, owing at least in part to perceptions of adequate supplies as the heating season begins.  Price declines were greatest on Thursday and Monday, during which the near-month contract lost a combined 90 cents per MMBtu. Despite the price decrease, the December contract is still trading at a premium of approximately $2.77 per MMBtu, or 59 percent, to the December 2003 contract. The basis differential between the Henry Hub spot price and price of the futures contracts this winter remained significant this week. At the close of trading yesterday, the price for delivery during peak winter months (December 2004 through February 2005) averaged about $1.95 per MMBtu more than the Henry Hub price. As a result, the basis continues to provide suppliers an incentive to inject gas into storage. However, the differential is down considerably from the basis throughout most of October, during which the differential reached as high as $2.932 per MMBtu. The 12-month strip, or the average price for contracts over the next year, closed yesterday at just under $7.109 per MMBtu, a net decline of a little more than 69 cents on the week.
Recent Natural Gas Market Data
Estimated Average Wellhead Prices

Apr-04

May-04

Jun-04

Jul-04

Aug-04

Sept-04

Price ($ per Mcf)

5.20

5.63

5.85

5.60

5.36

4.86

Price ($ per MMBtu)

5.06

5.48

5.69

5.45

5.21

4.73

Note: Prices were converted from $ per Mcf to $ per MMBtu using an average heat content of 1,027 Btu per cubic foot as published in Table A4 of the Annual Energy Review 2002.

Source:  Energy Information Administration, Office of Oil and Gas. 
Working gas in storage was 3,327 Bcf as of Friday, November 5, 2004, according to the Energy Information Administration (EIA) Weekly Natural Gas Storage Report.  This is 8.7 percent, or 266 Bcf, above the 5-year average for the report week. (See Storage Figure)  Inventories as of the report date were an estimated 140 Bcf above the storage level for the report week last year. The implied net injection for the week was 34 Bcf, which included reclassification of 7 Bcf from base gas to working gas. The net change in inventories continues a string of relatively robust injections this fall, notwithstanding the lingering impacts on production from Hurricane Ivan. Seasonally mild temperatures throughout the country likely generated little weather-sensitive demand, allowing for the net injections. During the report week, the weather for the country as a whole was about 14 percent warmer than normal, as measured by heating degree days (HDDs) for the week ending November 6, according to the National Weather Service (See Temperature Map) (See Deviations Map). Temperatures in major consuming market areas were generally mild. For example, in the East North Central region, which includes Chicago, HDDs numbered 17 percent below normal.
<![if !vml]>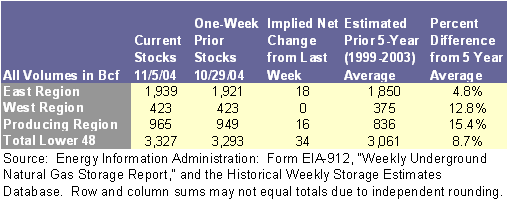 <![endif]>
Other Market Trends:
Mineral Revenues Distributed for FY04: Funds totaling more than $1.24 billion were distributed among 36 states as part of their share of federal revenues collected by the Minerals Management Service (MMS) during fiscal year 2004 (FY04) (October 2003 through September 2004). The $1.24 billion represents the states' cumulative share of revenues collected from mineral production on federal lands located within their borders, and from federal offshore oil and gas tracts adjacent to their state water boundaries. In 2004, the funds distributed to the states were 22 percent more than the $1.02 billion distributed in 2003. A state is entitled to a share of the mineral revenues collected from federal lands located within that state's boundaries. Most states receive 50 percent of the revenue collected from leases on onshore federal land, while the other 50 percent goes to various funds of the U. S. Treasury. Alaska receives a 90-percent share as prescribed by the Alaska Statehood Act. Wyoming led all states by receiving more than $564 million as its share of revenues collected from mineral production on federal lands within its borders, including oil, gas and coal production. New Mexico's share was more than $364 million, while Colorado's share was $80.5 million. Combined, Wyoming, New Mexico, and Colorado received 80.9 percent of the total $1.24 billion.
MMS Announces Lease Sales in the Gulf of Mexico:  The Minerals Management Service (MMS) announced on Friday, November 5, two proposed offshore Federal Gulf of Mexico (GOM) lease sales, which will be held on March 16 in New Orleans.  The two lease areas are located in the Central Gulf of Mexico and the Eastern Gulf of Mexico.  Lease sale 194 in the Central Gulf encompasses 4,043 unleased blocks covering approximately 21.3 million acres on the Outer Continental Shelf (OCS) off the coasts of Louisiana, Mississippi, and Alabama.  The blocks are located from 3 to about 210 miles offshore in water depths of 4 to more than 3,400 meters (approximately 13 to 11,154 feet).  According to MMS, the proposed lease sale could result in the production of up to 654 million barrels of oil and up to 3.30 trillion cubic feet of natural gas.  The other lease sale, sale 197, is for tracts in the Eastern GOM OCS Planning Area and encompasses 124 leased blocks offshore Florida and Alabama and covers about 714 thousand acres located 100 to 196 miles offshore in water depths of 1,600 to more than 3,425 meters (approximately 5,249 to 11,236 feet).  Estimates of undiscovered economically recoverable hydrocarbons in the proposed 197 sale area range up to 0.34 trillion cubic feet of natural gas and 85 million barrels of oil. For leases in both the 194 and 197 sale areas, deep-water royalty suspension price thresholds would be set at $6.50 per MMBtu and $39 per barrel (expressed in 2004 dollars). A minimum bonus bid amount has been set at $37.50 per acre.  MMS will continue royalty suspension of 12 million barrels of oil equivalent for the Eastern Gulf sale (197). The Central Gulf (194) notice of sale includes royalty suspension of differing amounts for all water depths. 
Summary:
Since Tuesday, November 2, natural gas spot prices at most market locations in the Lower 48 States have dropped $0.84 to $1.60 per MMBtu. Prices at the NYMEX also declined as the December contract decreased nearly $1.10 per MMBtu to $7.471 per MMBtu. Natural gas in storage increased to 3,327 Bcf as of Friday, November 5, which is about 8.7 percent above the 5-year average.