Overview:† Thursday, October 14 (next release 2:00 p.m. on October 21)
Natural gas spot prices and the near-month futures price showed a week-to-week decline as the pace of storage injections indicate adequate supplies, despite continued shut-in production in the Gulf of Mexico owing to Hurricane Ivanís impact. For the week (Wednesday-Wednesday, October 6-13), the price at the Henry Hub decreased 61 cents or about 10 percent to $5.39 per MMBtu. Prices in production areas along the Gulf Coast and Texas generally fell between 40 and 75 cents per MMBtu, while Midcontinent price declines were less than 36 cents per MMBtu. The price of the NYMEX futures contract for November delivery ended the week at $6.851, a decline of roughly 19 cents per MMBtu or slightly more than 2.8 percent since last Wednesday. Natural gas in storage increased to 3,159 Bcf as of Friday, October 8, which is about 7.2 percent above the 5-year average. The spot price for West Texas Intermediate (WTI) crude oil increased $1.88 per barrel, or 3.6 percent, since last Wednesday to trade yesterday (October 13) at $53.86 per barrel or $9.29 per MMBtu.
<![if !vml]>
<![endif]>
Perceptions of adequate natural gas supplies this week outweighed higher petroleum prices and continued losses in production from the Gulf of Mexico, resulting in widespread price declines at spot trading locations in the Lower 48 States. The damage from Hurricane Ivan continues to account for lost production of about 1.7 Bcf from the Gulf of Mexico (see Other Market Trends below). The Henry Hub price gained about 2 cents in trading yesterday (October 13) to $5.39 per MMBtu, limiting the Wednesday-to-Wednesday net decline to 61 cents per MMBtu. Spot price decreases this week ranged down from $1.02 in Zone 3 of Florida Gas Transmission (generally including the portion of the pipeline running through Mississippi and Alabama) to as low as 11 cents per MMBtu at Ventura, Iowa (off Northern Natural pipeline). Price declines on the week were generally lowest in the Midcontinent area, where cooler temperatures contributed to some weather-sensitive load. Light demand in the Northeast region also was evident in announcements from Transco and other regional pipelines of high storage inventories reducing operational flexibility. The price at delivery points in New York off Transcontinental Gas Pipe Line (Transco) fell 59 cents per MMBtu from a week ago to $5.72 in trading yesterday. Prices in Northern California, which is experiencing seasonally moderate weather, were significantly lower for the week. At the PG&E citygate, the price for next-day delivery dropped 87 cents per MMBtu to $4.62.
<![if !vml]>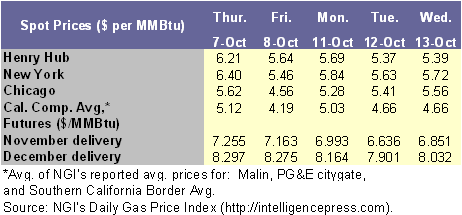 <![endif]>
At the NYMEX, the futures contract for November delivery at the Henry Hub settled yesterday at $6.851 per MMBtu, a decline in value of 19.4 cents on the week and a little more than 40 cents, or 5.6 percent, from its high mark of $7.255 as the near-month contract on October 7. Owing at least in part to perceptions of ample storage inventories and little weather sensitive demand, price declines were greatest on Monday and Tuesday, during which the near-month contract lost a combined 52.7 cents or about 7.4 percent of its value. Although the near-month contract price fell, prices for peak demand months this winter continued to increase. As the spot price for West Texas Intermediate (WTI) crude oil increased $1.88 per barrel or 3.6 percent since last Wednesday, the February 2005 contract gained 10.5 cents per MMBtu to a close of $8.469. The basis differential between the Henry Hub spot price and the price of the futures contracts for delivery in January and February 2005 now is over $3 per MMBtu. As a result, the basis continues to provide suppliers an incentive to inject gas into storage.
Recent Natural Gas Market Data
Estimated Average Wellhead Prices

Apr-04

May-04

Jun-04

Jul-04

Aug-04

Sept-04

Price ($ per Mcf)

5.20

5.63

5.85

5.60

5.36

4.86

Price ($ per MMBtu)

5.06

5.48

5.69

5.45

5.21

4.73

Note: Prices were converted from $ per Mcf to $ per MMBtu using an average heat content of 1,027 Btu per cubic foot as published in Table A4 of the Annual Energy Review 2002.

Source:† Energy Information Administration, Office of Oil and Gas.†
Working gas in storage was 3,159 Bcf as of Friday, October 8, 2004, according to the Energy Information Administration (EIA) Weekly Natural Gas Storage Report.† The reported working gas volumes for the week include a reclassification of 7 Bcf from working gas to base gas.† The working gas stock is 7.2 percent above the 5-year average of 2,948 Bcf for the report week and about 5.8 percent more than last yearís inventory level of 2,981 Bcf for the same week. (See Storage Figure) The implied net change in working gas inventories during the week was 67 Bcf. †Although production shut-ins owing to Hurricane Ivan likely hindered net additions to natural gas storage, the lack of weather-related demand and large differentials between prices for winter month futures contracts and spot transactions resulted in relatively high injection activity during the week. Temperatures across most of the country were seasonally moderate, according to the National Weather Service for the week ended October 9. (See Temperature Map) (See Deviations Map) †For the country as a whole, heating degree days numbered 43, compared with a normal reading of 50 for the week and the 48 recorded last year.
<![if !vml]>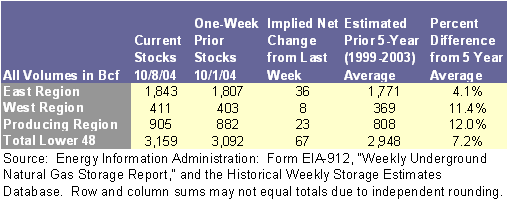 <![endif]>
Other Market Trends:
FERC Releases Report on Underground Natural Gas Storage:† The Federal Energy Regulatory Commission (FERC) issued a report last week that examines the Nationís underground natural gas storage capabilities.† According to the report, while there is enough natural gas in storage at present, there could be problems later if new storage projects are not built and gas prices continue to rise. An increase in gas storage capabilities could be the best way to manage commodity price volatility and help customers maintain service reliability.† Further, certain areas such as the Southwest and the Northeast are likely to have increased demand for additional storage.† A recent study by the Natural Petroleum Council indicates there may be a need for 700 billion cubic feet (Bcf) of new gas storage capacity in North America by the year 2025, while an INGAA Foundation study estimates that 651 Bcf of new storage will be needed by 2020. According to the FERC report, new storage development may be stalled by certain geologic, political, economic, and environmental impacts.† Underground storage fields were designed to meet seasonal demands, but today with the proliferation of gas fired electric plants, gas supply is required on a more continual basis and not simply during the heating season.† The report said that FERC could perhaps provide a boost to underground gas development through changes in its regulatory policies. Some possible alternatives to consider would be various cost-based rate options, market-based rate alternatives, and waivers or exemptions of certain environmental review and certificate requirements, affiliate rules, open access requirements for offering firm and interruptible service and prohibitions against making bundled sales.
Update on Impacts of Hurricane Ivan: As of October 13, the U.S. Minerals Management Service (MMS) reported that 1.7 billion cubic feet (Bcf) per day of natural gas and 471 thousand barrels per day of oil production in the Federal offshore areas of the Gulf of Mexico remain shut in, well below the peak of 6.5 Bcf per day and 1.3 million barrels of per day, respectively. Reported natural gas production shut-ins have been about 1.7 Bcf per day since Tuesday, October 5. The current amount of shut-in gas and oil production is equivalent to about 14 percent and a little less than 28 percent of daily Federal offshore Gulf production, respectively. The cumulative (9/13/04-10/13/04) shut-in gas production is estimated at 82.6 Bcf, while the cumulative shut-in oil production is estimated at about 19 million barrels. MMS reported that a total of 9 platforms and 1 rig were still evacuated as of October 13, which is down significantly from the high of 545 platforms. Shut-in production rates do not include production lost due to the destroyed platforms, which MMS estimates to be 9 million cubic feet per day.
Summary:
Since Wednesday, October 6, natural gas spot prices at market locations in the Lower 48 States have generally dropped 20 to 80 cents per MMBtu. The price for the near-month contract at the NYMEX also declined 19.4 cents to $6.851 per MMBtu. Natural gas in storage increased to 3,159 Bcf as of Friday, October 8, which is about 7.2 percent above the 5-year average.†