Overview: Thursday, August 5 (next release 2:00 p.m. on August 12)
Since Wednesday, July 28, natural gas spot prices have decreased at most market locations in the Lower 48 States. For the week (Wednesday-Wednesday), prices at the Henry Hub declined 7 cents or about 1 percent to $5.70 per MMBtu. Yesterday (August 4), the price of the NYMEX futures contract for September delivery at the Henry Hub settled at $5.661 per MMBtu, decreasing roughly 48 cents or nearly 8 percent since last Wednesday (July 28). Natural gas in storage was 2,380 Bcf as of July 30, which is 4.3 percent above the 5-year average. The spot price for West Texas Intermediate (WTI) crude oil fell 8 cents per barrel or less than 1 percent on the week to $42.73 per barrel or $7.367 per MMBtu, despite reaching a record high of $44.13 per barrel during the week.
Weakening weather fundamentals and decreasing power generation loads since Monday, August 2 led to widespread declines in natural gas spot prices in the Lower 48 States, despite the price supportive influence of surging crude oil prices. Prices climbed in trading on Thursday, July 29 and on Friday, July 30 as crude oil prices spiked. Crude oil prices peaked on Tuesday, August 3 at $44.13 per barrel or about $7.609 per MMBtu, setting a new record high. Tropical storm activity in the Atlantic basin likely contributed to the price rally late last week. However, by Monday, August 2, prices began to retreat, as it became clear that Tropical Storm Alex—the first named storm of the 2004 Atlantic hurricane season—would not pose a significant threat to natural gas supplies. Price declines continued through Wednesday, August 4 at most market locations, spurred by declining temperatures in the Northeast and Midwest regions and diminishing tropical storm activity in the Atlantic basin. The largest declines in spot prices occurred in the Midwest and Northeast regions, where prices fell more than 10 cents per MMBtu at most locations. In contrast to the overall pattern of falling prices, gains in spot prices since last Wednesday, July 28 were recorded at the majority of locations in Texas and the Rocky Mountains regions, with increases generally ranging between 2 and 12 cents per MMBtu. Prices overall continue to exceed last year's levels by almost a dollar. As of August 4, 2004, prices at the Henry Hub are $0.88 or 18 percent above last year's level.
<![if !vml]>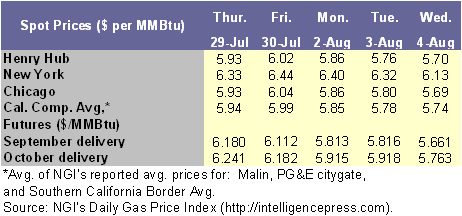 <![endif]>
At the NYMEX, the price of the futures contract for September delivery at the Henry Hub decreased about 48 cents per MMBtu or nearly 8 percent since becoming the near-month contract last Wednesday, to $5.661 per MMBtu. This is the lowest level that the September 2004 contract has reached since March 29, 2004. While the September 2004 contract is currently trading at a discount of about 4 cents per MMBtu to the Henry Hub spot price, futures contract prices for each month from October 2004 through January 2005 exceed the Henry Hub spot price by over $0.06 to over $1.19 cents per MMBtu, with larger differences for each successive month. With the futures strip through next winter trading at a significant premium to the Henry Hub spot price, economic incentives to inject gas into storage remain significant.
Recent Natural Gas Market Data
Estimated Average Wellhead Prices

Nov-03

Dec-03

Jan-04

Feb-04

Mar-04

Apr-04

Price ($ per Mcf)

4.34

5.08

5.53

5.15

4.97

5.20

Price ($ per MMBtu)

4.22

4.94

5.38

5.01

4.83

5.06

Note: Prices were converted from $ per Mcf to $ per MMBtu using an average heat content of 1,027 Btu per cubic foot as published in Table A4 of the Annual Energy Review 2002.

Source: Energy Information Administration, Office of Oil and Gas.
Working gas in storage was 2,380 Bcf as of Friday, July 30, 2004, according to the EIA Weekly Natural Gas Storage Report. This is 98 Bcf, or about 4.3 percent, higher than the 5-year average for the report week (See Storage Figure). The implied net injection during the report week was 83 Bcf, which is about 57 percent above the 5-year average net addition of 53 Bcf for the week and 7 Bcf more than the injection of 76 Bcf reported for the same week last year. Cooling degree days were about 16 percent below normal on average in the Lower 48 States during the week ended July 31. The relatively mild temperatures east of the Rockies likely contributed to the above average injections. (See Temperature Map) (See Deviations Map)
<![if !vml]>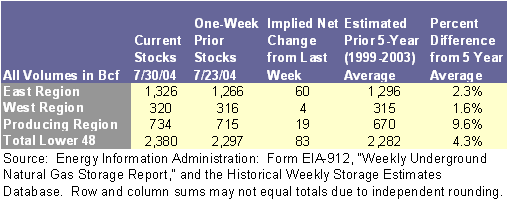 <![endif]>
Other Market Trends:
MMS Proposes Changes to Gas Royalty Valuation Rule: The Minerals Management Service (MMS) has proposed changes to the 1988 Federal Gas Valuation Rule, as announced in the July 23, 2004, Federal Register. The rule, which was previously amended in 1998, is used to determine royalties due on natural gas produced on Federal leases. According to MMS, the considered amendment would offer greater certainty, clarity and consistency on natural gas valuation issues for the producers and reflects feedback from a series of workshops MMS held in 2003. The proposal includes changes to transportation allowances, rate of return calculations, certain regulatory definitions, and tariffs. MMS will continue to evaluate some pricing issues such as whether to use NYMEX or index prices in sales valuation and asked for comments on whether reported spot prices are reliable. Comments on the proposed changes are due on September 21, 2004.
FERC Issues Draft EIS for Weaver Cove LNG Import Terminal: The Federal Energy Regulatory Commission (FERC) issued a draft environmental impact statement (EIS) on Friday, July 30, 2004, that would allow the construction of the Weaver Cove LNG terminal, located near Fall River, Massachusetts. The draft EIS was prepared to satisfy the requirements of the National Environmental Policy Act (NEPA), as well as the Massachusetts Environmental Policy Act (MEPA). However, before the final EIS can be issued, the proposed terminal needs to improve certain environmental and safety requirements. Such requirements include dredging the river channel, and ensuring the safety of the terminal and the ships passing through the Narragansett Bay. FERC also made specific recommendations concerning the potential thermal radiation and exclusion zones of flammable vapor spread, which could result from equipment damage. FERC found that the construction and operation of the proposed terminal would have a limited impact on the environment, as the site was previously used for the storage and distribution of petroleum products. The proposed facility would have a regasification capacity of up to 800 million cubic feet per day (MMcf/d).
Summary:
Spot prices declined with decreases at selected market locations outside of the Rocky Mountains and Texas regions. Prices for the near-term NYMEX futures contract decreased almost 8 percent from last week's level. Working gas in storage increased to 2,380 Bcf, which is about 4.3 percent above the 5-year average.
Natural Gas Summary from the Short-Term Energy Outlook