Overview: Thursday, June 24 (next release 2:00 p.m. on July 1)
Cooler-than-normal temperatures over much of the nation and relative calm in petroleum and products futures markets facilitated a downward slide in natural gas spot and futures prices on the week (Wednesday to Wednesday, June 16-23). At the Henry Hub, the spot price ended the week a dime lower than last Wednesday (June 16), trading yesterday (June 23) at $6.29 per MMBtu. The NYMEX futures contract for July delivery edged down just over 7 cents on the week, settling yesterday at $6.415 per MMBtu. EIA reported that inventories were 1,845 Bcf as of Friday, June 18, which is 0.1 percent below the previous 5-year (1999-2003) average. The spot price for West Texas Intermediate crude oil increased on 3 of 5 trading days during the week and traded yesterday at $37.56 per barrel, or $6.48 per MMBtu, up 23 cents per barrel (4 cents per MMBtu) since last Wednesday.
<![if !vml]>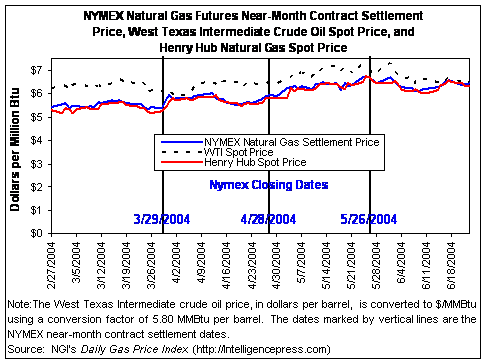 <![endif]>
Three consecutive days of falling prices in most regional markets was enough to bring price levels down by a dime to 40 cents per MMBtu from last Wednesday's levels at nearly all market locations. A strong Canadian cool front that pushed into the northern tier of states beginning last Wednesday spread across most of the northern two-thirds of the nation by Sunday (June 20), bringing unseasonably cool temperatures to many high gas-consuming areas such as the Midwest, Northeast, and Middle Atlantic, significantly reducing temperature-driven demand for space cooling. Northeast prices fell an average of 20 cents, with the New York citygate price dropping 28 cents on the week to yesterday's price of $6.76 per MMBtu. Temperatures along the Gulf of Mexico and in the desert Southwest tended to be more seasonable, keeping average price declines in the market areas of Louisiana and East and South Texas below 20 cents per MMBtu. Spot prices at locations in West Texas and in the Midcontinent experienced the largest weekly decreases, averaging 39 and 24 cents, respectively. West Texas, the Midcontinent, California, and the Rocky Mountains were the market areas with sub-$6 prices at week's end. In the West, the imposition of a high-linepack OFO by PG&E on Friday (June 18) helped magnify price decreases driven by cooler weather. The lifting of the OFO on Monday signaled the increased demand from rising temperatures over the weekend, which ushered Western prices higher. Monday's prices got an additional boost from the delay in the return to service of the Palo Verde nuclear plant, originally projected for Friday (June 18). By Tuesday (June 22), two of Palo Verde's reactors were back to 100 percent operation, and the third was at 90 percent, which contributed to falling prices that day. For the week, spot prices in California and the Rockies fell an average of 24 and 16 cents, respectively.
<![if !vml]>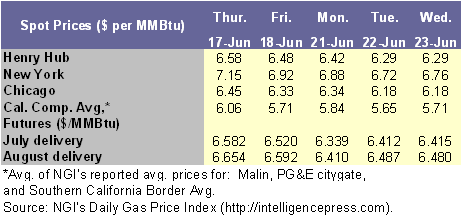 <![endif]>
On the NYMEX, consecutive price declines on Friday and Monday of just over 6 and 18 cents, respectively, were enough to offset increases in the other three trading sessions, causing the near-month contract (for July delivery) to move down by $0.074 per MMBtu from last Wednesday's settlement price to yesterday's settlement of $6.415. The influence of developments in crude oil and petroleum products markets on natural gas futures prices seemed to lessen, as price changes for the prompt crude oil and natural gas contracts diverged on 2 of the 5 trading days. In yesterday's trading, crude oil futures fell 55 cents per barrel on news of higher-than-expected weekly stock builds and an EIA estimate of crude stocks at a near-2-year high level, while the July natural gas contract edged up slightly.
Recent Natural Gas Market Data
Estimated Average Wellhead Prices

Nov-03

Dec-03

Jan-04

Feb-04

Mar-04

Apr-04

Price ($ per Mcf)

4.34

5.08

5.53

5.15

4.97

5.20

Price ($ per MMBtu)

4.22

4.94

5.38

5.01

4.83

5.06

Note: The price data in this table are a pre-release of the average wellhead price that will be published in forthcoming issues of the Natural Gas Monthly. Prices were converted from $ per Mcf to $ per MMBtu using an average heat content of 1,027 Btu per cubic foot as published in Table A4 of the Annual Energy Review 2002.

Source: Energy Information Administration, Office of Oil and Gas.
Working gas inventories increased to 1,845 Bcf as of Friday, June 18, according to EIA's Weekly Natural Gas Storage Report of Thursday, June 24. The implied net increase in inventories of 85 Bcf was nearly 10 percent less than the 5-year average for the week of 94 Bcf, bringing total gas in storage below the 5-year average by 1 Bcf (See Storage Figure). The difference relative to last year's inventory level was reduced by 42 Bcf, to 280 Bcf (1,845 Bcf vs. 1,565 Bcf), although last year's net addition of 127 Bcf is the highest for this week of the year over the 11 years of EIA data for this week. The week covered by this report saw temperatures that were above normal for most of the nation east of the Mississippi River as well as much of the West and Southwest (See Temperature Map) (See Deviations Map). In terms of cooling degree days (CDD), according to the latest data from the National Weather Service for the week ended Saturday, June 19, the nation as a whole had 22 percent higher CDDs than normal. This warmer-than-usual weather likely generated significant demand for space cooling in parts of the nation, which likely resulted in some gas being consumed at power plants that might otherwise have been injected into storage.
<![if !vml]>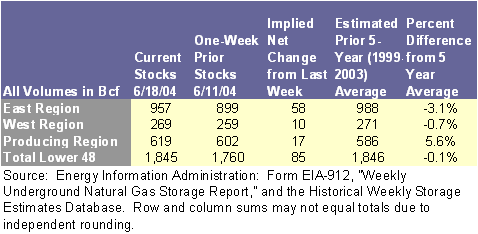 <![endif]>
Other Market Trends:
MMS Announces Results of Lease Sale 190: The Minerals Management Service (MMS) held lease sale 190 for tracts in the Central Gulf of Mexico on March 17, 2004. MMS recently announced the results of the sale, in which high bids for 542 tracts were accepted at a total of $364 million. Amerada Hess Corporation had the highest bid accepted at $35.3 million for Green Canyon 468. The high bid was one of five bids for this tract located in 800–1,599 meters (2,625–5,245 feet) of water. Although the highest accepted bonus bids were for deep-water leases, 61 percent of the tracts receiving bids were in less than 200 meters (656 feet) of water, which would indicate a continuing interest in shallow water prospects. Five companies accounted for 30 percent, (162 tracts) of the 542 accepted highest bids. The total of the five highest bids was $98 million, or 27 percent, of the $364 million total. According to the MMS, the monies collected are distributed to the general fund of the U.S. Treasury, shared with the affected States, and set aside for special uses that benefit all 50 states.
Summary:
Widespread cooler-than-normal temperatures kept temperature-driven swing demand in check this week, sending spot and futures prices lower. Implied net injections into storage of 85 Bcf brought natural gas stocks to 1,845 Bcf—just 1 Bcf below the 5-year average.
Natural Gas Summary from the Short-Term Energy Outlook