Overview:  Thursday, June 3 (next release 2:00 p.m. on June 10)
Natural gas futures prices moved down during the holiday-shortened trading week (Wednesday to Wednesday, May 26-June 2) joined by falling spot prices in markets east of the Rocky Mountains, while cash prices in western market locations rose appreciably.  The spot price at the Henry Hub declined 19 cents per MMBtu on the week, or nearly 3 percent, to $6.51.  On the New York Mercantile Exchange (NYMEX), the settlement price for the futures contract for July delivery fell by $0.213 to $6.519 per MMBtu.  EIA reported that inventories were 1,564 Bcf as of Friday, May 28, which is 0.5 percent less than the 5-year average.  The spot price for West Texas Intermediate (WTI) crude oil was 64 cents per barrel (11 cents per MMBtu) below its level of last Wednesday (May 26), ending trading yesterday (June 2) at $39.96 ($6.89 per MMBtu), after hitting a record high spot price of $42.33 ($7.30 per MMBtu) on Tuesday. 
<![if !vml]>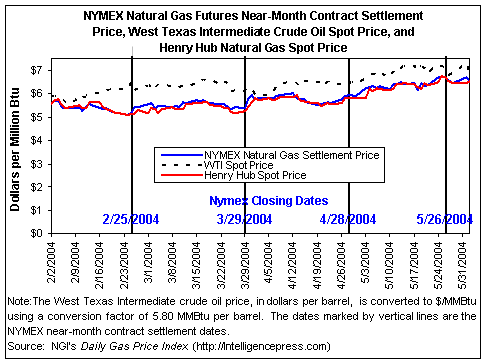 <![endif]>
Spot prices at nearly all market locations east of the Rocky Mountains moved lower on the week, mostly in the range of 10 to 20 cents per MMBtu.  Price increases of mostly a dime or less in each of the past two days were not enough to offset the price declines of last Thursday and Friday (May 27-28).  Prices declined on Thursday and Friday due to anticipated soft demand over the long Memorial Day holiday weekend, moderating temperatures in the Midwest, Northeast, and Middle Atlantic, and short-term weather forecasts for more of the same early this week.  The average spot price in Louisiana and the Gulf Coast region declined by 17 cents to $6.49 per MMBtu, while the decline in the Midcontinent was slightly less, at an average of 11 cents, to $6.19 per MMBtu.  Prices for delivery to Chicago and New York citygates declined 12 and 31 cents per MMBtu, respectively, to $6.57 and $6.92.  Because of the holiday on Monday (May 31), most of Friday's trading was for gas to flow on Tuesday (June 1).  This gave added weight to National Weather Service short-term temperature outlooks, which called for above-normal temperatures throughout the West beginning June 1.  This would help to explain Friday's significant price increases in the Rockies and California.  The anticipated higher temperature-driven swing demand, on top of the return to normal economic activity after the holiday weekend, sent prices up on Friday (May 28) by as much as 39 cents in the Rockies and 56 cents in California, with the increases spreading into upstream market locations in West Texas as well.  For the week, Rockies market locations averaged a 21-cent increase, to a regional average of $5.69 per MMBtu.  California price increases were the largest, bringing that market area's average spot price to $6.17 per MMBtu as of the end of trading yesterday (Wednesday, June 2).
<![if !vml]>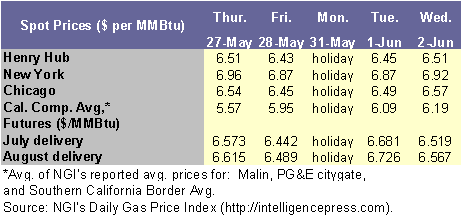 <![endif]>
On the NYMEX, futures settlement prices ended a 5-week run of consecutive week-to-week increases, as the near-month contract (for July delivery) fell $0.213 per MMBtu on the week to yesterday's settlement price of $6.519.  Week-to-week price decreases on contracts for delivery in out-months through June 2005 were progressively smaller, with declines ranging from more than 19 cents per MMBtu to less than half a penny.   Futures settlement prices fluctuated greatly during the week, as daily price changes were generally from 10 to more than 20 cents per MMBtu for all contracts for delivery through January 2005.  Some of this volatility has been driven in part by volatility in the petroleum and products futures markets, where current world-wide tight supply and uncertainties about OPEC production increases and the security of Middle East supplies led to dramatic price swings over the past week.
Recent Natural Gas Market Data
Estimated Average Wellhead Prices

Nov-03

Dec-03

Jan-04

Feb-04

Mar-04

Apr-04

Price ($ per Mcf)

4.34

5.08

5.53

5.15

4.97

5.20

Price ($ per MMBtu)

4.22

4.94

5.38

5.01

4.83

5.06

Note:  The price data in this table are a pre-release of the average wellhead price that will be published in forthcoming issues of the Natural Gas Monthly.  Prices were converted from $ per Mcf to $ per MMBtu using an average heat content of 1,027 Btu per cubic foot as published in Table A4 of the Annual Energy Review 2002.

Source:  Energy Information Administration, Office of Oil and Gas. 
Working gas in storage increased by 87 Bcf to 1,564 Bcf as of Friday, May 28, according to EIA's Weekly Natural Gas Storage Report.  The implied net injection of 87 Bcf is below the 5-year (1999-2003) average for the week of 93 Bcf, leaving stocks 0.5 percent below the 5-year average level (See Storage Figure).  For the week ending May 29, National Weather Service data show that temperatures averaged above normal for much of the Middle Atlantic, the Southeast, and parts of Texas and the Midcontinent, while colder than normal temperatures predominated in the upper Midwest, parts of New England, and the northern Rockies (See Deviations Map).  The cooling and heating loads generated by these conditions likely contributed to net injections in the East and Producing regions that were roughly 12 and 9 percent, respectively, lower than their respective 5-year averages.  Generally seasonal to slightly cooler-than-normal temperatures in much of the West likely contributed to that region's 25 percent greater-than-normal implied net injections.  Although the percentage deviations from normal temperatures were large in most regions, their effects on heating and cooling demand at this time of year were relatively small, as temperatures on the whole nationwide were seasonably moderate (See Temperature Map).
<![if !vml]>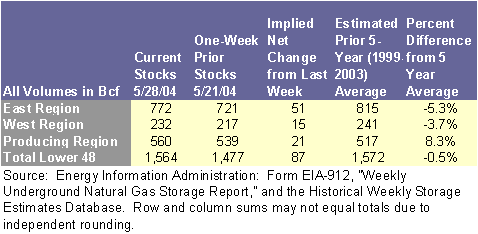 <![endif]>
Other Market Trends:
Status Report for New LNG Facilities: On Wednesday, May 26, the Environmental Protection Agency issued air and water permits effective June 19, 2004, for construction and operation of the Port Pelican liquefied natural gas (LNG) terminal proposed by Port Pelican LLC, a subsidiary of ChevronTexaco Corp. In November 2003, the project had received approval for a Deepwater Port License from the Maritime Administration of the Department of Transportation and the Coast Guard to construct, own, and operate an offshore LNG terminal in the Gulf of Mexico. Port Pelican will be the first deepwater port in the United States since the 1976 Louisiana offshore oil port, and will be the first natural gas deepwater port in the world. The receiving and regasification facility will be capable of handling 1.6 Bcf per day and is scheduled to start operating in 2006.  The proposed Freeport LNG terminal in Freeport, Texas, was issued a favorable final environmental impact study (FEIS) by the Federal Energy Regulatory Commission (FERC) on Friday, May 28, 2004. The proposed facility would be the second FERC-approved LNG terminal in the United States in 25 years, after the Cameron LNG terminal in Louisiana. The facility will be designed with a storage capacity of 6.9 Bcf and a send-out rate of 1.5 Bcf per day and is scheduled to start operating in the second half of 2007. Dow Chemical signed a 20-year contract to reserve 500 MMcf per day of Freeport's capacity and ConocoPhillips contracted the remaining 1 Bcf.
Shell Works to Reopen the Mars Platform: Located in the Gulf of Mexico, 130 miles southeast of New Orleans, the Mars tension leg platform was shut down on May 22, 2004.  A pipeline leak was detected after losing approximately 3 gallons of crude oil.  The platform is 3,250 feet high, weighs approximately 36,500 tons, and is in 2,940 feet of water.  Mars was producing 150,000 barrels of oil per day and 170 million cubic feet of gas per day before the shut down.  According to Shell Oil the oil pipeline from the platform will remain shut-in until repairs can be made.  Shell owns 71.5 percent of the Mars platform and BP owns the rest.
Summary:
Natural gas spot prices rose significantly in the West as rising temperatures beginning over the weekend spurred electric generation demand, while prices east of the Rockies declined as temperatures moderated.  Natural gas futures prices, influenced by crude oil and petroleum products futures prices, showed a weekly decline for the first time in 6 weeks, as potentially positive developments for crude oil supply caused crude oil futures prices to ease somewhat on the week.  Natural gas stocks increased to 1,564 Bcf as of Friday, May 28, which is 8 Bcf less than the 5-year average.
Natural Gas Summary from the Short-Term Energy Outlook