Overview:  Thursday, April 15, 2004 (next release 2:00 p.m. on April 22)
An early spring chill in the Northeast kept natural gas spot prices firm this week until yesterday (April 14), when warmer temperatures resulted in sharp price declines at most trading locations for the day and moderately lower prices on the week (Wednesday-Wednesday, April 7-14). The Henry Hub spot price declined 3 cents per MMBtu on the week to $5.73. After climbing above $6.00 per MMBtu earlier in the week, the NYMEX futures contract for May delivery at the Henry Hub dropped in the last two trading sessions to yesterday's closing price of $5.744, which represents a net decline of 13 cents per MMBtu on the week. There was a second consecutive week of injections into storage with stocks as of Friday, April 9, at 1,049 Bcf, which is 5.2 percent below the 5-year average. The spot price for West Texas Intermediate (WTI) crude oil rose 34 cents per barrel on the week to yesterday's closing price of $36.62 per barrel, or $6.31 per MMBtu.
<![if !vml]>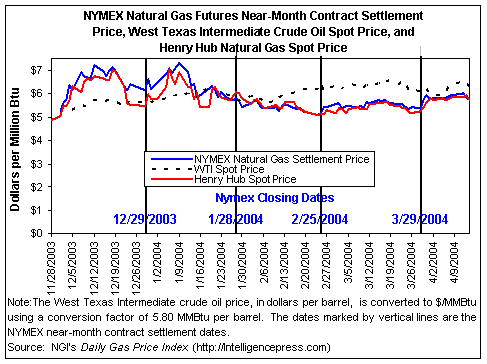 <![endif]>
Prices dropped 10 cents per MMBtu or less at nearly all market locations since last Wednesday, April 7, as moderating temperatures confirmed the end of the heating season. Nevertheless, prices remained relatively elevated through much of the week as seasonal nuclear plant outages for refueling and high crude oil prices continue to support energy prices in general. The Henry Hub spot price reached its highest level since late January at $5.92 per MMBtu on Tuesday, April 13, only to fall 19 cents in trading yesterday for a net decline on the week of 3 cents. Similar declines of a penny to 6 cents per MMBtu occurred throughout most producing areas in the Southwest and Mid-continent. Meanwhile, the largest declines in the Lower 48 States since last Wednesday occurred in the Rockies, where relatively warm weather resulted in prices falling more than 20 cents at selected locations. The spot price at the Cheyenne Hub in Wyoming fell 30 cents per MMBtu to $4.81. Prices fell between 1 and 2 cents per MMBtu at locations in California.  The largest price drop in the Northeast occurred for deliveries off Algonquin Gas Transmission, which serves the Boston area, as well as points farther south in the Northeast. The Algonquin price fell 10 cents per MMBtu, but remains the highest in the country at $6.33 per MMBtu, which is a 60-cent premium to the Henry Hub price. Owing to the lingering cooler-than-normal temperatures this spring and relatively steep prices for alternative fuels, natural gas prices remain significantly higher than last year at this time.  Prices at many market locations are more than 10 percent greater than last year.  At the Henry Hub this year's price level exceeds last year's by 8.5 percent.
<![if !vml]>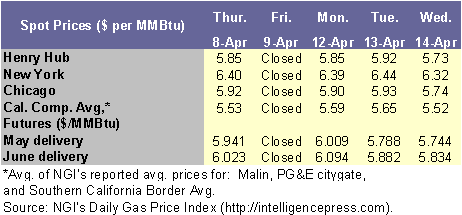 <![endif]>
At the NYMEX, the price of the futures contract for May delivery at the Henry Hub declined by about 13 cents since Wednesday, April 7, to settle at $5.744 per MMBtu on Wednesday, April 14.  As was the case with spot prices, the near-month contract price reached its highest level since late January earlier this week, before dropping in recent trading because of expected soft market conditions owing to adequate storage levels and the loss of heating demand. At $5.744 per MMBtu, the May contract is priced 62 cents, or 12 percent, higher than the expiration price of the May 2003 contract. In trading this week, the June contract declined nearly 12 cents, or 2 percent, to $5.834 per MMBtu. The 12-month strip, or the average price for contracts over the next year, closed yesterday at $5.987, a decline of 7 cents on the week. Currently, the highest priced contract in the 12-month strip is the January 2005 contract, which closed yesterday at $6.386 per MMBtu, a 66-cent premium to the spot Henry Hub price, providing a strong incentive for industry to store gas for next winter.
Recent Natural Gas Market Data
Estimated Average Wellhead Prices

Oct-03

Nov-03

Dec-03

Jan-04

Feb-04

Mar-04

Price ($ per Mcf)

4.43

4.34

5.08

5.53

5.15

4.97

Price ($ per MMBtu)

4.31

4.22

4.94

5.38

5.01

4.83

Note:  The price data in this table are a pre-release of the average wellhead price that will be published in forthcoming issues of the Natural Gas Monthly.  Prices were converted from $ per Mcf to $ per MMBtu using an average heat content of 1,027 Btu per cubic foot as published in Table A4 of the Annual Energy Review 2002.

Source:  Energy Information Administration, Office of Oil and Gas. 
Estimated working gas in underground storage was 1,049 Bcf as of April 9, which is 5.2 percent below the 5-year average inventory level for the report week, according to EIA's Weekly Natural Gas Storage Report (See Storage Figure). The implied net change in inventories was an addition of 15 Bcf, which is the second net injection this spring. This implied net injection is significantly larger than the 5-year average injection of 9 Bcf and a net difference of 61 Bcf from last year's withdrawal of 46 Bcf. Although temperatures in the Northeast were slightly cooler than normal, seasonally mild temperatures throughout the rest of the country likely generated little weather-sensitive demand, allowing for the continued injections. During the report week, the weather for the country as a whole was about 5.7 percent warmer than normal, as measured by heating degree days (HDDs) for the week ending April 10, according to the National Weather Service (See Temperature Map) (See Deviations Map).  Temperatures in major consuming market areas in the Midwest were generally mild. For example, in the East North Central Census region, which includes Chicago, HDDs numbered 1.4 percent below normal.
<![if !vml]>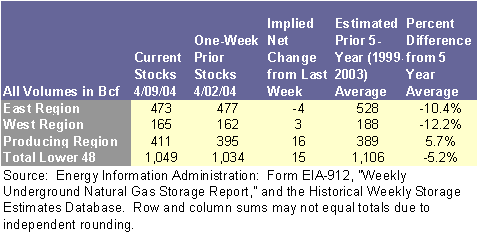 <![endif]>
Other Market Trends:
Bahamas to Florida Pipeline Projects Advance: Tractebel North America and AES on Tuesday, April 14, received approval from the Florida government to construct pipelines from proposed liquefied natural gas (LNG) terminals in the Bahamas to Florida. The 42-mile Tractebel pipeline proposal, Calypso Pipeline, would have the capacity to transport up to 807 million cubic feet a day (MMcf/d) from an LNG terminal in Freeport, Grand Bahamas, to a connection with Florida Gas Transmission in Broward County, Florida. AES's Ocean Express pipeline would transport 842 MMcf/d to Florida from Ocean Cay, an existing 90-acre man-made industrial island in the Bahamas. Florida Governor Jeb Bush and the Cabinet voted to grant Sovereign Submerged Lands Easements and approve issuance of permits by the Florida Department of Environmental Protection. Both projects have received final approvals from the Federal Energy Regulatory Commission (FERC) and "approvals in principle" from the Bahamian government. However, both projects await final approval from the Bahamas Environment, Science and Technology Commission for their environmental impact statements. Planning for a third pipeline project to move gas to Florida from the Bahamas, El Paso's Seafarer Project, also advanced this week with the announcement that FPL Group Resources, an affiliate of Florida Power and Light Company, has agreed to contract for 800,000 MMBtu of capacity on the line. El Paso, which lags behind Tractebel and AES in gaining regulatory approval for the project, said that it has requested to use FERC's new pre-filing process. The process allows project developers to work with FERC to address environmental issues and consult with other permitting agencies before the formal filing of an application.
Natural Gas Summary from the Short-Term Energy Outlook:
EIA projects that natural gas prices will remain relatively high during the storage refill season (April through October) and the rest of 2004. Wellhead prices are expected to average $4.87 per MMBtu in April and May, $4.71 from June through October, and $5.12 for November and December (Short-Term Energy Outlook, April 2004). Spot prices during the storage refill months will likely average $5.23 per MMBtu, virtually the same as the average price ($5.22) this past heating season. Overall in 2004, spot prices are expected to average $5.31 per MMBtu, slightly less than the 2003 price ($5.35), while wellhead prices will average about $4.90. In 2005, natural gas spot prices will likely average about $5.25 per MMBtu, under the assumption that domestic supply can continue to grow by about 1 percent per year. Total available supply (including imports and storage inventories) is expected to increase to 22.31 Tcf in 2004 compared with 21.78 Tcf in 2003. Storage stocks at the end of the traditional heating season (March 31) were about 6 percent less than the 5-year average but nearly 50 percent more than year-earlier levels.
Natural gas production is estimated to have increased by approximately 0.6 percent in 2003. Production is expected to continue to rise slightly through 2005, as natural gas well completions, which totaled an estimated 20,000 in 2003, continue to grow to between 22,000 and 23,000 wells per year over the next 2 years. Natural gas demand is expected to increase by about 2.4 percent in 2004, owing to expected growth in the economy and an overall increase in fuel oil prices relative to average natural gas prices. In 2005, demand is also expected to increase as the economy continues to expand, although the growth rate slows to 0.6 percent because of expected reductions in weather-related demand in the first quarter of 2005 relative to the first quarter of 2004 and relatively lower fuel oil prices.
Short-Term Natural Gas Market Outlook, April 2004

History

Projections

Jan-04

Feb-04

Mar-04

Apr-04

May-04

Jun-04

PRICES ($/MMBtu)

  Average Wellhead Price

5.38

5.01

4.84

4.91

4.82

4.77

  Residential Price

9.26

9.29

9.38

9.70

10.50

11.42

  Electric Utilities Price

6.31

5.04

4.31

5.15

4.93

4.99

SUPPLY (Trillion Cubic Feet)

  Total Dry Gas Production

1.628

1.517

1.640

1.609

1.650

1.581

  Net Imports

0.293

0.255

0.248

0.254

0.255

0.245

    Imports

0.360

0.317

0.313

0.311

0.315

0.303

    Exports

0.067

0.061

0.065

0.057

0.059

0.059

  Suppl. Gaseous Fuels

0.007

0.006

0.006

0.005

0.006

0.006

  Total New Supply

1.929

1.778

1.894

1.867

1.912

1.832

  Working Gas in Storage

    Opening

2.582

1.795

1.368

1.000

1.147

1.533

    Closing

1.795

1.368

1.000

1.147

1.533

1.931

  Net Storage Withdrawal

0.787

0.427

0.368

-0.147

-0.385

-0.398

  Total Supply

2.715

2.205

2.262

1.720

1.526

1.434

  Balancing Item

-0.123

0.255

-0.149

0.057

0.036

0.017

  Total Primary Supply

2.593

2.460

2.113

1.777

1.563

1.451

DEMAND (Trillion Cubic Feet)

  Lease & Plant Fuel

0.097

0.091

0.097

0.095

0.098

0.094

  Pipeline Use

0.081

0.076

0.067

0.053

0.047

0.043

  Delivered to Consumers

2.415

2.294

1.949

1.630

1.418

1.314

    Residential

0.960

0.862

0.603

0.408

0.241

0.156

    Commercial

0.502

0.475

0.371

0.269

0.188

0.145

    Industrial

0.654

0.642

0.644

0.609

0.570

0.542

    Electric Power

0.300

0.314

0.330

0.345

0.419

0.471

  Total Demand

2.593

2.460

2.113

1.777

1.563

1.451
Source:  Energy Information Administration, Short-Term Energy Outlook, April 2004.