Overview:  Thursday, January 29, 2004 (next release on February 5)
Spot prices in most regional markets ended the week (Wednesday-Wednesday, January 21-28) lower, despite severe cold in the Northeast beginning Friday (January 23) and continuing through the weekend.  As a result, prices in the Northeast market proved the major exception to the downward trend, as cash prices moved up sharply at most locations in the region.  At the Henry Hub, the spot price was 23 cents per MMBtu lower on the week, or about 4 percent, ending with yesterday's (Wednesday, January 28) level of $6.04.  At the New York Mercantile Exchange (NYMEX), the futures contract for February delivery showed a modest gain of nearly 6 cents on its final day of trading, closing out at $5.775 per MMBtu.  The contract for March delivery assumes the near-month position beginning today (Thursday, January 29).  The Energy Information Administration (EIA) reported that natural gas inventories were 2,063 Bcf as of Friday, January 23, which is 8.6 percent greater than the previous 5-year (1999-2003) average.  West Texas Intermediate crude oil on the spot market fell $1.90 per barrel, or $0.26 per MMBtu, since last Wednesday (January 21), ending trading yesterday at $33.63 per barrel, or $5.80 per MMBtu.
<![if !vml]>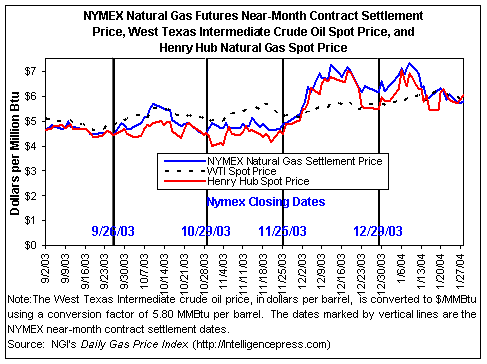 <![endif]>
Spot prices at most locations outside the frigid Northeast fell for the first three trading days of the week (Thursday, January 23-Monday, January 26), despite deepening cold in most gas consuming areas east of the Mississippi River.  However, the greatest temperature differences from normal occurred in the Northeast and prices responded strongly.  Frigid temperatures and icy conditions extended well into the southeast early in the week, while heavy snow fell in portions of New York and New England on Wednesday, shutting down schools, businesses and government operations.  At least 56 deaths have been attributed to the weather this week from Kansas to the East Coast.  Prices at most Northeast locations increased five days in a row, with multiple-dollar increases on some days at a few locations.  The largest increase was seen at Transco Zone 6 for New York delivery, where the price jumped a cumulative $8.63 per MMBtu for the week, to $16.15 in yesterday's (January 27) trading.  Spot prices elsewhere have moved up in the last two days, as temperatures that had moderated slightly in the Northern Plains states over the weekend, then in the Midwest on Monday and Tuesday, were well below normal by Wednesday.  Price gains in the last two days brought prices higher for the week in the Midwest and the Midcontinent.  Cumulative increases averaged 20 cents per MMBtu in the Midcontinent, bringing that region's average price to $6.04.  Midwest prices averaged 25 cents higher, reaching a regional average of $6.59 per MMBtu.  The Chicago citygate price increased 30 cents, to $6.57 per MMBtu.
<![if !vml]>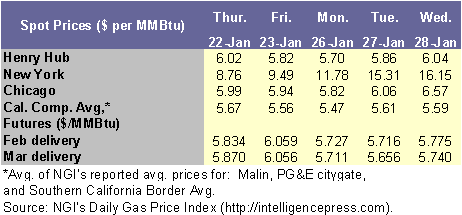 <![endif]>
On the NYMEX, futures prices declined for the week.  Futures prices fell sharply on Thursday, apparently in reaction to the unexpectedly low implied storage withdrawal of 156 Bcf, and fell sharply again on Monday, despite a National Weather Service short-term forecast for colder-than-normal temperatures for most of the nation east of the Rockies.  Settlement prices for the February and March contracts fell substantially, extending their week-on-week declines to a third consecutive week.  The February contract expired yesterday (January 27) with a final settlement price of $5.775 per MMBtu.  For the week, the February contract fell $0.375; since becoming the near-month contract on December 30, it fell $0.825—a drop of nearly 13 percent.  The March contract, which debuts today as the near-month contract, fell an even greater amount on the week, declining $0.477 per MMBtu to yesterday's settlement of $5.740. 
Estimated Average Wellhead Prices

Jul-03

Aug-03

Sep-03

Oct-03

Nov-03

Dec-03

Price ($ per Mcf)

4.91

4.72

4.58

4.43

4.34

5.08

Price ($ per MMBtu)

4.79

4.60

4.46

4.32

4.23

4.95

Note:  The price data in this table are a pre-release of the average wellhead price that will be published in forthcoming issues of the Natural Gas Monthly.  Prices were converted from $ per Mcf to $ per MMBtu using an average heat content of 1,025 Btu per cubic foot as published in Table A2 of the Annual Energy Review 2001.

Source:  Energy Information Administration, Office of Oil and Gas. 
Working gas inventories stood at 2,063 Bcf as of Friday, January 23, according to the EIA's Weekly Natural Gas Storage Report. (See Storage Figure) This is 163 Bcf, or 8.6 percent, larger than the previous 5-year (1999-2003) average of 1,900 Bcf for this week of the year.  Further, this level is 334 Bcf (over 19 percent) more than stocks at this point last year. The implied net withdrawal of 195 Bcf is 18.5 percent more than the 5-year average of 165 Bcf.  Temperatures were generally colder than normal for the eastern half of the nation during the week covered by this storage report, and much colder than normal around the Great Lakes and in New England and portions of the Middle Atlantic, which includes major gas consuming markets. (See Temperature Map) (See Deviations Map)   Six of the nine Census divisions of the Lower-48 States recorded gas-customer weighted heating degree days (HDD) for the week that were up to 20.7 percent higher than normal, resulting in significant storage withdrawals to meet the increased demand for space heating.  If storage withdrawals for the remaining ten weeks of the traditional heating season match their respective 5-year averages, inventories as of the beginning of April would be 1,256 Bcf, which is 163 Bcf, or nearly 15 percent, more than the 5-year average.
<![if !vml]>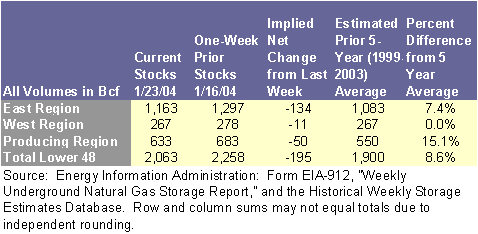 <![endif]>
Other Market Trends:
EIA Issues Federal Register Notice Withdrawing Proposal for New LNG Survey:  In a Federal Register notice dated Friday, January 23, the Energy Information Administration announced that it is withdrawing its proposal for new survey Form EIA–913, ''Monthly and Annual Liquefied Natural Gas (LNG) Storage Reports.'' On September 16, 2003, EIA issued a Federal Register notice (68 FR 54215) requesting public comments on the proposed new survey Form EIA–913. The purpose of the survey would have been to collect data on the inventory levels of LNG and operational capacities of active LNG storage facilities in the United States.  In the September 16, 2003 notice, EIA discussed the proposed survey as well as EIA's reasons for proposing it.  EIA received nine (9) comments, which are available for review at: http://www.eia.doe.gov/oil_gas/natural_gas/survey_forms/eia913c.pdf.  EIA reviewed the proposed survey in light of the comments, and reconsidered whether the proposed survey was the optimal use of EIA resources available for collecting and analyzing information on U.S. natural gas supplies.  As a result of this analysis, EIA decided to withdraw the proposed LNG survey. 
Summary:
Spot prices rose sharply in the Northeast, and more moderately in the Midwest and Midcontinent, as frigid temperatures and harsh winter weather dominated the week in the Eastern half of the nation.  Futures prices, particularly for the winter delivery months of February and March, fell significantly, as continuing greater-than-average working gas inventories seem to help assuage near-term supply concerns.   Despite a larger than normal withdrawal for the week ended Friday, January 23, working gas stocks remained almost 9 percent above normal. 
Natural Gas Summary from the Short-Term Energy Outlook