Overview:  Thursday, September 25, 2003 (next release on October 2)
Spot prices fluctuated mildly during the week (Wednesday to Wednesday, September 17-24), with the majority of changes in either direction limited to a nickel or less.  For the week, prices generally were lower than last Wednesday.  At the Henry Hub, the spot price declined 2 cents on the week, ending trading yesterday (September 24) at $4.59 per MMBtu.  The NYMEX futures contract for October delivery ended the week down by $0.054 per MMBtu from the previous Wednesday (September 17), settling at $4.588 per MMBtu, as a significant one-day decline of 17 cents on Thursday (September 18) was not offset by four straight trading sessions with small increases.  EIA reported that working gas inventories were 2,688 Bcf as of Friday, September 19, which is 3.3 percent below the 5-year (1998-2002) average.  In oil markets, yesterday's announcement by the OPEC oil cartel of a production quota cut of 900,000 barrels per day sent crude oil and heating oil futures contract prices up sharply.  The spot price for West Texas Intermediate crude oil accrued its entire increase for the week in yesterday's trading, as it gained $1.19 to $28.19 per barrel, or about $4.86 per MMBtu.
<![if !supportEmptyParas]> <![endif]>
<![if !vml]>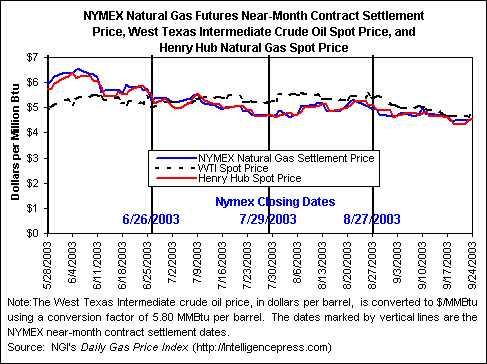 <![endif]>
<![if !supportEmptyParas]> <![endif]>
Despite an upward trend over the past three days in nearly all locations, price increases in most production areas and in the Midwest and Midcontinent were not quite enough to overcome the sizeable decreases of Thursday and Friday (September 18-19), leaving prices in these areas several pennies less than the previous week's levels. Conversely, spot prices at most locations in the Rocky Mountains and the Northeast saw weekly gains of a few cents.  The passage of Hurricane Isabel from the North Carolina coast up through the Mid-Atlantic last Thursday and Friday (September 18-19) knocked out electrical power for well over a million consumers and temporarily eliminated gas-fired generation demand in a wide swath along Isabel's path.  Elsewhere, with the exception of cooler-than-normal temperatures in some Great Plains and Rocky Mountain states, temperatures for the most part have been typically seasonal, with little in the way of high or low extremes to generate swing demand.  However, in the past two days a slight cooling trend in the Midwest and parts of the Northeast has led to some furnaces being turned on, providing some support to spot prices. For the week, the Chicago citygate price was down by 2 cents to $4.67 per MMBtu, while spot gas for delivery to New York citygates rose 3 cents to $5.01. 
<![if !supportEmptyParas]> <![endif]>
Spot Prices ($ per MMBtu)

Thur.

Fri.

Mon.

Tues.

Wed.

18-Sep

19-Sep

22-Sep

23-Sep

24-Sep

Henry Hub

4.51

4.33

4.37

4.51

4.59

New York

4.88

4.64

4.79

4.92

5.01

Chicago

4.57

4.40

4.49

4.63

4.67

Cal. Comp. Avg,*

4.42

4.14

4.35

4.47

4.55

Futures ($/MMBtu)

Oct delivery

4.471

4.483

4.494

4.511

4.588

Nov delivery

4.724

4.705

4.723

4.697

4.752

*Avg. of NGI's reported avg. prices for:  Malin, PG&E citygate,

and Southern California Border Avg.

Source: NGI's Daily Gas Price Index (http://intelligencepress.com).
<![if !supportEmptyParas]> <![endif]>
In the futures market, two consecutive weeks of triple-digit net additions to storage likely contributed to significant drops in futures prices on the Thursdays (September 11 and 18) when the weekly storage reports for those weeks were released.  The near-month contract (October delivery) fell $0.230 per MMBtu on Thursday, September 11, and last Thursday it dropped $0.171 to $4.471 per MMBtu, reaching the lowest settlement price for a near-month contract since early December of last year.  Since then, except for yesterday, October's price has crept up by less than 2 cents per day, as National Weather Service short-term forecasts have been consistently predicting lower-than-normal temperatures for virtually the entire eastern half of the nation through the beginning of next month.  The October contract gained nearly 8 cents in yesterday's trading, helped along by sizeable gains in heating oil futures contract prices, settling at $4.588 per MMBtu.  
<![if !supportEmptyParas]> <![endif]>
Estimated Average Wellhead Prices

Mar-03

Apr-03

May-03

Jun-03

Jul-03

Aug-03

Price ($ per Mcf)

6.69

4.71

4.97

5.35

4.91

4.72

Price ($ per MMBtu)

6.52

4.59

4.84

5.21

4.79

4.60

Note:  The price data in this table are a pre-release of the average wellhead price that will be published in forthcoming issues of the Natural Gas Monthly.  Prices were converted from $ per Mcf to $ per MMBtu using an average heat content of 1,025 Btu per cubic foot as published in Table A2 of the Annual Energy Review 2001.

Source:  Energy Information Administration, Office of Oil and Gas. 
<![if !supportEmptyParas]> <![endif]>
Working gas in storage increased by 100 Bcf to 2,688 Bcf as of Friday, September 19, reducing the deficit from the 5-year (1998-2002) average by more than 1 percentage point to 3.3 percent. (See Storage Figure).  This marks the second consecutive week of implied net injections of 100 Bcf or more.  The net stock additions of the past two weeks have been the highest and second highest in the last two months of the traditional refill season in the near-10 year history of EIA weekly storage data.  Net additions for the report week ranged from 25 percent greater than the 5-year average in the East region to over 71 percent greater in the West region.  Inventories in the West region have exceeded the 5-year average for 3 consecutive weeks, growing to 3.2 percent above the average.  The weather during the report week was very conducive to storage injections. (See Temperature Map.) (See Deviation Map)  In Census divisions such as the East and West South Central with significant potential cooling load in a shoulder month, cooling degree days were more than 10 and nearly 22 percent less than normal, respectively.  Conversely, in the New England and East and West North Central divisions, which can experience demand-generating cold temperatures in September and October, gas-customer weighted heating degree days were nearly 88, 35, and 62 percent less than normal, respectively. 
<![if !supportEmptyParas]> <![endif]>
All Volumes in Bcf

Current Stocks 9/19/03

Estimated Prior 5-Year (1998-2002) Average

Percent Difference from 5 Year Average

Implied Net Change from Last Week

One-Week Prior Stocks 9/12/03

<![if !supportMisalignedRows]>
<![endif]>

East Region

1,603

1,668

-3.9%

60

1,543

<![if !supportMisalignedRows]>
<![endif]>

West Region

360

349

3.2%

12

348

<![if !supportMisalignedRows]>
<![endif]>

Producing Region

725

764

-5.1%

28

697

<![if !supportMisalignedRows]>
<![endif]>

Total Lower 48

2,688

2,781

-3.3%

100

2,588

<![if !supportMisalignedRows]>
<![endif]>

Source:  Energy Information Administration:  Form EIA-912, "Weekly Underground Natural Gas Storage Report," and the Historical Weekly Storage Estimates Database.  Row and column sums may not equal totals due to independent rounding. 

<![if !supportMisalignedRows]>
<![endif]> <![if !supportMisalignedRows]>
<![endif]> <![if !supportMisalignedRows]>
<![endif]>
<![if !supportEmptyParas]> <![endif]>
Other Market Trends:
EIA Proposes New LNG Storage Survey:  The Energy Information Administration (EIA) is proposing to collect data on U.S. liquefied natural gas (LNG) storage inventories on a monthly and annual basis.  In a notice in the Federal Register of Tuesday, September 16, 2003, EIA officially proposed Form EIA-913, "Monthly and Annual Liquefied Natural Gas (LNG) Storage Report," "…to collect data on the inventory levels of LNG and operational capacities of active LNG storage facilities in the United States." This new data collection effort was specifically requested by Secretary of Energy Spencer Abraham in an effort to enhance natural gas market information and efficiency.  Survey respondents would include all operators of facilities that store LNG for baseload, seasonal, and peak demand delivery in the United States, or for delivery to U.S. customers for these purposes. Respondents would therefore include operators with LNG inventories such as distribution companies, pipeline companies, liquefaction facilities, LNG wholesalers, and marine terminals that provide peaking storage services. The survey would exclude any industrial, residential, commercial, or power generation entities that store LNG for ultimate consumption. EIA estimates the respondent universe to be about 100 currently active facilities.  Aggregated data collected via the EIA-913 would be published in EIA's Monthly Energy Review, Natural Gas Monthly, and Natural Gas Annual.  The Federal Register notice requests comments from all interested parties by November 17, 2003.
<![if !supportEmptyParas]> <![endif]>
Summary:
Spot price movements were mixed during the past week, although prices at most locations ended the week slightly lower.  Temperate shoulder-season weather and the effects of Hurricane Isabel muted demand, and large additions to storage signified improved supplies.  Futures prices ended the week lower, as record-large inventory builds continued to improve the winter-supply outlook.    
<![if !supportEmptyParas]> <![endif]>
Natural Gas Summary from the Short-Term Energy Outlook
<![if !supportEmptyParas]> <![endif]>
<![if !supportEmptyParas]> <![endif]>
<![if !supportEmptyParas]> <![endif]>
<![if !supportEmptyParas]> <![endif]>
<![if !supportEmptyParas]> <![endif]>
<![if !supportEmptyParas]> <![endif]>
<![if !supportEmptyParas]> <![endif]>