Spot natural gas prices increased 5 to 15 cents in most regional markets for the week (Wednesday to Wednesday, September 3-10). The Henry Hub spot price gained 10 cents on the week, ending trading yesterday (Wednesday, September 10) at $4.78 per MMBtu. Futures prices were up as well, with the gains owing almost entirely to yesterday's large price increases. The NYMEX futures contract for October delivery moved up nearly 24 cents in yesterday's trading, and for the week gained $0.278 per MMBtu with its settlement yesterday at $4.968. The Energy Information Administration (EIA) reported that inventories were 2,486 Bcf as of Friday, September 5, which is 5.5 percent less than the 5-year (1998-2002) average. The spot price for West Texas Intermediate (WTI) crude oil fell below $29 per barrel for the first time since late June, lingering in the high-$28s for the first 3 days of the week before regaining nearly all of its decreases on Tuesday and Wednesday. WTI crude oil ended the week at $29.41 per barrel ($5.07 per MMBtu), just 2 cents per barrel below the week-ago price.
<![if !supportEmptyParas]> <![endif]>
<![if !vml]>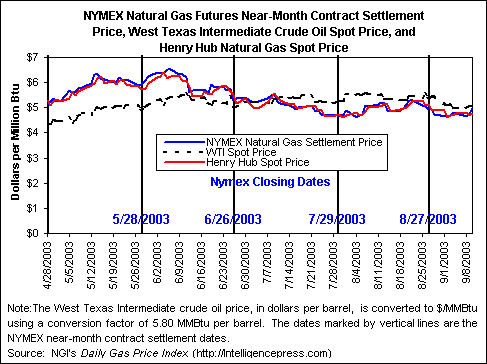 <![endif]>
<![if !supportEmptyParas]> <![endif]>
In a week with little in the way of temperature extremes outside of the desert Southwest and parts of inland California, spot prices nonetheless inched up a few pennies most days at most locations. Lacking strong fundamentals, spot prices were influenced in large measure by movements on the futures markets, with spot price changes mirroring futures price changes lagged by a day (most spot gas trading is completed well before the daily close of natural gas futures trading). The exception to the generally upward price trend occurred on Tuesday (September 9). However, prices increased again yesterday, driven primarily by uncertainty over the future track of Hurricane Isabel, which as of Wednesday seemed headed for a possible entry into the Gulf of Mexico. For the week, spot prices gained 5 to 15 cents at most market locations, with the smallest gains at California locations and some decreases at Rocky Mountains points. The Northeast tended to have the highest prices, with a regional average yesterday of $5.05 per MMBtu, while the lowest prices were seen in West Texas and the Rockies, where prices averaged $4.60 and $4.50, respectively.
<![if !supportEmptyParas]> <![endif]>
Spot Prices ($ per MMBtu)

Thur.

Fri.

Mon.

Tues.

Wed.

4-Sep

5-Sep

8-Sep

9-Sep

10-Sep

Henry Hub

4.68

4.77

4.82

4.70

4.78

New York

5.02

5.06

5.16

5.06

5.13

Chicago

4.77

4.80

4.91

4.82

4.91

Cal. Comp. Avg,*

4.75

4.75

4.81

4.73

4.76

Futures ($/MMBtu)

Oct delivery

4.810

4.771

4.661

4.730

4.968

Nov delivery

5.046

5.023

4.919

4.967

5.178

*Avg. of NGI's reported avg. prices for: Malin, PG&E citygate,

and Southern California Border Avg.

Source: NGI's Daily Gas Price Index (http://intelligencepress.com).
<![if !supportEmptyParas]> <![endif]>
Hurricane Isabel exerted even stronger influence in the futures market. A category 4 storm on the 5-level Saffir-Simpson Hurricane Level scale, Hurricane Isabel had maximum sustained winds of 145 mph as of Thursday morning (September 11), and was moving toward the west on a track that could well put her in the Gulf of Mexico by late next week. Before yesterday's price increase of about 24 cents induced by Isabel's potential for major disruption of Gulf supply, the settlement price of the near-month contract (for October delivery) was up by less than 4 cents from last Wednesday's (September 3) level, and the out-month contracts for December 2003 through March 2004 were down by a penny or two. However, with yesterday's trading action, the October contract increased $0.278 per MMBtu for the week, settling yesterday at $4.968. Contract settlement prices for delivery in November through April increased from over 10 to over 21 cents per MMBtu.
<![if !supportEmptyParas]> <![endif]>
Estimated Average Wellhead Prices

Mar-03

Apr-03

May-03

Jun-03

Jul-03

Aug-03

Price ($ per Mcf)

6.69

4.71

4.97

5.35

4.91

4.72

Price ($ per MMBtu)

6.52

4.59

4.84

5.21

4.79

4.60

Note: The price data in this table are a pre-release of the average wellhead price that will be published in forthcoming issues of the Natural Gas Monthly. Prices were converted from $ per Mcf to $ per MMBtu using an average heat content of 1,025 Btu per cubic foot as published in Table A2 of the Annual Energy Review 2001.

Source: Energy Information Administration, Office of Oil and Gas.
<![if !supportEmptyParas]> <![endif]>
Working gas in storage increased by 97 Bcf to 2,486 Bcf as of Friday, September 5, reducing the deficit from the 5-year (1998-2002) average by over 1 percentage point to 5.5 percent. (See Storage Figure). The implied net injections into inventory at the national as well as at all three regional levels were well above both the 5-year average injections for the week and the injections recorded last year. Implied net injections ranged from over 22 percent greater than the 5-year average in the East region to almost 108 percent greater in the Producing region. The net inventory change of 10 Bcf in the West region is two-thirds larger than average, and brought the West's stocks to 1.2 percent above the 5-year average for this point in the refill season. A significant drop in cumulative cooling degree days (CDD) from the week ended August 30 to the week of the current storage estimate reduced gas demand for space cooling requirements, freeing more gas for injection into storage. (See Temperature Map.) (See Deviation Map) CDDs for the week were below normal for six of the nation's nine Census divisions. In the gas-use intensive East North Central, West South Central, and Middle Atlantic Census divisions, CDDs dropped from as much as 85 percent above normal in the prior week to as much as 65 percent below normal in the report week.
<![if !supportEmptyParas]> <![endif]>
All Volumes in Bcf

Current Stocks 9/5/03

Estimated Prior 5-Year (1998-2002) Average

Percent Difference from 5 Year Average

Implied Net Change from Last Week

One-Week Prior Stocks 8/29/03

<![if !supportMisalignedRows]>
<![endif]>

East Region

1,478

1,572

-6.0%

60

1,418

<![if !supportMisalignedRows]>
<![endif]>

West Region

339

335

1.2%

9

329

<![if !supportMisalignedRows]>
<![endif]>

Producing Region

669

726

-7.9%

28

642

<![if !supportMisalignedRows]>
<![endif]>

Total Lower 48

2,486

2,632

-5.5%

97

2,389

<![if !supportMisalignedRows]>
<![endif]>

Source: Energy Information Administration: Form EIA-912, "Weekly Underground Natural Gas Storage Report," and the Historical Weekly Storage Estimates Database. Row and column sums may not equal totals due to independent rounding.

<![if !supportMisalignedRows]>
<![endif]> <![if !supportMisalignedRows]>
<![endif]> <![if !supportMisalignedRows]>
<![endif]>
<![if !supportEmptyParas]> <![endif]>
Other Market Trends:
Differences Between Storage Estimates from the EIA Weekly and Monthly Storage Series: Significant differences between the weekly and monthly natural gas storage estimates have appeared in estimates for spring 2003. A review of American Gas Association and EIA storage data since1994 show that such differences have occurred in the past, especially during years with a large storage drawdown, with a seasonal cycle in which differences diminished during the refill season. The April 2003 monthly value of 900 Bcf differs from the interpolated weekly estimates by 87 Bcf. Of this difference, 11 Bcf is due to reclassified base gas that was not reported to the weekly system until later. EIA continually examines its methods and processes for ways to improve. Recent efforts have been directed to understanding the remaining difference of 76 Bcf in the April values and to address possible options for modifying the estimation procedure in the weekly system. At this point, it is premature to speculate; no conclusions have been reached regarding the causes of the differences or the extent to which they are likely to persist. Consequently, no change in the methodology for the weekly storage estimates has been made, none has been selected for the future, and there is no current schedule for such changes. If a change in methodology is selected, EIA will announce the change in advance. These announcements would occur on EIA=s web-site and through official announcements from EIA.
<![if !supportEmptyParas]> <![endif]>
Natural Gas Summary from the Short-Term Energy Outlook:
EIA projects that natural gas wellhead prices will average $4.50 per MMBtu in September and range between $4.37 and $4.58 per MMBtu in the last 3 months of 2003 (Short-Term Energy Outlook, September 2003). Spot prices at the Henry Hub have fallen somewhat from the unusually high levels that prevailed in the first half of the year and most of July, as mild summer weather in many areas of the country has reduced cooling demand and allowed record storage refill rates. As of September 5, working gas levels were only 5.5 percent below the 5-year average and, barring any disruptions, are on target to reach 3 Tcf by the end of October. However, gas prices remain high—wellhead prices this summer are estimated to be 60 to 70 percent higher than levels last summer. Overall in 2003, wellhead prices are expected to average $4.84 per MMBtu, which is nearly $2 more than the 2002 annual average and the largest year-to-year increase on record. For 2004, assuming normal weather, wellhead prices are projected to drop by about $1 per MMBtu, or almost 20 percent, to $3.89 per MMBtu, as the overall supply situation improves.
Natural gas production is expected to increase by about 2.4 percent in 2003. Following the downturn in natural gas-directed drilling activity in 2002, higher natural gas prices and sharply higher oil and natural gas field revenues continue to drive the resurgence in drilling this year. The number of rigs drilling for natural gas has totaled more than 900 since the week ending June 13 and averaged 932 in August. In 2004, production is expected to remain at modestly improved levels. The prospects for significant reductions in natural gas wellhead prices in 2004 depend on the productivity of the expected upsurge in drilling.
Natural gas demand growth is expected to be flat in 2003 because of reduced demand in the industrial sector and the sharply lower weather-related demand during the summer months. Demand for natural gas this summer is estimated to be 2.6 percent less than last summer's level, owing largely to the 11 percent fewer cooling degree-days compared with last summer and the effect of high natural gas prices on consumption in the industrial and electricity-generating sectors. In 2004, demand is projected to remain flat as increases in industrial and commercial sector demand are offset by lower demand in the electric power sector.
<![if !supportEmptyParas]> <![endif]>
Short-Term Natural Gas Market Outlook, September 2003

History

Projections

Jun-03

Jul-03

Aug-03

Sep-03

Oct-03

Nov-03

PRICES ($/MMBtu)

Average Wellhead Price

5.22

4.78

4.60

4.50

4.37

4.48

Residential Price

11.98

12.27

12.23

11.62

10.33

9.45

Electric Utilities Price

5.67

5.17

4.94

5.01

4.92

5.28

SUPPLY (Trillion Cubic Feet)

Total Dry Gas Production

1.590

1.651

1.657

1.605

1.665

1.612

Net Imports

0.278

0.308

0.326

0.320

0.311

0.293

Imports

0.332

0.365

0.384

0.377

0.369

0.353

Exports

0.054

0.056

0.058

0.057

0.059

0.060

Suppl. Gaseous Fuels

0.005

0.006

0.006

0.006

0.006

0.007

Total New Supply

1.873

1.966

1.989

1.931

1.982

1.912

Working Gas in Storage

Opening

1.217

1.710

2.095

2.410

2.782

3.001

Closing

1.710

2.095

2.410

2.782

3.001

2.842

Net Storage Withdrawal

-0.493

-0.386

-0.315

-0.372

-0.219

0.160

Total Supply

1.380

1.580

1.674

1.559

1.763

2.072

Balancing Item

0.107

0.071

0.003

-0.031

-0.221

-0.277

Total Primary Supply

1.487

1.651

1.677

1.528

1.543

1.795

DEMAND (Trillion Cubic Feet)

Lease & Plant Fuel

0.082

0.084

0.082

0.075

0.077

0.080

Pipeline Use

0.043

0.051

0.053

0.048

0.049

0.054

Delivered to Consumers

1.363

1.516

1.542

1.405

1.416

1.660

Residential

0.152

0.114

0.104

0.119

0.206

0.435

Commercial

0.137

0.131

0.127

0.128

0.180

0.276

Industrial

0.562

0.590

0.602

0.578

0.620

0.617

Electric Power

0.512

0.682

0.709

0.580

0.410

0.332

Total Demand

1.487

1.651

1.677

1.528

1.543

1.795
Source: Energy Information Administration, Short-Term Energy Outlook, September 2003.
<![if !supportEmptyParas]> <![endif]>
<![if !supportEmptyParas]> <![endif]>
<![if !supportEmptyParas]> <![endif]>
<![if !supportEmptyParas]> <![endif]>
<![if !supportEmptyParas]> <![endif]>
<![if !supportEmptyParas]> <![endif]>
<![if !supportEmptyParas]> <![endif]>