Despite rising temperatures in many regions of the country that helped push prices upward over the past 3 days, spot prices nonetheless ended trading yesterday (Wednesday, August 20) down for the most part from levels of the previous Wednesday (August 13). At the Henry Hub, the spot price fell by 14 cents per MMBtu on the week, ending trading yesterday at $5.03. Likewise on the NYMEX, the settlement price for the futures contract for September delivery ended the week down 6 cents per MMBtu from the previous week, when it finished trading yesterday at $5.119. The EIA reported that working gas in storage increased to 2,266 Bcf as of Friday, August 15, which is 7.4 percent below the 5-year (1998-2002) average for the week. West Texas Intermediate (WTI) crude oil on the spot market changed little during the week ending the week up 11 cents per barrel at $30.96, or $5.34 per MMBtu.
<![if !supportEmptyParas]> <![endif]>
<![if !vml]>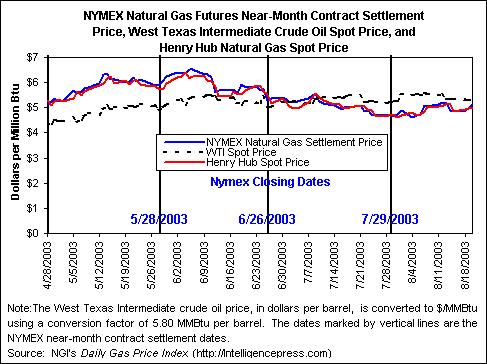 <![endif]>
<![if !supportEmptyParas]> <![endif]>
<![if !supportEmptyParas]> <![endif]>
The overriding story on prices for the week was that the upward pressure from rising temperatures could not overcome the large drop in spot prices last Friday. On that day, spot prices fell by 30 to over 50 cents per MMBtu at nearly every market location, mirroring the sharp decline in futures prices of the day before. Regional average price drops mostly ranged from 31 to 37 cents per MMBtu, bringing spot prices at most locations below $5 per MMBtu. Northeast prices dropped the most, with a regional average drop of 45 cents, but managed to stay above $5, as did selected points in the Midwest. As Tropical Storm Erika moved through the Gulf of Mexico, it had very little effect on either production or prices, as its path was too far south and its winds were too weak to have much of an impact. On the other hand, substantially higher-than-normal temperatures over the weekend, particularly in the Midcontinent and Midwest, coupled with the continued outage or slow recovery of a number of nuclear electric generation plants in the aftermath of the electrical blackout of Thursday and Friday pushed prices upward strongly on Monday. Price increases ranged from about a nickel to 20 cents at most market locations. Continued heat in the Midwest and rising temperatures in the Northeast, coupled with a reduction in supply on the Maritimes and Northeast pipeline owing to a compressor outage, kept prices on the rise, albeit in smaller increments, on Tuesday and Wednesday. However, by the end of trading yesterday, spot prices were still below their levels of last Wednesday at nearly all market locations, with the difference ranging from 7 to 20 cents at most locations.
<![if !supportEmptyParas]> <![endif]>
Spot Prices ($ per MMBtu)

Thur.

Fri.

Mon.

Tues.

Wed.

14-Aug

15-Aug

18-Aug

19-Aug

20-Aug

Henry Hub

5.13

4.84

4.94

4.99

5.03

New York

5.77

5.32

5.44

5.53

5.56

Chicago

5.28

4.94

5.05

5.15

5.15

Cal. Comp. Avg,*

5.15

4.78

4.88

4.93

4.92

Futures ($/MMBtu)

Sept delivery

4.891

4.848

4.883

4.964

5.119

Oct delivery

4.926

4.891

4.918

4.992

5.150

*Avg. of NGI's reported avg. prices for: Malin, PG&E citygate,

and Southern California Border Avg.

Source: NGI's Daily Gas Price Index (http://intelligencepress.com).
<![if !supportEmptyParas]> <![endif]>
In the futures market, the story was similar, as futures prices experienced their steepest one-day decline in two months on Thursday, following a storage report showing a higher-than-expected implied net injection of 82 Bcf. The contract for September delivery fell $0.288 per MMBtu to $4.891, then fell by another 4 cents on Friday to end the week at $4.848 per MMBtu. Futures prices have climbed each of the past 3 trading days, getting some support from the warmer-than-normal temperatures in some high-gas consuming areas and from near-term forecasts for above-normal temperatures in much of the West, Midcontinent, Midwest, and in most Gulf Coast states through the end of the month. Through Wednesday trading, the September contract gained a cumulative $0.271 since Monday, settling at $5.119 per MMBtu. Futures prices for delivery in months through March 2004 all settled above $5, with the highest price gas for future delivery over this period as of yesterday being for January 2004, at $5.726 per MMBtu. Futures prices for December through February 2004 continue to show a significant premium to the Henry Hub spot price, which continues to provide incentive for storage injections.
<![if !supportEmptyParas]> <![endif]>
Estimated Average Wellhead Prices

Feb-03

Mar-03

Apr-03

May-03

Jun-03

Jul-03

Price ($ per Mcf)

5.45

6.69

4.71

4.97

5.35

4.91

Price ($ per MMBtu)

5.31

6.52

4.59

4.84

5.21

4.79

Note: The price data in this table are a pre-release of the average wellhead price that will be published in forthcoming issues of the Natural Gas Monthly. Prices were converted from $ per Mcf to $ per MMBtu using an average heat content of 1,025 Btu per cubic foot as published in Table A2 of the Annual Energy Review 2001.

Source: Energy Information Administration, Office of Oil and Gas.
<![if !supportEmptyParas]> <![endif]>
Working gas in storage increased by 78 Bcf to 2,266 Bcf as of Friday, August 15, further reducing the deficit from the 5-year (1998-2002) average to 7.4 percent (See Storage Figure). The deficit with respect to the 5-year average and last year's inventory level dropped by 21 and 41 Bcf, respectively, to 182 and 391 Bcf. The implied net addition of 78 Bcf for the week is nearly 37 percent greater than the 5-year average, while the Producing region stock change is more than double its 5-year average. Temperature patterns during the report week limited air-conditioning requirements in much of the South, Gulf Coast, and Midcontinent, dampening swing demand for gas and likely contributing to the strong injections, particularly in the Producing region. Temperatures averaged up to 5 degrees below normal in the high gas-consuming West South Central census division, and were similarly below normal in most of the East South Central and South Atlantic divisions (See Temperature Map.) (See Deviation Map) Cooling degree days for the week ranged from over 2 percent to over 10 percent below normal in these divisions.
<![if !supportEmptyParas]> <![endif]>
All Volumes in Bcf

Current Stocks 8/15/03

Estimated Prior 5-Year (1998-2002) Average

Percent Difference from 5 Year Average

Implied Net Change from Last Week

One-Week Prior Stocks 8/8/03

<![if !supportMisalignedRows]>
<![endif]>

East Region

1,327

1,431

-7.3%

55

1,272

<![if !supportMisalignedRows]>
<![endif]>

West Region

319

321

-0.6%

5

314

<![if !supportMisalignedRows]>
<![endif]>

Producing Region

620

696

-10.9%

18

602

<![if !supportMisalignedRows]>
<![endif]>

Total Lower 48

2,266

2,448

-7.4%

78

2,188

<![if !supportMisalignedRows]>
<![endif]>

Source: Energy Information Administration: Form EIA-912, "Weekly Underground Natural Gas Storage Report," and the Historical Weekly Storage Estimates Database. Row and column sums may not equal totals due to independent rounding.

<![if !supportMisalignedRows]>
<![endif]> <![if !supportMisalignedRows]>
<![endif]> <![if !supportMisalignedRows]>
<![endif]>
<![if !supportEmptyParas]> <![endif]>
Other Market Trends:
Cove Point Begins Receiving LNG Shipments. According to Dominion, its Cove Point LNG facility received its first cargo on Wednesday, August 20, as the tanker, Berge Boston, delivered about 2.9 billion cubic feet (Bcf) imported by BP. On August 18, Dominion Cove Point received clearance from the Federal Energy Regulatory (FERC) to begin commercial operations at its liquefied natural gas (LNG) facility in Maryland. The Cove Point LNG facility was mothballed in 1980, and operated as an LNG storage facility since 1995. Attempts at full reactivation of the facility to resume marine imports of LNG were delayed most recently by questions about the project's safety and overall readiness raised by the United States Coast Guard (USCG) and FERC. Having gained the approval of the USCG late in 2002, the FERC approval was the final remaining hurdle to commence commercial operations. Upon full activation, Dominion Cove Point will have storage capacity of 5 Bcf and a daily send-out capacity of 1 Bcf. The terminal connects, via its own pipeline, to the major Mid-Atlantic gas transmission systems of Transcontinental Gas Pipeline, Columbia Gas Transmission, and Dominion Transmission.
<![if !supportEmptyParas]> <![endif]>
Summary:
Although spot and futures prices trended up over the past 3 days as hot weather that lingered from the weekend created higher demand in some major gas consuming areas, they remained below their week-ago levels. Storage levels continued to grow at a well-above normal pace, reaching 2,266 Bcf as of Friday, August 15.
<![if !supportEmptyParas]> <![endif]>
<![if !supportEmptyParas]> <![endif]>
Natural Gas Summary from the Short-Term Energy Outlook
<![if !supportEmptyParas]> <![endif]>