Overview:  Thursday, July 17, 2003 (next release 2:00 p.m. on July 24)
Spot and futures prices fell significantly during the week (Wednesday-Wednesday, July 9-16), as working gas inventories continued to grow strongly, intense summer heat was limited almost exclusively to the mountainous regions of the West, and Hurricane Claudette's immediate effect on prices was minimal.  In trading at the Henry Hub, spot prices fell 56 cents from the previous Wednesday (July 9), to an even $5 per MMBtu.  On the NYMEX, the settlement price of the futures contract for August delivery dipped below $5 per MMBtu, as it closed yesterday (July 16) at $4.934 per MMBtu—the first sub-$5 settlement for a near-month contract in nearly 4 months. EIA reported that working gas inventories were 1,866 Bcf as of Friday, July 11, which is 13.9 percent below the previous 5-year (1998-2002) average.  The spot price for West Texas Intermediate (WTI) crude oil traded in a narrow range between $31.04 and $31.60 per barrel for the week.  It ended trading yesterday with a decline of 40 cents per barrel to $31.20, or about $5.38 per MMBtu, as oil markets also reacted to Hurricane Claudette's limited impact on infrastructure and production.  For the week, WTI showed a modest gain of $0.33 per barrel ($0.03 per MMBtu).  
<![if !supportEmptyParas]> <![endif]>
<![if !vml]>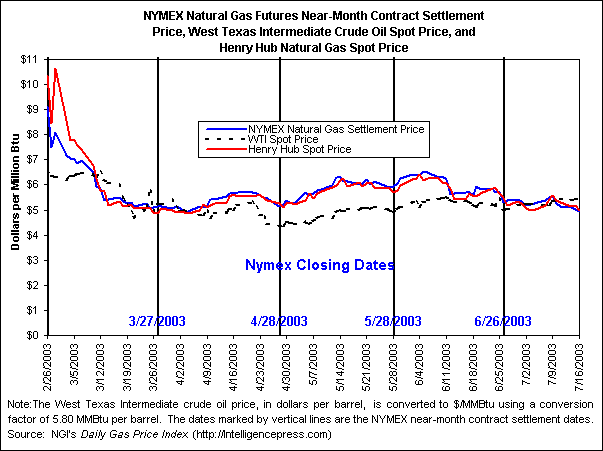 <![endif]>
<![if !supportEmptyParas]> <![endif]>
Spot prices declined from last Wednesday's levels, as temperatures moderated in most of the high gas-consuming areas of the nation from the previous week, with generally below-normal readings in the Midwest, the Southeast, and along the Gulf Coast and most of Texas.  Cumulative price decreases ranged from 25 to 65 cents per MMBtu, or from about 6 to about 12 percent, for the week at nearly all locations.  The magnitude of price declines was accentuated by the run-up in prices seen Monday-Wednesday (July 7-9) of the prior week, attributable in part to uncertainty over the potential effects of then-Tropical Storm Claudette.  Despite becoming the first hurricane to enter the Gulf of Mexico during this hurricane season, and causing force majeure declarations on El Paso's High Island Offshore System (HIOS), Northern Natural's Matagorda Offshore Pipeline System (MOPS), and on Enbridge's United Texas Offshore System (UTOS) as well, Claudette's impact (see Other Market Trends, below) on the industry was fairly minimal and not enough to avoid widespread price declines.  For example, the Chicago citygate price fell $0.51 to $5.02 per MMBtu, while spot gas for delivery to New York citygates fell $0.60 to $5.36.  Price declines tended to be the smallest in western markets. Intense heat in the Southwest and in parts of the Rocky Mountains, and additional demand for agricultural processing in California, pushed Rockies prices upward on Monday and Tuesday and created heavy draws on the SOCAL and PG&E systems, leading to some storage withdrawals reported in the trade press.  Nonetheless, the PG&E citygate price fell 29 cents per MMBtu on the week to $5.01, while the Southern California Border Average price fell $0.39 to $5.05 per MMBtu.
<![if !supportEmptyParas]> <![endif]>
Spot Prices ($ per MMBtu)

Thur.

Fri.

Mon.

Tues.

Wed.

10-Jul

11-Jul

14-Jul

15-Jul

16-Jul

Henry Hub

5.40

5.29

5.15

5.18

5.00

New York

5.73

5.55

5.56

5.56

5.36

Chicago

5.36

5.17

5.10

5.14

5.02

Cal. Comp. Avg,*

5.07

4.87

4.84

4.93

4.89

Futures ($/MMBtu)

Aug delivery

5.258

5.154

5.102

5.020

4.934

Sept delivery

5.300

5.193

5.141

5.047

4.950

*Avg. of NGI's reported avg. prices for:  Malin, PG&E citygate,

and Southern California Border Avg.

Source: NGI's Daily Gas Price Index (http://intelligencepress.com).
<![if !supportEmptyParas]> <![endif]>
On the NYMEX, futures prices for contracts for delivery through at least the end of next year declined for five straight trading sessions, beginning last Thursday after EIA's storage report showing implied net injections of 111 Bcf for the week ended July 4.  On that day, the settlement prices for contracts through the next heating season fell from over 13 cents per MMBtu for the April 2004 contract to over 26 cents for the August 2003 contract.  Since then, the market seemed immune to Claudette storm concerns, focusing more on the supply situation that continues to improve with robust storage refills, continuing paucity of weather-driven swing demand in major markets, and National Weather Service short-term temperature forecasts calling for below normal temperatures in much of the eastern part of the nation.  The near-month (August delivery) contract declined by a nickel to over a dime each succeeding day since last Thursday, ending trading yesterday (Wednesday, July 16) with a cumulative drop of $0.586 per MMBtu for the week, or nearly 11 percent.  The August contract settled yesterday at $4.934—the first time that the price of gas for delivery in August has been below $5 since early February.
<![if !supportEmptyParas]> <![endif]>
Estimated Average Wellhead Prices

Jan-03

Feb-03

Mar-03

Apr-03

May-03

Jun-03

Price ($ per Mcf)

4.47

5.45

6.69

4.71

4.97

5.35

Price ($ per MMBtu)

4.36

5.31

6.52

4.59

4.84

5.21

Note:  The price data in this table are a pre-release of the average wellhead price that will be published in forthcoming issues of the Natural Gas Monthly.  Prices were converted from $ per Mcf to $ per MMBtu using an average heat content of 1,025 Btu per cubic foot as published in Table A2 of the Annual Energy Review 2001.

Source:  Energy Information Administration, Office of Oil and Gas. 
<![if !supportEmptyParas]> <![endif]>
Working gas in storage increased to 1,866 Bcf as of Friday, July 11, which is just under 14 percent less than the previous 5-year (1998-2002) average (See Storage Figure). The total implied net addition of 93 Bcf reflected a drop-off from the prior, Independence Day holiday-shortened week, but is nonetheless over 22 percent greater than the 5-year average of 76 Bcf.  With implied net injections in the East and Producing regions exceeding their respective 5-year averages by nearly 22 and over 46 percent, these regions gained 1.7 and 1.3 percentage points on the differences from their 5-year averages.  The effect of returning industrial load after the holiday week was partially offset by moderating temperatures in many high gas-consuming markets.  Despite above normal temperatures on average for most of the non-coastal West and a wide swath of the nation's midsection as well as along parts of the East Coast for the week ending Saturday, July 12 (See Temperature Map.) (See Deviation Map)., the high gas-consuming East North Central, Middle Atlantic, and New England Census divisions experienced drops in cooling degree days (CDD) from the week before.  Most notable was the cooling trend in the East North Central division, where CDDs dropped from 37 percent greater than normal to 2 percent less than normal.  Further, even though temperatures increased in the West South Central division, which normally has the largest summertime air conditioning load that draws heavily on gas-fired generation, temperatures there nonetheless remained below normal, by 2 percent for the week in terms of CDDs, marking 7 of the last 8 weeks that CDDs have been below normal in this division. 
<![if !supportEmptyParas]> <![endif]>
All Volumes in Bcf

Current Stocks 7/11/03

Estimated Prior 5-Year (1998-2002) Average

Percent Difference from 5 Year Average

Implied Net Change from Last Week

One-Week Prior Stocks 7/4/03

<![if !supportMisalignedRows]>
<![endif]>

East Region

1,039

1,210

-14.1%

63

976

<![if !supportMisalignedRows]>
<![endif]>

West Region

294

295

-0.3%

11

283

<![if !supportMisalignedRows]>
<![endif]>

Producing Region

533

662

-19.5%

19

514

<![if !supportMisalignedRows]>
<![endif]>

Total Lower 48

1,866

2,166

-13.9%

93

1,773

<![if !supportMisalignedRows]>
<![endif]>

Source:  Energy Information Administration:  Form EIA-912, "Weekly Underground Natural Gas Storage Report," and the Historical Weekly Storage Estimates Database.  Row and column sums may not equal totals due to independent rounding. 

<![if !supportMisalignedRows]>
<![endif]> <![if !supportMisalignedRows]>
<![endif]> <![if !supportMisalignedRows]>
<![endif]>
<![if !supportEmptyParas]> <![endif]>
Production Loss from Gulf of Mexico: Hurricane Claudette's path through the western Gulf of Mexico this week caused this season's first production shut-ins owing to storm activity. Natural gas and oil producers evacuated offshore platforms and rigs in response to Claudette's threat, resulting in production losses as of July 16 of 7.3 Bcf of natural gas and 1.2 million barrels of oil. According to the Minerals Management Service (MMS), shut-ins reached the highest level on Tuesday, July 15, at 2.7 Bcf/d of natural gas and about 418,000 barrels of oil. The lost production equaled approximately 18 percent of natural gas production in the Gulf and about 21 percent of oil production. MMS reported 287 platforms and 47 rigs were evacuated as Claudette made landfall early in the morning. By Tuesday afternoon, however, workers were returning to platforms and on Wednesday MMS reported shut-ins of natural gas production had fallen to 2.2 Bcf/d. The shut-ins appeared to have little impact on natural gas prices as both cash and futures prices have fallen over the last two days. By way of comparison, Hurricane Lili and Tropical Storm Isidore caused shut-ins last fall totaling 90 Bcf of natural gas and 14.4 million barrels of oil.
<![if !supportEmptyParas]> <![endif]>
Summary:
Spot and futures prices fell significantly last week, as temperatures were moderate in most major gas-consuming markets and the impacts of Hurricane Claudette were small and short-lived.  Continuing larger-than-normal storage injections, including 93 Bcf for the week ended July 11, underscore the improving supply situation.
<![if !supportEmptyParas]> <![endif]>